Here is the list of 70+ database projects made by me, from personal interest to distribute freely (small ones) or sell for professional use (big ones), as well as databases made at request of single or multiple customers and published on website to allow other customers to purchase them if interested.
Not included in below list are the databases created as one-time project for single customers outside of my fields of interest, few of them made under non-disclosure agreement.
I offer web scraping services, making custom databases according your requirements
Project
File
type
Size
(KB)
Pages /
rows
How was
made
Date made /
maintained

World geography

Solar System (Word version, DELETED)
DOC
manual
2000 ?
Solar System (Excel version)
XLS
45
manual
2014
World countries & facts
(Word, based on old atlas, DELETED)
DOC
manual
1998-2000
World countries & facts (based on Encarta 2002)
XLS
81
~200 rows
manual
2004
World countries & facts (based on The World Factbook)
XLSX
2280
268 rows
scraping
2017
World cities population (original version, DELETED)
DOC
727
130 pages
manual
2003-2005
World cities population (Word simple)
DOC
477
50 pages
manual
2016-present
World cities population (Word detailed)
DOC
781
150 pages
manual
2016-present
World cities population (Excel detailed)
XLS
1075
7500+ rows
manual
2016-present
World tallest buildings database
XLS
5425
15000+ rows
scraping
2015
United States all buildings database
XLS
91627
160000+ rows
scraping
2016

Singapore real estate

Database of HDB Blocks
XLS
6000+
14000+ rows
manual
2009-present
Database of HDB Resale Flat Prices (2008-2013)
XLS
24307
160000+ rows
copy-paste
2009-present
Database of HDB Resale Flat Prices (1990-2018)
XLSX
60000+
160000+ rows
copy
2017-present
List of BTO & DBSS projects
XLS
103
300+ rows
manual
2009-present
List of BTO prices
XLS
183
700+ rows
manual
2015-present
List of SERS sites
XLS
49
80 rows
manual
2009-present
List of HUDC estates
XLS
64
24 rows
manual
2011-present
List of Executive Condominiums
XLS
132
66 rows
manual
2011-present
Condo Database SingaporeExpats
XLS
2981
3100+ rows
scraping
2015-present
Condo Database PropertyGuru
XLS
2334
3200+ rows
scraping
2016-present
Managing Agent Database
XLS
1185
4200+ rows
scraping
2017-present
Hong Kong real estate
Hong Kong Public & Private Housing Estates
XLS
592
1000+ rows
manual
2011
Hong Kong Housing Database Estates (Centadata)
XLS
806
3200+ rows
scraping
2016-present
Hong Kong Housing Database Buildings (Centadata)
XLS
4093
24370 rows
scraping
2018-present
Hong Kong Housing Authority
XLS
420
476 rows
scraping
2018-present
Romania geography – download from www.teoalida.ro/geografie
Geografia Romaniei (geographic features)
DOC
198
23 pages
manual
1998-2006
Drumuri nationale (list of roads)
DOC
72
6 pages
manual
1999-2006
Cai ferate linii (list of railways)
DOC
74
6 pages
manual
1999-2006
Cai ferate linii & statii (list of railways with stations)
DOC
347
51 pages
manual
2000-2006
Impartirea administrativa interbelica (1925-1940)
DOC
166
11 pages
manual
2006 ?
Impartirea administrativa in regiuni (1950-1968)
DOC
81
8 pages
manual
1999-2006
Impartirea administrativa actuala (1968-prezent)
DOC
105
10 pages
manual
1998-2006
Populatia judetelor si oraselor (city population)
XLS
213
320 rows
manual
2004-2006
Automobile research – download from www.teoalida.com/cardatabase
Car Models List
DOC
403
59 pages
manual
2003-2015
Car Models List
XLS
1545
4500+ rows
manual
2012-present
Car Nameplates List
XLS
524
3000+ rows
manual
2016-present
Car Models Timeline
XLS
584
manual
2003-2015
Car Models Encyclopedia
DOC
1680
360 pages
manual
2005-2013
Car Models Database
XLS
1346
3500+ rows
manual
2005-present
Car Models & Engines Database
XLS
13532
18000+ rows
manual
2003-present
American Year-Make-Model
XLS
1567
14000+ rows
manual
2013-present
American Year-Make-Model-Trim-Specs
XLS
74720
50000+ rows
scraping
2014-present
German Car Database
XLS
250178
100000+ rows
scraping
2015-present
Indian Car Database
XLS
17152
3000+ rows
scraping
2015-present
Middle East Car Database
XLS
10000+ rows
scraping
2016-present
Australian Car Database
XLS
96467
90000+ rows
scraping
2017-present
Motorcycles Database
XLS
24569
30000+ rows
scraping
2016-present
AutoKatalog Statistics
XLS
212
manual
2012-present
Automobile Production
XLS
130
copy-paste
2012-present
Automobile Sales Figures
XLS
833
scraping
2017-present
Computer & technology
Screen size calculator
XLS
50.5
manual
2014
Screen resolution statistics
XLS
326
copy-paste
2014-present
Screen resolution statistics by country
XLS
2380
copy-paste
2014-present
Mobile Phones Database
XLS
8968
8000+ rows
scraping
2016-present
Digital Cameras Database
XLS
2778
3000+ rows
scraping
2017-present
Gaming stuff – see www.teoalida.com/games
Age of Empires
DOC
208
manual
2001 ?
Age of Empires (base game)
(table of military units)
XLS
106
manual
remade 2007?
Age of Empires: The Rise of Rome
(table of military units)
XLS
112
manual
remade 2007?
Beetle Crazy Cup
(vehicle stats)
XLS
71
manual
2002?
GTA Vice City
(mission tree, vehicle stats)
XLS
117
manual
2005
GTA San Andreas
(mission tree, vehicle stats)
XLS
134
manual
2007
Commander Keen 4 – Second game I ever played!
(statistics of levels and items)
XLS
117
manual
~2000? DOC
remade 2007
Midtown Madness 1
(vehicle stats)
XLS
40
manual
2003
Midtown Madness 2
(vehicle stats)
XLS
35
manual
2005
Need For Speed: Porsche Unleashed
(vehicle stats, personal records on every track)
XLS
217
manual
2003-2006
Need For Speed: Hot Pursuit 2
(career levels, vehicle top speed stats)
XLS
58
manual
2003
Need For Speed: Underground
(career events, vehicle performance, tuning items)
XLS
161
manual
2006
Quake 3 maps statistics
(not yet public due to messy work)
XLS
?
manual
2000-2007
The Sims 2/3 List of houses made by me
XLS
24
manual
2013
The Sims 2 Career Tracks
XLS
219
copy-paste
2012
The Sims 2 List of Items
XLS
216
manual
2012
The Sims 3 Worlds and List of Lots
XLS
398
manual
2013
Miscellaneous works
Music Database
XLS
2200+
6000+ rows
manual
2005-present
Stadiums Database
XLS
3000+ rows
scraping
2018
Since childhood I love writing books, doing research, making databases and statistics. I started using computers in 1997, my dad taught me to use Word, but around 2003 I started using Excel more than Word. Analyzing data, making tables and charts about everything encountered in my life! For example, in racing games I measure the speed of each car and write the numbers in an Excel spreadsheet then make a chart.
Early works were pure hobbies, made from personal interest, with no plans to commercialize them.
Hong Kong Housing Database was also made from personal interest of analyzing public housing estates, few months later, an insurance company asked me if I can expand it to private housing estates. It became my FIRST large project made for a customer.
Car Database were also started as hobby for my personal use, but had an unexpected turnout into business after 2012 when I realized that many companies in automotive industry are paying big $$ to get a complete, accurate, and frequently updated database. I went through extensive transformation to make my hobby databases suitable for professional use.
Seeing the success with car database, I decided to transform other hobby databases and sell them for professional use, such as HDB Database  and World Cities Database.
Starting from 2015 I learned web scraping. Scraping usually means running a software to visit a list of given pages, extract specific data and put it in a database automatically. This allow me to create very large databases with little effort, spending ~30 min to write codes and leave scraping software to run in background for few hours or days.
Between 2015 to 2017 I created over 50 databases via web scraping, some from personal interest to sell to multiple people (India, Middle East and Australia car databases, mobile phones databases, etc) and others for single customers who requested them (web scraping services).
Keeping all databases regularly updated takes is a huge workload. Scraping more websites, if they take too much time, will create additional workload and will delay everyone's updates. As 2018 I decided to STOP updating databases having less than 5 sales per year so I can focus on the ~20 best-selling databases that produce 80% of my income.
So… unless you come with a GREAT IDEA of database that can be sold to multiple customers, I have the right to NOT do your web scraping project if it takes more than ~2 hours of manual work and more than ~50 hours of running scraper in background.
Some projects (example Database of HDB Resale Flat Prices) involve copying the data from a source website and pasting in Excel, then few visual adjustments to make it beautiful, which takes just few hours to create a 20 MB Excel database.
Other projects (example Database of HDB blocks) involve compiling data from various sources and manual data entry in Excel, taking hundreds hours of work!
All my projects are made primarily for visualization in Excel, but some (especially the Car Database) are often used by professionals who are converting the Excel spreadsheet to CSV and MySQL and use in web design and mobile app development.
Working style
My parents encouraged me to work in Microsoft Word, and told me to finish and print the work because "what is not finished have ZERO value". I never understand why they wanted to print… some works for example Car Database should NOT be printed and cannot be "finished", it need to be updated constantly with new launched cars. They promised me that will help me publishing a book… but this never happened (there is a possibility that they encouraged me just to give me a solitary occupation at computer to prevent me disturbing them, instead of letting me to have a social life).
My dad even set me rules, how a book should be written: Arial font, 12pt body text, 16-20pt titles, all titles centered, bolded, underlined. However, since my writings were not really a book but a list of… something, the rules imposed by dad created excessive bold and centered text.
Around 2001-2003 I got fascinated by Notepad and by fixed-width font and I was using lines of — and === signs full page width to enhance titles.
Since 2003 I broke away from dad rules and started using Excel more than Word. New works in Word were optimized for on-screen display instead of printing, often using non-standard page sizes, to make exactly 1 page for each subject. I write with 10pt font for body text, 20pt and 15pt for titles, 10pt and 5pt for empty spaces.
Since 2003 for both Word and Excel works, the titles were white text on blue background for full page width, which does not look very well on paper. I used same style when created my website in 2009.
Since 2010, one of the distinctive features of all my Excel works are the coloured columns, older works were coloured to this format too. I combine the Excel databases with my graphic design hobby, making Excel files also artistic!
Since 2015 I changed the standard of Word files, removing full-width coloured backgrounds of titles and putting instead full-width horizontal lines (similar with what I was doing in 2001-2003 in Notepad). This will be better for printing (even if I assume that nobody will print my works). I changed also my website design to this format.
One of my friends said that my website looks like being made by an expert in typography rather than by a webdesigner!
Example of styling in my books: 2012, 2013, 2015 editions of Car Models Encyclopedia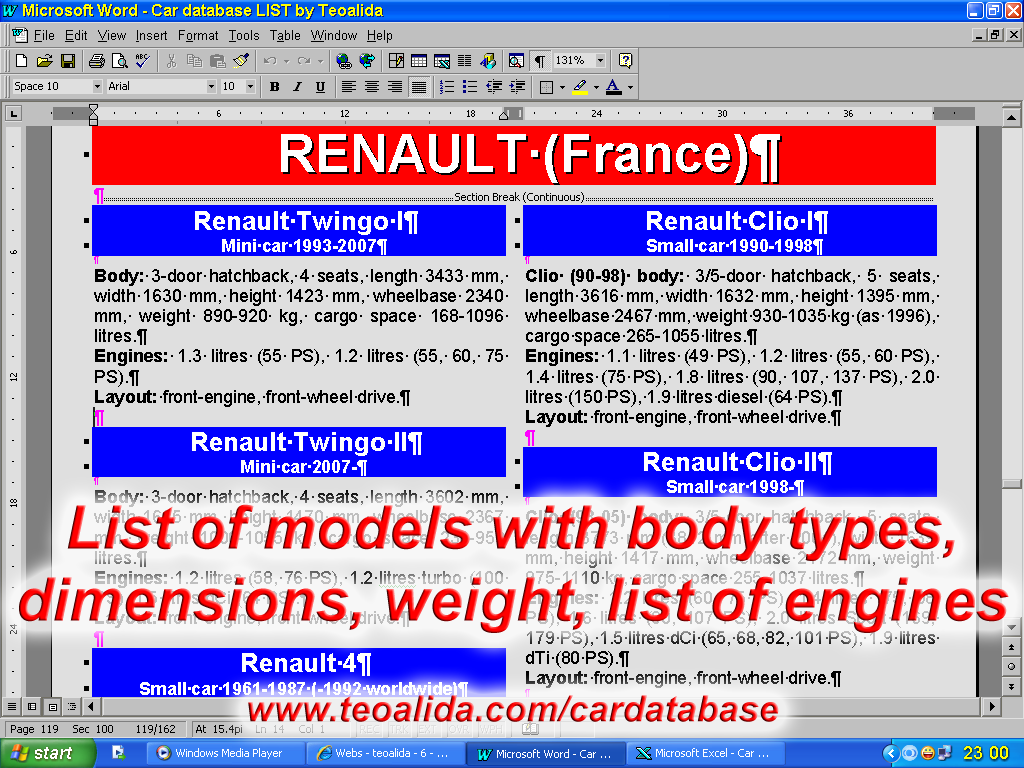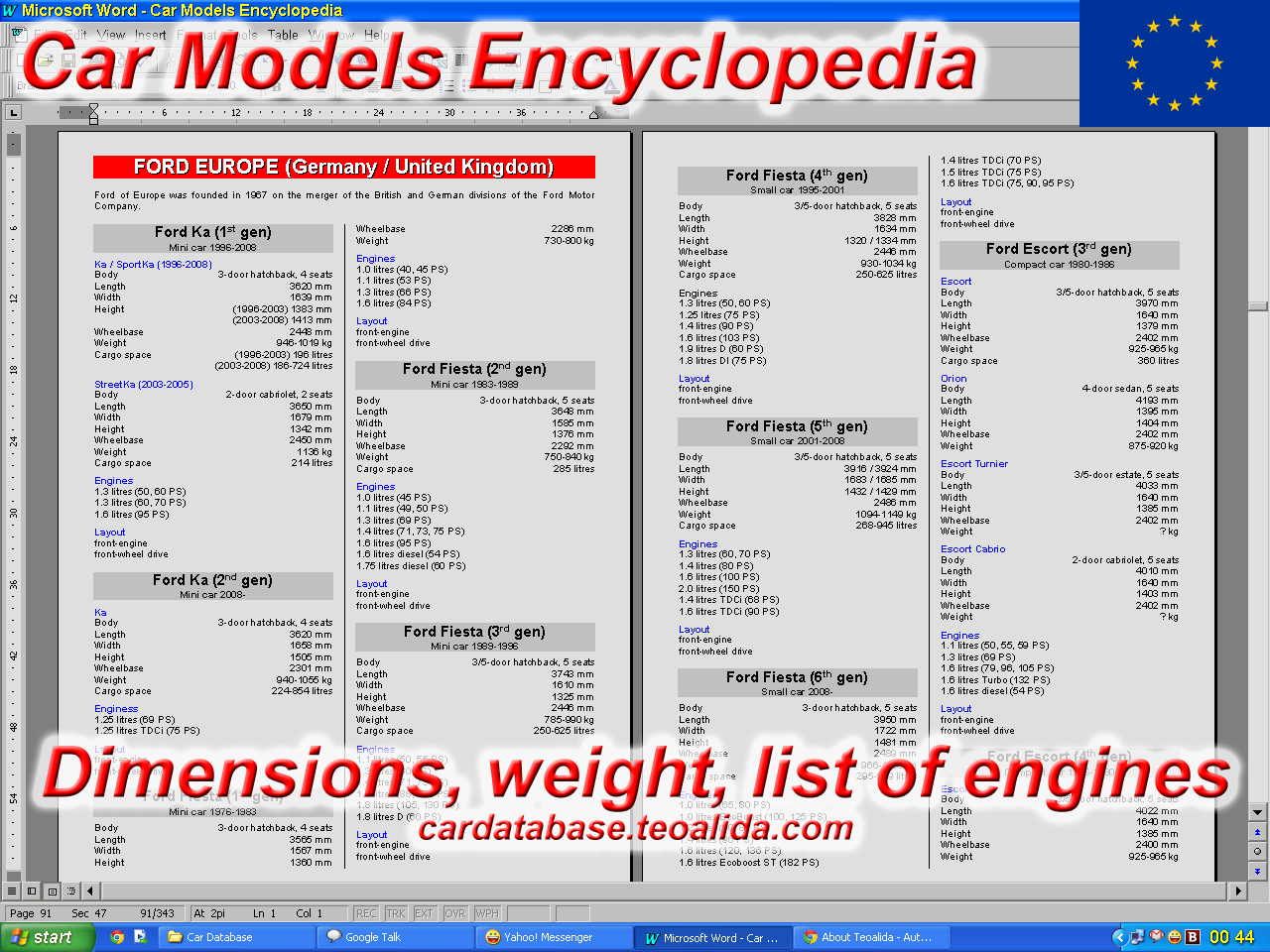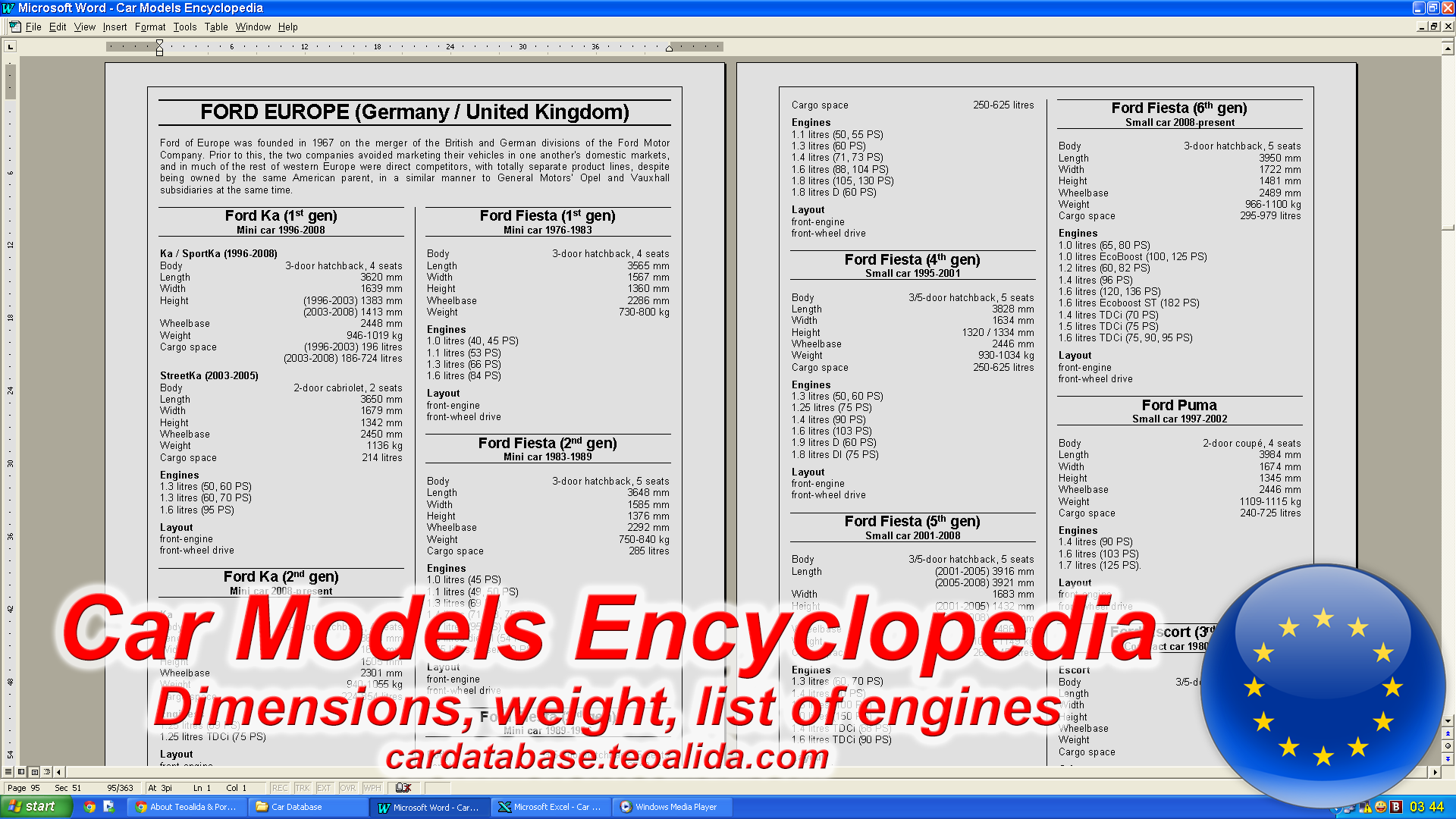 I also done some kind of competition between my works, a race to create biggest database in Excel or biggest book in Word, in terms of pages and file size, under certain standards (10pt font, no duplicate stuff, no large open spaces, NO bullshit but useful content, etc). I kept track of file size in an Excel table similar with above table.