Private housing in Hong Kong include tenement buildings, stand-alone buildings, private housing estates, villas and village houses.
Looking for private housing floor plans? Look on centadata.com, it shows floorplans of almost all estates, also gohome.com.hk shows floorplans of most estates as well as villas. Note that in Hong Kong the term "condominium" is never used, do not search "hong kong condo floor plan" because you will find nothing relevant.
Tenements are up to 8 floors + ground (maximum allowed height without lifts), typically 10 to 14 meters wide and with 2 apartments per floor, having view in both sides. Most tenements have large cantilevered balconies that extend 2 meters over sidewalk. Apartments were large and since 1960s many of them were subdivided illegally and rented to poor families, on facade there are a lot of objects added that makes them to look dirty, on rooftops are huts and additional dwelling units. Mong Kok district have lowest household income and highest ratio of elderly people, and yes it is dominated by tenements, being considered one of the ugliest neighborhoods in the world.
This user have large collection of photos of tenement buildings.
Private housing built since 1960s have a podium that serve also as commercial space at ground floor, covering entire plot area, and residential towers above it. Low-end blocks had central double-loaded corridor (example: these 8 blocks around Man Cheong Street, Kowloon, but most common is the cruciform typology. Balconies are no longer common in private housing estates as they were in tenements, except to high-end developments, bay windows became common since 1980. Balconies became again common during 2000, but they are usually small as 2 sqm.
My attention was attracted by the area around Yuet Wah Street, there are 33 gated developments, 4407 apartments (counted from Centadata) built in 1962-1970, all them being 12-storey tall plus void deck at ground floor for parking. Looks like that this area was a luxury neighborhood for 1960s standards, well-renovated and still beautiful!
Mei Foo Sun Chuen was the first "Private Housing Estate" and largest private development in the world at its time, currently it is still the largest housing estate in Hong Kong, having 99 blocks with 5 to 8 units per floor (2 blocks are extended to 12 units per floor), total 13149 apartments from 2-bedroom to 4-bedroom, was built in phases from 1969 to 1978.
Tai Koo Shing, 61 blocks, 12693 apartments, built 1978-1987
City One Shatin, 52 blocks, 10642 apartments, built 1981-1988
Whampoa Garden, 88 blocks, 10440 apartments, built 1986-1991, famous for HMS Whampoa ship-shaped shopping center.
South Horizons, 34 blocks, 9812 apartments, built 1991-1995
Kingswood Villas, 58 blocks, 15836 apartments, built 1992-1997, but is usually considered 7 separate estates, as there are roads dividing the development.
LOHAS Park will be the biggest private estate, first phase opened in 2009 and is scheduled to be completed in 2015, having 21500 units.
Built year and number of units sourced from Centadata.
There is some doubt which developments can be called estates, since numerous other developments containing more than one block were built before 1969 and are not considered "estates".
Typical private flats are slightly smaller than public housing in similar period.
Accurate statistics are impossible to be made, since Hong Kong real estate is very diverse, in the same district same developer built in same decade multiple estates with very different apartment sizes. Transactions listings do not show size of flats built before 1980 (why?), but apparently 1960s flats are larger than 1980s which seems to be the smallest.
1980s typical sizes were 3-room 30-35 sqm (dominant) and 4-room 45-55 sqm.
2000s typical sizes are 3-room 40-45 sqm, 4-room 55-65 sqm (dominant), and some 5-room appeared.
At this moment I cannot estimate the 2000s and 2010s trends, if the flat sizes grow or shrink.
The units facing to sea or other good landscape, are sometimes larger, even if using apparently same apartment layout.
Of course there are numerous luxury apartments, much larger than typical flats, commonly in blocks with 2 to 4 units per floor. These nearly always are 4-room and 5-room, not matters if are 100 sqm or 500 sqm penthouses, the room sizes vary very much.
1960s-1970s private housing estates
Point mouse on photos to see building name and year!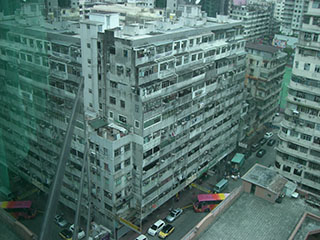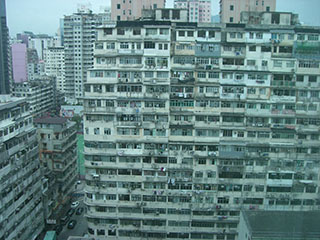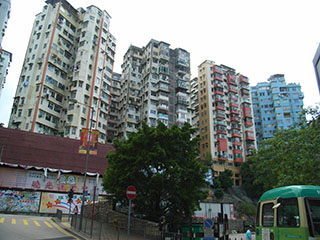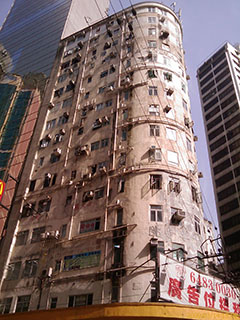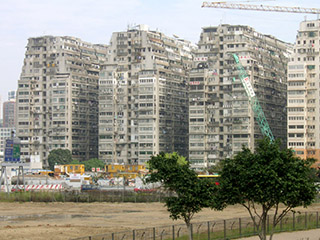 1980s private housing estates
2000s private housing estates
Cruciform blocks – smallest & largest
One of most common private block types is the cruciform with 8 units per floor, it have the biggest efficiency, the block size vary, most blocks ranging from 20×20 meters to 32×28 meters. Some may have 6, 10 or 12 apartments per floor.
Garden Rivera vs Woodlands Crest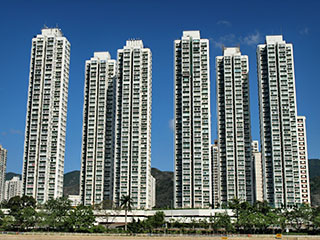 Garden Rivera (1984) is my favorite example of the thinnest cruciform blocks. Block size 20 by 19 meters, 3012 sq ft in total / 280 sqm. 8 flats per floor, all 3-room, 368-385 sq ft gross area / probably around 242-269 sq ft saleable area (23-25 sqm). It contains some of the SMALLEST 3-room apartments in the world! See Garden Rivera floorplan and interior photos. Interior video.
Later I found numerous other blocks having similar or even smaller size, but some may not contains only 3-room apartments. Examples:
Hang Shun Building (unknown year), block size 20 by 17 meters, flat size 313-323 sq ft gross, all 3-room, see Hang Shun floorplan.
Smithfield Terrace (1986), block size 19 by 18 meters, flat size 252-377 sq ft gross, 2-room and 3-room, see Smithfield Terrace floorplan.
Fortune Court (1985), block size 18 by 17 meters, flat size 282-325 sq ft gross, see Fortune Court floorplan.
Full Wing Building (1984) beat all others, block size only 18 by 16 meters, flat size 263-329 sq ft gross area. No floorplan exists, just interior photos.
Green Leaves Garden (1987), another remarkable thin cruciform blocks with 8 units per floor, 24 by 20 meters, contains the SMALLEST 4-room apartments found so far, 510 sq ft gross area / 435 sq ft saleable area (40.5 sqm). Floorplan and photos.
Largest examples of cruciform blocks:
Parkside Villa (1997), 38 by 36 meters. See Parkside Villa floorplan and photos.
Woodland Crest (1996), 40 by 40 meters. See Woodland Crest floorplan and photos.
Royal Ascot (1995), some blocks are 42 by 42 meters. See Royal Ascot floorplan and photos.
The Belcher's (2000), largest cruciform block with 8 units per floor, up to 46 by 46 meters. See Floorplans and photos.
Uncommon blocks, crazy buildings and curiosities
The Merton website (now dead) showed a floorplan with all internal dimensions, SEE YOURSELF how small apartments are in Hong Kong, calculate yourself the net floor area (if you are lazy, it is 33 sqm for 3-room). Floor plan for entire block: Tower 1 and Tower 2.
The Harbourside, contains one of the smallest NEW apartments in Hong Kong. 241 sq ft gross area. What is the net floor area? What you can fit in it? Guess yourself… floorplan.
Yuppie Tel (1991), huge stairwell and 2 tiny apartments per floor (145 sq ft saleable), floorplan.
Pik Wah Building (1964), old and tiny apartments, 180 sq ft gross, 130 sq ft saleable, photos (if any unit is currently available for sale).
One Prestige (2018), new tiny apartments, smallest being 163 sq ft net, floorplan.
Hong Kong also contains numerous buildings with one apartment per floor. Do not think that all are luxury apartments. Someone owned a 8-meter wide piece of land and decided to built a skyscraper on it! Since even for a single apartment, you need a staircase with 2 access points, the staircase may be occupying half of block floor area! Examples:
Seng Fai Building (1997), 552 sq ft gross, see SengFai floorplan.
Profit Nice Mansion (1999), 333 sq ft gross / 222 sq ft saleable, no floorplan found.
But Fullic Court (1995) is the absolute craziness of narrow building! 360 sq ft gross, 197 sq ft saleable… you MUST SEE the Fullic Court floorplan!!
Do you know more buildings with one apartment per floor? Share with us! Leave a comment! I want to make a collection of floorplans of narrow tall buildings.
Why are Hong Kong apartments small?
One possible explanation: original Hong Kong was about 100 square kilometers, including the Hong Kong island and the tip of Kowloon Peninsula south of Boundary Street, comprising mostly mountainous terrain, until the 950 square kilometers of New Territories was leased, despite that this lease happened in 1898, people keep concentrating in the original area. Most of New Territories was (and some still are) rural, only the nearby area north of Boundary street was urbanized and became New Kowloon. The "New Towns" built beyond mountains, spaced away from original city, appeared only since 1970s.
Another explanation: traditionally old Hong Kong apartments had just one room for all, living, dining, sleeping, completed by a small kitchen and a small bathroom. Bedrooms appeared later, they are not used for other purpose than sleeping, so they can be small as 4 sqm, saving apartment area for having a large living room. Most older public housing floor plans don't show other internal walls than the kitchen and bathroom ones. I guess that were sold without internal walls and owners who like to have separate bedrooms, had to built themselves? However all apartments were designed with a pre-designated number of bedrooms.
OK… now they have plenty of flat land in New Territories, why they KEEP building tiny apartments? Is this a fashion? conservative chinese, corrupt government or mafia of private developers?
Cost of construction includes land acquisition, lift, fittings, common areas, etc. these are more expensive than walls and floor slabs. I don't think that a 25% increase in apartment size would raise cost of construction with more than 5%. I noticed many private estates with long and narrow apartments, big spaces between buildings, they could have designed slightly bigger apartments without any increase in block length or reduce the number of apartments in estate.
According my research, today apartment sizes grown about 20% since 1980s (I need more research to see today trends), but grown not enough, Hong Kong STILL holds the record of smallest average apartment size in the world.
However, I ask for explanations from someone that lived in Hong Kong for many years!
ANSWER (thanks to EL left comments below): each piece of land is sold with a max allowed gross floor area, but the number of apartments is not limited. The government do not release enough land to cope the demand for apartments, then most developers try to fit as many apartments as possible in the gross floor area. This is why most apartments are small, while the several big ones are sold at much bigger price per square feet.
The bay windows, if are at least 50 cm from floor and ceiling, and max 60 cm extrusion from outer wall face, are excluded from gross floor area. So since 1980 most developers provide extruded bay windows to create extra (but unusable) space in apartments, creating the nickname "Hong Kong – City of bay windows".
Hong Kong property price trends