Japan is one of the best places to live, the economy boomed after World War II but since 1990s the rising was very slow, it is still one of the most advanced economies in the world, highest standard of living, where everything run as it should, BUT… Japan is also one of the ugliest of all developed countries. They simply suck at architecture and urban planning. Except the skyscrapers in downtown, Tokyo city landscape is dominated by ugly buildings, lack of colors, and lots of cables in the sky.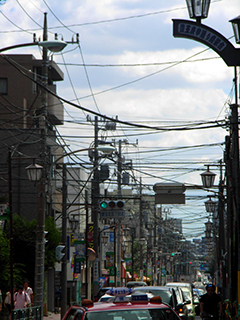 Most Japanese live in extremely dense detached landed houses. Residential roads (even 2-lane ones) are 4-meter width, no sidewalks, and are occasionally blocked by poles of power lines. Two cars cannot run in parallel over all length of street, but can pass along each other in most places.
Apparently there is no rule about minimal distance between buildings, I heard of a 50 cm rule, but in most cases houses are 2 meters each other. The housing density reaches 40-50 houses per hectare, a world record for detached houses.
I love Korea much more than Japan, because Korea have over half of population living in large apartment complexes with a lot of green space around. China and Singapore are also dominated by apartments. Can anyone tell me what is better in Japan compared with nearby Asian countries?
Japan housing statistics
Average home size in Japan is 95 square meters, share of detached houses is 56% (44% are apartments and terraced/semi-detached (rare in Japan), average home size varies across the country, depending of share of detached houses, from 65 sqm in Tokio which have plenty of apartment buildings, to 150+ sqm in small cities, according Demographia page (2003 data), average 37 sqm per capita according another Demographia page (1998 data). 60.9% of homes are owned, average owned home is 121.7 sqm according Wikipedia. Can someone clarify me if these numbers include walls and balconies?
Public housing in Japan, danchi apartment buildings, are built by Japan Housing Corporation since 1955 aimed to poor people, corridor-style and staircase-style (2 units per floor), rows of identical buildings, oriented with front facade to south, with 4 or 5 floors, most are already demolished today or will be demolished next decade. New danchis were built, taller and with more modern apartments. All danchi apartments come with balconies, and unlike other countries, no balcony is closed (is this a law?).
By measuring the blocks in Google Earth's satellite photos, I estimate that the common apartment size is 60 sqm 2-bedroom and 80 sqm 3-bedroom (few), but the internet shows apartments small as 3 sqm, no idea where they are (apartment only contain a folding bed, toilets are shared).
Landed houses are mostly in 100-200 sqm range, 3-4 bedrooms, with few exceptions (sometimes 2 houses crammed on one lot), while the apartments are much smaller.  Seems that Japanese people are conservative, making economy and not building bigger things than is necessary, same thing is true for cars too.
Houses are not designed to last, is common when a property is transacted, the buyer to buy just for land, demolish the house and rebuild another. 80% of houses are less than 30 years old. Source: freakonomics.com.
Who love crazy architecture should see Nakagin Capsule Tower, 10 sq m units.
Typical public housing in Japan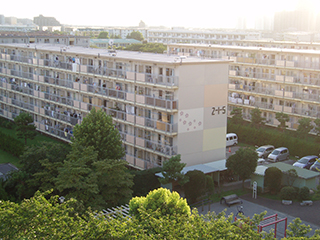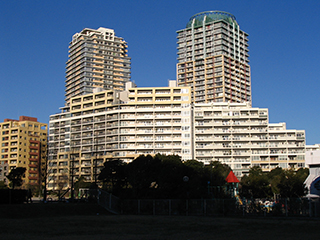 View from Tokio Sky Tower: a mess of apartment and office buildings

Japanese cities are so dense that houses are built next to railway.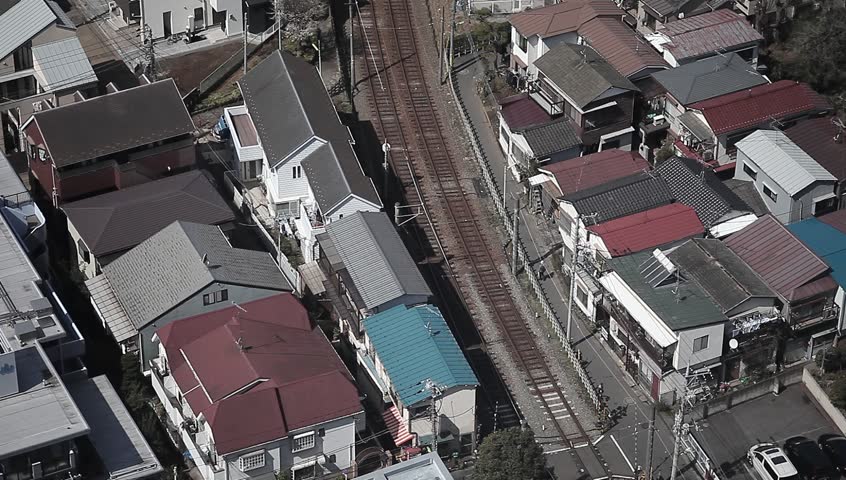 Japan urban planning
Japan urban planning is done nationwide with only 12 zoning types, ranging from residential to industrial.
Some articles interesting to read:
http://www.alatown.com/japanese-building-law/
http://www.toshiseibi.metro.tokyo.jp/eng/
http://urbankchoze.blogspot.com/2014/04/japanese-zoning.html
Transportation
Japan is pioneering in high-speed trains. Shinkansen began service in 1964 from Tokyo to Osaka (515.4 km), today the network have 2,764.6 km of lines with maximum speed of 240-320 km/h. Shinkansen network had the highest annual ridership of any high-speed rail network until 2011 when Chinese high-speed railway took the lead.
Japan is the world leader in car manufacturing, overtaking United States since 1973, if the light trucks are included, United States overtook back Japan for short periods during 2000s. But in 2010 Japan lost the title in favor of by China. Since 1990s, japanese cars are recognized as most reliable in the world.
Japan car market is most regulated in the world, it is the single country where cars are taxed by dimensions (and I appreciate this!). Since 1951 or 1955 (contradictory sources), there are 3 classes for car tax in Japan:
– Kei cars were in 1949 limited to 3 meters length and 1.3 meters wide, the regulations were gradually increased over time, currently (since 1998) the limits are 3.48 meters length, 1.48 meters wide, and 660 cm³.
– Compact cars are limited to 4.7 meters length, 1.7 meters wide, 2 meters tall, 2-liter engine.
– Bigger cars are heavily taxed.
So most car models manufactured in Japan for domestic market stick under these limits, while car models exported are bigger even if they wear same name. These rules allow two cars to pass along each other since the most residential roads are 4 meters wide. However, since 2000s numerous cars were launched that exceed the limit of compact cars especially in width, to compete with boom of imported models which are wider.
You may be also interested in...