Click block pins on map to view year built, number of floors, number of units, upgrading programmes, typical floor plans, chances to get SERS, etc. Use a computer (not phone) for best experience.
HDB block color legend
As May 2021 the map contains 10956 blocks, with the following breakdown:
Brown (102): Blocks built by SIT (1927-1960).
Red (1922): Classic blocks 1STD, 2STD, 3STD, 4STD, 1I, 2I, 3I, 4I, 3NG, 4NG, 5STD, 5I (1961-1981).
Orange (2464): Classic blocks 3I, 5I, 3NG 4NG, 3S, 4S, 3A, 4A, 5A, EA / EM with 3 bedrooms (1980-1988).
Yellow (878): Classic blocks 4A, 5I, EA / EM with 4 bedrooms (1987-1991).
Light green (1686): Blocks with centralized refuse chute and lifts stopping at every floor 4A, 5I, 5A, EA / EM (1991-1998).
Green (1475): Blocks with household shelter (1997-2004), including SERS replacement blocks (1997-2005).
Cyan (1048): Blocks sold via BTO (2004-present) or SERS (2006-present) available on resale market.
Light blue (565): Blocks sold via BTO or SERS under minimum occupation period.
Light pink (65): Blocks sold via DBSS (2009-2015).
White (642): Blocks under construction.
Grey (109): Blocks removed from public housing circuit after 2013, to be demolished or converted for other use.
Open map on full screen.
There is also an alternate map: HDB blocks colored by floor height.
How to search blocks on map
ZeeMaps have a BUG on maps with more than 7500 pins, the pins get smaller and appear under Google Maps labels thus harder to click, you need to use Search function to get big pins easier to click:
Computer users: click the magnifier in upper-right, phone users: click 3 dots menu > search.
Show all 10,000+ pins with big dots: choose Postal Code > > greater than > 1.
Find a block by number or street name: choose Name > contains > type a block number > map will show all blocks with that number > zoom to desired town.
Show only blocks containing certain flat type: choose Number of units > contains > type "3-room", "executive", etc.
Filter blocks that underwent home improvement programme: choose Upgrading programmes > contains > type HIP (or other upgrading programme).
Filter blocks taller than # floors: choose Total floors > Greater than > type a number.
For SERS hunters: only (some of) brown and red blocks (pre-1980) may be selected for redevelopment, do not waste time clicking other colors. There are only 13 different pieces on text under SERS prediction. See also list of potential SERS sites.
Share to help people with FREE information!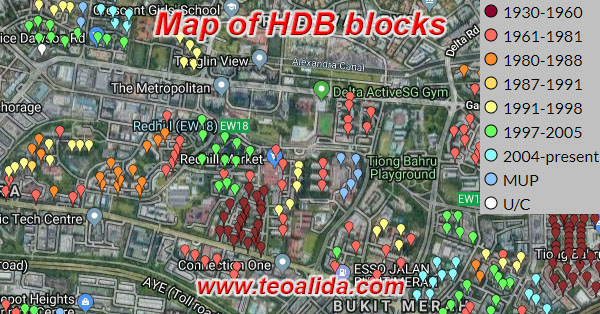 About
The map is powered by HDB Blocks Database, an Excel file compiled by me that took about 500 hours of manual work starting from 2009.
I made the interactive map in September 2017 using Google Fusion Tables, a FREE experimental application that provided only 9 colors of colored dots, as well as other icons representing various businesses. Google announced closure of Fusion Tables on 3 December 2019.
In October 2019 I moved to ZeeMaps, a paid service that provide 31 colors to choose from, and ability to filter and display only blocks of specific criteria. If anyone thinks that is better to use different colors that indicate block types and construction years, please tell.
If you want to use above map in your website, you can right click > View page source > copy embedding code.
You can also search for HDB block information using HDB blocks drop down search.
Please report possible errors on map! (some blocks may have wrong floor plans, being added from my personal research).
Looking to buy or rent a HDB flat? Contact my partner agent


For the easiest way to get the best HDB bank loans, go to Finko's home loan comparison.