Greenlivingpedia shows the average sizes of NEW homes as 201.5 sqm in USA (average detached home 217.8 sqm), and 214.6 sqm in Australia (average detached home 245.3 sqm). Australia have the biggest homes in the world.
commsec.com.au an article from Australia showing that USA have the biggest houses in the world, it also mention sizes 68 sqm in Russia and 43 sqm in Hong Kong.
What is unclear is if these numbers include garage area.

Dear Osama bin Laden, please do not hack my website due to header photo!!
United States, despite of being one of the wealthiest countries of the world, have one of the highest costs of living in the world, big income inequality and a lot of people living under poverty line. Canada may be a little better. Same thing in Australia and New Zeeland.
United States was seen as the most developed country in the world in early 20th century, but today Western Europe and some countries of Asia may have better living conditions.
Downtown of most cities have only office buildings, the population is actually living in suburbs, in low-density housing areas averaging 10 houses per hectare, too low for public transport to be efficient so there is none. For the price of a 50 sqm apartment in a major European city, you can buy a 200 sqm house with 1000 sqm land in suburbs of a major city in US. But, unless you are living in a major city from the East Coast, you are dependent by car. Most people need to drive daily to go to work, shopping, etc, wasting a lot of gas and causing traffic jams and pollution. In some US states, the number of cars exceed population, how this can be explained?
Americans live on a stupid philosophy "bigger is better". Bigger and bigger houses were built over years, average house size is over 200 sqm today, bigger than normal people's needs, a waste of energy to maintain them. Until the 1970-1980s oil crisis, American cars used engines ranging from 3 to 7 liters, compared with 1 to 3 liters in case of European cars. Fuel crisis caused rising imports of European and Japanese cars more economical and higher quality. American car manufacturers had to launch smaller cars with smaller engines, but they are still bigger than cars sold in Europe. Even if gas price in US is today about 1/3 of gas price in Europe, average Americans spend over every year $2,000 for gas (source: Huffington Post).
USA is also the country with most obese people, this is caused not only by McDonald and BurgerKing, but also by the cars, most people never walk enough, cycle or any other form of exercise.
Evolution of skyscrapers
United States is well-known for skyscrapers, but in reality only a small area in the downtown have skyscrapers, and the era when United States was the country with most skyscrapers has ended. A lot of high-rise buildings were built since late 19th century. Between 1933 and 1953, in entire world were 19 buildings over 600 feet (183 m), all in US, of which 17 were in New York alone (source). As 2015 in entire world are 218 buildings over 300 meters (including under construction) of which only 30 in US, according my Skyscrapers Database.
What is less known, is that early skyscrapers were not so well received by population and most US cities set height limits to counter the "skyscraper race", but in New York the law failed to be approved, so taller and taller skyscrapers were built. Early skyscrapers had continuous facade at street line, ugly side walls and airwells, making street to look like canyons. 1916 Zoning Resolution prevent buildings to cover entire plot of land.
Nice find: http://wirednewyork.com/forum/showthread.php?t=21249 – vintage photos of skyscrapers taken from 1900s to 1930s.
http://mentalfloss.com/article/58390/10-elaborate-floor-plans-pre-world-war-i-new-york-city-apartments – Floor plans of luxury apartments from early 20th century.
But I don't want to write too much about skyscrapers. This website should focus on HOUSING.
Evolution of the housing in United States 1800s-2010s
I done my research by exploring US cities via Google Streetview, selected few neighborhoods and searched street names on Zillow.com to find few houses for sale with year built indicated. Hope is no offence for the people living in these houses!
My favorite houses are the ones built between 1900s and 1930s. They are much denser, townhomes, detached and semi-detached houses 4-6 meters wide. There is a considerable amount of such old beautiful homes in New York, Chicago, Washington, Philadelphia, Boston, and nearby smaller cities. I am surprised how they are still standing even after 100 years!
Public housing are again common only in New York and Chicago and it is the least successful public housing schemes in the world. Some projects had to be demolished in just 20 years.
Shotgun home was common in New Orleans and other south states from 1830s to 1920s, single-story, 3-4 meters wide and 20+ meters long, having all the rooms in row without hallways. Shotgun homes are often seen in semi-detached form (double-barrel shotgun home).
Baltimore, Boston, Philadelphia are almost entirely dominated by townhomes built up to early 20th century. New York and Chicago switched to detached homes earlier.
19th century
19th century was dominated by townhouses with high-pitched roofs. similar with british ones, very high density, often with no yard at all, homes built behind street homes, facing to 3-meter wide alleys, etc.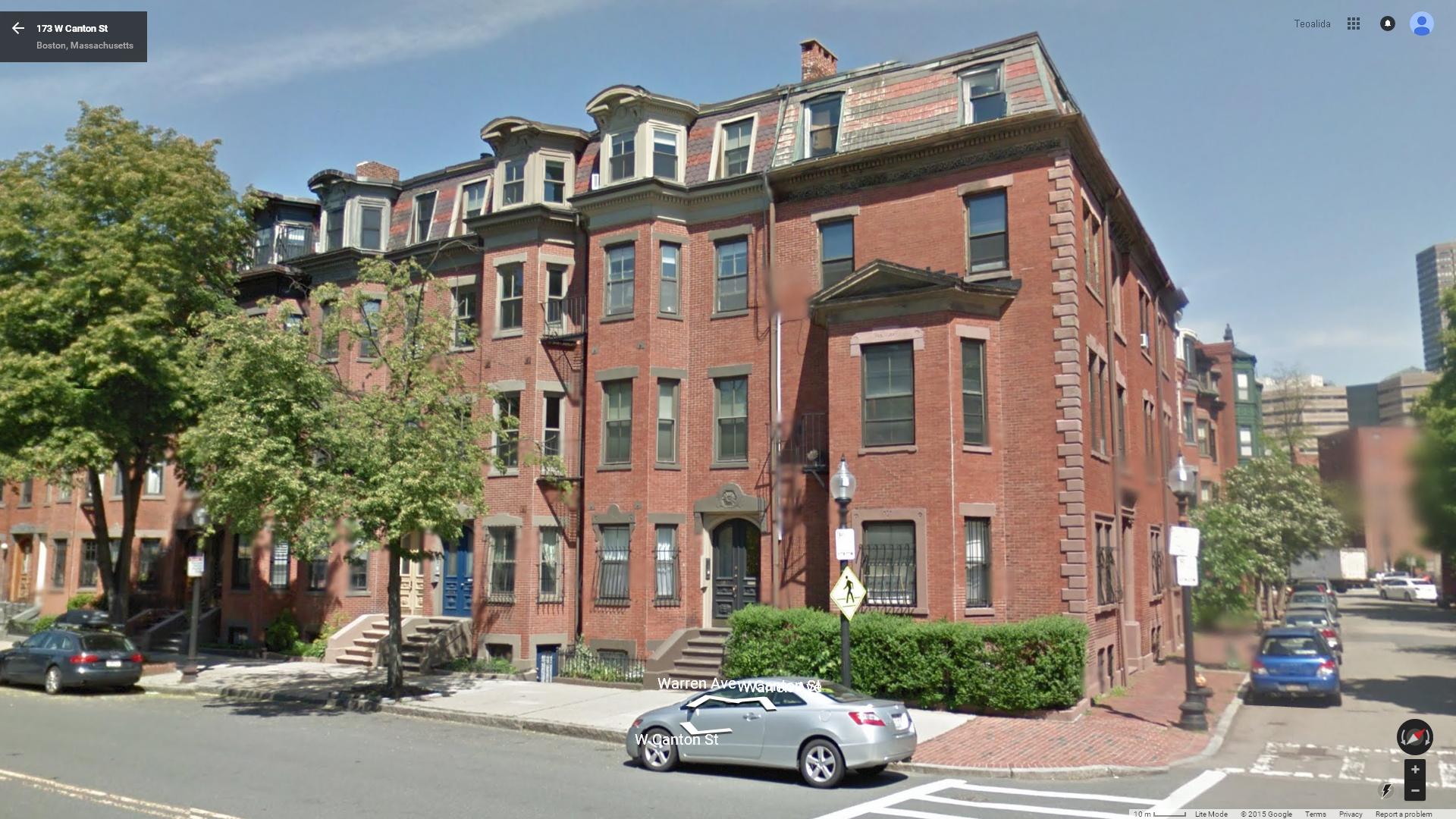 Tenements, low-cost apartment blocks with 4-5-6 floors and no lifts, were built in significant numbers in late 19th century in New York and Chicago. I am not sure what is the limit between tenement and other apartment buildings. They can be identified from single-family terraced houses by having metallic fire escape staircases on facade (so ugly!).
1900s-1910s
1900s was still dominated by townhomes too, but with flat roofs instead of pitched roofs.
Most townhouses had 2-3 floors, 12, 16, 20 feet / 3.66, 4.88, 6.10 meters wide and 30-50 feet / 9-15 meters deep, with flat roofs. Townhomes can be small as 12 feet wide, 2 bedrooms, 800 sq ft, but in New York there are few ultra-luxury townhomes in Manhattan reaching even 6 floors (or even taller but didn't saw them yet), including private lift.
Detached houses appeared in some medium-sized cities, most being 18 feet wide on 20 feet lots, leaving just 2 feet (60 cm) space between houses.
Most 1910s houses do not have garage, residents park their cars on roadside. Some do have garages, built later at back side of house, accessible through back lane (if there was enough space in backyard). Some have carpark in front of house.
Some townhomes and semi-detached homes have built-in garages in basement at back side, accessible via a submerged back lane, while the front garden is raised about 1 meter.
Density: 40-50 townhomes per hectare.
1920s
Detached and semi-detached homes became common in New York, Chicago and Detroit as well as in medium-sized cities, while in Baltimore, Boston and Philadelphia townhouses remained dominant until late 1920s. These houses are usually 2 floors but sometimes 3 floors, usually 16-24 feet / 4.8 – 7.3 m wide, 40-50 feet / 12-15 meters depth, on 100 feet / 30.48 meters deep lots, flat or pitched roof. I consider them most beautiful housing style in America, especially because there is no garage on facade.
Density: 20-25 detached homes per hectare.
The detached and semi-detached homes without back lane have a driveway 8 feet / 2.4 m wide between houses, driveway being shared by two houses, if there is no driveway the houses can be just 1 meter apart. 1920s driveways are too narrow for modern cars (since 1950s full-size cars were up to 80 in / 2.03 m wide. Consequently, people prefer to park on roadside (see photos)
Some of detached and semi-detached homes are inhabited by two families, one on each floor, having 4 entrance doors on facade (unlike apartments having a common staircase to upper floor units). I don't know how these are called in America (do you?) but in Malaysia are called townhouses (as opposite of terraced house).
1930s
1930s were dominated by 2-story detached houses in lower density, but single-story houses also appeared. In San Francisco townhomes continued to be built at large scale, with basement garage. Typical houses were 6-9 meters wide and 9-15 meters deep, 9-12 meters setback, houses well spaced apart, driveway leading to rear garages is wide enough to be used by modern cars. Streets are no longer cluttered with parked cars.
1950s to 1990s
Most big cities suffered fall in population, due to increasing automobile production, more and more people choose to live in suburbs. Since 1960s to 1990s, most homes were single-story detached, more wider than deep, sitting on large plots of land even 30×100 meters (I am still talking about working-class housing), setback from road 15-20m in average but sometimes over 50 m.
Most homes are ugly, styleless and utilitarian. Housing density was max 5 houses per hectare. Sidewalks no longer exists. Garages started to be attached to houses since 1960s, as the cars became less noisy.
2000s
Since 1990s (or earlier?) grid urban planning has been abandoned in favor of cul-de-sac, to increase residents comfort as cars cannot pass with high speed in front of their homes.
Since 2000s the New Urbanism trend appeared, optimizing land usage by building narrow homes again, with small, 8-12 meters frontage and close as 2.5 meters apart (see photo). Almost all new homes have garage for 2-3 cars which make the facade ugly. Sidewalks were reintroduced and cycling is encouraged. Best example is Enterprise, Nevada, a planned community that had 14,676 people in 2000 and reached 108,481 people in 2010 census, density 10-15 homes per hectare, max 22 in the low-cost areas. Destiny, Florida will be a planned city for 200.000 – 250.000 people, Douglas Ranch, Buckeye, Arizona could be a planned city for 300.000 people.
10 incredible aerial views of urban sprawl on twistedsifter.com.
Study to be continued…
For rich guys: The Mansions At Acqualina, 450 to 1800 sqm apartments. Not the biggest, I just found it accidentally. Tell me if you know bigger apartments!
United States housing statistics
Some statistics (like Nations Encyclopedia) shows that USA have average home size of 180 sqm and city population divided by number of households results 2.7-3.0 people per home.
According Inman, average size of homes offered for sale is 1761 sq ft, varying from 1000 sq ft in Washington D.C. to 2305 sq ft in Utah. According Propertyshark, average size in Washington D.C. is 2237 sqft and in New York is 1124 sqft, Manhattan having 1226 sqft, slightly more than city average. So big contradiction… Which is the truth!?
Detailed statistics can be found on factfinder.census.gov, such as 3-bedroom houses are dominant with 39.7% of total houses. But no info about distribution of house size in square feet.