The success with Mobile Phones Database made me to make a new database with Digital Cameras, sourcing data from www.digicamdb.com. Database created in January 2018. Looking for TV, laptops, or other kind of electronics? Please recommend me similar websites to scrap data from and I will create more databases!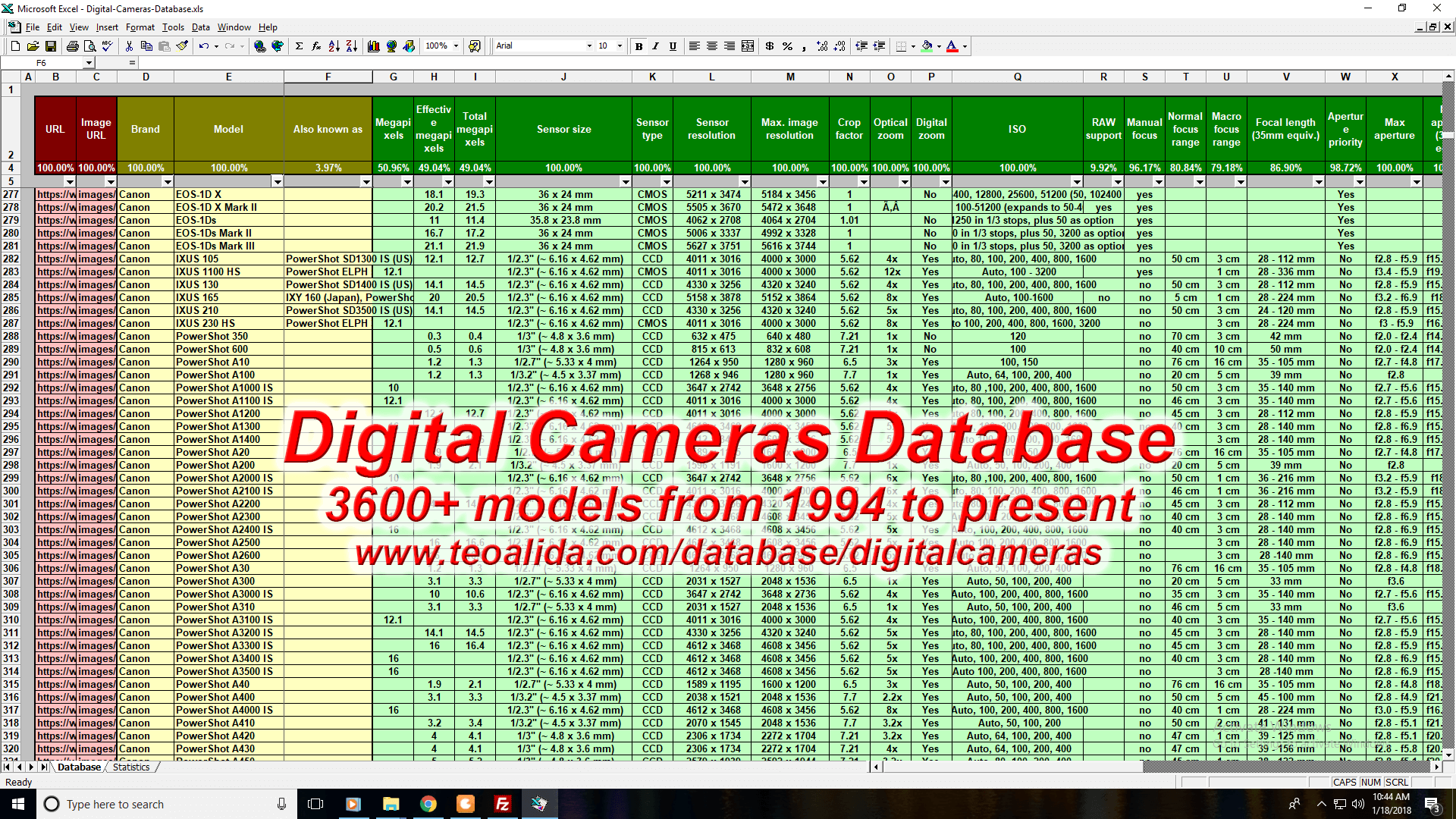 Download SAMPLE: Digital Cameras Database.xls (LITE include URL, image, brand, model, year).
Buy FULL database + 1 year of FREE updates:
Price in Singapore Dollar (1 SGD = 0.7 USD)
Digital camera brands included
Acer, AgfaPhoto, BenQ, Canon, Casio, Concord, Contax, Epson, Fujifilm, GE, HP, Jenoptik, JVC, Kodak, Konica, Konica-Minolta, Kyocera, Leica, Minolta, Minox, Nikon, Nokia, Olympus, Panasonic, Pentax, Praktica, Ricoh, Rollei, Samsung, Sanyo, Sigma, Sony, Toshiba, Vivitar, Yakumo.
Digital camera specifications included
URL 100%, Image URL 100%, Brand 100%, Model 100%, Also known as 3.97%, Megapixels 50.96%, Effective megapixels 49.04%, Total megapixels 49.04%, Sensor size 100%, Sensor type 100%, Sensor resolution 100%, Max. image resolution 100%, Crop factor 100%, Optical zoom 100%, Digital zoom 100%, ISO 100%, RAW support 9.92%, Manual focus 96.17%, Normal focus range 80.84%, Macro focus range 79.18%, Focal length (35mm equiv.) 86.90%, Aperture priority 98.72%, Max aperture 100%, Max. aperture (35mm equiv.) 100%, Depth of field 99.54%, Metering 100%, Exposure Compensation 100%, Shutter priority 100%, Min. shutter speed 92.25%, Max. shutter speed 92.42%, Built-in flash 98.94%, External flash 98.23%, Viewfinder 99.92%, White balance presets 92.96%, Screen size 98.15%, Screen resolution 87.66%, Video capture 9.92%, Max. video resolution 9.76%, Storage types 98.48%, USB, HDMI 9.95%, Wireless 9.95%, GPS, Battery 97.96%, Weight 95.95%, Dimensions 97.34%, Year 100%.
How the Excel phone database can be used
Filter the digital camera database and get a list of cameras phones having specific features.
Filter the digital camera table by year and make list of features introduced in each year of history.
Analyze data and make statistics what are the best cameras in each range.
Convert Excel spreadsheet to CSV or MySQL and create your own digital camera comparison website or mobile app.
Etc…
You may be also interested in...