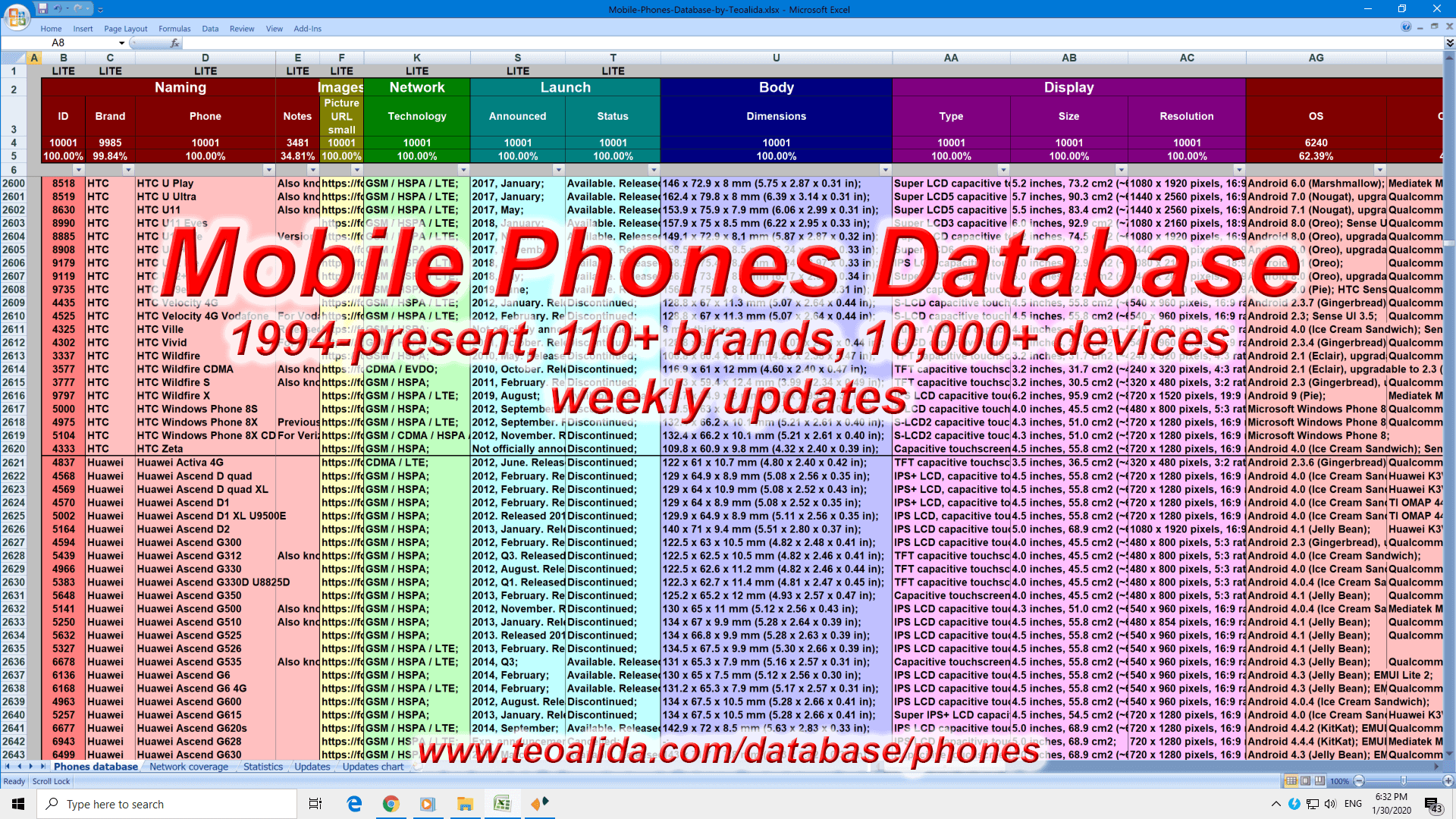 I created an Excel database with mobile phones sourcing data from www.gsmarena.com, for my personal research of how handheld devices evolved along history, and publishing it here for anyone else interested in same thing. I also created a digital cameras database and I am interested in laptops and other electronics, please suggest websites to scrap data from!
Download SAMPLE: Mobile Phones Database.xls.
LITE version include 7 columns: Brand, Phone, Notes, Image URL, Technology, Announced, Status.
Buy FULL database + 1 year of FREE monthly updates (see changelog):
Instant download (example email). Price in Singapore Dollar (1 SGD = 0.7 USD).
Warning for Indian spammers: I am selling database of phone DEVICES. I am NOT selling any database of phone numbers or any kind of people's personal information, DO NOT ask me for such things. While people from rest of world do understand what I sell, about 20-30% of requests from India are about phone numbers… SMS marketing spamming is trendy there?
Mobile phone database coverage
The mobile phone specification database include classic phones and smartphones, tablets and smartwatches, from most popular phone brands in western world. There may be missing brands especially from China which have a lot of brands totally unknown outside their domestic market.
Earliest models included are Ericsson phones launched in 1994, but I guess that some early phone models are missing, as number of phones launched per year is significant only after 2003.
114 mobile phone brands included
Acer, alcatel, Allview, Amazon, Amoi, Apple, Archos, Asus, AT&T, Benefon, BenQ, BenQ-Siemens, Bird, BlackBerry, Blackview, BLU, Bosch, BQ, Casio, Cat, Celkon, Chea, Coolpad, Dell, Emporia, Energizer, Ericsson, Eten, Fujitsu Siemens, Garmin-Asus, Gigabyte, Gionee, Google, Haier, Honor, HP, HTC, Huawei, Icemobile, i-mate, i-mobile, Infinix, Innostream, iNQ, Intex, Jolla, Karbonn, Kyocera, Lava, LeEco, Lenovo, LG, Maxon, Maxwest, Meizu, Micromax, Microsoft, Mitac, Mitsubishi, Modu, Motorola, MWg, NEC, Neonode, NIU, Nokia, Nvidia, O2, OnePlus, Oppo, Orange, Palm, Panasonic, Pantech, Parla, Philips, Plum, Posh, Prestigio, QMobile, Qtek, Razer, Realme, Sagem, Samsung, Sendo, Sewon, Sharp, Siemens, Sonim, Sony, Sony Ericsson, Spice, TECNO, Tel.Me., Telit, Thuraya, T-Mobile, Toshiba, Unnecto, Vertu, verykool, vivo, VK Mobile, Vodafone, Wiko, WND, XCute, Xiaomi, XOLO, Yezz, Yota, YU, ZTE.
Mobile phone specifications included
Database include 78 columns, each one having the following completion percentages (as 1 February 2019 update):
Naming: Brand 100.00%, Phone 100.00%, Notes 33.60%, Image 92.96%.
Network: Technology 100.00%, 2G bands 100.00%, 3G bands 59.68%, 4G bands 24.46%, Speed 59.97%, GPRS 99.66%, Edge 99.76%.
Launch: Announced 99.83%, Status 100.00%.
Body: Dimensions 99.79%, Weight 99.04%, Build 6.73%, Keyboard 7.46%, SIM 99.99%, Other 12.15%.
Display: Type 99.96%, Size 87.10%, Resolution 99.50%, Multitouch 0.00%, Protection 17.94%, Other 29.53%.
Platform: OS 60.31%, Chipset 47.14%, CPU 59.65%, GPU 46.00%.
Memory: Card slot 100.00%, Phonebook 38.99%, Internal 81.42%, Call records 38.20%.
Main Camera: Single 83.40%, Dual 3.48%, Triple 0.17%, Four 0.01%, Features 51.43%, Video 86.32%.
Selfie Camera: Single 50.66%, Dual 0.62%, Triple 0.01%, Four 0.00%, Features 7.65%, Video 10.81%.
Sound: Alert types 26.09%, Loudspeaker 100.00%, 3.5mm jack 99.28%, unnamed 25.15%.
Comms: WLAN 99.97%, Bluetooth 99.80%, GPS 99.68%, NFC 10.61%, Radio 98.90%, USB 90.39%.
Features: Sensors 56.99%, Messaging 39.68%, Browser 39.04%, Clock 5.16%, Alarm 5.16%, Games 39.03%, Languages 2.93%, Java 39.11%, Other 60.60%.
Battery: Battery 99.97%, Stand by 72.25%, Talk time 75.38%, Music play 7.97%.
Misc: Colors 93.60%, SAR US 21.29%, SAR EU 25.20%, Price group 59.86%.
Tests: Performance 4.46%, Display 6.25%, Camera 7.72%, Loudspeaker 9.16%, Audio quality 8.38%, Battery life 5.96%.
Indian mobile phones
This page has been getting significant traffic from India, with many people contacting me but refusing to buy above worldwide mobile phones database and asking me if I can create another mobile phones database with only models available in Indian market. Job done!
I sourced data from 91mobiles.com, this website have 10 category of products, such as Tablets, Cameras, TVs, Home Theaters, Smartwatches, Washing machines, Air conditioners, Refrigerators, Microwave oven, but I do not intend to scrap all categories and create databases for each, because would take a lot of time to regularly update each of them, for their sale volume, they will become products sell-able only in India and we all know how little indians pay, if people from western world contact me if they are able to make a purchase, many indians contact me regardless they are willing to pay or not, and just few leads actually convert to sales.
Download SAMPLE: India Mobile Phones Database.xls.
Buy FULL database + 1 year of FREE updates:
How the Excel phone database can be used
Filter the mobile phone database and get a list of mobile phones having specific features.
Filter the mobile phone table by year and make list of features introduced in each year of history.
Analyze data and make statistics what are the best phones in each price range.
Convert Excel spreadsheet to CSV or MySQL and create your own phone comparison website or mobile app.
Etc…
Actually I do not recommend using this database in making websites. Feel free to use it for research and analysis purposes. I am NOT responsible for any copyright troubles you may face if you use their data commercially, making own website, etc. This is NOT an original database "Made by Teoalida", but rather a database showcasing abilities of data scraping, and the data belongs to www.gsmarena.com. Please consider the price a fee for data scraping service from website rather than author of data.