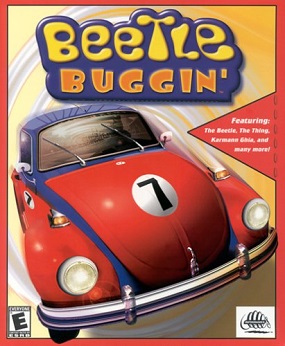 Note that this is a FAN PAGE intended for people who already have the game. Do not ask me for link to download full game because I do not support piracy, go and buy it from stores or search yourself in torrent websites.
Beetle Crazy Cup, also know on warez websites as Beetle Buggin' (probably due to amount of software bugs included in game), or Käfer Total, is one of the worst racing games I ever played… but it can be fun if is played at home with a friend.
Beetle Crazy Cup is the most recent game that can be played with 2 persons at same computer, know by me. Do you know other such games?
I created an Excel table: Beetle Crazy Cup.xls containing statistics such as vehicle list with car prices and car top speed in each gear.
Game review
Horrible physics: Buggy cars have similar acceleration, but the speed makes the difference; Speed cars have similar top speed, but the acceleration makes the difference (see the Excel file for details); with the slowest Speed cars is impossible to reach top speed on normal track.
Lack of realism: walls throw you back with the same speed. In Cross events, is better to crash with full speed in the walls at certain angle, rather than use handbrake and turn without hitting walls (cars don't take damage anyway). Beware that some walls are bugged and you can pass through them!
Gearbox trick: Automatic transmission change to next gear only when the top speed of each gear is reached. This causes waste of acceleration. You can do much better times using manual transmission and change to next gear at redline. But surprise: the gearbox is not saved by replay. In replay the speed shown on tachometer is determined by acceleration rather than actual speed of car, if you select manual transmission the replay will show only 1st gear.
CRAZY TRICK: Select manual gearbox and drive entire track in 1st gear, without raising finger from acceleration. Save the replay, select automatic gearbox then watch how in replay your speed is going crazy! This trick was useful for me to determine the top speed of some cars with slow acceleration, if the road was not long enough to reach top speed (especially in Jump events).