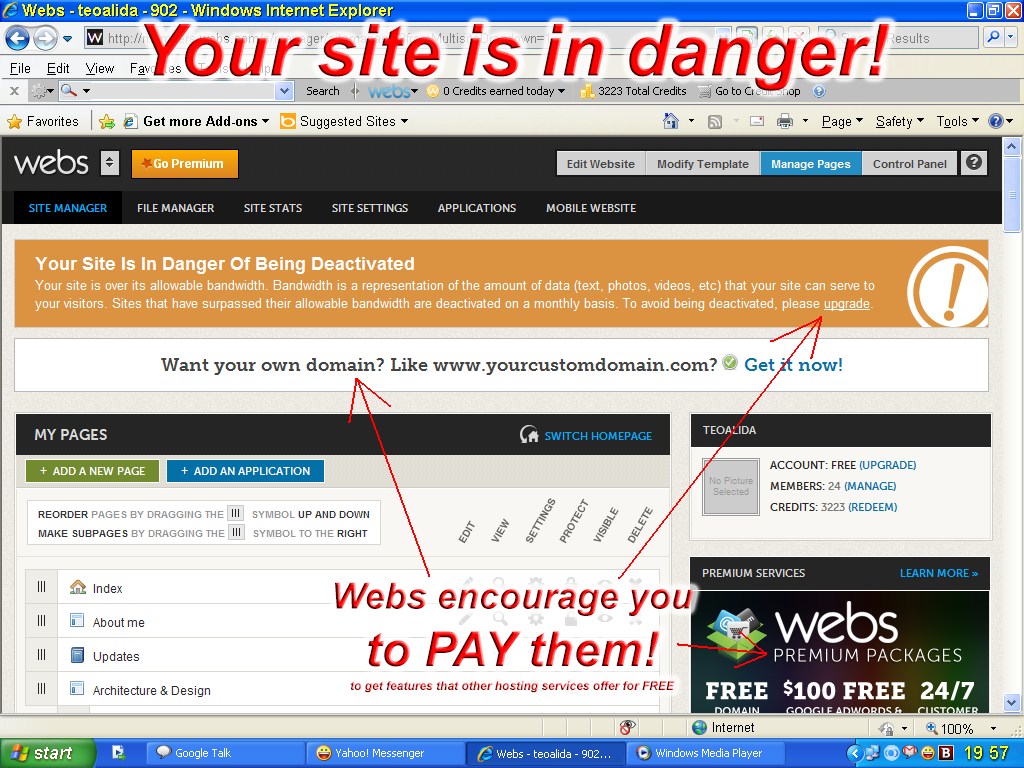 If you want a personal blog, a family photo album, a gaming clan forum or something else really stupid, go with Webs.com.
If you want a professional / business website and do SEO to appear on 1st page of Google, to have over 100 daily visitors, STAY AWAY FROM WEBS.COM!!!
DON'T be an idiot and pay for Webs.com Premium plans to get features that you can get for FREE on other hosting services. See dedicated article: Choosing a good hosting service.
Written by me, with 10+ years experience in webdesign…
Webs.com was launched in 2001, that times were not many free web hosting services. It currently host over 40 million websites, however most of them are currently abandoned and forgotten by their authors.
Webs.com seems to cater the lowest segment of the web development industry, aka children and people with no coding knowledge and low expectations, as Webs.com offer easy-to-use SiteBuilder but do not offer flexibility that experienced web developers would like to have.
Webs.com is extremely limited compared with other free hosting services, and you get a lot ads and pop-ups telling you to upgrade, as well as weekly emails about Premium services with 50% off… but these Premium services lack features that should exists at any paid hosting services (see below What you CANNOT do on Webs.com).
Webs.com offer a tiny 42 MB storage space and stupid 500 MB monthly bandwidth, unchanged since at least 2008. The template does not count towards bandwidth, but only text, images and other files you add, you need to host all images on third-party websites to save bandwidth. If you exceed bandwidth, you will get a message threatening that your site is in danger of being deactivated, telling you to upgrade (seen in the above photo).
You can stay calm for some time, the deactivation occur only if you exceed 200% of the bandwidth, and it will be automatically reactivated at the monthly reset date of bandwidth.
Webs.com became a
bigger,
bigger,
bigger
SHIT
Is a common trend for hosting services to add new features in their free plans over time.
Webs.com marketing strategy is opposite: overtime Webs remove features from free accounts and tell you to upgrade to Premium to continue using them.
One of website visitors told me that in early times, Webs.com was limited to 7 pages and 7 paragraphs per page. When I found Webs.com in 2008, the limit was 20 pages and unlimited paragraphs per page. Does anyone know when the limit was increased to 20 pages?
In mid-2011 Webs.com limited number of pages to 10 (instead of 20) for free accounts, I do not understand this marketing strategy, since nowadays there is a trend for web hosts to move to unlimited pages. You could buy unlimited pages from Credit Shop. I still recommended Webs.com to friends.
In late 2011 Webs was acquired by Vistaprint.
In June 2012 Webs launched the "revolutionary" SiteBuilder3, "easiest to use" for any NOOB, using drag-and-drop interface with modules for text, photos, etc. SiteBuilder 3 removed numerous must-have features, including ability to customize CSS, ability to have a sidebar that update for all pages, etc. SiteBuilder3 do not have ability to switch from WYSIWYG to HTML editor (useful for beginners to learn HTML codes or to create more complex websites), instead it offer a Custom HTML module. Webs motivated that "too few of our users are using them". These features are no longer available even for premium plans. Sites created after June 2012 are forced to use SiteBuilder3, on older sites you can still switch between original Site Builder (1) and New Site Builder (2) or you can convert to SiteBuilder3. The conversion is one-way, you cannot convert from SiteBuilder 3 to Sitebuilder 1/2, but the old website is kept as backup for 7 days time in which you can rollback to SiteBuilder 1/2 (changes made after conversion to SiteBuilder 3 will be lost).
Since this date I do NOT recommend Webs.com to anyone! Fuck it!
In January 2014 Webs.com disabled the Custom HTML module for free users, so you need to pay a Premium plan in order to add widgets, polls, Facebook comment boxes, games, etc, motivating that many people are using it fraudulently (what a lie! – in 12 years of Webs.com history were no such remarks). This caused anger over Support Forum (valid for SiteBuilder3 only, who still have old SiteBuilder, can still add widgets in HTML paragraph editor). However in SiteBuilder3 this can be overcome by uploading HTML pages in File Manager.
On 22 September 2014 Webs.com set a new limit to 5 pages and additional features were removed from free accounts, in desperate attempt to force users to pay for Premium services.
In 2014 or 2015 the ability to upload HTML files in FileManager was also restricted to Premium users. Web Store ecommerce app is also Premium only. Credit Shop which allowed you to buy unlimited pages, free domain name and other goodies was also discontinued, causing anger along people who clicked Credit Shop daily to earn 5 free credits hoping to accumulate 3000 credits to get a free domain name coupon.
I did not monitored what changes happened after 2015.
Webs turned from a professional website maker into a NOOB-ONLY website maker! No wonder that fewer and fewer people use Webs.com!
Note: Webs.com sites made before June 2012 (like teoalida.webs.com) retain the classic SiteBuilder and the great features, widgets, custom HTML, etc. Notice my custom-made sidebar and Zopim live chat widget in bottom-left corner? This cannot be done on Webs.com anymore if you created your site June 2012!
For a NOOB with no HTML knowledge, Webs may be a good place for start (with its easy-to-use Site Builder). For someone who actually wants to learn HTML and have growing expectations over time, Webs is NOT a good choice.
Who the fuck will pay for Premium package to get unlimited pages, more bandwidth, ability to add HTML, etc, as long there are so many other web hosting services offering these features for FREE?
But if Webs.com is catering lowest segment of web, meaning children with no money, how do they expect us to be able to pay them?
Vistaprint announced shut down of Webs.com brand on 30th June 2021, that will close all free-hosted sites, those paying for their sites will have them still running and can log in Vistapriint.com to manage them. As August 2021 Webs.com is still working.
Webs.com will close in 2021 (email received on 12 November 2020)
Important Update Regarding Webs
Hello,
First, thanks for choosing Webs to create your website. It's been a pleasure to host your website and millions of others since we started our journey back in 2001. In late 2011, Webs was acquired by Vistaprint, a company which specializes in customized marketing solutions for small businesses. During this transition, we launched a new website builder under the Vistaprint brand. This builder provides a more modern and easy-to-use experience.
We have been maintaining website subscriptions under both Webs and Vistaprint for quite a while, but now it is time to bring all our customers to the Vistaprint brand. This means we will be retiring Webs on March 31, 2021. With this change comes some important information you should be aware of:
If you are paying for a website:
We will be moving your website to the Vistaprint website builder. Don't worry – we will take care of everything for you! We will ensure that your website design, domain, email, and all other data associated with your subscription will be available on the Vistaprint platform. Additionally, your renewal term and price will be the same, and the upgrade itself will not cost any extra. Please look out for a follow-up email within the next few months regarding next steps in this process. As we prepare your Vistaprint account for the upgrade, you may receive some automated emails.
For more information about the upgrade process – including specific features that may not be supported – please review these FAQs.
If you have a free Webs site:
As of March 31, 2021, you will no longer be able to edit or view the published version of your free website hosted with Webs. We are so sorry for the inconvenience to you and would love to continue serving you as our customer under the Vistaprint brand,where our packages start at just $5 per month. We also offer design services to move your site to Vistaprint or create a brand new site for you.
Thank you again for using Webs.com for all these years. We are excited to share Vistaprint Digital with you. Stay tuned for more updates as the changeover gets closer.
All the best,
The Webs Team
As 2023 many Webs-hosted sites, including mine teoalida.webs.com are still running.
About me: how I started using Webs.com
In 2007 I found some nice websites hosted on Webs.com. Later I tested Blogspot and WordPress… that times many idiots were creating blogs on Blogspot and WordPress, posting their diary and stupid stuff, personally I wanted something more professional, a WEBSITE with static pages rather than a BLOG with posts sorted by date.
So in April 2009 when I made teoalida.webs.com as portfolio of my works, I choose Webs.com.
Webs.com have a variety of templates making it great for personal websites and home businesses. This fooled me to make this bad choice.
Webs.com have nice applications such as Blog, Calendar, Forum, Guestbook, Photos, WebStore, etc, that fooled other people (personally I did not use any of them, except Blog).
Another thing that fooled me is the traffic stats in Webs.com, non-existent in Blogspot and WordPress, that moment I did not realized that traffic stats are actually provided by a third-party service <a "href="//www.clicky.com">www.clicky.com which can be used for ANY website regardless of being hosted.
About me: how I migrated away from Webs.com bullshit
In 2011 I bought domain teoalida.com from Name.com for $10, and I was disappointed that I cannot use it for teoalida.webs.com unless I upgrade to Premium (I did not had 3000 credits to buy the domain for free from Webs.com). But I do not want to pay a single cent to this SHIT hosting Webs.com!
My website grow to 50 pages in 2012 (see Traffic Stats page), including a BIG page Singapore HDB Floor Plans page that became extremely popular, causing my website to get deactivated for exceeding bandwidth. That page was also the biggest, HTML code was around 100 KB and being the landing page for 40% of the 100+ daily visitors, it was eating 5 MB bandwidth per day, 150 MB per month, and considering that almost half of people were browsing other pages as well, I quickly exceeded the 500 MB bandwidth limit (even if all images were hosted on third-party sites to not eat Webs.com bandwidth).
I bought additional 1 GB bandwidth using 1000 credits in March 2012, but several months later I reached 200+ daily visitors and exceeded the expanded bandwidth too.
So, instead of buying another domain name when I accumulated 3000 credits and upgrade bandwidth again, in August 2012 I decided to start from scratch a NEW website hosted on 000webhost.com (FREE hosting with 100 GB monthly bandwidth), under teoalida.com domain name, and manually copy-pasted each of the 50+ personal and business pages to the new website (I let on the Webs.com site only the four pages "for Webs.com users" and home page, for people who bookmarked it along time).
Moving to .com domain name and WordPress platform turned to be a smart choice, people saw me as serious website and started paying for my services, my hobbies turned into money-making BUSINESS!
Conclusion: starting a business using Webs.com was a huge mistake. I could have been richer today if I would have started with WordPress from first time.
Rule: FIRST, be sure that you have a proper hosting with enough bandwidth and professional features, THEN buy a domain name!

What you CANNOT do on Webs.com
What you CANNOT ever do on Webs.com (not even by paying a Premium account)
A 404 page, or redirect to home page when visitors enter an invalid URL (possible on WordPress).
Export/backup the website (possible on most free hosting services, including Blogspot and WordPress).
301 redirect and .htaccess (typically only in paid hosting, and on 000webhost.com).
Use any form of PHP and MySQL (typically only in paid hosting, and on 000webhost.com).
Having customer support that actually READ your questions instead of copy-pasting a stupid answer!
What you CANNOT do with SiteBuilder3 (and you could do earlier SiteBuilders)
Use FTP (in old SiteBuilder FTP was available although only for Premium accounts).
Customizing template with CSS.
Switch editor to HTML mode instead of WYSIWYG for advanced editing, add ALT and TITLE tags for images.
Adding any HTML code, needed to add widgets and scripts from other third-party websites (since January 2014, unless you pay for Premium plan).
Inserting multiple images per paragraph (not sure).
Text wrap around image (not sure).
Easy copying of text and images from one page to another.
Having a sidebar that updates on all pages at once.
Having a sidebar that you can edit, on Application pages.
Insert music on background (unnecessary, unprofessional, childish feature).
Insert polls, shoutboxes, comments, and other widgets.
Adding a live chat widget, a must-have for the sites selling stuff or offering services (notice my chat in lower-right corner? it uses Javascript which is not possible on SiteBuilder3).
What you CAN do on Webs.com but cannot do on Blogspot.com
Having applications, photo gallery, forums, etc.
Upload files.
What you CAN do on Webs.com but cannot do on WordPress.com
Having applications, photo gallery, forums, etc.
What you CAN do on Webs.com but cannot do using WordPress.org on a professional hosting
Probably nothing (with tons of plugins for WordPress, the only limit is your imagination).
Please tell me more things that you cannot do on Webs.com! Leave comments!
Webs Credits Toolbar
Webs.com launched a toolbar in October 2009 I think, which allowed you to earn 10 credits daily (beside the 5 free daily credits available by logging in Credit Shop) and spent them on goodies, personally I bought unlimited pages and extra bandwidth.
Webs deprecated Credits Toolbar in September 2011, by removing the link from Webs.com home page to Credits Toolbar download page, the staff announced in Webs Forum that we will no longer earn credits AND told us to uninstall the toolbar (this is fucking funny!). Official reason was that toolbar is incompatible with "something", personal I think that the real reason was that people gained free credits too fast, they told us that we can sill earn credits by completing sponsors offers (which are not free).
Personally I still have it installed, not one, but 2 toolbars installed, and I keep earning, 15-20 credits per day from toolbar plus 5 credits from Credit Shop, 1000+ credits earned from September 2011 to February 2012 when I saw Credit Toolbar Deprecation in Webs Forum, without even knowing that Webs.com supposedly discontinued it and I shall uninstall it since 5 months ago!!
I stopped using the toolbar in mid-2012 because I decided to abandon Webs.com and start a new website using WordPress platform on a paid hosting service. I accumulated over 3000 credits and I have nothing to do with them.
Note: In December 2012 one of website visitors reported me that cannot earn credits because "No rewards until tomorrow", same thing happen at me. I do not know if is a temporary problem or Webs really did something to prevent us earning more credits using toolbar. We can earn still earn 5 credits daily by clicking Credit Shop.
Credits Shop was discontinued
In 2013 a website visitor informed me that the Credits Shop does not exist in newly-created websites. I am not sure when, but probably the Credits Shop was disabled at launch of SiteBuilder3 in June 2012, this means that you can still earn credits, but you cannot use them to buy goodies.
Credits Shop is available ONLY for websites created before June 2012 with SiteBuilder1/2, eventually converted to SiteBuilder3. Check yourself http://members.webs.com/s/credits/ and see if you have Credit Shop.
In 2015, after few months in which I did not logged in Webs anymore, I found that I no longer have Credits Shop for my website. Looks that Credits Shop was removed for all websites, causing anger along people who clicked Credit Shop daily to earn 5 free credits hoping to accumulate 3000 credits to get a free domain name coupon.
What we could buy from Credits Shop
| | |
| --- | --- |
| Credit Shop Launch Special (get 5 free credits once a day) | 0 Credits |
| Spotlight | 10 credits |
| Extra 100Mb of web storage | 100 Credits |
| Extra 500Mb of web storage | 300 Credits |
| Premium Templates | 500 Credits |
| Master Password – Password Protection | 500 Credits |
| Extra 500 Webform Submissions | 500 Credits |
| 24/7 Live Chat Support | 500 Credits |
| Rich Email Blasts | 600 Credits |
| Unlimited Pages | 800 Credits |
| 1Gb extra bandwidth | 1000 Credits |
| Domain Name Coupon | 3000 Credits |
| 25Gb extra bandwidth | 5000 Credits |
| 200Gb extra bandwidth | 20000 Credits |
I was wondering if anyone saved the installation .exe of the Webs Credits Toolbar to give me and put it here for everyone to download it, until… in a day of March I opened Internet Explorer and got a message "Click here for activate toolbar", I clicked and it sent me to http://members.webs.com/s/freecause/activation/creditsToolbar saying that toolbar was activated. Days later I was curious what happen if I open the activation page in Mozilla Firefox where I never had toolbar installed… SURPRISE: I can download Webs Credits Toolbar from that page!
Funny: how I had 2 toolbars installed
In 2009 when the Webs Credits Toolbar was launched, I downloaded and installed it, I searched but earned nothing. I was frustrated so I removed it from Internet Explorer. One month later I clicked again the download link, I installed again and I was surprised: I earned credits by searching! Then I had a second surprise, the first toolbar that I removed from Internet Explorer, was not completely uninstalled, so could activate again and had both toolbars same browser, earning up to 20 credits per day. They are not the same, one is 5.06 MB and other one 5.85 MB.
In March 2012 I tried to install the same Webs Toolbar multiple times, resulting multiple installations in Program Files, but only one instance of second toolbar appeared in Internet Explorer.
Today I think that the single way of having multiple Webs Credits Toolbars installed is if they are different versions. The above striketrough link is from first version, being 5.06 MB, but I don't have the installation kit of it.
I am sure that a skilled programmer can install the Webs Credits Toolbar manually, try running all .exe files with correct parameters, also try RegEdit and add the entries. If anyone succeeded, please share with us how you did!
Funny: instant credits
Toolbar warn you "Just search naturally through out your day – No fake searches or your rewards will be disabled". I did stupid searches, I never got anything disabled, but I noticed that I do not get credited if I search non-english words or if I search same word twice.
Since 2011 the protection for fake searches no longer exists. I can write any character (even a space) in the search box, press enter 10 times in 10 seconds (pressing 10 times in <2 seconds may not work) and earn instantly all the 10 daily credits!