If you are looking for FREE ideas, feel free to browse my past designs in House plans and Apartment plans pages, use Google Images Search and find yourself ideas. DO NOT disturb me unnecessarily except if you need few minutes of consultation about my past designs. DO NOT ask me to make new designs for free! If you want one of my past designs in editable DWG format, to customize a floor plan or to design a new floor plan according your requirements, I have the right to charge money.
If you are PAYING, I can my partners can make a new design according your requirements. Specify if you need only a schematic floor plan, or a complete set of architectural drawings (detailed floor plans, elevations, sections, foundation, plumbing, electrical drawings, structural engineering, plus 3D model).
Update: I (Teoalida) will NOT make any more architectural designs. I lost interest to architecture thanks to these IDIOTS who wasted too much time per project, paid too little or not paid at all.
I have partner architects in India, Nigeria, Philippines, Romania and United States. It is for benefits or both ME and YOU, to have your project done by my partner architects. They have university (I don't have) and offered to work for me if I am too busy but seeing their high experience and cheap prices I decided to pass them ALL architectural projects, to free my time so I can focus on data providing industry where I get paid 10x higher than in architecture.
I do NOT post their contact info here to protect them from being spammed by people looking for free services. You need to confirm your budget with me then I will put you in contact with the most suitable architect, you discuss project details and negotiate price with them instead of me. You can pay me and I pay him or you can pay him directly.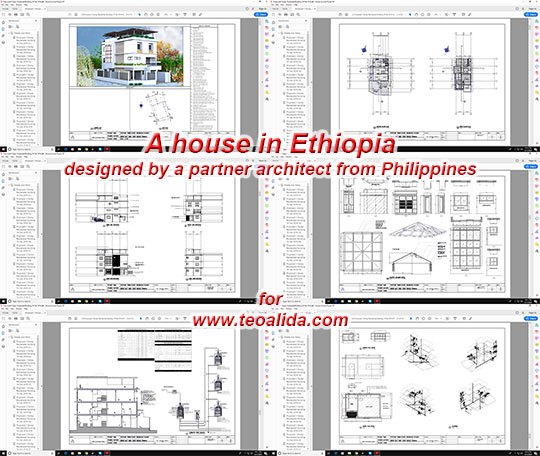 I am sorry for the FEW serious paying customers, but I no longer have time to answer 10 chats and emails, discuss and understand project requirements to quote a price, if only 1 does pay while other 9 disrespect me asking free consultation, free sketches, in some cases even complete set of drawings for free, or paying but too little (especially from India).
If you do not agree to have project done by an architect from my team, go find yourself an architect, DO NOT contact me and ask to design your house myself. I will NOT waste my time designing new houses no matter how many million dollars are you paying.
If you are architect and want to work for me, you are welcome, even students. But I cannot guarantee that all leads I send you, will pay.
leaving architecture business.
Procedure of architectural design service
First, email me your lot plan so I can see exact dimensions and orientation, or at least tell me length and width of your land.
Describe project requirements: in case of single family houses how many floors and rooms do you require, in case of apartment blocks, number of floors, apartments per floor and rooms per apartment. If you have other requirements, tell them all. I will show you several samples to understand your tastes in terms in floor plan and external design, and may ask you other requirements.
Alternatively you can choose one of my designs shown on website and suggest changes, or provide your own sketch (even a pencil drawing) and I will convert it into a professional drawing, or provide photos of local houses taken yourself.
I will show you few designs made in the past and ask you which one do you like more, in some cases I quickly edit a design to show you a conceptual idea as PNG screenshot (please do not judge the quality of service by "first sketch", it usually have furniture but lack windows and other details).
Now you need to make first payment, BEFORE starting drawing the custom design according your requirements. During design you can suggest changes in dimensions of each room, I will add windows and correct furniture, and I send you final error-free design in PDF format.
You are advised to show the final floor plan to your family or colleagues and make sure everyone will like it, before proceeding to detailed construction drawings. When you are ready, we need to discuss a lot of other details to make sure that the building will be livable and will follow the building code of your country. Including ceiling height, windows size and position, etc. I will make a draft 3D design and show you, you can again suggest changes, and when everything is decided I make final 3D design and final PDF files containing floor plan, elevations and sections. In some cases I send also DWG file that you can edit yourself.
You can pay in stages, 30% for floorplan 30% for draft 3D design, 40% when final 3D design and elevations are completed. Even after full payment I can still revise the drawings free of charge until you are 100% satisfied.
Had customers willing to pay in advance, some customers do not trust me and want to have project finished before paying and "pay only if like it", which is risky for me because I waste time designing something that customer may not like and don't pay. If you are along these people, feel free to go to someone else, I am no longer making free drawings hoping to convince you to pay for complete project.
Occasionally (10% of cases) even if you don't pay, I get personally interested in the layout you you require and I redesign it with greater care, sometimes at different dimensions, to publish it on website as sample for future customers. Example: Pakistan 20x60ft sketch vs final floor plan.

Price of architectural design service
To make prices affordable for every country and project type, I use the following formula to calculate prices.
Concept floor plan (example PNG / example PDF).
$20 × no of rooms × country multiplicator.
Detailed architectural drawings (floor plan, elevations, sections, example PNG) + 3D design
$100 × no of rooms × country multiplicator.
Structural, mechanical, electrical drawings: to be negotiated with my partners.
Country multiplicator (to provide competitive prices for rich and poor countries):
× 2 for first world (Europe, United States, Canada, Australia, Singapore, etc)
× 1.5 for second-world (Malaysia, Thailand, Latin America, Middle East to Maroc, South Africa, etc)
× 1 for third-world (India, Pakistan, Burma, Indonesia, Philippines, rest of Africa, etc)
We count as rooms: bedrooms, living room, family room, study room, but not kitchen and smaller rooms.
Revisions: unlike other designers who show you the design only at final, and offer you a limited number of revisions or charge money for each revision, personally I show you the design in middle of work, you can propose changes before finishing it, allowing a large number of minor revisions. However, if you ask revisions at infinite I have right to stop the work and give you editable DWG file and let you find someone else with more free time.
Price examples:
One-family house: Bungalow-5x18m with 4 bedrooms + living room + family room, sketch made for someone in Philippines, price for full set of drawings will be $600. However, we can negotiate, different customers request a different amount of drawings.
Multi-family house: for 2 or more identical houses, price will rise with 25% of the price of initial house.
Price for apartment blocks: gross floor area up to 400 sqm = $400, up to 800 sqm = $600, up to 1600 sqm = $800, up to 3200 sqm = $1000, and so on, again multiplied by 1, 1.5, 2 depending by your country.

Above prices give me in average $20/hour but this vary greatly depending by how many revisions do you ask. $20/hour made me happy in 2012-2015 but since 2015 working in IT and databases I managed to earn $50/hour, raising architectural design prices would be stupid to charge higher than professional architects given by my lack of university. So is better and cheaper to outsource projects to my partner architects. They usually charge $200 x number of rooms for a complete project with floor plans, elevations, sections, electrical, plumbing and structural analysis.
Purchase ready-made AutoCAD DWG files
If you are NOT interested to design a custom floor plan for you, you can buy ready-made AutoCAD DWG files of my past projects and edit them yourself.
Price: $20 starting fee + $20 for each house plan, $20, $30, $40 for apartment blocks. The price formula is made to give discount for bulk purchase. If you want one house DWG file you pay $40, if you want 5 DWG files you pay $120.
3D designs are also AutoCAD DWG files and can be sold at negotiable prices.
How to purchase: contact me and specify what drawings you want to purchase, for purchasing 1 drawing you can click PAY button below, for purchasing multiple drawings I will make them a ZIP archive and put it on server, create a product in Store so you can pay with PayPal or credit card and receive the files automatically in your email.
Around 2015 I was thinking to turn website into an online shop with BUY buttons at every project so you can buy each drawing individually automatically without contacting me, but doing so I was not able to offer discounts for bulk purchases. Also, by contacting me BEFORE paying we can make sure that you are not wasting money buying floor plans that do not fit your requirements.
Do not ask for free DWG files because I do not give my projects for free! If you are student and want free drawings, go on BiblioCAD.com and download what other people have uploaded there. Most drawings on BiblioCAD are made by students so quality is not comparable with mine, and you cannot contact designers to make modifications, which I do, this is why I charge money for my service.
How long takes to design a house in AutoCAD
Designing a floor plan at correct scale, with furniture in correct position, dimensions, etc, (sample) takes 1-2 hours, but before designing them I spent hours to study various houses in case of hobby projects, or in case of customers, how long takes depends by how many revisions you ask.
Designing fully-dimensioned floor plan, elevations, sections, etc takes 10-20 hours if your requirements are clear, this job involve a lot of communication to decide every detail. Usually take few days, but one project took few weeks because customer was asking numerous revisions and email-only communication.
Designing a 3D model takes from 3-4 hours in case of JUN's house to 100 hours in case of Trianon Palace with its high-detail geometry.
If you want a fast reply you are advised to contact me via LIVE CHAT in bottom-left corner of screen. If you contact me via email or comments, you NEED to reply at email and confirm that you are interested, before making any sketch for you. So far 50% of people sending emails or offline messages never reply after my reply (up to 90% in case of Indians, which probably request house designs on multiple websites and by the time I reply them. they are no longer interested in my service).
I use AutoCAD for both floor plan drawing and 3D model. I know that 3D Studio Max can make better 3D renders but I love AutoCAD. There are several other architecture software (ArchiCAD, Chief Architect, etc), but the money I earned do not justify paying license.
The floor plans and 3D models published on website are samples intending for viewing only, for educational purposes for students and also for families dreaming to build their own home, allow them deciding how big land to purchase. They are optimized for on-screen viewing, at low resolution to discourage stealing (20 pixels per meter for 2014-present design, 32 / 40 pixels per meter for pre-2013 designs), and colored to be understood by average people. They are NOT intended to be used in construction or submitted to government for building permit. For this, I provide detailed drawings in PDF format optimized for printing at any resolution you want. You have option to choose PDF files black and white or colored.
Important!
I get contacted by many non-serious people, some looking for consultation and not interested in my full service. People who are just dreaming for a house, not ready to build it, undecided, etc. Such people do not deserve attention and can be forgotten, but they makes me difficult to identify the serious people interested in my services, to pay attention to their projects.
If you are really interested in my services, and I accidentally forgotten you, just contact me again. I do not enjoy re-emailing every one to ask if you are ready / still interested in my services.
If you like my concept but have another architect/designer to do final project, I can sell you any of floor plans displayed on website, in editable .DWG file. This may save some time of your designer. But don't forget that I can also offer a personalized floor plan for your requirements!
If you pay your designer but do not want to pay me too, DO NOT ask a free sketch from me, go from start to your designer.
Funny case: I do a FREE 20-min sketch, the customer likes it, then when we negotiate price for the construction drawings, he say that cannot pay because he have no money and is just helping his mom / brother / cousin / boss, to find a good concept plan. But hey, you do not need to pay for first sketch! Instead, you should tell about me to your family, so when they are ready to build their home, to come at me for the final drawings.
Should reorganize website?
Some people may suggest to organize the website in separate posts for every house plan, and tag them like India-style, 2-storey, 3-bedroom, 100-200 sqm, modern house, etc, so we can filter them, like in a Blog. However, I DISAGREE, this system can be used only if I have large number of projects finalized including 3D design, and will encourage people to serve themselves and steal my works, then where the "services and prices" should be shown? Showing on a single page few houses in different architectural styles plus prices may encourage people to contact me and eventually turn into customers. Probably there are already too many houses on website and would be better to delete few of them and keep only the BEST 10.
Statistics: most downloaded house plans (as 2014).
House & apartment design statistics (Excel file with all my house and apartment designs, one per row, showing room size of each room for calculating gross floor area and compare different housing models).