Most AutoCAD designers offering paper-to-CAD conversion simply put the scanned JPG in background and draw over it, every line, often making various identical drawing elements at different dimensions, aka low-quality CAD drawing.
Personally I offer quality paper-to-CAD conversion services, taking care to make every element of drawing a rounded dimension, and in case of floor plans of various buildings, you can choose if you want me to add dimensions in CAD file as they are in the original floor plan, as well as adding more dimensions, or provide a CAD file without indicating dimensions, just designing walls according dimensions from the scanned floor plan.
You give me scanned PDF, PNG, JPG, or other raster image format, and I give you DWG, DXF or PDF exported from AutoCAD. Contact me for price quote!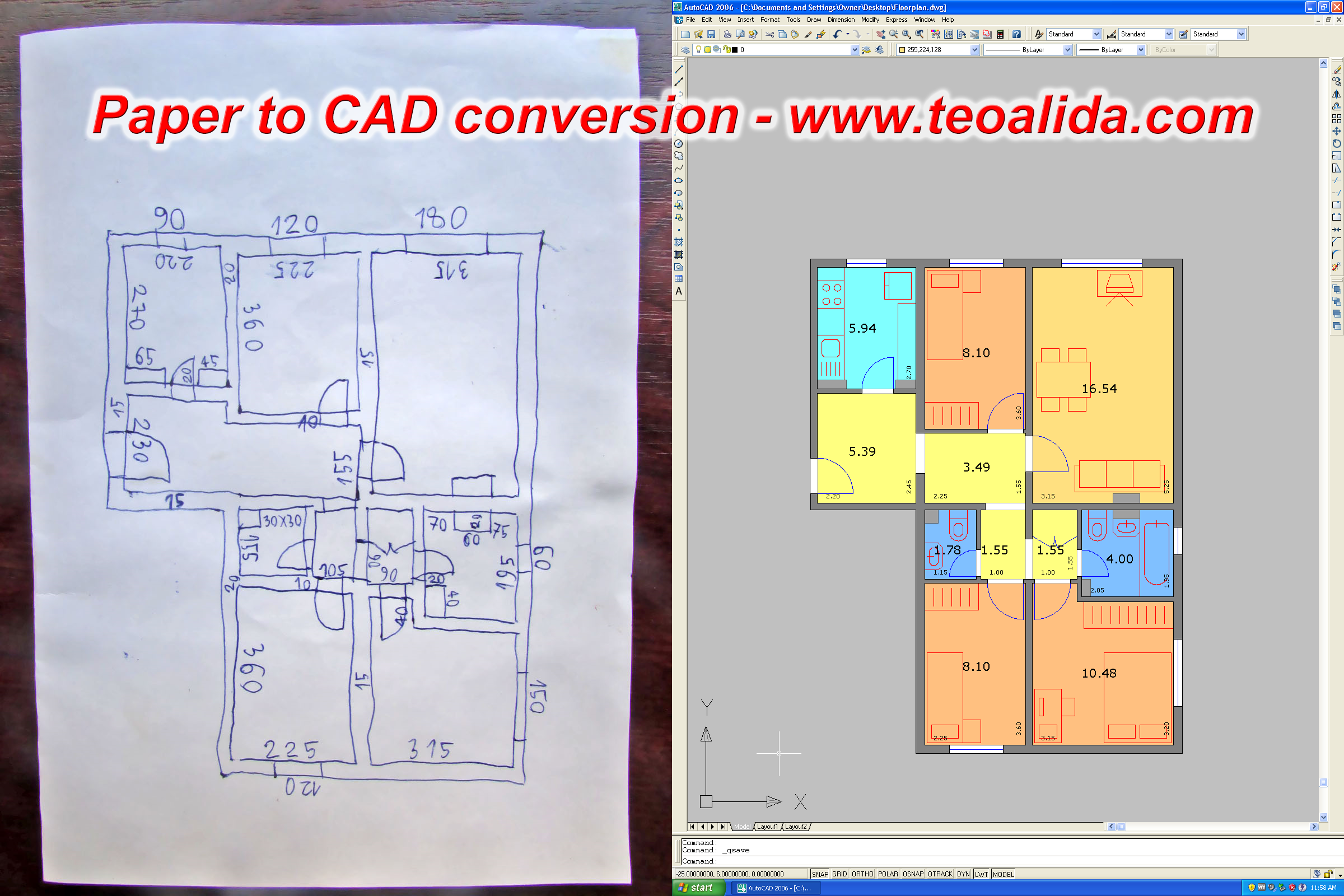 Since 2019 to 2022 I designed in AutoCAD floor plans for ~80 most common apartment blocks built by communist government of Romania.
Romanian authorities started renovating old buildings and (for some blocks) renovation projects are available on city hall websites, they include floor plans, elevations, sections, electrical and sanitary drawings. I used their whole floor floor plans as reference, and for blocks where renovation projects were not available, I looked on real estate classifieds to find floor plans of individual apartments (in case of symmetrical buildings, floor plan of 1 apartment may be enough to draw whole building, but if building is not symmetrical I could draw only after finding at least 1 floor plan from each stack).
I made a video showing paper to CAD conversion process:
Paper to CAD conversion of HDB flats for interior design
This PDF to CAD conversion service involve drawing walls accurately according dimensions shown on original PDF floor plan, and add internal dimensions of every room, different than original dimensions that include wall thickness, so interior designers can accurately plan their renovation.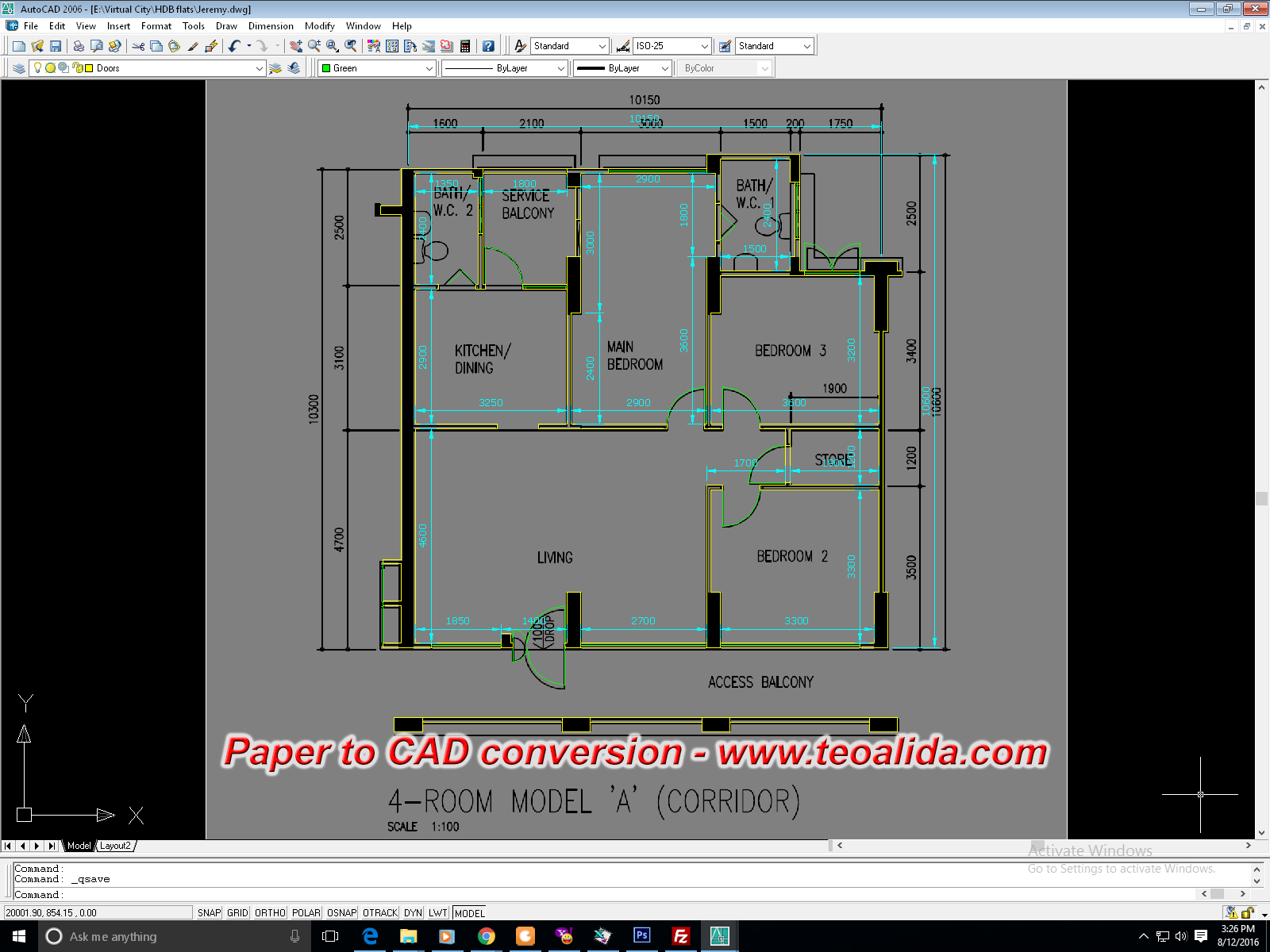 Paper to CAD conversion for Michael Lee paintings
Between 2012 and 2013 I worked for Michael Lee, artist and curator from Singapore, who created paints of HDB floorplans as well as various buildings around the world, focusing on buildings demolished or never built, or buildings with famous stories. But to paint them, he needs a vinyl outline, and to cut the vinyl, he needs a graphic designer, and this is my job!

To provide quality graphic design services, I design a set of axis to make sure that building elements are equidistant as they should (especially when the scanned paper he sends me is not accurate or is badly scanned), as seen in Rasa Singapura food centre. Moreover, I use my experience in architectural design to remove furniture and non-architectural elements from drawing, and sometimes, do additional research based by photos and movies, to add more details (for example adding windows, if the scanned floor plan have only walls). Michael Lee is using 1:50 scale for all his paintings and due to limitations of vinyl cutter, he require all drawing elements (walls, doors, windows) to be draw as double line, at least 1.5 millimeters wide.
The results are quite simple and black & white, does not really showcase my high AutoCAD design skills, as it requires more time than skill, but as long I am paid, I do ANY kind of graphic design!
This is my way of designing…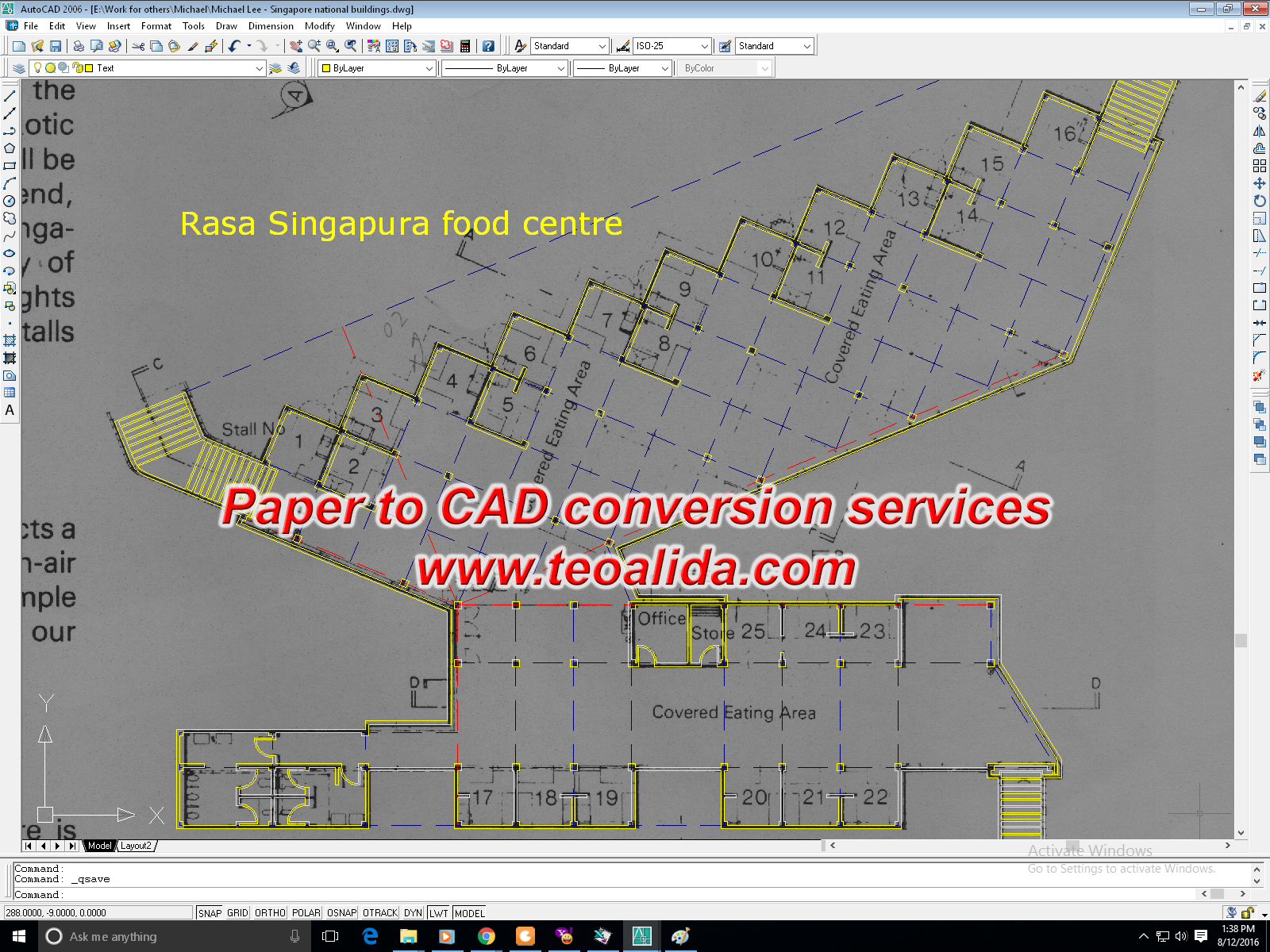 … that gave birth of his paintings
Michael Lee payments gave me approximately $10-20 SGD/hour which 2012-2013 made me happy. But over years I earned more and more money from databases, exceeding $1000/month in 2015, thus doing Paper to CAD conversions today would make me to waste time instead of making me happy. I can still do paper to CAD conversions but should not exceed few hours and I charge $50/hour.
So if you want to convert one HDB floor plan to DWG I will do myself in <1 hour for $40, while in case of bigger projects I connect you with designers in India and Philippines charging $10/hour (you need to pay them minimum 5 hours).