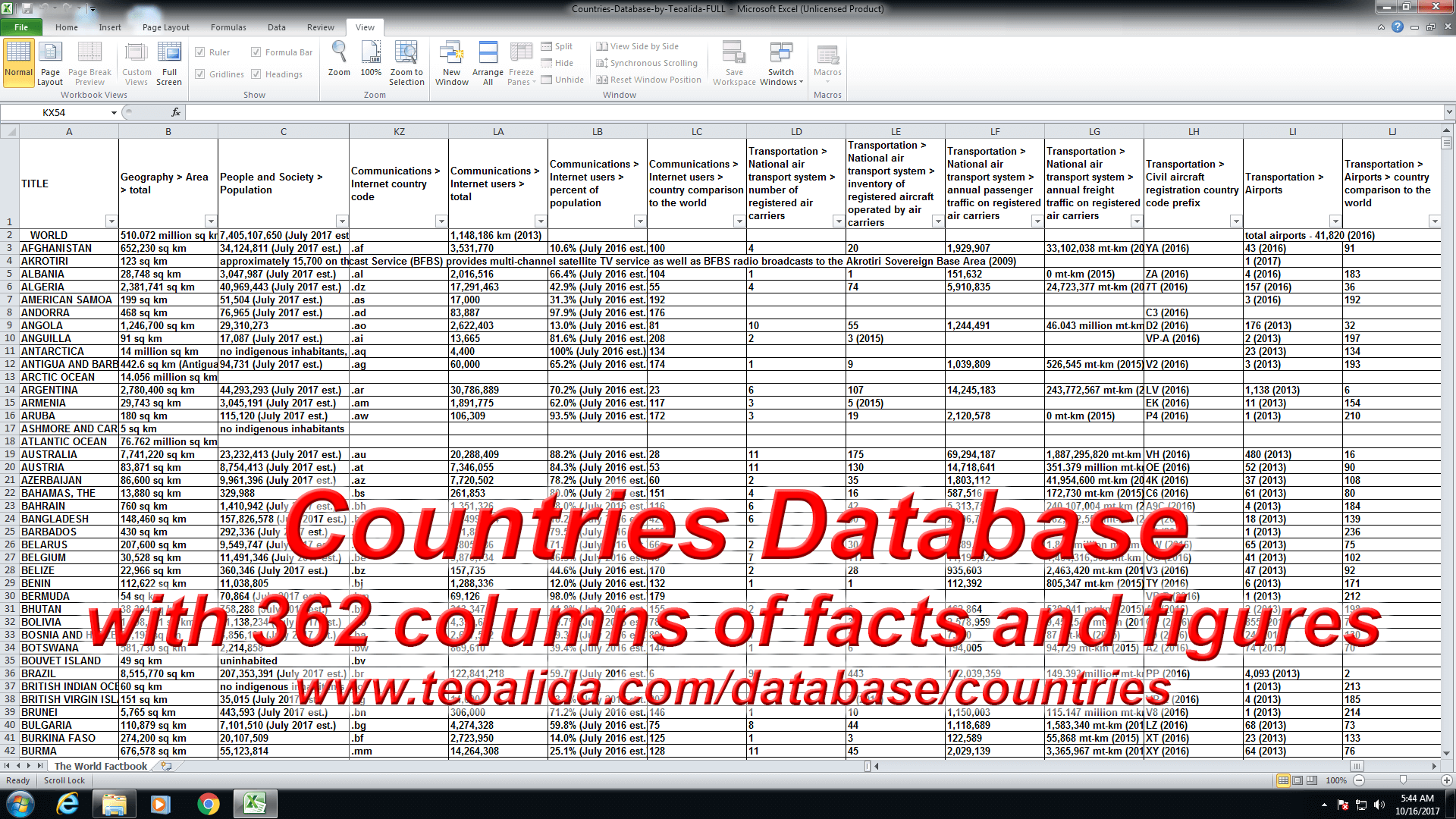 Are you looking for a database of countries in Excel format with their facts and figures, for research or to create a website? I made a database for you.
Buy country database:

The database include 268 entries, sovereign countries, dependent territories, as well as oceans, World and European Union.
LITE version include area and population for all countries, as well as full facts for United States and United Kingdom.
FULL version include 362 facts, covering everything possible from Geography, People and Society, Government, Economy, Energy, Communications, Transportations, Military and Security, Transnational Issues.
History
In 2017 I spent few hours making a scraping script which extract data from The World Factbook and create a CSV file. At the time of posting this it for sale on website, I mentioned that I can update database anytime someone request update, as it takes only 35 min to extract data of the 268 entries.
However, the demand for such kind of data was lower than expected, 1st person who requested update came in 2020, my script no longer works because The World Factbook has changed, and because in these 3 years ONLY 3 people purchased $36 database, I am NOT going to spend few hours again re-writing script. This project is abandoned.
Check other databases made by me (100+ databases).
List of entries in country database
World, Afghanistan, Akrotiri, Albania, Algeria, American Samoa, Andorra, Angola, Anguilla, Antarctica, Antigua and Barbuda, Arctic Ocean, Argentina, Armenia, Aruba, Ashmore and Cartier Islands, Atlantic Ocean, Australia, Austria, Azerbaijan, Bahamas, The, Bahrain, Baker Island, Bangladesh, Barbados, Belarus, Belgium, Belize, Benin, Bermuda, Bhutan, Bolivia, Bosnia and Herzegovina, Botswana, Bouvet Island, Brazil, British Indian Ocean Territory, British Virgin Islands, Brunei, Bulgaria, Burkina Faso, Burma, Burundi, Cabo Verde, Cambodia, Cameroon, Canada, Cayman Islands, Central African Republic, Chad, Chile, China, Christmas Island, Clipperton Island, Cocos (Keeling) Islands, Colombia, Comoros, Congo, Democratic Republic of the, Congo, Republic of the, Cook Islands, Coral Sea Islands, Costa Rica, Cote d'Ivoire, Croatia, Cuba, Curacao, Cyprus, Czechia, Denmark, Dhekelia, Djibouti, Dominica, Dominican Republic, Ecuador, Egypt, El Salvador, Equatorial Guinea, Eritrea, Estonia, Ethiopia, Falkland Islands (Islas Malvinas), Faroe Islands, Fiji, Finland, France, French Polynesia, French Southern and Antarctic Lands, Gabon, Gambia, The, Gaza Strip, Georgia, Germany, Ghana, Gibraltar, Greece, Greenland, Grenada, Guam, Guatemala, Guernsey, Guinea, Guinea-Bissau, Guyana, Haiti, Heard Island and McDonald Islands, Holy See (Vatican City), Honduras, Hong Kong, Howland Island, Hungary, Iceland, India, Indian Ocean, Indonesia, Iran, Iraq, Ireland, Isle of Man, Israel, Italy, Jamaica, Jan Mayen, Japan, Jarvis Island, Jersey, Johnston Atoll, Jordan, Kazakhstan, Kenya, Kingman Reef, Kiribati, Korea, North, Korea, South, Kosovo, Kuwait, Kyrgyzstan, Laos, Latvia, Lebanon, Lesotho, Liberia, Libya, Liechtenstein, Lithuania, Luxembourg, Macau, Macedonia, Madagascar, Malawi, Malaysia, Maldives, Mali, Malta, Marshall Islands, Mauritania, Mauritius, Mexico, Micronesia, Federated States of, Midway Islands, Moldova, Monaco, Mongolia, Montenegro, Montserrat, Morocco, Mozambique, Namibia, Nauru, Navassa Island, Nepal, Netherlands, New Caledonia, New Zealand, Nicaragua, Niger, Nigeria, Niue, Norfolk Island, Northern Mariana Islands, Norway, Oman, Pacific Ocean, Pakistan, Palau, Palmyra Atoll, Panama, Papua New Guinea, Paracel Islands, Paraguay, Peru, Philippines, Pitcairn Islands, Poland, Portugal, Puerto Rico, Qatar, Romania, Russia, Rwanda, Saint Barthelemy, Saint Helena, Ascension, and Tristan da Cunha, Saint Kitts and Nevis, Saint Lucia, Saint Martin, Saint Pierre and Miquelon, Saint Vincent and the Grenadines, Samoa, San Marino, Sao Tome and Principe, Saudi Arabia, Senegal, Serbia, Seychelles, Sierra Leone, Singapore, Sint Maarten, Slovakia, Slovenia, Solomon Islands, Somalia, South Africa, Southern Ocean, South Georgia and South Sandwich Islands, South Sudan, Spain, Spratly Islands, Sri Lanka, Sudan, Suriname, Svalbard, Swaziland, Sweden, Switzerland, Syria, Taiwan, Tajikistan, Tanzania, Thailand, Timor-Leste, Togo, Tokelau, Tonga, Trinidad and Tobago, Tunisia, Turkey, Turkmenistan, Turks and Caicos Islands, Tuvalu, Uganda, Ukraine, United Arab Emirates, United Kingdom, United States, United States Pacific Island Wildlife Refuges, Uruguay, Uzbekistan, Vanuatu, Venezuela, Vietnam, Virgin Islands, Wake Island, Wallis and Futuna, West Bank, Western Sahara, Yemen, Zambia, Zimbabwe, European Union.
World countries population