Ministry of National Development, Khaw Boon Wan, said in 2012 that HDB flats have been the same size for last 15 years and are not shrinking. This article has been copied on numerous blogs.
As you can see in the following chat, the 4-room flats leased in 2000 were 90 sqm and 4-room flats launched in 2012 (TOP 2016) are the same 90 sqm, so he is not lying, instead he is masking the shrinking that occurred 15-20 years ago, also he does not take in consideration that the 4-room flat was the smallest flat type in 2000, while today it is the average flat type.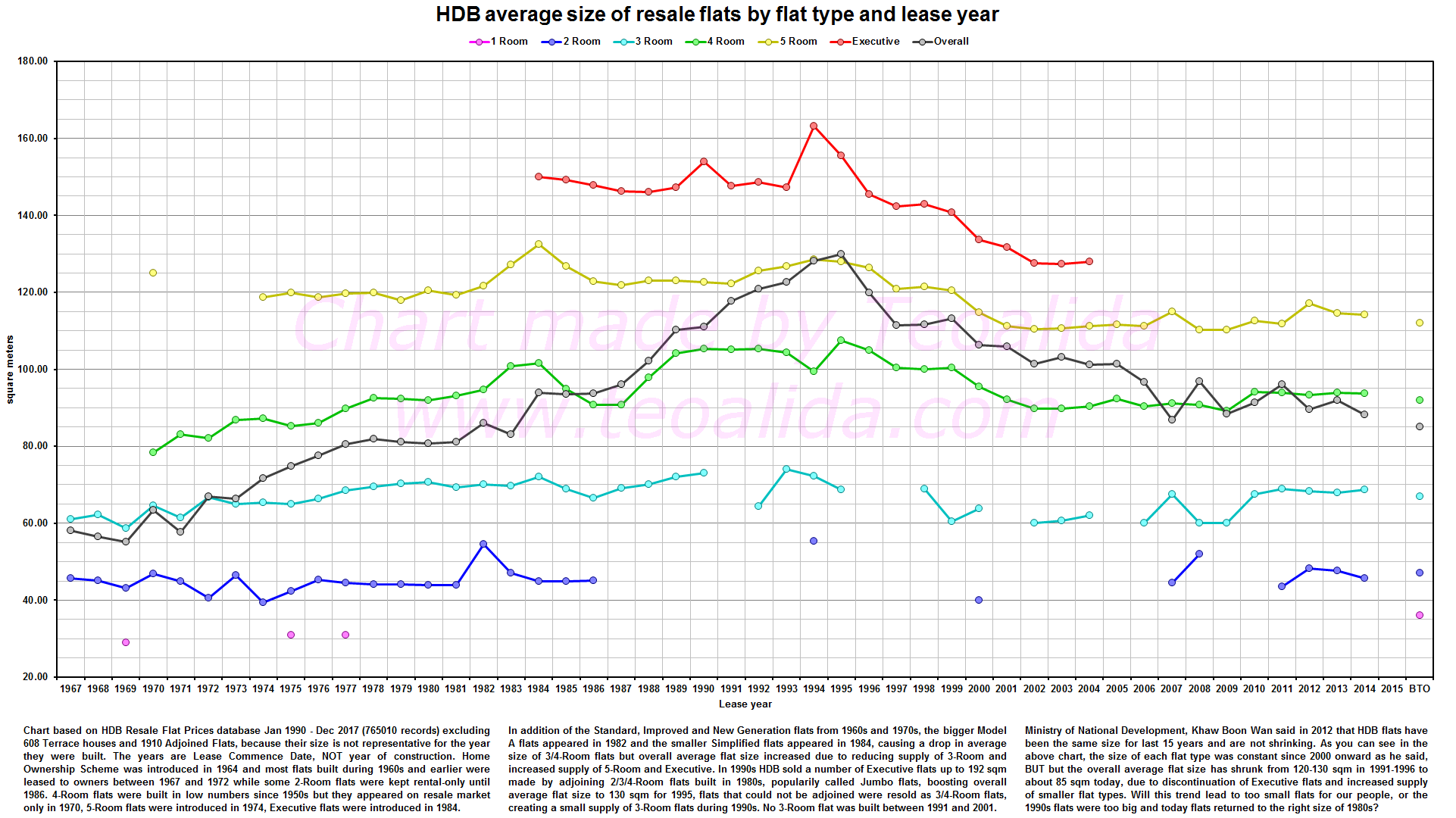 HDB CEO, Dr Cheong Koon Hean, said that smaller flats do not mean lower quality of living, referring that family size decreased and square meter per person increased for 5-room flats, but exactly the table provided by her, shows that nationwide sqm per person is DECREASING, because in 1990s 3.9 people were living in 100-140 sqm flats, while today 3.4 people are crowding in 65-110 sqm only.
Also how the fuck the quality of living has not been lowered… if today's 4/5-rm flats have master bedroom small as 4 x 3 meters (12 sqm) and common bedrooms 2.7 x 3 meters (8 sqm), even smaller in case of 2/3-rm flats, so we cannot put anymore a double bed, wardrobe and desk!? Since 1960s to mid-1990s, bedrooms were 12-16 sqm.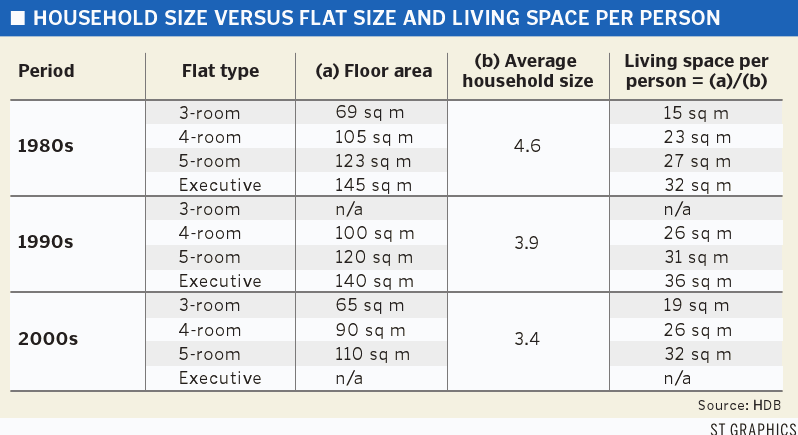 ---
The truth about HDB flat sizes
The average size of each flat type was constant since 2000 onward but the overall average flat size has shrunk from about 120 sqm for flats leased in 1991-1996 to 78 sqm for BTO projects launched in 2010, due to phasing out the Executive flats and reintroducing the flats smaller than 4-room. After 2010 is started to rise: 81.8 sqm for 2011, 83.2 sqm for 2012 and 85.9 sqm for first half of 2013… thanks to increased supply of 5-room. Since mid-2013 HDB raised supply of 2-Room flats and allowed singles to purchase them, so the overall average flat size is going down again. Average size of all housing stock is around 95 sqm.
Today flats may appear even smaller, due to the household shelter introduced for all flats completed since 1998, and layouts with hallways to improve privacy in bedrooms. However today HDB flats are spaced more efficiently than in 1990s, with kitchen and bedrooms being just enough size to fit specific furniture, saving space for a bigger living room.
To see how HDB flats evolved in individual room sizes, look in HDB history & floor plans 1930-2010s.
The 1997 Asian Crisis left HDB with many unsold flats especially in larger flat types, however the decision to close the registration for Executive flats date back from 1995, they were built until 2004 to serve everyone in the queue. Due to the same reason, very few 5-Room were built during mid-2000s.
As the economy recovered, HDB reintroduced 5-room in 2008… let's look on HDB website at applicant ratio, see how small flat types remain unsold, despite of cheaper price and higher grants, while the 5-Room get oversubscribed. There are couples without children applying for 4/5-Room flats not for having 3 bedrooms, but because they are unhappy by room sizes so choose a bigger flat to adjoin rooms and make a huge 2-room flat. People can afford bigger HDB flats!
There are rumors that HDB do not resume building Executive flats because the average household size dropped and most applicants are families up to 4 members, and the big flats are picked by rich people able to afford more space than they normally need. I can tell contrary, while running this website, I have been contacted by numerous people buying 5-Room BTO flats and complaining about impossibility to turn the study into a 4th bedroom for additional child, maid, in-laws, etc (possible in 1990s flats). While MND encourage raising birth rate, HDB offering flats with max 3 bedrooms, is discouraging us to make more than 2 children.
The 3gen flat introduced in 2013, having 4 bedrooms and restricted to a 3 applicants is welcome! Unfortunately it is only 115 sqm.
What do you prefer: to add Executive Apartments of 130 sqm, or to enlarge current 3/4/5-rm to 75/100/125 sqm?
---
Comparison 1980s vs present
I designed in AutoCAD floor plans of most common 6 flat types during 1980s and 4 flat types from 2000s/2010s that I came across floor plan, and measured floor area of each room. See what rooms have shrunk!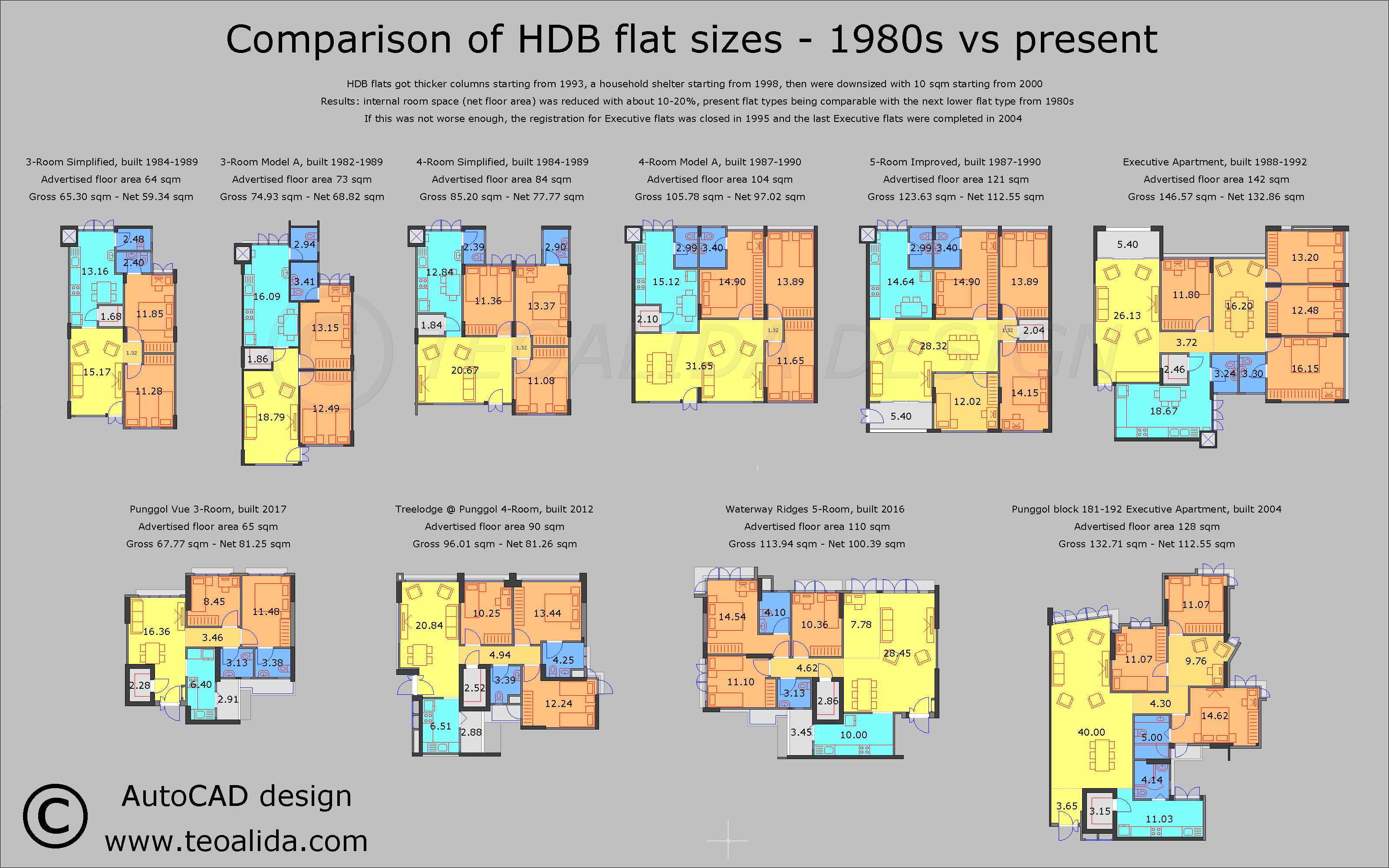 ---
Sick of HDB flat sizes?
Take a look how is the Housing around the World, especially in United Kingdom, Hong Kong, Japan, Brazil, etc… and realize that Singapore apartments are already one of the biggest in the world. The single country which exceed Singapore in terms of average apartment size and quality (and I love it!) is South Korea, having 3, 4, even 5 bedrooms, averaging 110 sqm. Korea passed in 1990s through a similar situation like Singapore, undersupply and rising prices. But they did not reduced apartment sizes, they built bigger and bigger and succeeded to keep prices stagnating and even decreasing (per square meter) last 20 years by building more than demand. Can't understand why they need so many rooms.
I noticed a worldwide home sizes shrink around year 2000. Can be the innovations in technology responsible for this? For example: laptops replaced desktop computers, plasma TVs hanged on wall so you do not need anymore TV stand, and the kids no longer need space for toys because are playing in cyberspace?
But why I see so many Singaporeans complaining about flat sizes? Probably they never heard of versatile furniture, probably they have the Malay tradition with oversized houses, also HDB built too big and cheap flats in 1980s and 1990s, encouraging people to buy more than necessary and how to waste space. Chinese, indian, others.
In my opinion, the standard HDB size of 65 / 90 / 110 sqm is slightly acceptable, 75 / 100 / 125 sqm is the ideal, and most important, the average flat size should be 100 sqm.
But is totally unacceptable that private developers are building condos smaller than standard HDB sizes, and I am not talking about the 1-bedroom shoebox units, but about numerous private condos and EC offering 3-bedroom units which are less than 90 sqm, of which 10 sqm is balcony and 5 sqm A/C ledge, while bedrooms are small as 4-6 sqm. Most private units were in 100-200 sqm range until 1990s. URA should urgently regulate minimum apartment size! HDB also went under these standard sizes in case of Pinnacle @ Duxton and SkyVille / SkyTerrace @ Dawson.
How will look HDB of the future, with the current trend of private developers?