Did you know? HDB blocks vary in size from 4 to 570 flats
(block 308 Choa Chu Kang Ave 4 vs block 37 Circuit Road)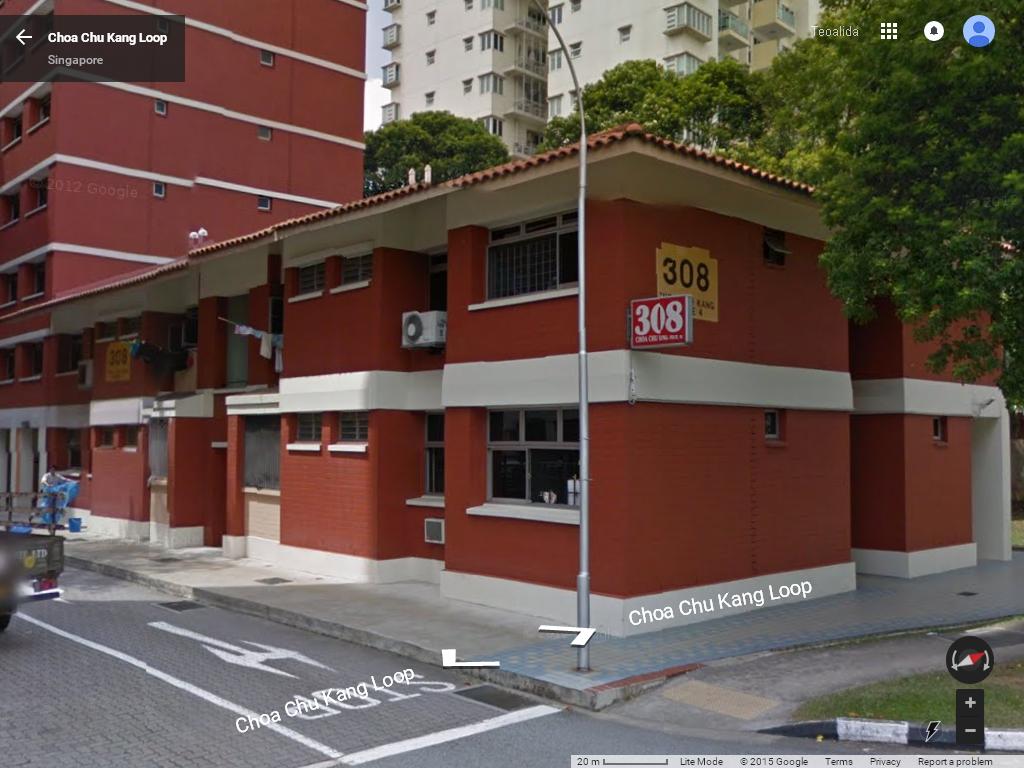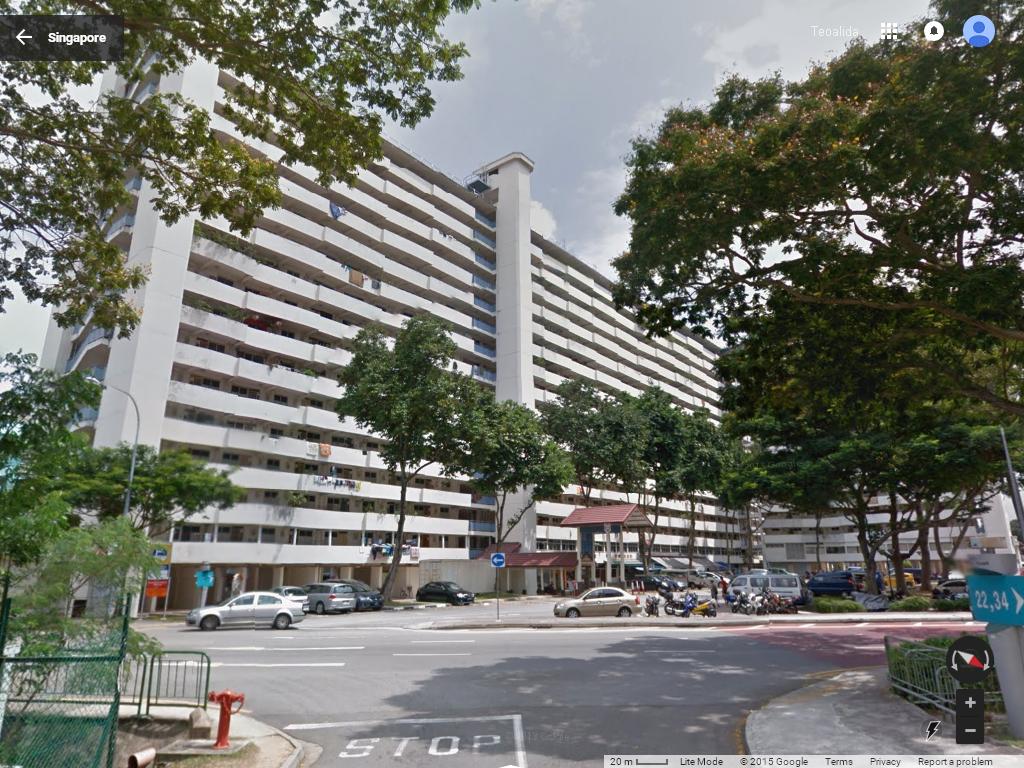 What other HDB facts would you like to see on this page? Leave a comment!
Biggest HDB town (by number of units)
Current town boundaries were introduced in Annual Report 1990. Bedok was the biggest town, overtaken by Tampines in 1996 then by Jurong West in 2000. We expected Sengkang to take the lead, but due to announcement of Tampines North area, based on the number of flats under construction in Annual Report 2018 we can say that Tampines will re-take the lead in 2021.
Biggest HDB block ever built
Blk 30 Jalan Membina (built 1960s, demolished mid-1990s), 605 units of 2-Room (source: Straits Times).
Biggest HDB block (standing)
Blk 52 Cassia Crescent (built 2016), 588 units of 1/2/3-Room flats, 17 storey.
Blk 37 Circuit Road (built 1965), 570 units of 2/3-Room Standard flats, 16-storey, 3 wings, 38 units per floor.
Blk 195 Kim Keat Avenue (built 1973), 550 units of 3-room Improved flats, 12-storey, 50 units per floor.
Blk 3 Jalan Bukit Merah (built 1974) and blk 79 Indus Road (built 1971), 520 units of 1-Room Improved flats, 14-storey, 40 units per floor (source: personal research).
For comparison, the 40-storey blocks 88, 89, 90 at Tanglin Halt house only 331-379 units, Pinnacle @ Duxton house only 264 units per block.
Smallest HDB block
Blk 10C in Bedok (2-storey block with 2 units Executive Apartments at 2nd floor, 1st floor is something else).
Blk 539, 542, 545 in Pasir Ris (4 units Executive Maisonette); blk 308 in Choa Chu Kang (2 units 4-Room and 2 units 5-Room); many 2-storey shophouses have 3 residential units at second floor if at first floor there is an eating house or other facility, other shophouses have 0 residential units because all are classified as commercial properties (shop at ground floor and living quarters at second floor).
Longest HDB block
Blk 121 Paya Lebar Way, 14 segments with 12 floors and 1 segment with 5 floors, 400 meters long on corridor side (39 units per floor, 356 units in total (40 3NG, 316 4NG) (thanks to Elevator Filmer SG for spotting this out).
Blk 195 Kim Keat Avenue, 4 segments, 370 meters long on corridor side, 12 floors, 50 3I units per floor, 550 units in total.
Blk 34 Whampoa West, 1 curved segment, 320 meters long on corridor side, 12 floors, 46 3I units per floor, 487 units in total.
Longest relatively-straight HDB block
Blk 79 in Toa Payoh, 1 slightly curved segment, 300 meters long, 10 floors, 44 3I units per floor, demolished in 2003.
Most segmented HDB
Blk 121 Paya Lebar Way, 265 meters long for high-rise part, 14 staircases with two 4NG flats per floor, during LUP 11 new lifts had to be built to serve all units with lifts stopping at every floor. The block also include a low-rise segment with 11 3NG/4NG flats per floor (thanks to Elevator Filmer SG for spotting this out).
Blk 612 in Ang Mo Kio, 220 meters long, 12 staircases with two 4NG flats per floor, during LUP 10 new lifts had to be built to serve all units with lifts stopping at every floor (source: personal research).
Biggest HDB flats
Biggest regular Executive flats are around 150-160 sqm, special flats on non-90° corners may be bigger. Only 0.5% of total HDB flats built are over 160 sqm.
Biggest HDB flats ever built are the ones popularly called penthouses, Maisonette units at topmost floor of some 1990s precincts in Bishan (52 units), Choa Chu Kang (12 units), Queenstown-Strathmore (4 units), also Hougang and Pasir Ris (source), they are up to 215 sqm, plus a roof terrace. Note: The Jumbo Apartments, found in Woodlands, Yishun and Jurong East, can reach up to 192 sqm too in case of the ones formed by a 3-Room and 4-Room Model A adjoined by HDB (note: flat owners can adjoin only 3-Room and smaller flats).
Don't forget president Halimah Yacob home in block 663 Yishun Avenue 4, which according news reports, is an adjoined flat 4-Room Simplified + 5-Room Improved and this since before being elected, how was this possible remains a mystery.
Longest HDB flats
The 5-room corner units in 1991-1992 blocks, 18 meters long, kids sleeping in common bedrooms have a long way to go toilet! floor plan (source: personal research).
HDB ceiling height
Since 1940s (at least) floor-to-floor height in public housing estates was standardized to 2.80 meters, floor slab is 20 cm thick so ceiling height is 2.60 m. Stairs have 18 steps. Actual ceiling height may be lower due to flooring and platforms that people have installed in their flats (HDB rules allow max 5 cm thick floor tiles).
This standard does not always apply for top floor. I have been informed that that some 1980s blocks come with 2.90 m ceiling for whole flat at top floor, for sun heat protection. A friend living in Fernvale Foliage top floor told me that have 2.70 m ceiling in living room and 2.85 m in bedrooms. A small number of blocks in Pasir Ris (and possible other estates) have a decorative box at top floor causing one bedroom to have a ceiling height of about 4 meters. A small number of blocks have sloped ceiling, example Potong Pasir.
Can someone measure ceiling height and count stair steps in 1930s Tiong Bahru SIT blocks?
Best HDB town
(my favorite in terms of planning): Woodlands because is built along MRT line over 3 stations instead of mostly in one side of MRT line like Jurong or around one MRT station like Woodlands, thus about 90% of population live within 1 km range from MRT. Also its road network is less-prone to traffic jams compared with other towns of similar size.
Curiosities about HDB block numerology
Toa Payoh built since 1965, is the only HDB New Town planned with continuous numbering over 100 blocks, starting from 1 and ending at 235 in 1976 (blk 236-260 added in 1986-1989, few numbers are still missing from Street Directory 1984, they were auxiliary buildings so not appear on map, or were jumped due to change in plans). This numerology starting from 1 is used also for smaller estates too, up to Teck Whye in 1980s.
All New Towns built since 1970s use 3-digit numbering system, starting from 101 for neighborhood 1, 201 for neighborhood 2, etc. Numbering are not always continuous, some being reserved for possible future use, example Jurong West neighborhoods 7xx, 8xx, 9xx were built since 1986 despite that 6xx wasn't started until 1996, same about Pasir Ris 3xx and Tampines 6xx.
Digit-letter numbers were used first time in residential blocks in late 1980s in Tampines 8xx neighborhood which had more than 99 blocks.
Digit-letter numbers were used often in 1990s for in-fill developments such as carparks.
New Towns and extensions of existing towns built since ~2000 HDB use digit-only numbers for carparks and pavilions and digit-letter numbers for residential buildings.
Curiosities about HDB unit numbering
The current unit numbering system (example #12-101) meaning floor + unit number was introduced in 1983. Before this, the ground floor flats had just number 101 while the second floor unit was 101A, third floor 101B, and so on until 25th floor 101Z (letters I an O were omitted). This may be a possible explanation why HDB choose to limit block height to 25 floors from 1970 to mid-1990s.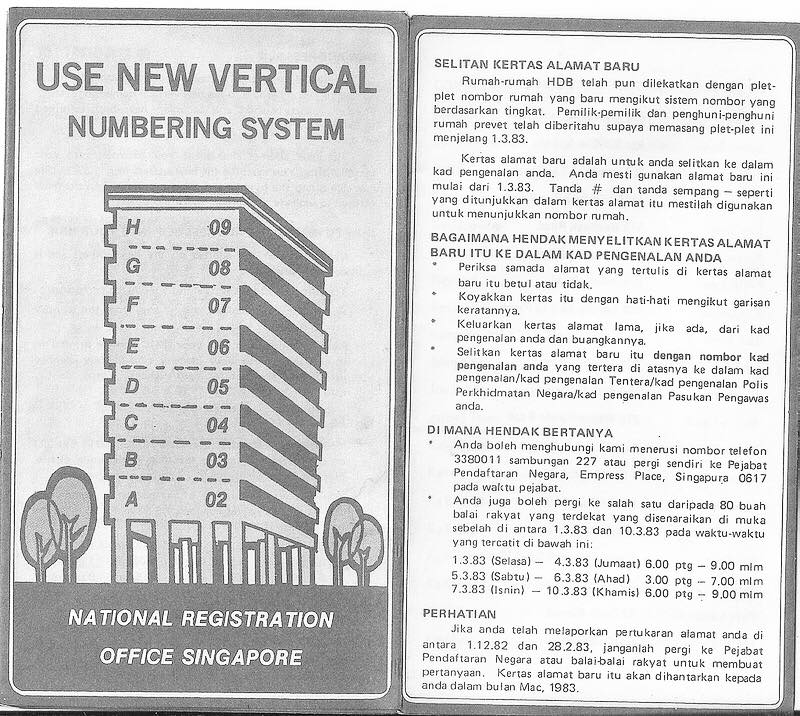 Curious HDB facts that most people do not know about them
Jurong West is the ONLY town built over all 5 decades of HDB: Taman Jurong in 1960s, Boon Lay Gardens in 1970s, main Jurong Town in 1980s (block 3xx, 4xx, 5xx), Nanyang (blocks 7xx, 8xx, 9xx) in 1988-1998, Pioneer (blocks 6xx) in 1998-2003, plus few BTOs under construction today.
The block 23A Queen's Close is the only HDB block segmented with two 3-room units per floor (such segmented block design is common for 4-room and 5-room blocks). Segmented blocks with 2 units of 2/3-room per floor were more common during SIT era (Redhill, Tiong Bahru, etc).
The block 259 in Ang Mo Kio is an unique cloverleaf-shaped block.
The 5-Room flats built by JTC are the only type of public housing with 2 entrance doors, similar with condos (one in living-room, one in kitchen).
HDB has sold flats with 3 full bathrooms: Multi-Generation flats built in 1987, "Jumbo" Executive flats converted in 1992-1996 from 3A and 4A flats, and 3gen flats launched in 2013 via BTO scheme (Executive Maisonettes built after 1988 also offer 2 bathrooms and 1 WC).
While most HDB flats do not have balcony at all, HDB has sold a couple of flats with 3 balconies during 1990s (one at living room, one at master bedroom, plus service balcony at kitchen).
Belvia DBSS offer 3 bathrooms in 5-room flats (109 sqm).
Blocks with multiple street address
The U-shaped block 78 in pre-war Tiong Bahru is the ONLY building in Singapore with 3 street addresses (78 Moh Guan Terrace, 78 Yong Siak Street, 78 Guan Chuan Street), source: Tiong Bahru blog.
Two L-shaped blocks have 2 street addresses: 17 Seng Poh Road / Tiong Bahru Road and 28 Jalan Bukit Merah / Hoy Fatt Road.
One multi-storey carpark expanded with a new segment became the only carpark with 2 street addresses. Searching 337 Kang Ching Road and 337 Tah Ching Road on OneMap returns both results.
Private HDB blocks
Spottiswoode Park was originally a private apartment built in 1973-1977 by Port Authority for PSA staff, using HDB designs of 4-Room Improved and 5-Room Standard point blocks, and one of the first residential developments that included a multi-storey car park. Many flats remained empty so were transferred to HDB which leased them to people waiting for public housing in 1979 (Source: Straits Times 1978 and Straits Times 1980).
While all 9 blocks are under HDB management, 5 blocks contains public housing and other 4 private apartments that are not subject to HDB regulations, foreigners can buy, so are transacted at prices 30% higher than public flats despite of sharing same architecture and facilities. Top floor contains 18 penthouse units, classified as private apartments even if flats just below them are public, sold at record prices: 230 sqm, $1.8 million.
There are few more blocks build with HDB design but were never offered as public housing, for example 2 point blocks with 5-Room Improved flats built for Polytechnic staff, and 11 blocks model 1996-1998 with 4-Room Model A / 5-Room Improved flats, built for Mount Vernon Camp.
Mysterious abandoned HDB block
Block 852 Woodlands Street 53, was built in 1980s as 3/4-Room Simplified block, and for unknown reason became abandoned in early 2000s. Read more on forums.keeptouch.net (discussion from 2003). In late 2000s when demand for rental flats was rising, it was converted to 1/2-room fiats and got populated again. The biggest question is when and why it was abandoned and where the previous owners went away, or was rental block?
There are various stories, structural problems (and people though that will be demolished), or used as SARS quarantine homes, as well as haunted stories regarding 2009 murder case in a 2-room flat (but it was abandoned 6 years earlier at least!).
Cheapest HDB towns
Woodlands, Yishun, Bukit Panjang, Pasir Ris, Punggol, are changing their places from year to year.
Woodlands is the cheapest town in terms of price per sqm, it have bigger flats than average.
Yishun is the cheapest town for average of 4-room because they are mostly 4S type (84 sqm) while Woodlands is dominated by 4A flats (104, 100, 90 sqm). Yishun may lose this title, being selected for Remaking our Heartland in 2007.
Bukit Panjang and Woodlands may rise due to upcoming Downtown and Thomson MRT lines. Choa Chu Kang and Pasir Ris may take the lead for having the cheapest HDB flats.
Punggol was the cheapest town during 2000s.
Woodlands is also the town where the HDB flats change owners most often (the town represent 6.6% of total number of HDB flats but 9% of total number of flats transacted. Source: personal analysis of HDB Resale Transactions Database (see Statistics sheet inside Excel file). How does this explain?
Most expensive HDB town
Marine Parade (average price of Queenstown's 4-rm units is slightly higher than Marine Parade, but original Queenstown built in 1950s-1960s had very few 4-rm, thus most of the 4-rm transacted are built after 1990s, being 90-105 sqm, while the Marine Parade is entirely built in 1970s and the 4-rm are only 87 sqm), so higher psf. Marine Parade 5-rm units with sea view can rival prices of Executive units in Queenstown.
Toa Payoh and Bishan are also expensive, we all know why. Mysteriously, Bukit Timah have high prices, despite of lack of MRT. Any explanation?
Chronology of most expensive HDB flats transacted on resale market
Jul 2010 – $890,000 – 192 sqm Executive Maisonette in blk 81 Strathmore Ave (Queenstown)
Aug 2011 – $898,000 – 120 sqm 5-Room Flat in blk 2 Marine Terrace (sea view!)
Mar 2012 – $900,000 – 157 sqm Executive Apartment in blk 148 Mei Ling St (Queenstown)
May 2012 – $910,000 – 142 sqm Executive Apartment in blk 99A Lor 2 Toa Payoh
Sep 2012 – $980,000 – 163 sqm Executive Maisonette in blk 190 Bishan St 13
Sep 2012 – $1,000,000 – 150 sqm Executive Apartment in blk 149 Mei Ling St (Queenstown)
Jan 2013 – $1,010,000 – 163 sqm Executive Maisonette in blk 194 Bishan St 13
Jul 2013 – $1,000,000 – 146 sqm Executive Maisonette in blk 3 Toh Yi Drive (Bukit Timah)
Dec 2013 – $1,050,000 – 150 sqm Executive Maisonette in blk 190 Bishan Street 13
Oct 2014 – $1,088,000 – 150 sqm Executive Maisonette in blk 194 Bishan Street 13
Jan 2015 – $1,028,000 – 107 sqm 5-Room Flat in blk 1A Pinnacle @ Duxton
Even if HDB Price Index started dropping since 2013, certain flats are still sold at prices over 1 million dollar, such as top-floor penthouse maisonettes in Bishan, Pinnacle@Duxton high-floor units with city view, and DBSS projects like The Peak @ Toa Payoh and City View @ Boon Keng. Full list in HDB Resale Flat Prices Database.
HUDC units, even non-privatised ones, have even bigger prices.