My biggest passion, started in 2008, designing buildings for "Teoalida's Virtual City", since 2009 I wrote this page with the rules of an utopian IDEAL CITY. These rules apply for projects designed for myself as hobby. When I design for customers, I follow the laws of their country.
I love collecting BUILDING CODES of various countries
If you have more, please send me (link to website, or email me if is .DOC or .PDF)
Singapore: www.bca.gov.sg
Malaysia: https://www.scribd.com/doc/30457115/13282147-Uniform-Building-by-Laws
Philippines: http://www.chanrobles.com/republicactno6541.htm
Indonesia: https://leumburkuring.files.wordpress.com/2012/05/sni-03-1733-2004-tata-cara-perencanaan-lingkungan.pdf
http://jdih.pu.go.id/peraturan-download.html?id=1935
India: http://www.slideshare.net/SivaSankar8/national-building-code-2005
Brazil: do a search "codigo de obras", they have different building code for each state.
South Africa: http://sans10400.co.za/
Nigeria: http://sdngnet.com/Files/Lectures/FUTA-ARC-807-Professional_Practice_and_Procedure/CD%202013-2014/National%20Building%20Code%20of%20Nigeria%202006.pdf
United Kingdom with comparison with the rest of Europe: http://www.hatc.co.uk/wp-content/uploads/GLA_Space_Standards_Report.pdf
Comparison of Building Codes
In most countries in the world, the room sizes are regulated by minimum width and minimum area.
Room
Teoalida's Housing
Singapore
Malaysia
South Korea
India
Philippines
Brazil
Minimum
Ideal
Living room
2.9 m
16 sqm
3.4 m
20 sqm
–
2.0 m
11 sqm
usually
3.6×3.6 m
–
–
2.4 m
8 sqm
Kitchen
1.9 m
6 sqm
2.4 m
8 sqm
–
1.5 m
4.5 sqm
–
1.8 m
5 sqm
1.5 m
3 sqm
1.5 m
4 sqm
Master bedroom
2.9 m
11 sqm
3.4 m
14 sqm
–
2.0 m
9.3 sqm
usually
3.6×3.6 m
2.4 m
9.5 sqm
2 m
6 sqm
2.4 m
8 sqm
Other bedrooms
2.4 m
8 sqm
2.9 m
11 sqm
–
2.0 m
6.5 sqm
usually
2.7×3.6 m
2.1m
7.5 sqm
2 m
6 sqm
2.4 m
6 sqm
Bath
1.2 m
3 sqm
1.5 m
4 sqm
–
0.75 m
2.0 sqm
usually
1.8×2.4 m

1.2 m


2.8 sqm *
0.9 m
1.2sqm
1.2 m
? Sqm
Toilet
undecided
undecided
–
0.75 m
1.5 sqm
usually
1.5×1.8 m
0.9 m
1.1 sqm
–
–
Washing room
–
–
–
–
–
–
–
1.2 m
2.4 sqm
Store room
–
–
–
–
–
3 sqm
–
–
Ceiling height
2.6 m
2.8 m
2.6 m
2.5 m
probably
2.7 m
2.75 m
2.4 m *
2.4 m
Hallway public
1.5 m
1.5 m
1.5 m
?
usually
1.5 m
1.5 m ?
?
1.2 m
Hallway private
0.9 m
1.2 m
1 m
?
usually
1.5 m
1.2 m
0.9 m
0.8 m
Staircase public
1.4 m
1.4 m
1 m
?
usually
1.2 m
1.5 m ?
?
1.1 m
Staircase private
0.9 m
1 m
1 m
?
?
1 m
0.75 m
0.8 m
* Notes:
Brazil: each state have own laws, in some states, the laws are minimum 2.5 or 2.8 m / 10 sqm for living room, 9 sqm for master bedroom, 7 sqm for other bedroom
India: bathroom without WC 1.2 m / 1.8 sqm, bathroom with WC 1.2 m / 2.8 sqm.
Philippines: the law says 2.7 m ceiling height for ground floor, but most homes are built with 2.4 m ceiling for all floors.
South Korea: I never saw building code. But I love their apartments and I studied a lot, the "usually" dimensions are taken from floor plans of 4-room and bigger apartments, there are a small number of apartments having rooms smaller than usual sizes.
The concept of Teoalida's Housing
I imagine being president of a country or manager of a housing corporation and my goal is to provide housing for at least half of population. So is a kind of public housing… I love doing myself what others are doing, sometimes doing better than them. It's like replicating the housing system of HDB in Singapore.
I design apartments since 2008, these are inspired mostly from Singapore and rest of East Asia. So are pretty standardized.
I design landed houses since 2010, these are inspired from many different parts of world so are much less standardized.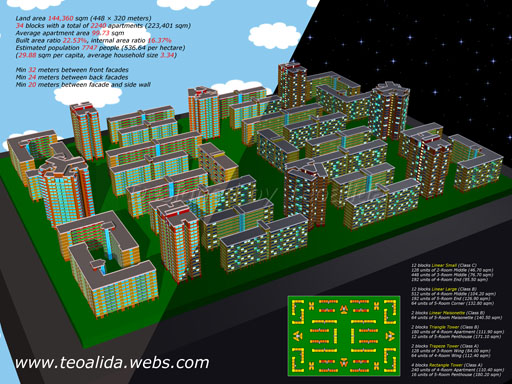 These rules were originally created for apartments, denotes the "perfect" apartments, some of them applies for landed houses too. I studied many residential projects around the world, and also aftermarket renovations, and I designed my own "ideal housing" to suit for most customers around the world, rather to best suit my personal needs. If you have suggestions or requests… tell me.
An ideal city should offer about 30 sqm per person. For comparison, developed countries of Europe and Japan have an average of 35-40 sqm per person but this is due to average household size of only 2.1-2.5 people, probably due to people owning multiple properties such as city apartment and countryside house, and rent them to singles. Inside cities the average is probably under 30 sqm per person. Singapore household size is 3.5 and Malaysia 4.3.
Originally I designed apartments for 30 sqm per person, one room per person, and an average family size of 3.5 persons, which should lead to an average apartment size a little over 100 sqm. A perfect distribution in a mature city is 10% of 50 sqm 2-Room, 30% of 80 sqm 3-Room, 40% of 110 sqm 4-Room, 20% of 140 sqm 5-Room, this means an average size of 101 sqm.
Currently I design apartments for minimum 20 sqm per person thinking that the real sqm per person will vary a lot due to income and living style.
Floor plan drawing styles
1. Wall axis and binary metric dimensions: I make wall axis at integer number of meters or half, then offset wall face 1/16 meters, and external wall with 1/4 meters, thus most room dimensions x375 or x875 mm and overall building dimension x500 mm (used since 2008 to 2013 for projects designed for hobby / artistic).
2. Wall axis and decimal metric dimensions: I make wall axis at integer number of meters or half, then offset wall face 5 cm, thus most room dimensions are x400 or x900 mm and external building dimension x300 mm or x500 mm (planned in 2012 to replace binary metric system).
3. No wall axis and metric / imperial dimensions: I make exterior of building at a integer number of meters, then most important rooms dimensions in integer meters, internal walls 10, 15, 20 cm and external walls 20 cm (used first time in 2011 for Hong Kong-inspired apartments (artistic) and since 2012 for landed houses designed for customers).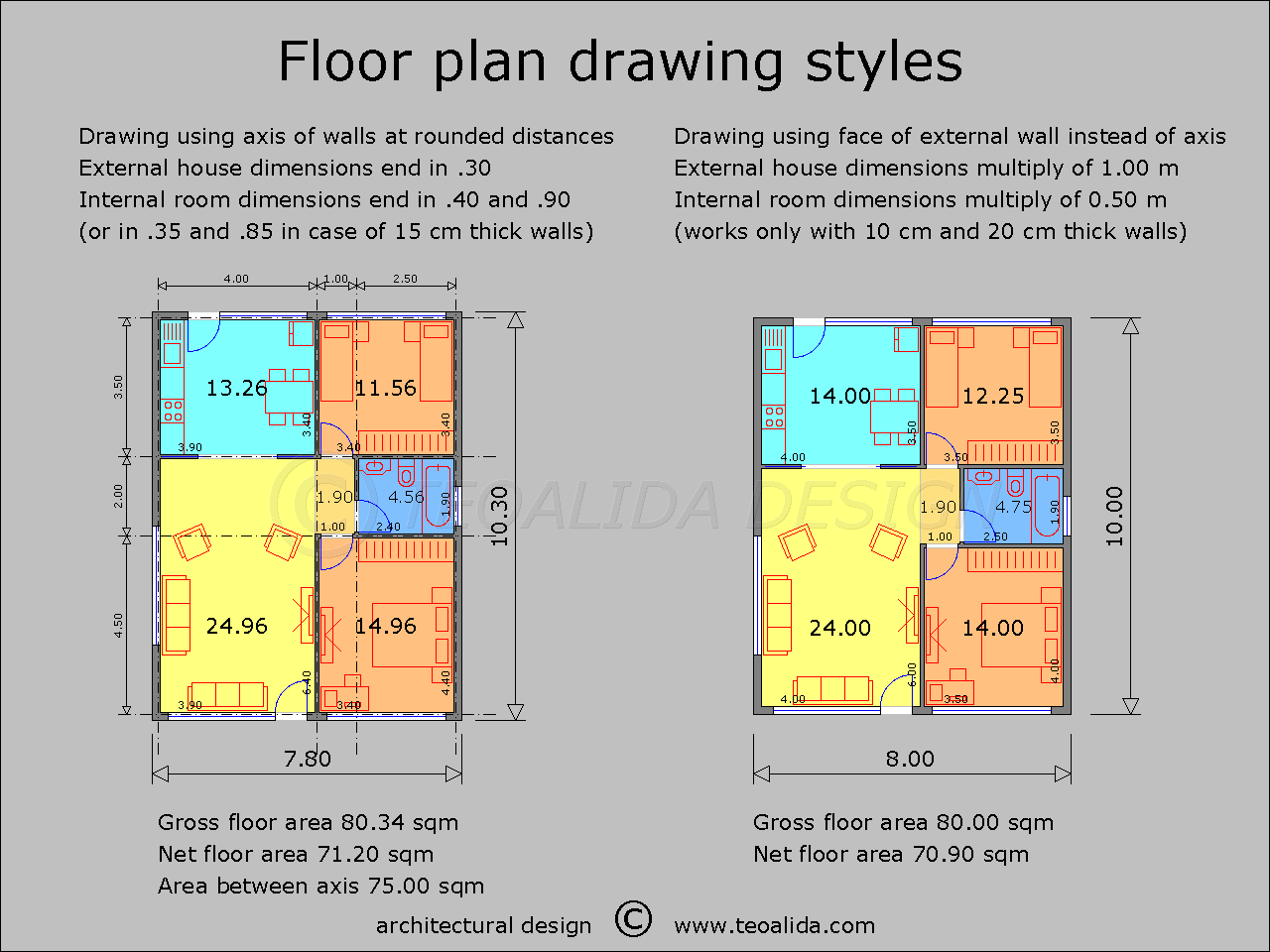 Guidelines in Teoalida's housing (OLD rules used in 2008-2011)
Typical apartment sizes, net (usable) area, excluding balconies or walls
2-Room: Class C 45 sqm, Class B 50 sqm, Class A 55 sqm
3-Room: Class C 72 sqm, Class B 78 sqm, Class A 87 sqm
4-Room: Class C 96 sqm, Class B 104 sqm, Class A 116 sqm
5-Room: Class C 120 sqm, Clas B 130 sqm, Class A 145 sqm
The designated class depends of many other things. Apartments with livingroom facing to common corridor are always Class C. Well… I not defined a clear distinction between Class B and A. It may be master bedroom of min 18 sqm and other bedrooms min 14 sqm, if the apartments are too good designed and have big enough rooms, I consider them Class A despite of smaller overall size.
Apartment / house layout rules
Living room, master bedroom and kitchen sizes depends by the apartment size, other rooms have more regularized areas.
Living room: 4 m wide, usually 30-40% of the total apartment area and is in relationship with the master bedroom area: minimum 4:3 for 2-Room, minimum 3:2 for 3-Room, minimum 8:5 for 4-Room, minimum 2:1 for 5-Room, enough big to allow eating and watching TV simultaneously. Some apartments have somewhat separated living and dining zones.
Bedrooms: I have used 4 × 4 m for my early projects in 2008, then 3 x 5 m in 2009, then since 2011 I introduced smaller bedrooms at 4 × 3 meters. The smallest bedroom in 4- and 5-Room is good to be placed near master bedroom to allow master bedroom extension, study area or walk-in wardrobe.
Bathrooms: usually 2.5×2 meters or 3×2 meters, the 3-Room apartments can have the secondary bathroom 2 x 2 meters, with just a shower.
Kitchen: size vary, usually a little smaller than a common bedroom, I placed it in a manner that allows easy merging with livingroom, for people that loves open-concept kitchens. In some houses the dining area is attached to kitchen rather than to living room.
Balcony: almost all my apartments have balconies, at livingroom or at the kitchen, or both. Even if in today world most people do not need any balcony, if it exists, most are closed and doors removed.
Guidelines in Teoalida's housing (NEW rules used since 2012)
Further study of various countries revealed that my rules of apartment sizes were unrealistically BIG, most countries are dominated by smaller apartments.
An ideal city will have apartment sizes regulated too, not just individual room sizes.
So, developers would have some freedom to make some apartments with bigger living room and other apartments with bigger bedrooms, to make all rooms accessible from living room, or to add hallways.
Apartment sizes:
Minimal floor area (internal net area, excluding walls and balconies)
1-bedroom 1-bath = 40 sqm
2-bedroom 1-bath = 60 sqm
2-bedroom 2-bath = 70 sqm
3-bedroom 2-bath = 90 sqm
4-bedroom 2-bath = 120 sqm
For comparison, the apartments currently built by HDB in Singapore have gross floor area 3-room 65 sqm and 4-room 90 sqm, but these include wall thickness too, as well as an useless "household shelter", so the internal size is about 10-15% lower, making them unlivable in my opinion. The HDB apartments built in 1980s and 1990s are slightly above the minimal floor area in my ideal city.
The following regulations were intended for the system with wall axis and 10 cm walls.
Living room: minimum width 2.9 m for 2-room and 3.4m for 3-room and bigger. Recommended floor area including dining area is 20 sqm for 3-room, 25 sqm for 4-room, 30 sqm for 5-room.
Dining room: 3-room apartments should provide space for dining table for 4 people while 4-room apartments should provide space for a dining table for 6 people, if it is a separate room, its size should be at least 3 x 3 m. In low-cost apartments people can eat in front of TV on a folding table with folding chairs.
Bedrooms: recommended size 2.9 x 3.9 m or 3.4 x 3.4 m (11 sqm). This size easily accommodate a wardrobe and one double bed or two single beds (or wardrobe, bed, desk).
For comparison, Philippines minimum is 2 m / 6 sqm bedrooms, Brazil 2.4 m / 8 sqm first bedroom and 2.4 m / 6 sqm other bedrooms.
Master bedroom: for 3-room apartments, one bedroom is recommended to be 2.9 x 4.9 m or 3.5 x 3.9 m (13 sqm) and for 4-room and bigger 3.4 x 4.9 m (16 sqm). Bigger apartment means richer owner so need a bigger room.
Kitchen: in my opinion should have minimum 1.9 m width for one side cabinets, 2.4 m for cabinets on both sides. Total kitchen area should vary depending by apartment size.
Bathrooms: recommended size 2.4×1.6 m to fit toilet bowl, sink and bathtub. In 2-room apartments I can use 2.4 x 1.4 m with shower.
Typical bathtub size is 150-160 cm long and 75-80 cm wide (60 x 30 in).
Hallways: recommended width 1.20 m, which together with bathroom width of 1.60m and two walls 10 cm thick, makes a rounded value of 3 meters.
Staircases: minimal width 90 cm, recommended width 1 m.
Guidelines for low-cost housing
Beside the "normal" housing, I also designed several low-cost housing projects inspired from Latin America where room sizes are smaller. My low-cost housing have all rooms dimensions rounded to 50 cm, making floor plans nice also from artistic point of view. Wall thickness is again 10 cm.
Total apartment size: 45 sqm for 3-room and 60 sqm for 4-room.
Living room: minimum 3 meters width, floor area vary depending by number of rooms.
Bedrooms: minimum 2.4 x 3.4 m, this is the minimum size that allow a wardrobe and 2 single beds, or 1 single bed and desk.
Bathrooms: minimum 1.4 x 2.4 m.
Hallways: minimum 90 cm wide, this is the minimum width in most countries.
For comparison in Brazil typical sizes are like this: master bedroom 2.6 x 3.2 m, common bedrooms 2.4 x 3.2 m (allowing 60cm clearance between furniture), bathrooms 1.2 x 2.2 m or 1.5 x 1.5 m with corner shower. Living room can be as small like a bedroom. Each state have own laws about minimum room sizes. Once time ago I saw a 33 sqm 2-bedroom apartment (link to floor plan broken).
Guidelines for the houses designed for Philippines and Hong Kong
Hong Kong, due to scarcity of land and high population density, built the smallest apartments in the world, with bedrooms 2 x 2 m just to fit a single or bunk bed. Apartments commonly have 2 and 3 bedrooms.
Philippines, due to culture to keep things at minimum, built the smallest houses in the world, most houses having 2 bedrooms and most apartments being studio and 1-room.
Philippines building code also is one of most permissive in the world, allowing bedrooms small as 6 sqm, but personally I saw even smaller bedrooms. I set my own guidelines for projects that I design for this country (for people who own bigger lands I can design bigger rooms similar with my international guidelines).
Living room: min 2.5 m wide and 10 sqm (building code do not specify size for living room, it can be same size like a bedroom, but isn't logical to be bigger?).
Bedroom: 2 x 3 m or 2.4 x 2.5 m (min 6 sqm, same like building code).
Bathroom: 1.2 x 2 m should be the minimum size in my opinion (building code specify minimum bathroom width 0.9 m, leaving just 20 cm between front of toilet bowl and wall, I can't imagine how you can USE that toilet, too crammed).
Guidelines for car parks
Street parking: an international recommendation is to have 80 cm space between cars. Most open parking lots are designed 2.5 m wide because cars were traditionally 1.6-1.7 m wide. This is getting a problem as since 1990s cars are getting fatter, today most of cars being over 1.8 m wide. American parking lots are 2.7-3.0 m wide, in Japan and Brazil I saw 2.2-2.3 m wide.
Basement parking: perpendicular lots should be wider if there are columns around, clearance between columns should be at least 3 meters to allow space to steer.
Public parking lots should be 5 meters length.
Private garages should be depending by what car you own, usually minimum 2.9 m width and 5-6 m long. Except the American cars, 90% of world cars are up to 5 meters length. Europe is dominated by cars 4-5 meters long, but other countries are dominated by smaller cars.
A house is designed to last at least 50 years, you should make provision for owning bigger cars in the future. Take a look how much cars grown past 50 years: Car Length Evolution.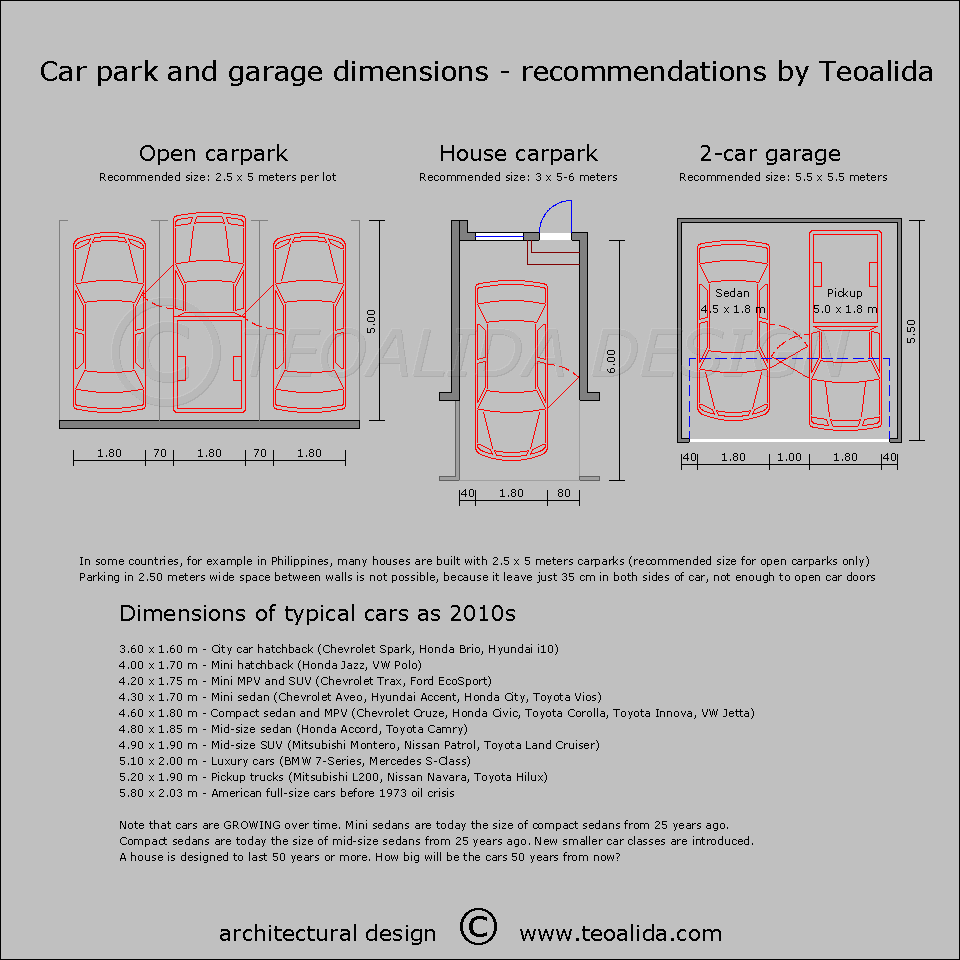 Other dimensions used in 3D design
In 3D design I use a floor-to-floor height of 3 meters, for being a round number. This means ceiling height 2.75 meters, enough to can put false ceiling, spotlights, or ceiling fan, the 25 cm floor slab may include floor heating. Most apartment buildings around the world have 2.60 – 2.80 meters floor-to-floor (ceiling height 2.40 – 2.60 meters).
Windows have 1.5 meters height above the 1 meter parapet wall.
Doors have 2 meters height, and 75 cm, 1 meter or 1.5 meters width.
Stairs: there is some controversy, I found that my older projects contains wrong, oversized stairs. Since 2010 I use stairs with 5/16 m (31.25 cm) tread and 1/6 m (16.67 cm) riser, 18 steps per floor, giving at pitch of 28%, this is close that what says Wikipedia to be ergonomic. Since 2013 I use for normal houses 300 mm tread and 187.5 mm riser, pitch 32% (3000 mm floor-to-floor, 16 steps). For the low-cost landed houses with space constraint I use 250 mm tread and 200 mm riser, pitch 39% (2600 mm floor to floor, 13 steps).
Efficient apartment town layout for high density
I design apartment blocks for highest density without affecting standards of living.
The classic European-communist style, long segmented blocks with 4 units per floor and kitchen on facade, is efficient only for small, 2-room apartments, because for 3-room, this will create too long apartments with waste of space in a long hallway, plus the bathrooms will be stuck without ventilation in the middle of block. But high efficiency can be reached with 3-room and 4-room apartments if I increase block width, move kitchens to middle, add airwells for kitchens and bathrooms, and place segments in zig-zag to open airwells.
The classic East Asian corridor-style, with a single row of apartments, is efficient for small and middle size apartments and it also allows both sides view and cross-ventilation. Rooms must be narrow at facade and depth to inside, to make widest blocks possible, with narrowest apartments. 12-meter width is most common in my projects, 14-meter is apparently the maximum possible.
Corridor-style blocks are land usage efficient for all types of apartments, but if I make L-shaped, U-shaped, circular-like with a courtyard in the middle, or other crazy-shaped block,, and place the common access balcony on the back or inside, the efficiency goes even higher.
Staircase-style blocks with segments of only 2 units per floor, is also land usage efficient but only for big apartments (over 100 sqm).
Tower (point) blocks with 4 to 6 units per floor and rooms facing to all sides, add some beauty to the city skyline, but their efficiencies is always 20-30% lower than other blocks.
Rules for the public housing-inspired neighborhoods that I designed in 2009-2011
I usually design the 3D image using 8 and 16 storey blocks, for best proportions. However most blocks' floor plans can be built taller because there are enough lifts. Is recommended to make minimum 2 lifts per block, this makes inefficient to design blocks with less than 4 apartments per floor.
The number of tower blocks should be max 25% of total number of blocks. Minimal distance between frontal facades is 32 meters, between two back facades is 24 meters, between one facade and a side wall (without windows) is 16 meters. Near heavy traffic roads, the distances should be greater.
According these rules, a typical housing estate, will have 140-160 apartments per hectare, the maximum land usage (sum of all apartments area from one floor, divided by the land area) is about 20%.
For parking, the ground space between 8-storey blocks, if is used at maximum, is enough parking space for a ratio of one car one parking lot per apartment. However, in high-density estates the public transport becomes very efficient so the number of cars will be lower. Is recommended to cover the basement parking with a roof with green space, also to protect cars from sun. In case of taller blocks multi-storey car parks are necessary.
Efficient landed housing layout for high density
For landed houses I have same principle: highest density without affecting standards of living. The houses should be narrow, depth and tall. I am against single-storey houses.
Terraced houses are my favorite concept. Courtyard is minimum, since it is a waste of land, is common for my houses to be bigger than the land where they sits. Everywhere in the world houses are very close each other, since you have few neighbors there is no rules about minimal distance. I usually design 4 meters of space between houses. Semi-detached housing is usually 40-60 dwellings per hectare while Terraced housing reaches 50-80 dwellings per hectare. For comparison, USA detached houses are usually 10-15 houses per hectare, Japan detached houses are usually 30-50 houses per hectare (Japan residential roads are 5-meter width, sidewalks are nonexistent, and houses can be 50 cm each other, usually 2 meters. Singapore and Malaysia terraced houses are 50-60 dwellings per hectare.
New rules:
Setbacks: front 6 meters (will allow space for parking a car), back 4 meters, sides 2 meters. Developers will be encouraged to put the important rooms facing front and back.
Minimal lot width: terraced 6 m, corner-terrace and semi-detached 8 meters, detached 12 meters.
Minimal lot depth: 20 meters, so the houses will be minimum 10 m deep. I recommend 24 meters deep, if you think that is not possible houses so deep without having windows to sides, take a look in House Plans as I have designed terraced houses 14-16 meters deep.
By considering that streets are 12 meter wide (6 m road plus sidewalk and green space), max possible density will be 64 houses / hectare for terraced, 48 for semi-detached, 32 for detached.
Efficient apartment layout and good views
Personally I love to have wide views from my apartment, so all my early projects had at least 180-degree views from all apartments. Later I realized that most people are not interested in wide view range, but more in straight unblocked view as long is possible. Is important to have windows on 2 different facades (front-back, front-side, or front-side-back), for cross-ventilation to minimize air conditioned usage.
The apartments must be square-ish as possible, with all rooms arranged around a central point, I try to minimize comfort problems like couch-TV placed in the passing zone. The hallways area must be reduced to minimum possible, some apartments uses the dining area as hallway, to create smallest apartments without affecting room spaciousness.
Sliding doors and windows
This was an idea from my childhood, probably a little science-fiction and was underappreciated. Since 2011 I switched to casement doors.
No more conventional casement doors and windows, no more accidental closings in wind, no more worries about kicking someone besides the door. Sliding doors and windows can be opened with minimal effort, so is easily to equipped with electric motors, remote control, and rain sensors, and also are friendly with the people in wheelchairs. No more worries if you forget to close windows when you leave your home and the rain starts to fall!
The sliding doors have just one disadvantage: reduces the freedom of apartment's layout designing. You need at least 2 meters of wall to can put a sliding door, regardless if the door slides inside wall or along wall. Is better to slide along walls to not make the walls too tick.
Efficient furniture design: http://www.cawspi.org/Furniture%20Design.pdf