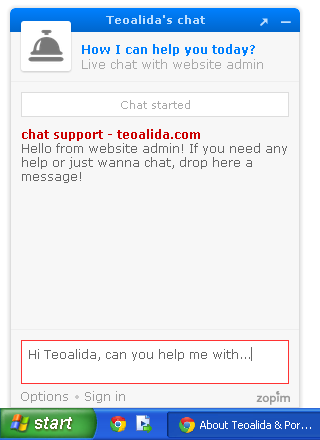 Since this is a personal-portfolio website, I always wanted to interact with visitors, to exchange knowledge, make new friends with similar interests and get feedback about my works and products. I put comment widgets at bottom of each page and a forum, but took months to get several comments and still did not understand what kind of people are visiting me and what they are looking for, to make products that suits market needs and offer various services.
I never knew that this is possible to chat directly with visitors, until…
In a day of January 2012 I visited the website of a real estate agent, which was using SnapEngage chat widget to catch customers. That was the first time I talked with a human directly on browser, and first time I believed that is a robot too. After few messages I realized that is a human. Then I made mistake to reply every time he was greeting me without being aware that greetings are not from him but automatic and replying at them made he to say "feel free to browse my website but please don't disturb me with messages".
I installed SnapEngage on my website too, but its limit of 30 chats per month in free plan was a problem. Since May 2012 I switched on Zopim because it do not limit number of chats in free account. These chat software helped me to get customers contacting me for my services and I started making money. I upgraded to a paid plan Zopim in August 2016.
Is this the first time you visit a website with live chat? Probably you are not browsing internet enough… there are over 200.000 websites using Zopim alone, possible over 1 million websites using various other chat services, most commonly the websites selling products or services.
SnapEngage vs Zopim review
SnapEngage free plan is limited to 30 chats per month for FREE accounts, which was theoretically enough for my small website with just 100 daily visitors, BUT I was facing a problem with stupid people who send me a message, disconnect from chat then send messages again, depleting the monthly quota quite fast (this was also aggravated by SnapEngage's lack of minimize button, people tend to close the window to free up screen space, without realizing that they disconnect from chat and will be impossible to answer them, then if they had more questions they were starting another chat).
Website traffic was rising so I started looking for alternatives, and since May 2012 I moved to Zopim. Free plans were limited at 2 simultaneous chats instead of 30 chats per month. In August 2012 Zopim announced a makeover of their service, limiting the free accounts to 1 chat at time and disabling the proactive greetings for free accounts, so I upgraded to a paid plan. I could afford it because meantime website turned money-making.
In paying plans, both services do not limit number of chats, but taking in consideration the features, Zopim is better although more expensive.
Here is the review of both services from my personal experience:
SnapEngage doesn't allow me to manually start a chat with a certain visitor, I can only set a proactive message on all pages (or different message on certain pages, at different delays). To talk with a visitor, is necessary the visitor to reply when the chat pop-up (automatic greeting) or to open chat by himself and send you a message.
Zopim have a dashboard showing visitor list, I can even manually send custom messages to visitors, but most time I don't have time to watch the visitors list, so I rely on the automatic greeting.
SnapEngage chat window is bigger and many people tends to close the window. Some people asked me help and closed the window in 3 seconds without being aware that this disconnect from chat, I could no longer answer them and I lost potential customers.
Zopim chat window have a minimize button rather than a close button, they can click it to free screen space without disconnecting from chat, I can still send messages to visitors as long as they are on my website.
SnapEngage allow different greetings depending by visitor page (free and paid accounts).
Zopim allow different greetings based by visitor country, number of visits, google search strings, etc (paid accounts only).
Zopim can auto-respond if no human responded in certain time, with a nice message for example "The human probably is busy or out of office for some minutes, please leave us a message with your email address and we will contact you" but from my personal experience, 90% left website without leaving an email.
None of them can read what visitor type and give replies based by certain keywords. But probably nobody would like robot answers.
SnapEngage have cookie-based ban, I can ban annoying visitors only while chatting, then anyone can unban itself by deleting cookies. This proved a big issue when I had an idiot sending me stupid messages and disconnecting faster than I could ban him, especially because SnapEngage free accounts are limited at 30 chats per month.
Zopim have IP banning, I can ban any IP anytime.
SnapEngage have two unique features over Zopim, but in my personal experience, both proved useless:
– Redirecting visitors to another page – a browser change without their intervention made people to quickly click back and leave website. Is better to give them a link to click it manually.
– Taking screenshot of visitor page – works only if visitors manually click ALLOW when the yellow bar appear, 90% do not click allow.
Another advantage of Zopim is that if offers unlimited chats per month for free accounts, the single limitation is 2 chats in same time, while SnapEngage is limited to 30 chats per month. I had taken measures to reduce quota waste, such as making pop-up at 10 min for the pages which are not relate
For business, Zopim also have better prices, for example $39 for 5 agents, compared with SnapEngage $49 for 4 agents. Zopim changed, increased the prices since 9 August 2012, now is priced above competitor services.
But I strongly recommend Zopim! No other chat service can beat Zopim in terms of features!
Other chat software: JivoChat, LiveChatInc Live2support, Olark.com, PureChat, and few more. I am NOT planning to test and review them. Feel free to compare prices and test yourself if you want.
How I know who is who?
One returning visitor asked me this question.
If you are outside of Singapore, I can guess that you are, because when someone start a chat I can see his country.
As 2014, website traffic is about 800 daily visitors of which 500 are from Singapore, identifying if you are a new or returning visitor, may be possible by IP, operating system, pages visited, cookie, etc, but is a waste of time and effort to try this. So I treat every chat request anonymously as a new visitor, if you are a returning visitor I appreciate if you specify this.
A problematic situation is when I am contacted in a short time by multiple students from same school, multiple employees from same company, etc… these people don't just share SAME IP range, but they are likely to visit SAME page of website and talk about SAME thing! I though that all chats were by a single person, so I continued the conversation started by someone, in other chat windows, until someone said "I have no idea what are you talking about"! and realized that there are multiple people.
Chatting with website visitors is often funny!
Most people ignore the chat at all, some understand how it works and we had serious chat, while others asked me "Is this automated?" or "Are you a fucking robot?" or just saying "no thanks", "fuck off", etc.
See https://www.teoalida.com/chat/
Many people ask questions about real estate, some wondered what kind of person I am to offer consultation full-time and FREE – I don't chat full-time, I am working, playing games, etc, and meantime helping 5-10 people per day is not disturbing.
These 12-year old kids saw the published funny chats and one probably thought that (hard to explain) is someway my job / my needs to chat all time, that the website is made solo for chatting and publishing the chats, calling all his friends to chat with me for no reason, VERY ANNOYING! They told me to publish more chats, but actually I start regretting that I published these few "funny chats".
This chat should be used for professional purposes, NOT be used because you are bored and want to chat with someone…
Disclaimer: I publish anonymously, only few of the chats leading to nothing, and worth for laugh.
The published chats are less than 1% of total number of chats had per year. Serious chats will be kept confidential.
Disclaimer added after someone accused me "when you publish any chat, people know you might publish their chat. Might make them uncomfortable contacting you"
Some people ignore the chat thinking that is a robot, publishing just few chats examples shows that the chat is real, thus they might contact me too.