Are you a robot crawling emails to send v!agra, SEO offers or other crap? Don't email me [email protected]
Do you have trouble choosing the right database? Do you have questions or suggestions for a database? Did you found errors that need correction?

Use the LIVE CHAT whenever is possible, I sign in Zendesk Chat and I am ONLINE every day up to 14 hours, I answer 90% of chats in less than 1 minute. If you have files to send, send via email.
Do not make phone calls, is difficult to deal with customers via phone since most deals require sharing links, photos and other files. If chat bar show OFFLINE, it means that I am sleeping, driving, some important meeting or other activity in which a phone call would be even more disturbing. Leave an offline message via chat or send an email and wait. I reply to every email once I return to computer, and when you see my reply you are advised to visit website again and contact me via LIVE CHAT so we can discuss quickly your project requirements, instead of replying me via email too.
I reply to every email but I had many cases when people never replied me back. If you do not receive reply in 24 hours, most likely my email was blocked by your SPAM filters, in this case contact me again via live chat when I am online.
Post public comments if you want to praise me (after purchase or consultation), suggestions, questions for other website visitors, or any information to add that may be of interest of other visitors.
Posting comments to ask questions that require MY answer is not recommended. While I do get email notifications for every comment posted, 90% comments are posted by spam bots rather than human visitors, due to this reason I do not always read comment notifications.
For example DO NOT post comment asking me to contact you "I want to buy this, how I can contact you? / please email me your PayPal address", instead contact me yourself. I remember a case of such comment that I noticed only after a month, I emailed customer, but was too late.
FAQ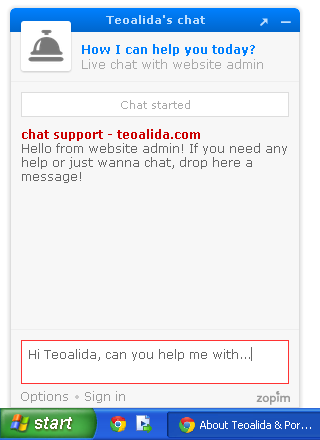 I created website in 2009 to showcase my hobbies, I accidentally discovered zopim.com chat software in 2012 and added it on my website to talk with visitors, make friends with similar interests, get feedback about my hobbies and works, exchange information, etc. The chat helped me also to get hired by people and get paid to do various works, or to understand market demands and offer suitable databases, turning my hobbies into money-making business.
Do you stay at computer all time to greet visitors and answer questions?
NO! The chat software is greeting visitors automatically as long someone is online. Only if you type a message in chat, I get sound alert of incoming chat. I stay ONLINE as long I am home and not sleeping, but I do not always stay at computer, and if you send a message I run to computer to answer you as fast I can to answer you. Of course this is not always possible, 5% of chats remain unanswered. But you can always leave your email address where you answer your questions when I return to computer.
The robot can only greet visitors, once you send me a message, any reply you see is human, written by me.
How many people contact you?
See this image, in March 2018 had 37141 unique visitors, 515 chats of which 9 missed, and in April 37618 unique visitors, 393 chats of which 12 missed (at end of March I disabled chat greeting for some pages).
This is what I see when you message me
(screenshot taken in a moment of RARE coincidence: 6 simultaneous chats opened)
But sadly half of chats are kids bored who want to troll / annoy someone with non-sense messages
I am sorry for all serious customers if I don't answer your messages fast enough, because such troll messaged me at same time with you.