Are you a robot crawling emails to send v!agra, SEO offers or other crap? Don't email me [email protected]
Do you have trouble choosing the right database? Do you have questions or suggestions for a database? Did you found errors that need correction?


Use the LIVE CHAT whenever is possible, I sign in Zendesk Chat and I am ONLINE every day up to 14 hours, I answer 90% of chats in less than 1 minute. If you have files to send, send via email.
Do not make phone calls, is difficult to deal with customers via phone since most deals require sharing links, photos and other files. If chat bar show OFFLINE, it means that I am sleeping, driving, some important meeting or other activity in which a phone call would be even more disturbing. Leave an offline message via chat or send an email and wait.
I reply to every email once I return to computer, and when you see my reply you are advised to visit website again and contact me via LIVE CHAT so we can discuss quickly your project requirements, instead of replying me via email too. I had many cases when people never replied me back. If you do not receive reply in 24 hours, most likely my email was blocked by your SPAM filters, in this case contact me again via live chat when I am online.
Post public comments if you want to praise me (after purchase or consultation), suggestions, questions for other website visitors, or have information to add that may be interesting for other visitors.
Do not post comments to ask questions that require MY answer, example "I want to buy this, how I can contact you? / please email me your PayPal address", instead contact me yourself via chat or email. While I do get email notifications for every comment posted, 90% comments are posted by spam bots rather than human visitors, so I seldom read comment notifications. One day I found such comment a month since it been posted, I emailed the customer, but was too late.
FAQ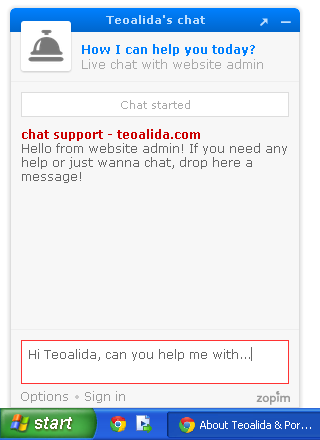 I created website in 2009 to showcase my hobbies, I accidentally discovered zopim.com chat software in 2012 and added it on my website to talk with visitors, make friends with similar interests, get feedback about my hobbies and works, exchange information, etc. The chat helped me also to get hired by people and get paid to do various works, or to understand market demands and offer suitable products for sale, turning my hobbies into money-making business.
Do you stay at computer all time to greet visitors and answer questions?
NO! The chat software pop-up and greet visitors automatically, as long I am online. Only if you type a message in chat, my computer rings. I stay ONLINE as long I am home and not sleeping (occasionally I sign in from phone when I am not home), but I do not always stay at computer, and if it rings I run to computer to answer you as fast I can to answer you. Of course this is not always possible, 5% of chats remain unanswered. But you can always leave your contact info to answer your questions when I return to computer.
This is why you may see chat pop up multiple times if you visit website repeatedly. If chat did not pop-up many customers would not even realize that there is a chat available. If you do not need help, just close chat pop-up, do not reply "no thanks" and make my computer ringing unnecessarily.
The robot can only greet visitors, cannot read your messages and reply, any reply you see is human, written by me.
How many people visit website and contact you?
As 2019, per month the website have ~60,000 visitors, ~600 contact me via chat (90% of chats I answer in less than 1 minute), few more contact me via email, Hangouts and Skype, ~60 buy something or pay a service, while the rest are thankful for free information offered on website. See full statistics.
Note: a small number of retarded children are responsible for about 20-40% of chats, children who do not realize that disturb a BUSY man from doing his business, some thinks that this is a bot chat and can spam any messages they want, swearing and sexual harassment. The worse happens when a child message me from classroom and once I answer him to see if is a potential customer, he tell to schoolmates to message me at same time, making me to miss answering customers that were unlucky to be with me when kids start spamming, making me impossible to work at the projects I am paid for, etc. Kids often rate chats as BAD if I do not keep conversation going on with each one, if I tell kids to STOP because chat should be used ONLY for professional enquiries, they close chat and start another chat after few minutes or next day, pretending that have a project (example), purposely to annoy me.
I am sorry to all customers if I reply rude or not reply in time, because I was distracted by children misbehaving on customer service chat.
This is what I see at my side when a customer message me
(screenshot taken in a moment of RARE coincidence: 6 simultaneous chats opened)

And this is a bored kid who want to troll / annoy someone with non-sense messages

Concerned about why I posted the above 2 screenshots? See privacy policy.