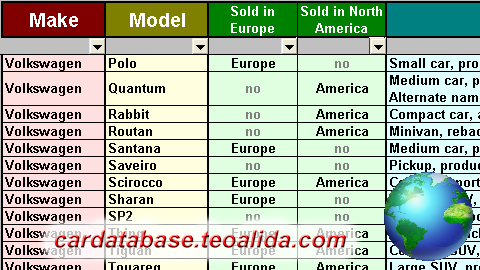 Download SAMPLE:
Car Nameplates List XLSX, alternate formats: CSV and SQL.
Buy complete database + FREE updates for 1 year:

While Car Models List have separate row for each model generation (example Golf 1 to Golf 7) with production years indicated for each, and single row if a car is sold in multiple countries under different names, the Car Nameplates List have a single row for each nameplate regardless of how many models wore it, sometimes define totally different models (example: Ford Fusion is a mid-size sedan in North America and also a mini MPV in Europe), and separate row for each alternative name sold in various countries. Separate row is also for sister cars such as Fiat Bravo / Brava, VW Golf / Jetta.
Car Nameplates List is sold in few versions:
XLS original order from Car Models List (from mini cars to luxury cars, followed by sports cars, MPV and ending with SUV), used by me to easily spot missing models to add them.
XLS alphabetic order (you could sort yourself too).
CSV and SQL alphabetic order, both with 2 files, one with one row per Make + Make ID, one with one row per model with Make ID, Make, Model, etc.
History
The idea of Car Nameplates List popped in March 2013, when a customer showed me an used cars classifieds website having a drop-down list of models. At that moment I was NOT aware that my Excel database can be used for this kind of web building. Funny: that drop-down list had many errors and duplicate models such Mercedes SLS, SLS-Class, SLS AMG, 3 rows for what is actually a single model. I offered him to create myself a Car Nameplates List without such stupidities, but he refused and purchased Car Models List instead.
I still made a SAMPLE of Car Nameplates List with 2 makes and put it in possible future projects waiting for a customer interested, saying that I can build full list in 3 days for 20 euro. For 2 years NOBODY showed any interest, while Car Models List continued to get sales.
In 2015 I posted Car Nameplates List in the product grid of main page. First customer interested came in November 2015 but did not left any email address where I could announce him that project is complete. A second customer came in January 2016. By this way I decided to start the project, I spend 5 days recompiling Car Models List into Car Nameplates List. I published for sale in February 2016, 2900 nameplates, 524 KB file.
One customer suggested adding a numerical ID for each make, and make a second table with Make and Make ID, and sell both as SQL files for making drop-down boxes on his website. DONE!
The plan was to start regular updates once it gets 10 sales, but by end-2016 only 5 people purchased Car Nameplates List, while Car Models List got about 40 sales. 4 people purchased in 2017. The project looked like a failure. Sales increased to 11 in 2018 so I decided to revive the project, but did not knew how long would have taken and priority was to update the more expensive databases with higher sale volume.
I done the first update in January 2019, took me 10 hours, side-by-side on screen with Car Models List, adding 430 nameplates, making a total of 3330 nameplates from 183 makes, 725 KB. Added what was launched last 3 years but also lots of nameplates from outside Europe and North America that were added in Car Models List during last 3 years of worldwide expansion.
Another update in May 2019, 3658 nameplates from 229 makes, 801 KB. I added over 40 minor manufacturers in Car Models List and Car Nameplates List.
Because in the recent updates I added too many minor brands / exotic cars that are seen more at museums and collectors than driving on roads, at May 2019 update I also added a column that allow you to delete easily the exotic brands, if you want to have a database with only cars commonly seen on roads.
Example of cars included and marked as minor brands: Cizeta-Moroder (1990s supercar with only 20 units produced), Messerschmitt (cheap 1950s bubble car, 15,000 units produced but most of them been scraped and are not driving anymore), Peel (1960s, 2 models, less than 100 units produced, but famous for Peel P50 which is listed in Guinness book of records as world's smallest car).
Update December 2019, 3681 nameplates from 229 makes, 848 KB.
Update 29 April 2020, 3701 nameplates from 231 makes, 476 KB, changed file format from XLS to compressed XLSX.
Update 3 November 2020, 3768 nameplates from 235 makes, 485 KB.