This was the biggest of "legacy" handmade databases started in 2003, typing data from AutoKatalog car magazines into computer, an original compilation "Made by Teoalida" with NO equivalent on internet (except on websites that purchased database from me).
Originally named Car Models & Engines Database and having 14 columns, I spent ~1000 hours in 2014-2015 to expand to 50+ columns, renaming it as The Biggest Car Database. In 2015 I started using automated scripts that extract data from websites, creating Germany and United Kingdom databases that are even bigger than "the biggest database". AutoKatalog was discontinued in 2014 and subsequent updates I was spending 20-30 hours per update, copy-pasting data from ADAC and manipulating it to match format of old AutoKatalog-based database.
The automated scripts can update Germany and UK databases even monthly with minimum effort, thus keeping updates on-going for handmade databases became worthless. The May 2019 edition will be the LAST update of AutoKatalog-based database, including 564 versions launched in 2018 and 190 versions launched in 2019. Full change log.
For people who do not need over-detailed data of UK and German databases, I will continue to maintain Car Models & Engines Database (60% cheaper – 1 cent/row instead of 2.5 cents/row) but based on ADAC instead of AutoKatalog to allow updating more often with less effort.
Download SAMPLE:
Car models, engines, transmission, drivetrain, tires, dimensions, weight, performance, etc (Excel)
Alternate formats: CSV and SQL
Buy complete database + FREE updates for one year:
Coverage
Car sold in Europe. AutoKatalog (german car magazine) have 100% coverage for cars sold in Germany which is the biggest car market of Europe. 99% of cars sold in any European country are also sold in Germany. I also added unique cars sold only in UK, communist cars sold only in Eastern bloc, as well as special cars with 2.0 liter engine to comply with Italian tax system.
If you are outside Europe, you can check list of car models included in Excel file and report missing models (sold in your country but not in Europe) so I can add their data if available, but I cannot guarantee that I can add all.
Source of data
Primarily AutoKatalog, the german car magazine published since 1957 every year in September, one of most reputable car publications in the world, and ADAC. I collected 45 yearly issues of AutoKatalog and layed them in my living room for photo.
Each yearly book shows models currently in production, without indicating years of production. The year range indicated in my database is based on which books include it, for example if a car appears in AK 2000, 2001, 2002 I indicated year 1999-2002.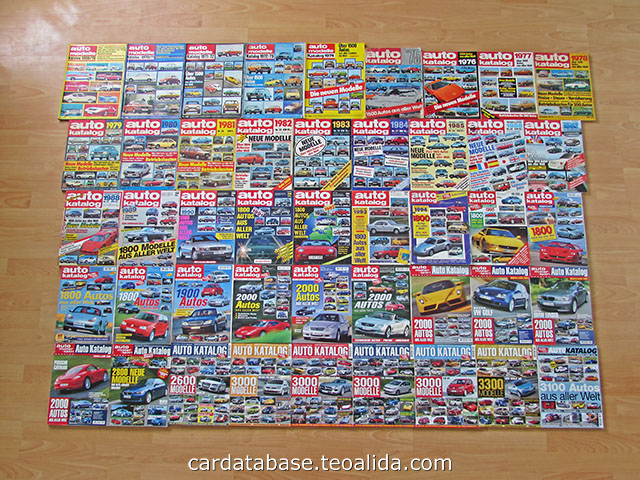 Description & history
I started this automobile database in 2003, from personal interest. In late 2003 I standardized the table at 11 columns of technical specs and from December 2003 to April 2004 I added about 2800 model versions.
I sourced data from AutoCatalog 1997, 1999, 2001, 2002, 2003, 2004 (from Auto Motor & Sport magazine), and AutoSpecial 2000, 2001, 2002 (from Burda magazine), in October 2004 I also bought AutoCatalog 2005 so I started to update my database. So the database included initially most cars produced since mid-1990s to present. I launched my first FINAL edition in January 2005, it had 3600 model versions, of which 3000 from Europe.
AutoKatalog provide 40+ columns of data, but personally I was not interested in so much data, and 1024×768 screen limited my abilities. The 11-column format was inspired from these auto magazines displaying 7 columns (cylinders, displacement, power, torque, 0-100 kmph, top speed, fuel consumption) and separate table for car dimensions. Additional 4 columns (body, doors, engine placement, drivetrain) were added from my research interest.
I was updating my database constantly, after buying each year AutoCatalog 2006, 2007, 2008, 2009. The 2008 edition had 6000 model versions of which 4800 are from Europe. Sadly, AutoCatalog is no longer published in Romania since 2009, leaving database in hiatus. I done a small update in 2010 and also added few pre-1990 cars with data sourced from Wikipedia and other websites, for BMW, Lamborghini, Mercedes and Porsche I was able to find sufficient data to expand my database to WW2, reaching 7800 models from 57 brands.
In 2011 I published previews my car databases on my personal website and in 2012 realized that I can do a business by selling it to various companies and web developers.
In November 2012 I found on eBay a collection of german AutoKatalog for 1991-2013 and revived the car database from hiatus. Had to add last 4 years of cars and reached over 10700 models. Adding more early 1990s models and improving the models sourced initially from Wikipedia, raised the database to 12000 models (as January 2013) from 78 brands, covering 1990-present.
Potential customers starting contacting me, I had to do few changes to make the automobile database suitable for the unexpected audience, for example: added 2 new columns Make and Model before the full model name (necessary for web developers making drop-down lists), added fuel type (suggested by a customer who wanted to filter cars by fuel), added number of seats, etc).
In February 2013 I bought from eBay more german AutoKatalog for 1983-1990 too, planning to include in my database all cars launched after 1983 or produced until at least 1990. I kept buying AutoKatalogs until 2014, completing collection for 1970-2014 (45 books). In 2014 the database had over 14000 models from 80+ brands, starting year vary from 1970 to 1990 depending by car make.
The vehicle database proved insufficient for certain customers who were demanding more data per car, especially car tire dimensions were demanded by numerous customers (tire shops), while several customers wanted to combine Car Models & Engines Database with Car Models Database (to have both engines and car dimensions). I expanded the vehicle database from 14 to 22 columns, adding quickly the car dimensions from Car Models Database and started a slow process of adding car tire size. But new customers demanded additional data such as transmission, so I had to do again every car.
In May 2014 I bought a 24″ 1920×1200 monitor to replace the 17″ crap, this encouraged me to engage in creating bigger databases. However, I was questioning if will worth my time spending 500+ hours to include 40+ columns of data from AutoKatalog books. I posted a message on site inviting people to contact me and make a price offer if they are interested in expanding database to 45+ columns. By end-2014, a single person showed interest.
In 2014 I halted adding classic cars and stated expanding the automobile database to 45+ columns in my spare time. When launched for sale the expanded database in October 2015 with 99% completion for 1990-present, I was surprised to see the high number of people willing to pay ~500 euro for such great database. But most people do not need so many data and the 7-column database (60% cheaper) remains best-selling. 1990-present package is the best selling, due to this reason, expanding 1970-1990 cars to 45-columns was not a priority.
Of course certain customers demand new specialty data that is not available in AutoKatalog and sometimes nowhere. I cannot satisfy everyone.
AutoKatalog magazine was surprisingly discontinued in 2014, so starting from 2015 I am sourcing new car data from ADAC Datenbank. ADAC do have separate row for each transmission, trim and equipment level, thus having too many rows for each engine. Every few months I am scraping ADAC website then use my personal knowledge to select one row per unique engine and copy-paste the data into my database, to match the format of the former AutoKatalog. This keeps my car database an original product and not a copy of any existing website, thus you can use it for your website without worrying about a copyright claim from another website.
In 2016 I resumed backward expansion and reached 99% completion for 1986-present. In summer 2017 I spent another 200 hours to add 1200 additional cars from 1975-1986 period, and together with updates with new cars, the database exceeded 20000 model versions. In next phase I will add 1970-1975 cars too. The cars from 1970-1986 added in database prior to 2014 remain in 22 column format, waiting to be expanded to 45+ columns in my spare time.
The ultimate database will have 99% completion for 1970-present. That is almost 50 years of history of automobile!
Years accuracy notes: AutoKatalog DO NOT provide years of production for each engine version so the years shown in databases are not sourced but rather generated based on what yearly issues of AutoKatalog each car appears in. Model production year are sourced from Wikipedia. AutoKatalog is published each year in September, it sometimes shows the car models that will be launched 1-2 months in advance, but not always. For example: Audi A4 was launched in November 1994, after the publication of AutoKatalog 1995 in September 1994, and was included for first time in AutoKatalog 1996, so I wrote in my database shows 1994-2001 for main model and 1995-XXXX for engine versions. At that time, without being aware of web scraping technology, this was the BEST I could do. I hope that this is not an issue for you.
Some customers gave me suggestions or additional requests:
Add an unique ID that facilitate integrating updates in existing database (for people who integrate my database with their own data so cannot simply delete old database and upload new database).
Correct inaccurate years and add month of production.
Add engine codes.
Add car images.
The German Database and UK Database made via web scraping already have unique identifiers, production period with month/year and car images, but not engine codes. Recompiling these things into the format of Car Models & Engines Database, would take additional effort of manual work and the number of sales may not increase.
I started web scraping in 2015 and by 2017 I realized that most people do not care about buying someone's original manual work and prefer buying databases scraped from other websites, some people ask me specifically to scrap data from certain website, despite of potential copyright issues.
Due to this reason I decided to create additional databases for other continents and no longer invest additional effort in expanding this manually-made European database, and reduce update frequency. Each update takes about 20-30 hours of manual work to add new cars, not counting corrections for old cars. For comparison, the UK Database takes about 24 hours of running scraping software in background and less than 1 hour of manual work, and all old records are updated, giving me a higher revenue per hour of work compared with manually updating Car Models & Engines Database. Despite of this, Car Models & Engines Database remained second best-selling database in 2018, after American Year-Make-Model-Trim-Specs, probably because the German and UK ones have too many rows for each engine, separate row for each trim / equipment level, which most people do not need.
A possible solution is to strip off German database and leave only 1 row per each engine? Your suggestions are welcome!
Data accuracy notes
The original database (2003-2014): initially it included only data that I was personally interested, engine and performance data. In a period of 2005-2006 I was deciding when to make a new row by checking performance data, which have sometimes variations from year to year despite that engine is the same, thus causing some duplicates in engine data.
The current database (2014-present): I made separate rows for each yearly issue of AutoKatalog, but for time economy, in the first stage I filled up only the rows of the first year the car appears in AutoKatalog (or second year, if the first year looks pre-launch data). There are 2 columns of production years, which I filled for just one of the rows for each year of AutoKatalog, then filter up database by deleting rows with empty production years, producing final database having only one row per each engine-body-drivetrain combination, with no duplicates, ignoring the variations in performance data.
AutoKatalog itself does have errors, but having myself high experience in cars and data analysis, I have spotted numerous errors and input correct data. However some data remains possibly wrong because I do not know what would be correct values.
The most important data, such as engine and dimensions, are 99.99% accurate. Less accurate data are the following: performance data, where are often variations such as +/- 0.1 litres in fuel consumption between yearly issues of AutoKatalog, suspension type: sometimes it indicate double wishbone on one year and multilink in another year, can't know which is correct, and tire size (especially the speed indicator is different from yearly issues of AutoKatalog).
Do note that nobody is perfect, 100% accuracy is impossible, but I believe that my manually hand-made car database is the most accurate vehicle database ever existed on internet, given by the comments from my customers who previously bought car databases from other sources which appears to be crawled using automatic software, including junk data, and no human is ever checking for errors.
if you want to counter-check my accuracy, I advise you to check against German websites. Expect small differences for certain cars when checking against websites from other countries, due to the bad sources of data that most websites uses.
List of car makes included
Mainstream makes: AC Cars, Alfa Romeo, Alpine, ARO, Asia Motors, Aston Martin, Audi, Austin / Rover, Autobianchi, Bentley, BMW, British Leyland (Austin, MG, Mini, Morris, Riley, Rover, Triumph, Vanden Plas, Wolseley), Buick, Cadillac, Chevrolet USA, Chrysler USA, Chrysler Europe / Simca / Talbot (France) / Sunbeam / Hillman / Talbot (UK), Citroën, Dacia, Daewoo / Chevrolet Korea, Daihatsu, De Tomaso, DeLorean, Dodge, Ferrari, Fiat, Ford Europe, FSO, GAZ (Volga), Honda, Hummer, Hyundai, IFA (Trabant, Wartburg), Infiniti, Innocenti, ISO, Isuzu, Iveco, Izh, Jaguar, Jeep, Kia ,Lada, Lamborghini, Lancia, Land Rover, Lexus, Lotus, Maserati, Maybach, Mazda, Mercedes, Mini, Mitsubishi, Morgan, Moskwitch, Nissan, Oltcit, Opel / Vauxhall, Otosan, Peugeot, Pontiac, Porsche, Proton, Reliant, Renault, Rolls-Royce, Saab, Samsung, Santana, Seat, Skoda, Smart, SsangYong, Subaru, Suzuki, Tatra, Tesla, Tofas, Toyota, TVR, UAZ, Volkswagen, Volvo, Zastava, ZAZ.
Bonus minor makes: Artega, Bitter, BMW Alpina, Bristol, Bugatti, Caterham, Cizeta, Donkervoort, Felber, Fisker, Ginetta, GTA Spano, Gumpert, Isdera, Jensen, Koenigsegg, LuAZ, Lynx, McLaren, Messerschmitt, Monica, Monteverdi, Pagani, Panther, Saleen, Venturi, Wiesmann, ZIL (producing less than 100 cars per year).
List as September 2017. Additional minor makes may be added in the future.
Data fields included
Database contain over 60 columns, listed here together with the period that include data in. Completion is nearly 99% for every column for the period covered.
Naming: Make, Model, Version, Years, Source of data, Sold in, Class (all).
Body data: Body type, No. of doors, No. of seats, Engine place, Drivetrain (all).
Engine data: Cylinders (all), Displacement (all), Power kW (all), Power PS (all), Power rpm (all), Torque Nm (all), Torque rpm (all), Bore × Stroke (pre-2013), Compression ratio (pre-2013), Valves per cylinder (all), Crankshaft (pre-2013), Carburetor (pre-1986), Fuel injection (1986-present), Supercharger (1986-present), Catalytic (1986-1993), Oil capacity (pre-1993), No. of gears manual (all), No. of gears automatic (all), Final ratio (pre-1993).
Drivetrain data: Suspension front (all), Suspension rear (all), Assisted steering (all), Turning circle (2013-present), Brakes front (all), Brakes rear (all), ABS (1986-2013), ESP (2000-2013), Tire size (all), Tire size rear (if different than front).
Dimensions and weight data: Wheel base (all), Track front (pre-2013), Track rear (pre-2013), Length (all), Width (all), Height (all), Curb weight (all), Gross weight (all), Load (2013-present), Stützlast (2013-present), Roof load (2013-present), Cargo space (1988-present), Tow weight (1988-present), Gas tank (all).
Performance data: 0-100 kmph (all), Max speed (all), Fuel efficiency overall (all), Fuel efficiency city (2013-present), Fuel efficiency highway (2013-present), Engine type (all), Fuel type (all), CO2 g/km (2007-present), CO2 efficiency class (2013-present), Pollution class (2013-present), Base price in Germany (2013-present).
Do I shoud add 1945-1980 cars considering lack of detailed data, or focus on new cars?
Poll – abbreviations
The reason for which I use abbreviations is because I sourced data from books which also use abbreviated due to limited amount of paper space, and because when I started this European database in 2003 I had an 1024×768 screen, that's why I made it in 12 columns only. Since 2014 I have a 24″ 1920×1200 screen and this allowed me to expand database to 45 columns, my screen is still not big enough as the database would require a 27″ 2560×1440 screen to display completely, so I choose to hide columns when adding new data. However, after I enter all data from AutoKatalog books going back to 1970, there will be no more reason to have a database that fit in screen width, as the updates with new cars are done via copy-pasting and not manual typing. The databases I made for other continents, America and India, source data from websites which do not have limitations of a printed book, so they use full words, and I wonder if should do the same for European database.
Should I use abbreviations or full names? (in columns body type, drivetrain, injection type, turbocharger, suspension, brakes, fuel type)
Poll – tires
How I should indicate tire size for sport cars with different front and rear tires?
Poll – hierarchy
Data structure is not optimal, causing loss of customers? Don't go away, YOU can suggest a new data structure!