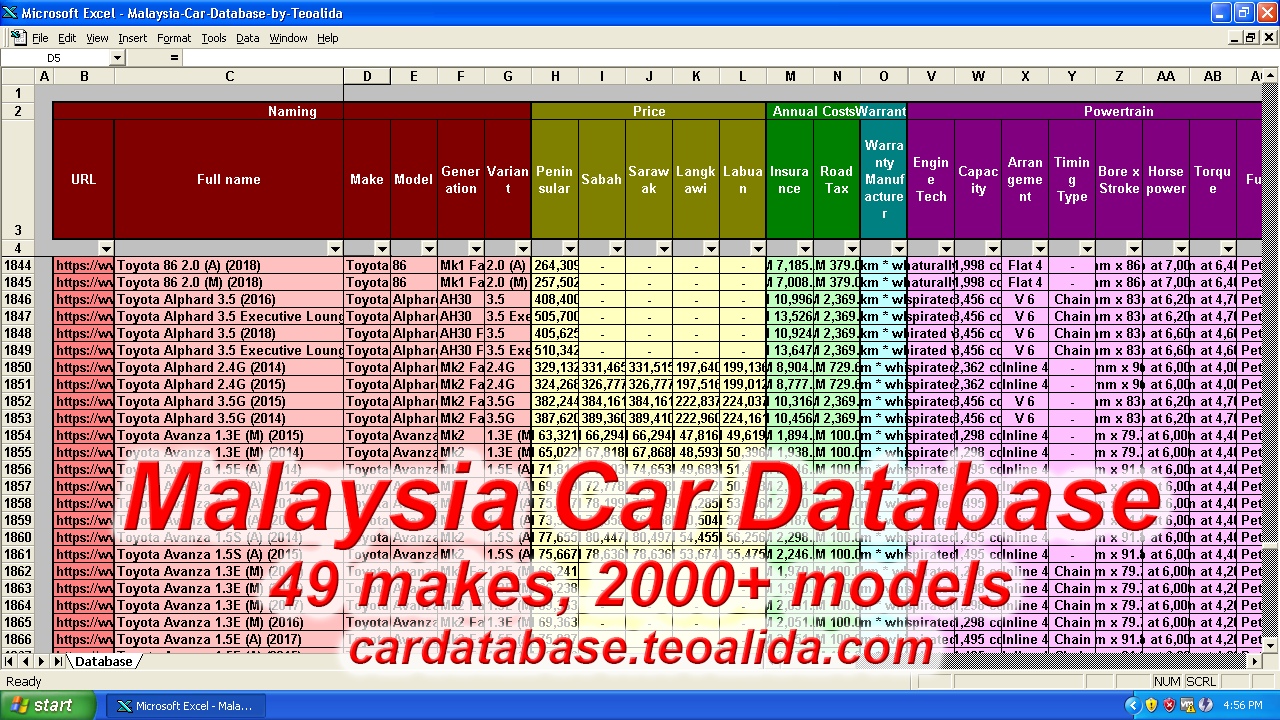 Coverage: 2014-present, each year being a separate record in database. 126 columns of specifications.
Download SAMPLE:
Malaysia Car Database SAMPLE.xls
Buy FULL database + FREE updates for 1 year:

I made this database in August 2018 at request of an Indian customer who asked me to scrap data from www.carbase.my, then in November 2018 after making Singapore one too I decided to publish both on website so anyone interested can purchase them.
List of car makes
Makes with specs: Alfa Romeo, Audi, BMW, Chery, Chevrolet, Citroen, Ford, Haval, Honda, Hyundai, Infiniti, Isuzu, Jaguar, Jeep, Kia, Land Rover, Lexus, Lotus, Maserati, Maxus, Mazda, Mercedes-Benz, MINI, Mitsubishi, Nissan, Perodua, Peugeot, Proton, Renault, Subaru, Suzuki, Toyota, Volkswagen, Volvo.
Makes without specs: Aston Martin, Bentley, Bufori, Caterham, Chana, Ferrari, Fiat, Lamborghini, Mahindra, McLaren, Porsche, Rolls-Royce, Skoda, SsangYong, Tata (they do appear on www.carbase.my/car-brands-malaysia but do not show any models).
List of updates
34 makes, 328 models, 484 generations, 2204 variants – 7 August 2018, beta version.
34 makes, 341 models, 523 generations, 2327 variants – 30 May 2019, added car images, added Statistics sheet and formulas to calculate completion coverage by column.