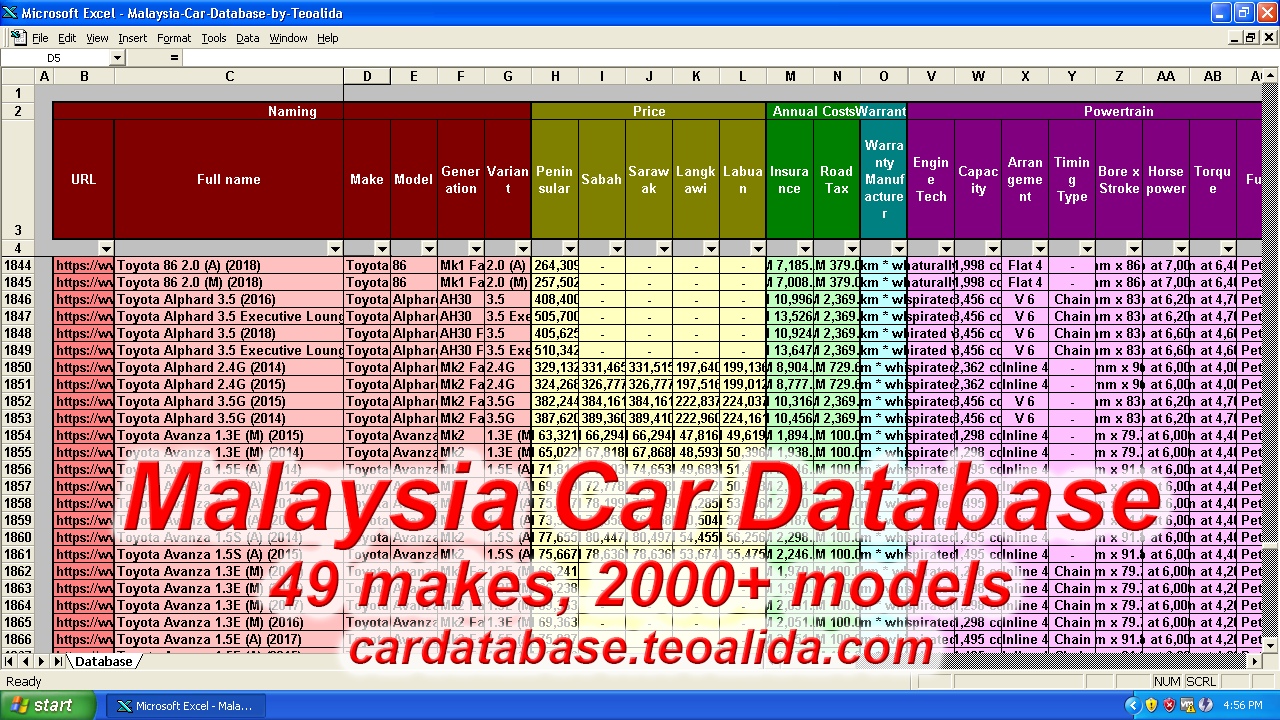 Coverage: 2014-present, each year being a separate record in database. 126 columns of specifications.
Download SAMPLE:
Malaysia Car Database SAMPLE.xls
Buy FULL database + FREE updates for 1 year:

I made this database in August 2018 at request of an Indian company, who asked me to make databases for over 10 countries, for Malaysia we choose to scrap data from www.carbase.my, then in November 2018 after making Singapore one too I decided to publish both on website so anyone interested can purchase them. But now if I were to update all them it means a huge workload for me and small size of Malaysia country (low number of customers) do not justify effort to update it.
List of car makes
Makes with specs: Alfa Romeo, Audi, BMW, Chery, Chevrolet, Citroen, Ford, Haval, Honda, Hyundai, Infiniti, Isuzu, Jaguar, Jeep, Kia, Land Rover, Lexus, Lotus, Maserati, Maxus, Mazda, Mercedes-Benz, MINI, Mitsubishi, Nissan, Perodua, Peugeot, Proton, Renault, Subaru, Suzuki, Toyota, Volkswagen, Volvo.
Makes without specs: Aston Martin, Bentley, Bufori, Caterham, Chana, Ferrari, Fiat, Lamborghini, Mahindra, McLaren, Porsche, Rolls-Royce, Skoda, SsangYong, Tata (they do appear on www.carbase.my/car-brands-malaysia but do not show any models).
List of updates
34 makes, 328 models, 484 generations, 2204 variants – 7 August 2018, beta version.
34 makes, 341 models, 523 generations, 2327 variants – 30 May 2019, added car images, added Statistics sheet and formulas to calculate completion coverage by column.