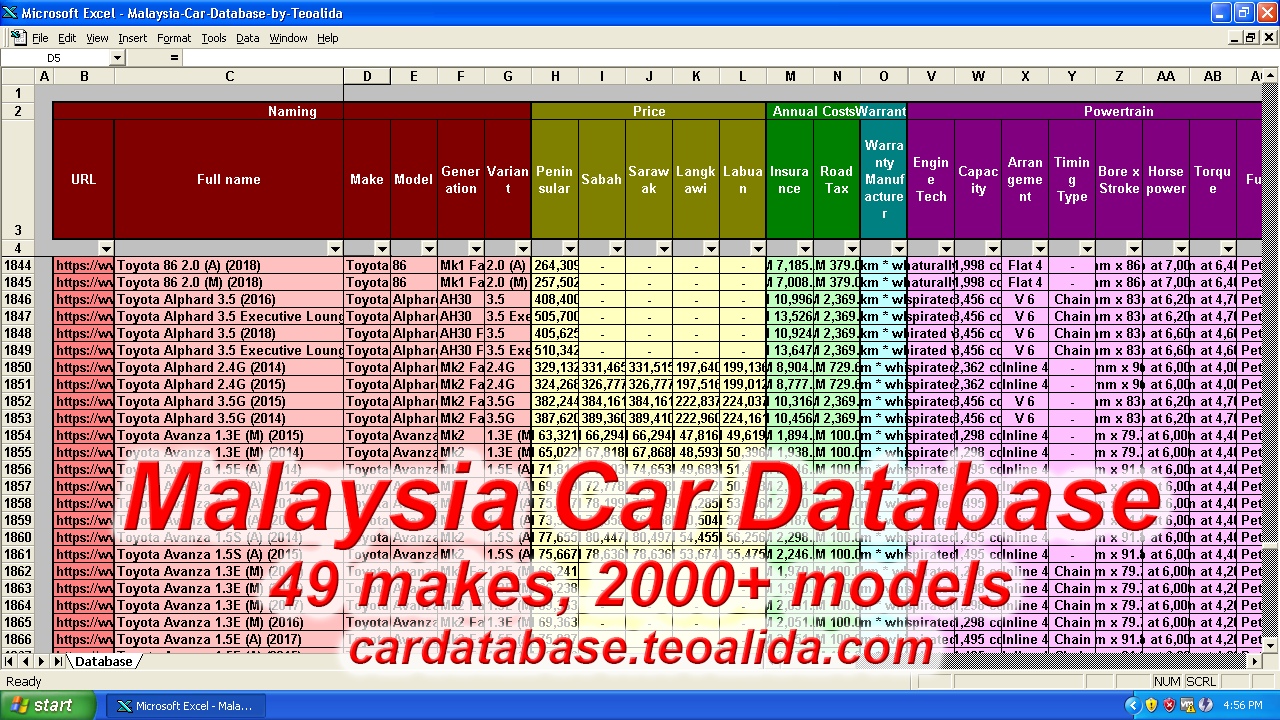 List of car makes
Makes with models included: Alfa Romeo, Audi, BMW, Borgward, Chery, Chevrolet, Citroen, Ford, Haval, Honda, Hyundai, Infiniti, Isuzu, Jaguar, Jeep, Kia, Land Rover, Lexus, Lotus, Maserati, Maxus, Mazda, Mercedes-Benz, MINI, Mitsubishi, Nissan, Perodua, Peugeot, Proton, Renault, Subaru, Suzuki, Toyota, Volkswagen, Volvo.
Other makes that does appear on www.carbase.my/car-brands-malaysia but do not show any models: Aston Martin, Bentley, Bufori, Caterham, Chana, Ferrari, Fiat, Lamborghini, Mahindra, McLaren, Porsche, Rolls-Royce, Skoda, SsangYong, Tata.
Coverage: 2014-present, for some brands each year is a separate record in database, for other brands there is a record for multiple years. 126 columns of specifications.
List of updates
I made this database in August 2018 for an Indian company who requested me to make databases for 10 countries, for Malaysia we choose to source data from CarBase.my, after making Singapore car database in November 2018 I published both on website so anyone interested can purchase them.
7 Aug 2018 – 49 makes, of which 34 have 328 models, 484 generations, 2204 variants.
30 May 2019 – 49 makes, of which 34 have 341 models, 523 generations, 2327 variants, added car images, added Statistics sheet and formulas to calculate completion coverage by column.
Poor sales made me to abandon this project and focus on Europe and America, I revived Malaysia in 2021.
8 May 2021 – 50 makes, of which 35 have 370 models, 619 generations, of which 618 have 2772 variants.
I tried to update again in October 2022 but I got 500 Internal Server Error.
Last update is too old? Request update today! I just need to open scraper, click Start, wait 2h, click Save data, upload new file on my website and notify all past customers to re-download database.