The original car databases I made since 2003 for European market (Car Models Encyclopedia, Car Models Database, Car Models & Engines Database) were made by entering data manually from AutoKatalog, a yearly publication made by Auto Motor und Sport, the leading German car magazine and one of the most reputable car magazines in the world. AutoKatalog is published yearly since 1957 in about 15-20 European countries. I created an original compilation "Made by Teoalida" with NO equivalent on internet (except on websites that purchased database from me).
A new era started in 2015: web scraping. Using scraping techniques I quickly created over 50 databases by 2018, including the best-selling car databases for America, India, Middle East, Australia, motorcycles database, real estate databases, mobile phones, etc. The website I source data from is indicated in each database's page.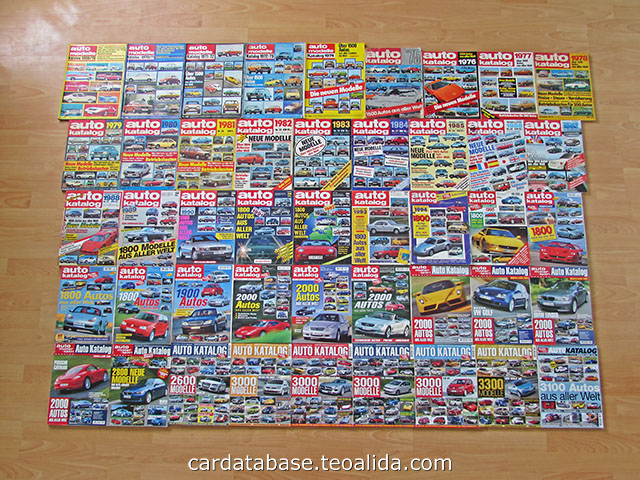 AutoKatalog provide 38 columns of technical specs (in 2014 issue), worldwide models, but it focus primarily for cars sold in Germany (where 100% completion is guaranteed) and for other European countries where the magazine is published. It does also include car models not sold in Europe but they seems to be added at random basis just to fill up the pages, without guaranteeing completion for any market outside Europe. Would have been anyway difficult to make a complete worldwide database due to differences between markets of sale (read more America vs Europe and rest of world).
Same company also publish quarter-yearly a small brochure with prices plus 9 columns of data, European market only. To make things simpler, the Car Models & Engines Database was originally compiled just with these 9 columns, 3 additional columns added at my interest.
I had romanian AutoCatalog 1997, 1999, 2001-2009, so my car database was originally made to contain cars starting from mid-1990s to present. Since 2009 AutoCatalog was no longer published in Romania.
After publishing the car database on website in 2011 and having few sales in 2012, in November 2012 I bought from eBay the german version of AutoKatalog, collection 1991-2013, and not just brought database up-to-date, but also extended historical coverage to 1990. In February 2013 I bought 1983-1990 too and further extended the database historical coverage. I kept buying old books until 2014 when I completed collection 1968 + 1970-2014 (46 books), seen in above photo.
I paid about 30 euro for each 1970s book. 1960s books cost 50-60 euro and the very first 1957 issue I found it on eBay at price of 250 euro! Since just few people are interested in such old cars, and the ones interested would like also pre-war cars when AutoKatalog was not existing, I do not plan to invest another ~600 euro just to add in database 10 more years (1960-1970).
Auto Katalog 2015 was added on Amazon.de and many other online shops, but publication was cancelled in last moment, leaving lots of fans disgruntled and my database was put in hiatus. The 2014 magazine published in September 2013 became last issue. After this I decided to use ADAC Datenbank as main source of data for my car database. Surprisingly, AutoKatalog was again published in Germany since 2015 but did not bought it anymore. AutoKatalog 2015 was published in Croatia at least but I do not know how to buy it, maybe if YOU are from Croatia you can help me buying from local shops and ship it to me in Romania.
AutoKatalog history 1957-2014
This is the AutoKatalog 1969/1970, the second earliest I have (I also have 1967/1968 with some pages ripped off). Until 1974 the pages with technical specs were at front of book, since 1975 they were moved at back of book but format was kept similar. Just some columns appeared new. Colored photos appeared during 1970s for some makes and by 1990s the black and white photos gone.
The format was kept nearly similar until 1992. The 1993 issue removed few columns from technical specs pages, and injection column no longer provide type of injection but just "E" (Einspritzung).
A major change came in 1994: car makes are now sorted alphabetically instead of by country, and the technical specs table no longer mix multiple body styles on same row. More columns such as oil capacity are no longer provided. Injection indicate now if is single point, multi point or direct injection. Cargo space column provide now also the volume with rear seats removed.
The 1994 format remained nearly similar until 2014. co2 column appeared in 2008.
This Excel file shows the number of models included for each make in each yearly issue of the AutoKatalog. Probably an USELESS Excel file except for the fans of AutoKatalog itself.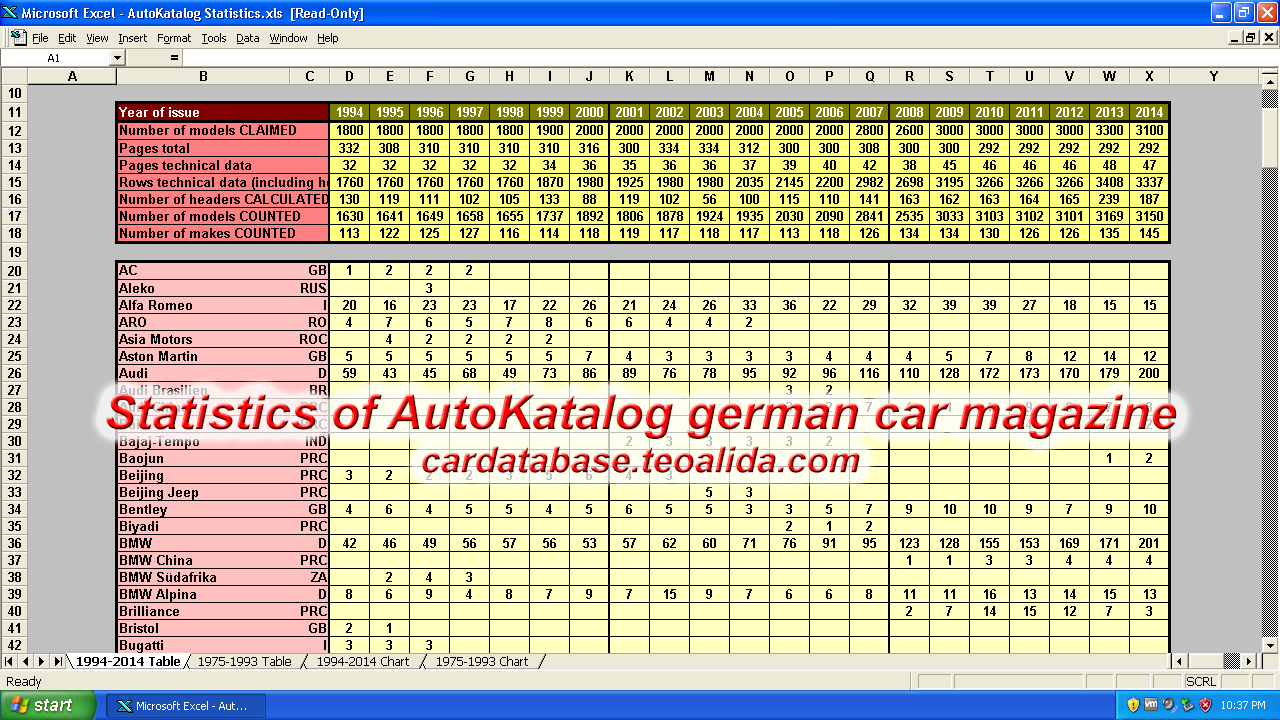 Other projects
Less-important databases such as Car Models List, Car Models Timeline and Car Nameplates List, that do not include technical specs, are also manually compiled, but this time sourcing data from Wikipedia, the most comprehensive car database ever, very informative regarding countries where each car is sold and accurate at production years, however its accuracy sucks at technical specs, often offer contradictory car dimensions between different languages of Wikipedia.
So, I try to use AutoKatalog as much is possible for Car Models Encyclopedia, Car Models Database and Car Models & Engines Database. They do contains car models older than 1970 too for certain manufacturers, from online sources such as Wikipedia and manufacturer websites or fan pages, but without detailed engine information like the post-1970 car models sourced from AutoKatalog.