Download SAMPLE:
Car Models Encyclopedia.DOC (sample showing BMW and Dacia)
Buy FULL encyclopedia (all makes):
2005-2012 original format vs 2013 improved format
Like a book but optimized for on-screen display, the colors make it NOT printer-friendly.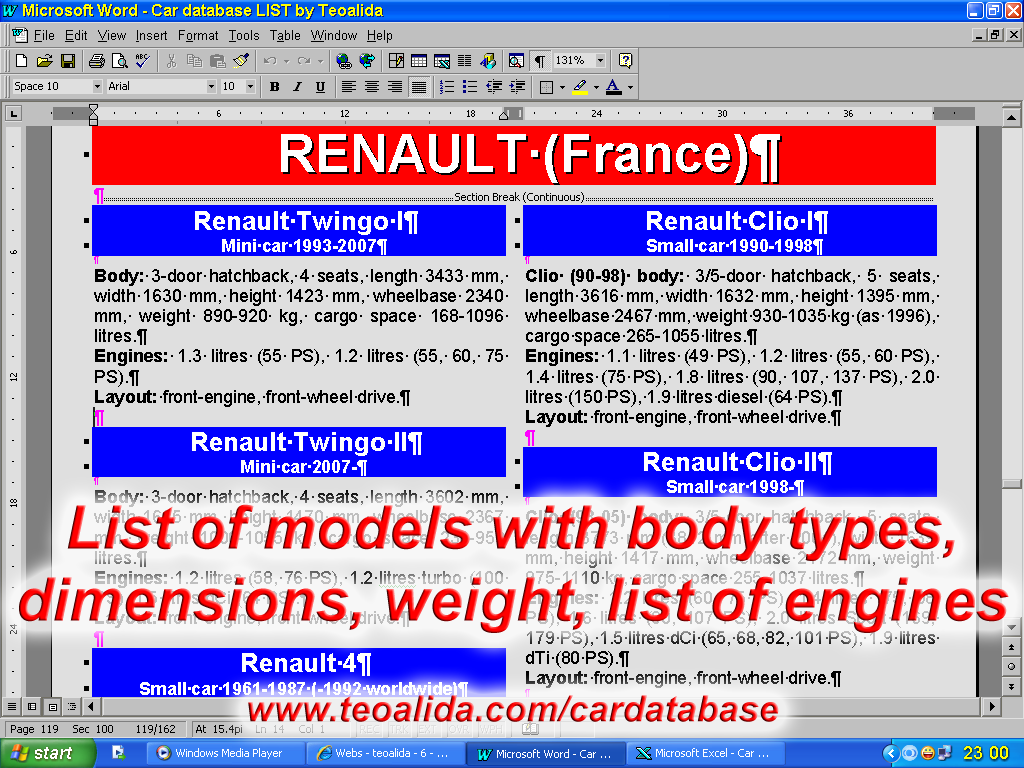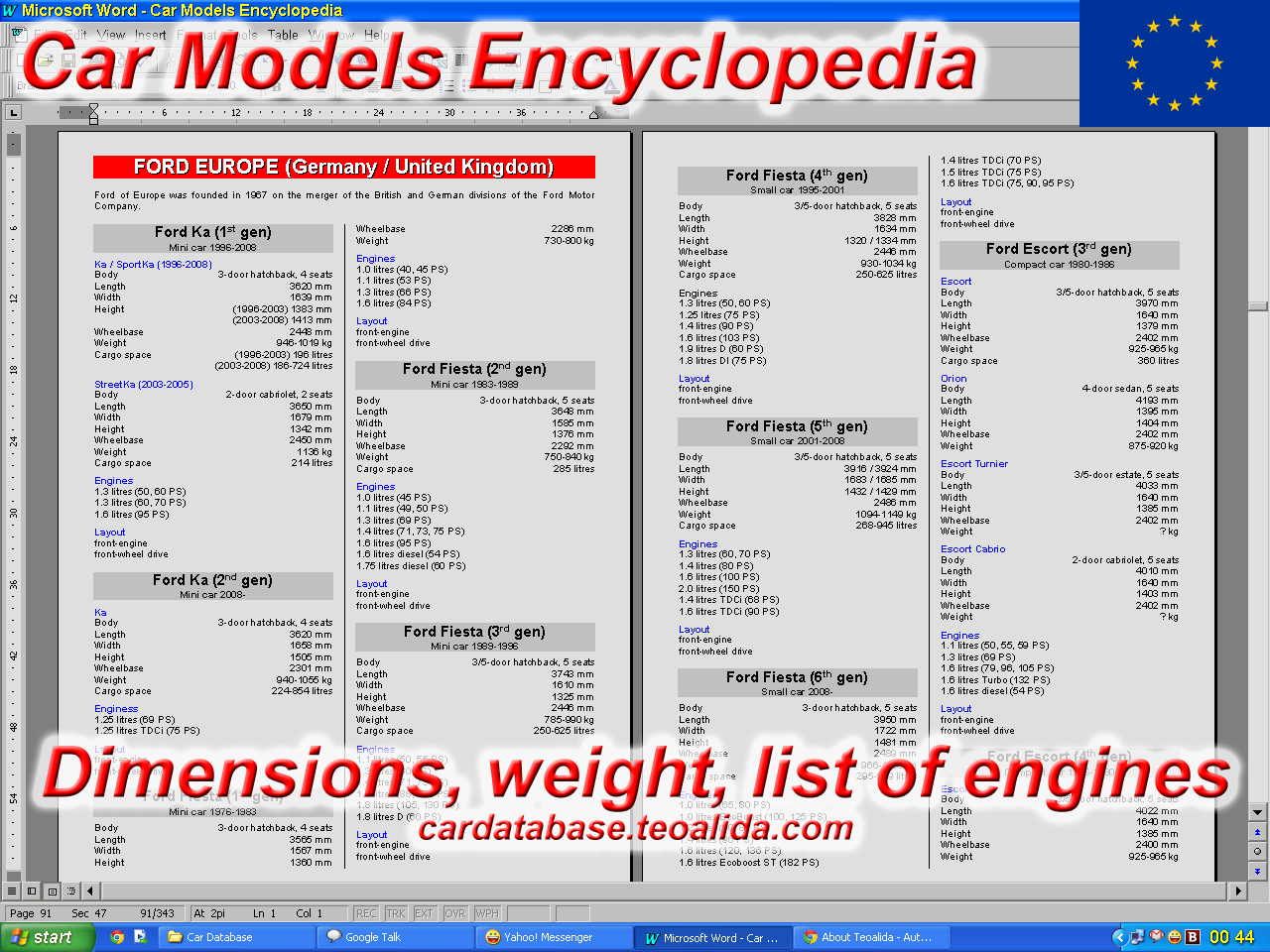 2015 edition
Black & white, now it is printer-friendly (although I believe that nobody will want to print this)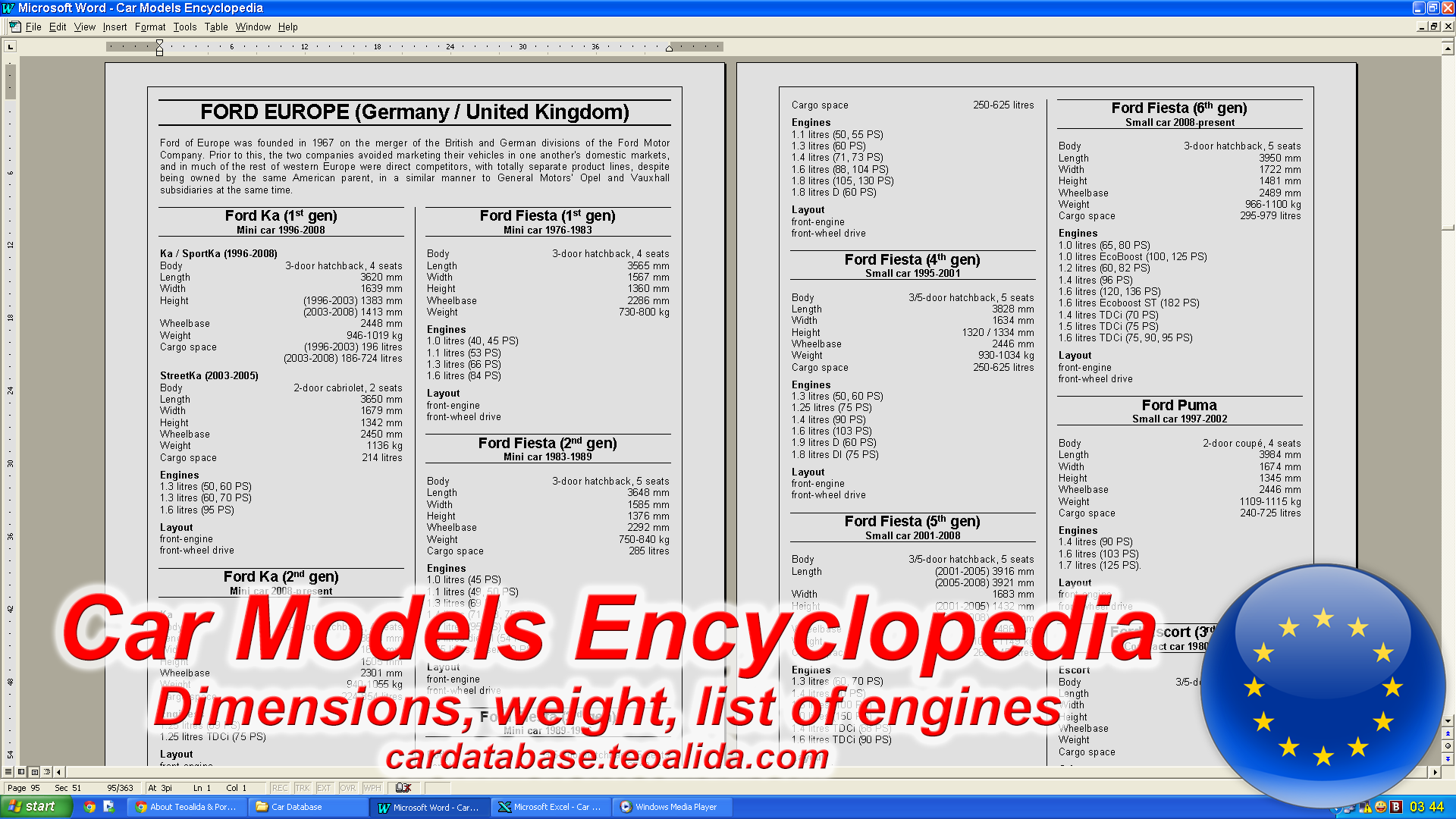 You may ask WTF is this… in the era of Excel and SQL databases.
Car Models Encyclopedia contains external car dimensions (length, width, height, wheelbase), weight, cargo space, and list of engines (displacement and horsepower). Each piece of text (Make titles, Model titles, Car class, Body text, etc) is a separate style in Word, easy to manipulate the appearance, changing formatting of one row will change all the rows in entire file.
It can be compared with the info boxes seen on Wikipedia in each car model page (this is a coincidence, when I started my own encyclopedia I did not had internet access and did not knew Wikipedia). It dates back from the childhood hobby for writing books in Word (although it was optimized for on-screen viewing).
Coverage: 1945-present with 99% completion for 1980s-present, for worldwide cars sold in European market (and few bonus cars not imported in Europe). See the list of manufacturers included.
Development history
In 2001-2003 I wrote an encyclopedia in Word with 2-4 pages per car model.
In 2003 I had Car Models List and The BIG Car Database (renamed to Car Models & Engines in 2013). Two new files were started around 2005, Car Database List.DOC (sorted by manufacturer) and Car Database Timeline.XLS (sorted by class and year, for purpose of comparing how cars evolved in dimensions over last 60 years). Originally containing ONLY European cars, were posted on website in 2011, given for free.
I invested great efforts to add non-European cars in April 2012 and put on sale both files as one package.
The Word file was the "base", being complete with all vehicles produced (1100 models counted), including every dimension change, having each car written in a standard format, 4-10 models per page, somewhat successor of an early encyclopedia done in 2001-2003 with one model spread on 2-4 pages, which was a MESS without a standard format.
The Excel had only the vehicles with dimensions available (~950 models estimated), it showed dimensions of original model launch, omitting possible dimension changes at various facelifts, to be clean-looking.
The package got several sales during 2012, when I noticed that the customers are companies buying the package for Excel tables rather than for reading Word documents.
In December 2012 I re-sorted the .XLS version alphabetically by manufacturer and added all vehicles from .DOC, even those with no dimensions available, making .XLS COMPLETE but messy-looking with some missing data in case of old cars (car specs for pre-1990 models are hard to find – don't worry, over time I will find them and complete the empty fields).
I updated the .DOC too, until January 2013, reaching 1220 car models (same like in .XLS version as Jan 2013) on 160-page file… when I started questioning what is the purpose of a database in .DOC format?
Probably automobile enthusiasts may appreciate this Word encyclopedia, but the audience of website turned to be programmers and other professionals and not hobbyists.
The Excel version was named Car Models Database (or Car Body Specs Database between April-October 2013).
The Word version is now sold separately under name Car Models Encyclopedia at HALF PRICE.
In July 2013 I redesigned the encyclopedia, now each piece of data is on separate row, instead of original in-line paragraphs to save space on screen. The 160 pages became instantly 260 pages, 2-6 models per page.
A slow updating was started, and in October 2013 I released new version with 1430 car models on 320-page file.
One person complained that this .DOC is hard to read. Meantime many website visitors complained that the website itself is crowded, cluttered, etc, suggesting to split website paragraphs into smaller pieces and add additional spaces around. So I applied their suggestion for Car Encyclopedia too. Maybe the problem "hard to read" was not for being .DOC, but due to the style of writing data in in-line paragraphs?
I posted Word encyclopedia separately from Excel database, and resumed updating, exceeding 1500+ car models in late 2013, when I stopped because 1 year passed without any sale. I will concentrate on Excel files which generate sales constantly.
In May 2015 I done a 10-minute aesthetic change of Word file to align it with my new style of books.
Someone purchased encyclopedia in 2015 and another one in 2016, none of them answering when I emailed asking how they use this Word file.
Updates are ON HOLD until someone give me an actual use of this Word encyclopedia.
What use would have this Word encyclopedia?
In December 2012 I was thinking convert the above Word file into a web-based car encyclopedia, a blog with 1500+ posts, completed with car photos, tags by car classes, allowing filter and search. But soon after this customers told me that good websites store data in MySQL database, and allow car comparisons, reviews, etc, NOT blog-style posts, so I abandoned the idea of making a car blog, and making a MySQL-based website exceed my abilities, hiring developers cost money, how I can recover investment?
In 2013 I was thinking to sell the encyclopedia as e-book in PDF format, completed with images, but adding 1500+ images will make the file very big… is anyone willing to purchase such thing?
POLL
Do I should maintain Car Models Encyclopedia in Word?
See also: results of the old poll (9 votes 2013-2014)