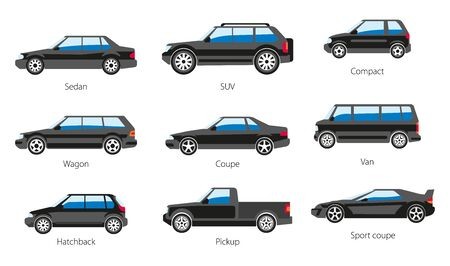 Saloon (british english), Sedan (american english), Limousine or Stufenheck (german), Berline (french), everyone know what it does mean, most common body type, the 3-box style with trunk separated from passenger compartment, usually 4-door, but 2-door and 6-door sedans also exists. Do note that original Mini (1959-2000) although lacks visible trunk box, is a saloon and not hatchback because rear window does not open with trunk lid.
Notchback, a less popular term synonym with sedan, the Chevrolet Vega range included a notchback coupe and a fastback coupe).
Hatchback (british & american english), Schrägheck (german), 2-volume car with tailgate, short back without visible trunk area.
Estate (british english), Station Wagon (american english), Kombinationskraftwagen (german), Break (french), Familiare (italian), Combi (other countries), 2-volume car usually with nearly vertical tailgate, long back like sedans.
Liftback (british english), Fastback (american english), Fahrzeugheck (german), a term less used, denoting cars shaped like a sedan but with tailgate that open more upwards rather than backwards. When liftback term is not used, the cars are called hatchbacks. Liftbacks are popular in France, first liftback car was Renault 16 (1965), miscalled "the first hatchback" but actually Renault 4 (1961) was hatchback too and was not the first. Other examples: Citroën XM, Ford Mondeo, Scorpio, Opel Vectra, Renault Laguna, Safrane, and the recent BMW 3/5-Series Gran Turismo.
Pick-up truck, everyone know what it does mean.
Leisure Activity Vehicle (british english), Hochdachkombi (german), Ludospace (french), some kind of passenger cars based on vehicles designed primarily for commercial use, popular only in Europe. Example: Citroën Berlingo, Fiat Doblo, Opel Combo, Peugeot Partner, Renault Kangoo, Volkswagen Caddy.
MPV (british english), Minivan (american english), Van or Großraumlimousine (german), Monospace (french), similar with station wagon but over 1600 mm height (EU definition) or over 1700 mm height (US definition). European MPV in 1600-1700 mm range when imported in US they are classified as hatchbacks or wagons rather than minivans.
Off-road vehicle, Jeep CJ, Jeep Wrangler and Land Rover Defender, rugged vehicles with no comfort features (or less comfort features that modern SUV).
SUV, vehicle with off-road abilities and comfort of a car. First SUV is considered to be Range Rover (1970) and it was the only SUV produced in Europe for 19 years. Was followed by Land Rover Discovery (1989), Opel Frontera (1991) and Ford Maverick (1993).
Crossover, a marketing term used since late 2000s, with no clear definition yet. Some 2000s SUVs started being called crossovers in 2010s. A possible definition is a vehicle that share platform with a car (usually hatchback) and bulky design like SUVs, but with low ground clearance and limited off-road abilities (example: Range Rover Evoque, Renault Captur) and cars tall like a SUV but without boxy shape of typical SUVs (example: BMW X6). Depending by definition, the first crossovers may be either Matra Rancho (1977-1984), AMC Eagle (1979-1987), Volkswagen Golf Mk2 Country (1990-1991)
Sports cars
Coupé (international) usually 2-door car with sport style, but 4-door coupés (example: Mercedes CLS) appeared in recent years, 2-door sedans exists too. The CORRECT European definition of coupe is a car without B-pillar and without frame around window door, 3-door coupes do also exist, called Kombicoupe in german. In America coupe is strictly defined as 2-door car so the 3-door and 4-door ones are called hatchback and sedan.
Convertible (american english), Cabrio (british english, german, french, etc), everyone know what it does mean.
Roadster (international), convertible car with 2 seats, the difference compared with Cabrio is unclear, most roadsters have convertible roofs too.
Targa top (international), Targadach (german), open-roof car distinct than Cabrio by having fixed rear window.
Hardtop (international), car with roof detachable to be stored on garage (not on vehicle), popular in 1920s and 1930s, or car with fixed roof without B-pillar, popular in USA between 1940s and 1970s for sedans, wagons and coupes, last american hardtops being 1978 Chrysler Newport and New Yorker. What is the difference between 2-door hardtop and coupé is unclear
Shooting-brake, there is no official definition for it, but it is sometimes used for sport cars with nearly vertical tailgate (example: Aston Martin DB5 Shooting Brake.
Vintage body types
Runabout, simple car with no windshield or doors, popular until around 1915.
Phaeton, open-air car with or without retractable roof as rain cover, but without side windows to fully enclose the car. Popular from 1900s to 1930s.
Brougham or Town car, a car with front seats in open air, rear seats covered. Popular for chauffeur-driven vehicles in early days of automobiles, no such car was produced after World War II.
Landaulet or Coupé de Ville, opposite of Town car, having front seats covered and rear seats in open air, produced from 1908 to 1939, after World War II only used by custom-made presidential limousines (example: Mercedes 600 used by Queen Elizabeth II). Citroen 2CV is sometimes considered landaulet because of its retractable roof but unlike real convertibles, it have fixed side frames.