Study published for first time in 2012 and updated over next years, last time in 2023.
Who know more photos such as the following ones, showing contrasts between old vs new cars, small vs big cars, please give me link or email me the photo. I love collecting!
European car classification
Car classification in Europe is not officially regulated, instead, it is defined in relative size with other cars. Average life of a car model is 6 years for compact and medium cars and 8 years for mini and luxury cars.
Is normal for cars to grow over years with about 5 mm / year in length, as technology advances and more gadgets should be included under body, but in Europe since 1990s, the cars are growing more than necessary, gaining 10-20 cm per model change. Some brands do not follow the common class sizes, making cars with intermediate sizes, these are usually considered being part of the smaller class, causing further increase in average size for each class.
Seems that all European companies wants to make a car bigger than competitor's cars of same class. This leads to 2 cm / year increase in average car length in each class. The cars get fatter also in width, this is an issue for parking design.
This non-natural grow made buyers to move towards smaller models and most car manufacturers abandoned large models and introduced new smaller models below existing models.
With other words, in 1960s "medium" cars like Ford Taunus were best-sellers, being 4 meter in length, during 1980s and 1990s "compact" cars like Volkswagen Golf became best sellers, being again 4 meters in length, in 2010s "small" cars like Ford Fiesta, Opel Corsa and Peugeot 208 became best sellers, having the same length of 4 meters.
In 1960s european car classes were: small (3.5 m), compact (3.8 m), medium (4.1 m), large (4.5 m), luxury (4.8 m).
As 2010s main car classes are: mini (3.6 m), small (4.0 m), compact (4.3 m), medium (4.7 m), large (4.9 m), luxury (5.1 m).
If this stupid trend continue, how do we classify the cars in the year 2050? Probably nano (3.5 m), micro (4.0 m), mini (4.5 m), small (5.0 m), compact cars were equivalent of today's Maybach, while medium-class cars were definitely dead!
Also, what the fuck are the crazy supersport engines on regular cars? Example: 2008 Audi RS6 with 580 horsepower. Most today cars, even in their base model, can reach max speed over 200 kmph, while most today highways have speed limit up to 130 kmph. Also who needs to reach 100 kmph in under 5 seconds?
American car classification
American classification is different. Do not confuse American compact-size with German compact cars (British small family cars), is just a coincidence that today they have same size.
American cars grew since 1950s to early 1970s, when typical length was compact 4.6-4.7 m, mid-size 5.2-5.3 m, full-size 5.6-5.8m. European cars imported in America would have been classified as subcompact or compact. Following 1973 oil crisis, American manufacturers downsized their models successively starting from 1977 to 1990s, while in Europe everything was growing.
As 2000s American mid-size imported in Europe are long like german large cars (british Executive cars) but priced like german medium cars (British large family cars), American full-size equals the length of European luxury cars but they are just big and cheap.
Car length growth in Europe
Seems that all European companies wants to make a car bigger than competitor's cars of same class. This leads to 2 cm / year increase in average car length in each class. The cars get fatter also in width, this is an issue for parking design.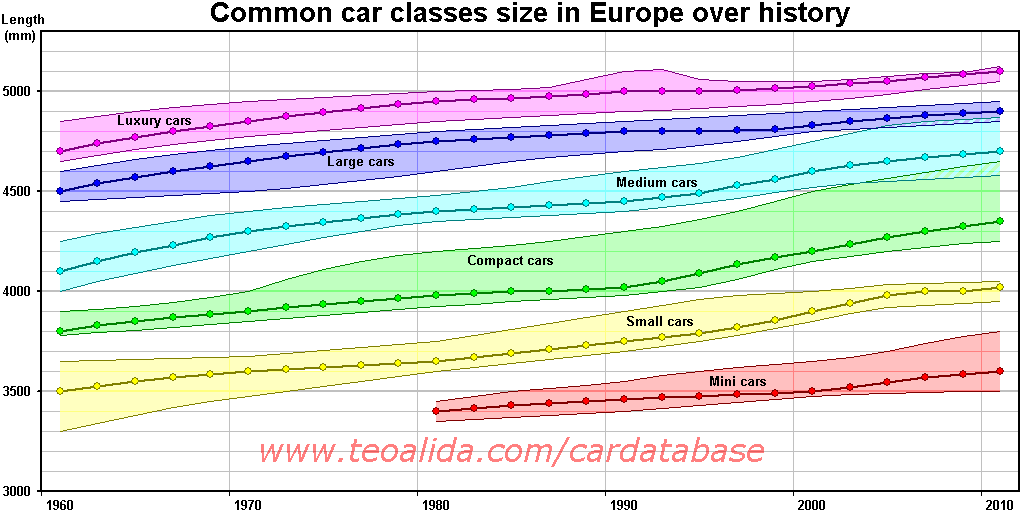 During 1950s and 1960s, engine size played a bigger role in classifying cars than car dimensions. Citroën 2CV belong to economy class while Fiat 850 was a superior class despite of smaller size.
During 1970s the cars started being classified by dimensions, compact class (3.8 m hatchbacks, 4.0 m sedans), medium class (4.3 m), large class (4.6 m).
1973 oil crisis lead to a boom of cars smaller than compact class / small family cars, that were around 3.5-3.6 m. Examples: Fiat 127 (1971), Audi 50 (1974), Volkswagen Polo (1975), Ford Fiesta (1976), Austin Metro (1980), Talbot Samba (1981), also mini class around 3.3-3.4 m: Peugeot 104 (1972), Citroën LNA (1976), Fiat Panda (1980), Autobianchi / Lancia Y10 (1985).
During 1980s the growth in dimensions was slow. In early 1990s the classes were small class / supermini (3.6-3.7 m), compact class / small family (4.0-4.3 m), medium class / large family (4.3-4.4 m), large class / executive (4.7-4.8 m), luxury class (4.9-5.0 m).
During 1990s and 2000s the cars entered in a rapid growth. Many manufacturers abandoned the executive segment: Ford Scorpio (ended 1998), Rover 800 (ended 1999), Opel Omega (ended 2003), Peugeot 607 (ended 2010), Citroën C6 (ended 2012) and replaced their medium / large family models with a new model that its dimensions are nearer former large class / executive cars rather than medium class / large family cars, further aggravating the growth. No wonder that these cars lost marketshare compared with their predecessors, since most buyers choose cars based on car size, engine size, price, NOT based on model name or designated class.
The growth of small class / superminis made space for a new mini class: Renault Twingo (1993), Ford Ka (1996), Seat Arosa (1996), Volkswagen Lupo (1997), Audi A2 (2000), Opel Agila (2000), Citroën C2 (2003), Citroën C1 (2005), Peugeot 107 (2005). Note: mini class had existed since 1950s with Fiat 500 and british Mini. Most manufacturers introduced at least one model at bottom of range: Audi A3 (1996), Mercedes A-Class (1997), Jaguar X-Type (2001), BMW 1-Series (2004), Alfa Romeo Mito (2008).
Prestige brands like BMW and Mercedes add only 5 cm per model changes, allowing some compact / small family sedans to overtake their medium / large family cars. Example 2005 Volkswagen Jetta V (4554 mm) overtook 2005 BMW 3-series (4531 mm). A4, 3-Series, C-Class started being defined as "compact executive".
During 2010s the growth in dimensions slowed down. We have mini (3.6 m), supermini (4.0 m), small family (4.3-4.7 m), large family (4.7-4.9 m), compact executive (4.6-4.7 m), executive (4.9-5.0 m), luxury (5.1-5.2 m). Opel Astra K (2015) is even smaller than predecessor, however surprises can appear from the other manufacturers.
MPV and SUV followed same rapid evolution during 1990s and 2000s.
Renault Espace (1984) was the first European MPV (short and tall car with 7 seats), only 4260 mm long. Renault Mégane Scénic (1997) was the first MPV on compact car dimensions, 4134 mm, followed by Fiat Multipla (1998) 3994 mm, then Opel Zafira (1999) the first compact MPV to offer 7 seats, in 4317 mm long. Mini MPVs appeared few year later, Ford Fusion (2002), Opel Meriva (2003), Fiat Idea, Lancia Musa, Renault Modus (2004), all around 4 meters. This pushed up compact MPVs to 4.6 m and original MPVs to 4.8 m by 2010.
Opel Meriva was replaced in 2010 by a new model 25 cm longer, 4288 mm, Fiat 500L Living (2013) 4352 mm is the first European MPV smaller than compact MPV that offer 7 seats, they hardly can be classified as mini MPVs.
Japan produced compact and mini MPVs for long time, even 7-seater mini MPV sold in Asia where people are smaller: Honda Mobillo (2001) 4060 mm, Toyota Sienta (2003) 4100 mm.
Off-road vehicles are produced since pre-WW2 times but they were not popular except for army use, as most them featuring open body and wooden seats.
The first SUV (vehicle with off-road abilities and comfort of a car) was Range Rover (1970) and it remained the only SUV in Europe for 2 decades. Was followed by Land Rover Discovery (1989), Opel Frontera (1991) and Ford Maverick (1993). Japanese manufacturers had SUVs in lineup since 1980s, including small ones like Suzuki Vitara and Toyota RAV4.
Most SUVs were offered in 2 wheelbases, with 3 and 5 doors, until 1990s. During 1990s and 2000s most European manufacturers joined SUV segment and 3 classes have been defined: compact (4.0-4.4 m), medium (4.4-4.6 m), large (4-6-4.8 m). Few so-called "mini SUV" appeared during 2010s: Skoda Yeti (2009) 4223 mm, Opel Mokka (2012) 4278 mm, Fiat 500X (2014) 4248 mm, but they are actually bigger than some compact SUV from 10 years ago.
See also: European car evolution in terms of dimensions, engines and power (charts generated from analysis of Germany car database), smallest cars and biggest cars.
Opel is the best example of excessive car growing
Opel lineup was composed by 4 main car models during last 40 years, they grew so much thus were moved 2 classes below:
| | | |
| --- | --- | --- |
| 1970s lineup | 1990s lineup | 2010 lineup |
| 1973 Kadett C – compact car 3922 mm | 1993 Corsa B – small car 3741 mm | 2007 Agila B – mini car 3740 mm |
| 1970 Ascona A – medium car 4178 mm | 1991 Astra F – compact car 4051 mm | 2006 Corsa D – small car 3999 mm |
| 1971 Rekord D – large car 4567 mm | 1995 Vectra B – medium car 4477 mm | 2009 Astra J – compact car 4419 mm |
| 1969 Diplomat B – luxury car 4920 mm | 1994 Omega B – large car 4787 mm | 2008 Insignia – medium car 4830 mm |
Once known for low-cost cars like Kadett and Ascona, the last Astra and Insignia models are LARGEST models in their class. Same for Meriva and Antara. Surprisingly, 2014 Opel Corsa E gained just 30 mm while 2015 Opel Astra K is even smaller than predecessor.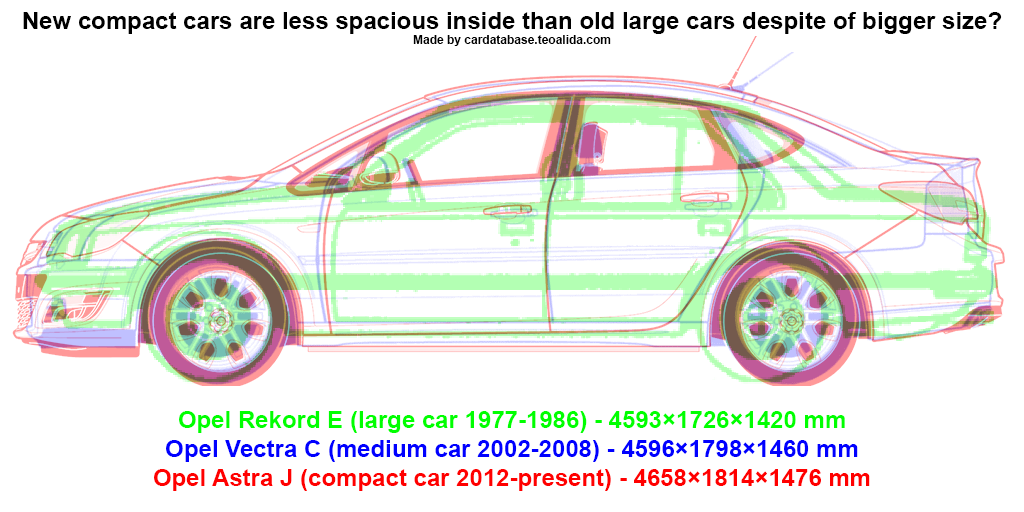 Other examples of length over-increase
Ford: 1993 Mondeo I (sedan 4556 mm), 2000 Mondeo II (sedan 4731 mm), 2007 Mondeo III (sedan 4844 mm). 29 cm increase in 14 years.
Opel: 2002 Vectra C (sedan 4596 mm, estate 4822 mm) replaced both 1995 Vectra B (sedan 4477 mm, estate 4490 mm) and 1994 Omega B (sedan 4787 mm, estate 4819 mm). 33 cm increase in just 7 years for estate version, being even longer than previous large-class Omega B Caravan.
Obviously the compact-class Ford Focus and Opel Astra were replaced with bigger models to fit the gap to growing medium-class brothers.
The gap between compact/medium cars and large/luxury cars is getting smaller: 2010 Opel Astra Sports Tourer (4698 mm) is just 17 cm shorter than 2009 Mercedes E-Class (4869 mm) which is 2 classes larger.
Audi, BMW, Mercedes, Volkswagen also increased their cars and introduced smaller models to increase range of models, without cancelling their largest model and move whole range to smaller classes like Opel.
Japanese car evolution is more stable, they do not increase cars so crazy, also they do not install bigger engines than necessary.
Solution: Europe should urgently implement a tax system similar with Japanese one, taxes depending not only by engine size but also by car size. This would make manufacturers to stick under some size limits…
Parking lots size
Barcelona minimum parking size was 2.2 x 4.5 meters, Madrid 2.25 x 4.5 meters (source), regulations were changed during 2010s (to what?). You can use Google Earth to navigate through historical satellite imagery and see how parking lots were repainted during 2010s, in some cases the number of lots was reduced to half.
United Kingdom parking lots are 2.4 x 4.8 meters, standard issued in 1970s is still in use today (source), number of cars scratched in parking lots increased in recent years.
Most European countries standard is 2.4-2.5m wide, while most compact cars were under 1.6m in 1970s, under 1.7 m width in 1998, but since 2008 most exceeded 1.8 m in width, and the rising popularity of SUV and crossovers that are even wider further aggravated the problem (Audi Q7, BMW X5, X6, X7, Mercedes GLE, GLS are nearly 2 meters wide), making you difficult to get out of car if is parked between other cars. We need to re-design parking, or self-parking cars may solve the problem?
Car engines evolution
First, some basic notions of physics:
Horsepower is never measured, instead the torque is measured at various rpm then horsepower is calculated from torque.
Torque value in Nm x rpm / 7024 = power value in PS. Do note that numerical values of max power and max torque given in car manuals are not directly related because at the rpm of max power, torque is lower than its max value.
Top speed is proportional to square root of engine power, and also depends by area of car viewed from front.
Acceleration is related with engine power but also with mass. A loaded car will have same top speed like an empty car, but require longer distance to accelerate and reach top speed.
A car with two engines, gasoline and diesel, having same max power but the diesel one have more torque, is likely to have same top speed but the diesel one will accelerate slower because diesel engines are often heavier. Actual performance figures depend also by gearbox.
Most gasoline engines run at 5000-6000 rpm, and their torque numerical value in Nm to be 1.2-1.3x the numerical value of power in PS, Ferrari engines which run at 8000+ rpm have less Nm than PS. Diesel engines always have less horsepower / litre than gasoline engines because they run slower (about 4000 rpm), making torque numerical value in Nm to be more than double of numerical value in PS.

Image source: http://www.competition-car-engineering.com/PvTquiz.htm, also explaining torque-power relation.
Catalytic converters, appeared for first time in 1973, for cars produced or imported in USA, because in 1974 US EPA imposed limits of exhaust emissions. European car manufacturers introduced catalytic converters in 1985. Cars without catalytic converters were produced until 1988 in Germany and 1990 in rest of Western Europe. Japan don't know when introduced but in 1985 they already had catalytic converters for most domestic cars. They are meant to reduce pollution, but they also reduce engine torque and power and increase fuel consumption, this also introduced fuel injections for mainstream cars, which counter-balance the loss of power, however the sport cars which were already fuel injected have lost about 10% of power.
In the above article we discussed primarily growing of car length, but they grow also in width and height, making frontal area larger thus require more powerful engines to maintain the speed.
Comparison of base engines:
Opel Astra F in 1991 (1.4 litres, 60 PS, 160 kmph, 16.5 s 0-100 kmph)
Opel Astra J in 2010 (1.4 litres, 87 PS, 168 kmph, 15.1 s 0-100 kmph)
45% more power but almost same performance figures, due to increase in car width, height, and weight.
During 1970s to 1990s, most gasoline engines had 50-60 PS / litre, thus bigger and bigger engines were installed in small cars. For example Golf III in 1991 was the first compact car with V6 engine (2.8 litres, 174 PS). Mercedes C 43 AMG was in 1997 the first medium car with V8 engine (4.3 litres, 306 PS), it was followed by Volkswagen Passat W8 in 2001 (4.0 litres, 275 PS).
Other manufacturers choose to use a turbocompressor for top-range model instead of bigger engine. Interestingly Mercedes in 2004 replaced C 32 AMG (3.2 litres turbo, 354 PS) with C 55 AMG (5.5 litres non-turbo, 367 PS). What was the reason?
Since 1990s attempt to increase power per litre was used instead of increasing engine size. 4-valve per cylinder raise power with about 10% compared with 2-valve per cylinder engines, they became common since 1990s, but few manufacturers such as Volkswagen continue to produce 2-valves per cylinder even in 2010s.
From 1970s to 1990s. Diesel engines are about 25-35 PS / litre while turbodiesel around 35-50 PS / litre.
First turbodiesel car was Peugeot 604 in 1978 (2.3 litres, 80 PS).
Direct injection in diesel engines was introduced by Audi 100 in 1989 (2.5 litres, 120 PS), it helped popularity of turbochargers and caused extinction of naturally-aspired diesel engines in early 2000s. Turbodiesel entered in a rapid evolution, from 60 PS / litre in 1990s to over 100 PS / litre: BMW 335d in 2013 (3.0 litres, 313 PS).
Direct injection in gasoline engines was introduced by Mitsubishi in 1999 for multiple models, followed by Volkswagen in 2002, however it did not became common until 2010s, when together with turbochargers, helped achieving power over 100 PS per litre, allowing even 4.8-meter long cars like Ford Mondeo to be powered by tiny 1.0 litres engines. V6 engines disappeared from compact cars and even from medium cars except for premium brands like Audi, BMW, Mercedes. Saab and Volvo were the first manufacturers to stop producing naturally-aspired engines. Even the highly popular Porsche 911 Carrera will go turbo in 2016!
Car evolution records
Mercedes hold most records, especially in engines:
Most models produced at same time (17 models as 2014):
A, B, CLA, C, E, CLS, S, V, SLK, SL, SLS, G, GLA, GLK, ML, GL, R.
Most engine options at same time in one model: (E-Class)
10 engines as 1997: 200, 240, 280, 320, 430, 55 AMG, 220 Diesel, 290 Turbodiesel, 300 Diesel, 300 Turbodiesel.
10 engines as 2003: 200 Kompressor, 240, 320, 500, 55 AMG, 200 CDI, 220 CDI, 270 CDI, 320 CDI, 400 CDI.
11 engines as 2011: 200, 250, 300, 350, 500, 63 AMG, 200 CDI, 220 CDI, 250 CDI, 300 CDI, 350 BlueTec.
Largest engines:
In a medium car: C 55 AMG, (5.5 litres).
In a large car: C 63 AMG, (6.2 litres).
Smallest engine in a large car:
E200 Kompressor, from 2003 to present (1.8 litres), all other large cars starts at 2.0 litres.
Most underpowered diesel engines during 1980s and 1990s:
W124 D until 1985 (2.0 litres, 60 PS, 135 kmph), 45% less power than base gasoline engine (109 PS)
W124 200 TD / E200 Diesel T until 1995 (2.0 litres, 75 PS, 150 kmph), 45% less power than base gasoline engine (136 PS).
Even VW Golf III base engine in 1991 had higher top speed (1.4 litres, 60 PS, 157 kmph). At other brands, base diesel engine is max 10-15% less power than base gasoline engine.
Mercedes hold also the record of smallest car in modern world (if we include Smart) and longest car in modern world (if we include Maybach), note that in 1970s some americans cars were longer.