I am Teoalida and I love doing research, collecting information, writing articles and making databases about real estate, cars, and other fields, as well as designing own housing models. Also playing games with buildings. I made this website since 2009 to share knowledge and educational material, sell my works and promote my services, and make new (business) friends.
All articles, drawings, 3D models, Word and Excel databases, are my ORIGINAL work. Except the photographs from Housing around the World section, which are linked to their original source, and the HDB brochures.
I also have few partners in programming, architecture and real estate agents, to cover additional fields and serve more customers when I am too busy. If you want to be partner with me you are welcome.
If you have any enquiry about AutoCAD, architecture, real estate, databases, research, data mining and analysis, or any other stuff covered by articles of this website, comments about my works, errors to report, suggestions, critics, etc, feel free to contact me, please use Live chat whenever is possible, alternatively use Skype, or email me [email protected]. Note for people who want to hire me.
Housing around the World, research and educational articles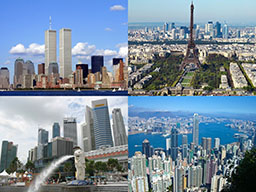 I love exploring the world to study architecture, housing and living conditions, and write articles. While articles themselves do not produce money, they help home seekers, students, researchers and some businesses, increase website audience and occasionally people offer to pay me to do other works.
Currently I have 14 pages with general information for various countries/regions: North America, Latin America, Europe, North Korea, South Korea, Japan, China, Hong Kong, Singapore, Malaysia, Vietnam, Philippines, India, Africa, plus over 20 pages with detailed information about Housing in Singapore and 7 pages about Housing in Hong Kong.
AutoCAD design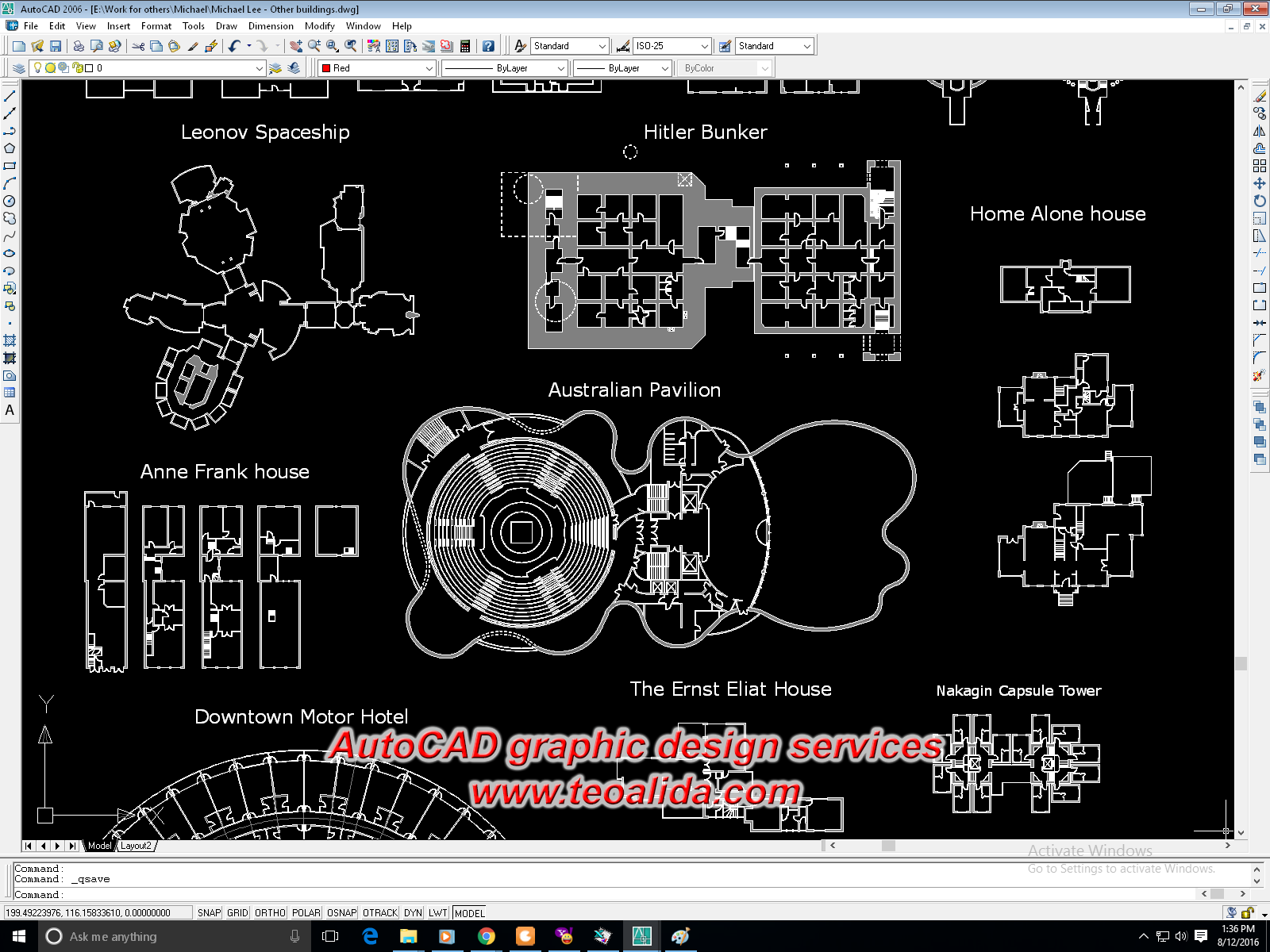 My dad is using AutoCAD since 1995, I learned AutoCAD myself while watching him working and made my first drawing in 1998, over years I made numerous drawings from personal interest (hobby) as well as working for my parents or for customers who contacted me via this website.
Low number of customers paying for AutoCAD drawings and low payments made me (after 2017) to outsource most of AutoCAD projects to other people less busy than me, price for Paper to CAD conversion services: $10/hour.
Word books & Excel databases – data entry and web scraping services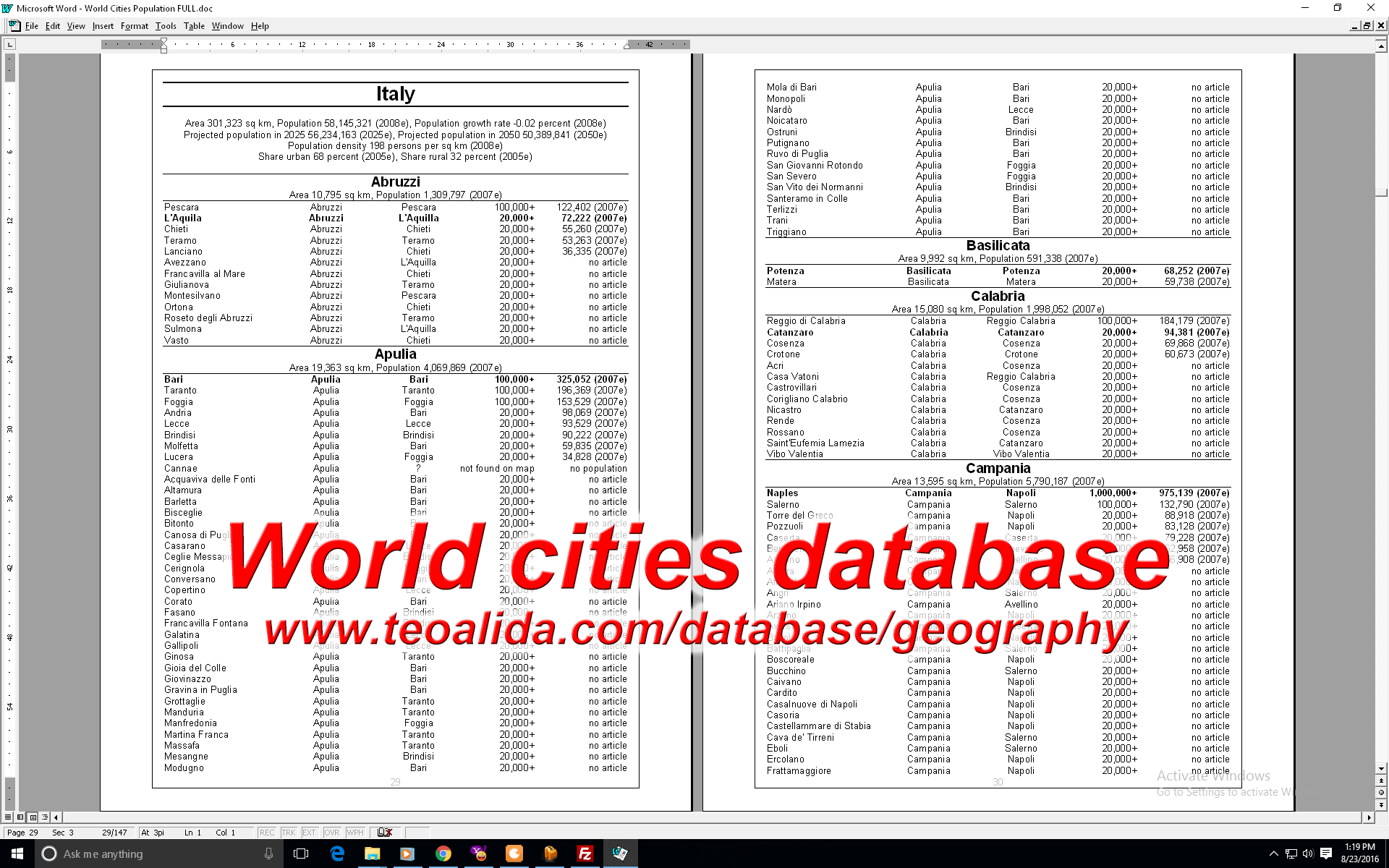 My dad encouraged me to write documents in Word like a book since 1997, but I learned also Excel myself and since 2003 I am using it more than Word. Today, sales of Excel databases is my primary source of income. Word documents and books turned hard to sell, but I continue to write, just that I write blog articles instead of Word documents.
For many years, manual data entry from books (as seen in this video), or manual copy-pasting from websites, was my only way of creating databases. I do web scraping since 2015, coding a bot that visit a list of given pages, copy specific data from each page and put it in an Excel / CSV file automatically, at rate of few pages per second.
Over time I made over 100 databases related to geography, real estate, automobiles, electronics, gaming, sports, etc.
Housing design – the Virtual City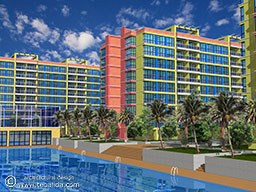 The interest for architecture dates back from childhood but in 2008 I started studying it seriously, making "Teoalida's Virtual City" with dozens apartments and house floor plans and 3D models designed in AutoCAD, some been inspired from various housing around the world, some being my original concepts.
Apartments ranging from 30 sqm 2-room studio to 200 sqm 6-room, based on an average 25-35 square meters per capita and 100 sqm average apartment size.
Although designed primarily for artistic purpose, they are fully livable homes and can be built (virtual city = because I am not a developer, I don't have capital to build them).
.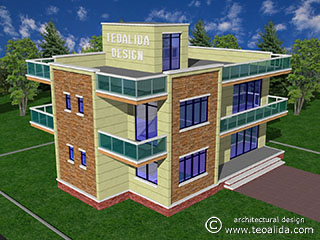 Starting from 2010, I completed the Virtual City with landed houses too, detached, semi-detached, terraced and cluster houses (landed condominiums), ranging from 50 sqm 2-bedroom to over 400 sqm and 7 bedrooms.
My experience was originally limited to making highly efficient floor plans and 3D models, but later I learned to make "construction drawings" by laws, fully-dimensioned floor plans, elevations, sections, as required for building permit.
While no longer designing new buildings after 2016, since November 2019 I put for sale AutoCAD DWG files of my past projects. Pay via PayPal or credit card and receive file download link in your email.
Housing design – architectural services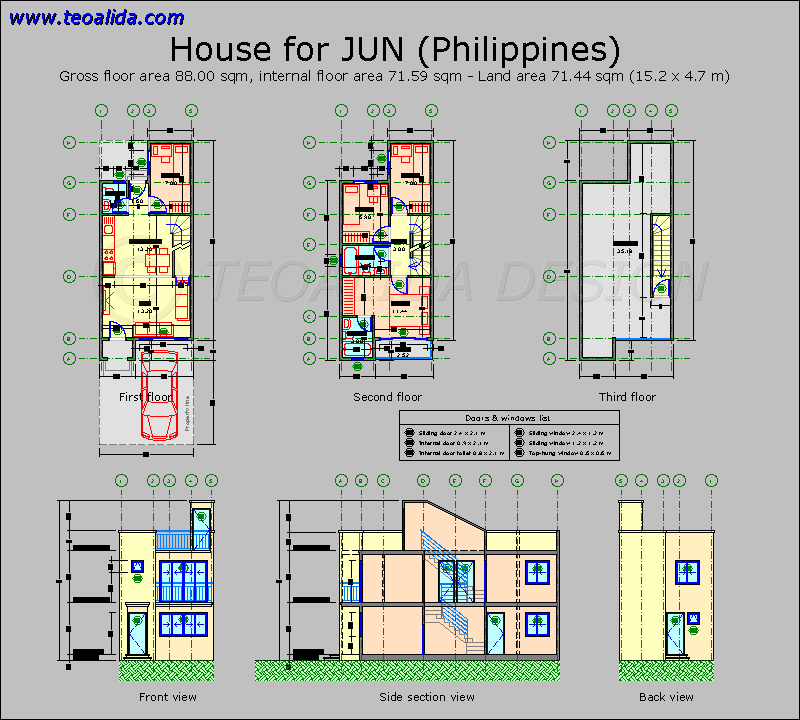 The "Virtual City" 3D artistic hobby, have impressed people dreaming to build a house but also architects, turning into business since 2012. Many people advised me to pursue a career in architecture and make big $$, but…
…been overwhelmed by non-serious people from third-world countries who wanted FREE house plans, finding paying customers was difficult and when a customer was paying me, had to satisfy him, some customers asked so many changes that I wasted entire month on a single family house. In 2015 I decided STOP offering architectural design services to focus on more profitable IT and database jobs.
If you need custom custom designs to build a house or apartment block, and can pay an architect, I can link you with one of my partners, licensed architects, who do not have other jobs and can work whole month on a house project.
Palace design in AutoCAD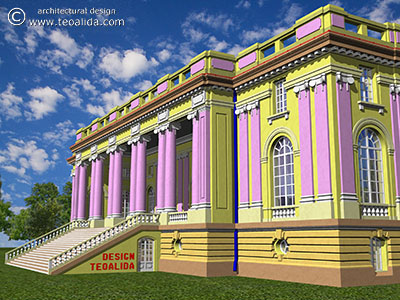 Probably the most beautiful piece of art that I ever made in AutoCAD, this 3D model is a virtual reconstruction of a REAL building built in early 20th century and abandoned without being ever finished.
Originally designed voluntarily in 2006, I improved it in 2009 and 2014 to show you my abilities of 3D modeling in AutoCAD and geometry design.
There are several architecture software (ArchiCAD, Blender, Chief Architect, Revit) that can do better job than AutoCAD, but the little money earned from this type of services do not justify buying more licenses..
Furniture & interior design in AutoCAD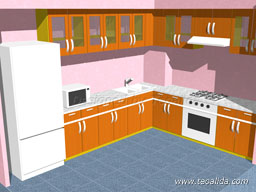 If I design buildings why I would not design 3D models of furniture and interior design too?
I do not have experience in interior design as high like the experience in architecture design.
Real estate database – data mining and analysis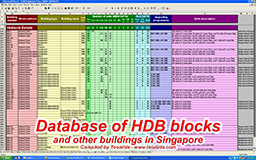 One of my biggest research and data mining projects is the Singapore HDB Database, a table of 14000+ buildings with block number, street address, postal code, year build, number of units breakdown by flat type, upgrading programmes, etc. An original compilation of data centralized from multiple sources plus own research.
Started in 2009 from personal interest and put ON HOLD because the potential of turning into a business was under question, after discovering potential of Car Database, I resumed working at HDB Database in 2014 and finalized in 2015, after hundreds hours of work, it has been purchased by several real estate companies, home insurance, telecommunication, door to door services, etc.
In addition of HDB original research, I am offering Condo Database made via web scraping, and HDB Resale Flat Prices Database that include over 60 charts made in Excel.
Another project is the Hong Kong Housing Database, table with 1000+ public and private housing estates, made in 2011 for an insurance company (my first large project done at customer request and not as personal interest/hobby).
Car database – research and data analysis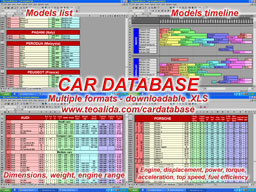 Due to my passion for automobiles and obsession for doing research, tables and statistics, in 2003 I started making voluntarily a car encyclopedia, several lists in .DOC format and tables in .XLS format which allows you to sort and filter car models. This include a table with 20,000+ car models sold in Europe that took me over 1000 hours of work!
The hobby turned into a business since 2012 when I found professionals looking for such data, I improved European databases and created new databases for America and Asia using web scraping and as 2015, they have been purchased by hundreds companies including car parts, insurance, shipping, as well as web designers and mobile app developers.
Car design in AutoCAD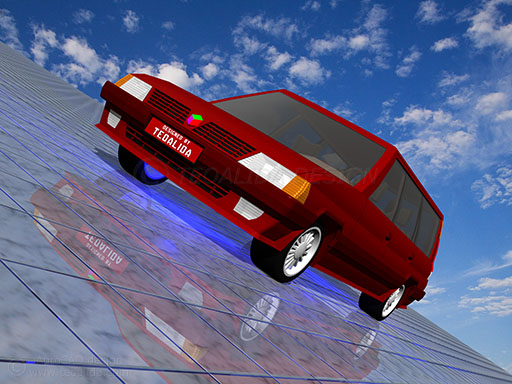 One of my older passions was for automobiles, since 2000 I designed side views of few real cars in Paint, also my own car models, in Paint and later in 3D in AutoCAD.
"Teoalida's Cars" are not very modern or sport cars, but they are designed with as many details is possible, and rendered with all photo-realistic effects available in AutoCAD, to showcase my skills of 3D modeling.
Last car I designed was in 2007 (photo), it took me about 100 hours of work, too much time for its value. Since 2008 I moved to architecture where I can design a house in few hours.
Mapping design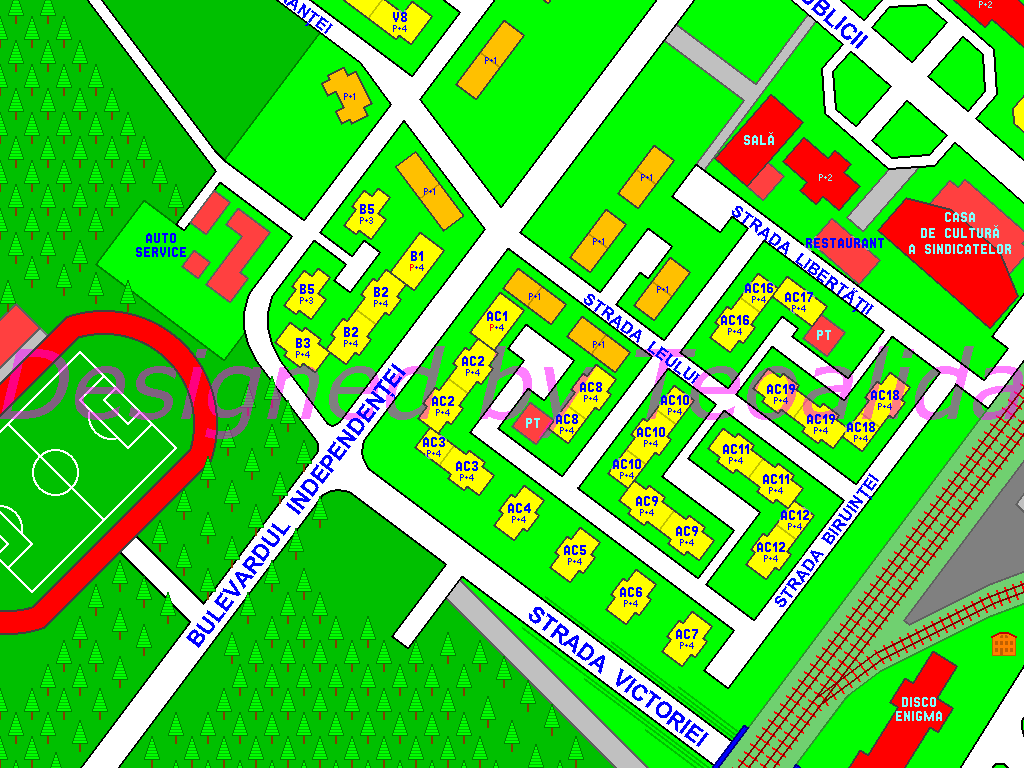 My interest for architecture and urban explorer made me to design maps too!
Between 2004 and 2007 I voluntarily designed artistic maps for Ploiesti and nearby towns, that included block numbers and floor height, vectorial drawings in AutoCAD then colored in Paint and distributed freely in PNG. It turned a high-effort job with no much usage so I abandoned it.
In 2009-2010 I also made a very basic map of Singapore in AutoCAD which I published on website in 2016 and we will see if there is sufficient demand from people to worth completing it with more details.
Gaming – The Sims housing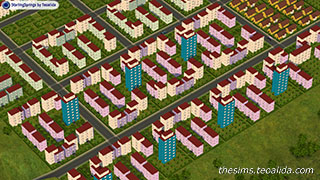 Many architecture students if they love games, they do play The Sims game. Me too, I play The Sims series since 2003 and The Sims 2 became my favorite game, in which I practiced urban planning talent by building large neighborhoods with non-functional apartment blocks in 2006-2008, before moving to architecture in AutoCAD. I also built over 50 functional houses which I offer for free download on my website.
Web design
I am not saying that I am a web expert, but I made my website myself without any professional help! I have high SEO knowledge that helped my website to be on 1st page of Google for dozens of keywords and raising traffic from 100 visitors per day in early 2012 to 800 visitors per day in 2014.
My coding knowledge is limited to HTML, CSS and WordPress platform. 90% people do not know even such basic stuff, so feel free to contact me if you need a little help in website building or optimization. I do not know PHP so I cannot make custom websites and I do not intend to become a full-time web developer.
Over years I made several friends in webdesign which I can give your projects to, if you need custom website development.
Notes & frequently asked questions
I get often dumb questions like this:
What do you do for a living?
Why did you made these projects?
What is your profession / primary job?
How do you earn money? I do not see any ads! (really dumb question)
Why did you created this website? (question often from Singaporeans surprised by amount of housing information offered without being a real estate agent)
I never had a full-time job. I made a living by working for customers paying me to do various projects (freelancing), but today most of money come from selling completed projects (online store).
Posting ads on such website selling products or services is stupid. Ads are good for non-profit websites with large traffic. With 40,000 visitors per month estimated earnings from Google AdSense would be $200. But 99% people find ads disturbing, customers may see ads of competitor services, and I will lose sales worth more $ than what I earn from ads.
This is NOT a blog-type newsy website with daily posts that are never modified once published. I write new posts and update old posts constantly with suggestions and requests from people like YOU.
Short answer: I created website in 2009 as portfolio of my works, primarily AutoCAD buildings designed by me after a deep research of Housing in Singapore and other countries, and linked it in freelancing websites hoping to get customers in AutoCAD design services, but never won any project. Because very few people are interested in someone's building designs, I added the housing research few months later, to share my knowledge and help Singaporeans with free information.
All pre-2012 projects were made voluntarily, from personal interest, more to "show off" to friends, rather than being hired by someone to make them.
The website evolved rapidly since I added live chat software in 2012, people could contact me easily, helping me to understand market demands, or hiring me as freelancer to do various projects. I abandoned most of non-paid hobbies to offer services to customers. Website traffic rose from 200 visitors/day in 2012 to 800 visitors/day in 2014, but freelancing turned inefficient, due to difficulties convincing customers to pay in advance, especially in architecture, only 10% of people requesting work has paid me and this ONLY after seeing (part of) work done. I reached my target of $1000/month in 2015 from sales of databases, driven up by website traffic.
Freelancing (making projects at request basis) became pointless, customers prefer buying completed projects (when customers ask for a database that I don't have and I offer them to create database via web scraping, some refused saying "no thanks, I am looking for a database ready available"). I started again doing certain projects voluntarily to help thousands people, increase website audience which will turn in more sales.
As 2019, per month the website have ~60,000 visitors, ~600 contact me via live chat (90% of chats I answer in less than 1 minute), few more contact me via email, Hangouts and Skype, ~60 buying something or paying a service, while the rest are thankful for free information offered on website. See full statistics.
Can I hire you for a project?
See above traffic figures and imagine how many people battle for my services. I want to reduce time spent doing custom projects, because I can earn more $ by doing SEO and marketing of already-made projects, than by making a new project paid only by you. I may make new projects ONLY IF multiple people are interested, prioritizing based on how many people request or benefit from it.
If you have ideas for a project useful for thousands people, you're welcome, if you want 10-minute consultation, you're welcome, but if you want an architectural design or any other project that takes more than 1 hour and have NO USE for anyone else than yourself, I won't spend my personal time helping you, instead I connect you with my partners offering services starting at $10/hour (useful if you need long-term workforce).
Can I work for you?
I do not offer full-time jobs (yet), the number of customers that require services (other than buying ready-made products) and able to pay, is not high enough to hire full-time dedicated staff for each type of service people may ask for.
BUT… if you are architect, interior designer, programmer (experienced in data mining), or real estate agent, you are welcome to be my part-time partner and I can pass you leads occasionally.
Should I post on my personal website projects made by other persons?
Where is your office located? Can I book an appointment?
I work from home ONLINE to people from all over the world, as typical freelancers do. I do not have any public office and I usually do not meet customers. Even if you live just few kilometers away from me, I prefer to not meet in real life unless is absolutely necessary. If you need an employee in your office, or require me to travel somewhere, I am NOT the right person.
What is all this mix of stuff on same website?
Are you CAD designer, researcher, database provider, gamer, or…?
I am ALL OF THEM! This is PERSONAL website and my life is very diverse!
Several people suggested making separate websites, one for Singapore housing, one for CAD services, one for database services, etc. But having all them on same website turned helpful, Singapore pages got lots of traffic plus Facebook likes and tweets helped whole website to appear higher in Google, if the services were on a separate website, it would have not getting much traffic and customers.
Some drawings and databases are related to Singapore housing. I also got several collaboration offers from foreign companies who did not visited /design or /database sections directly, they found my website while looking for info about Housing in Singapore or Housing around the World then clicked About me page, saw that I am also in architectural design and data research and contacted me for paid work.
Do you get paid to chat with people? Do you help people for free?
I am NOT employed, affiliated with any government or company, or get paid "to help people". I am independent, this is my personal website and only YOU can pay, for example if consultation with me helped you to decide to buy a $500,000 property, I appreciate if you can donate whatever sum you like. Take example from this Indian who PAID me $20 for architectural consultation.
Or spread the word on Facebook (especially if you have 2000+ friends or are in a group with 2000+ members, may be more useful for me than donating $20). Try to promote website content and NOT me as person. For example you can post "I found a great website full of information about housing: www.teoalida.com". DO NOT post "I found a great guy who helped me at homework, go to www.teoalida.com and contact use site owner via his chatbox, he answer any DUMB question in seconds" (in May 2018 during one week I received few dozens strange questions that I could not answer, the fact that most were from United States visiting homepage www.teoalida.com rather than specific subpages, raised suspicion that they were TOLD by someone to "ask Teoalida any questions you have").
While a short chat consultation is FREE, the research, drawings and database services are NOT FREE. This is how I make a living. If you are NOT PAYING for any service you are advised to not stay in chat too long time.
Students feel free to use information provided on my website, cite it in your research paper, but if you need additional help at homework you are advised to use Google and get information yourself, do not disturb me asking DUMB questions via chat (example).