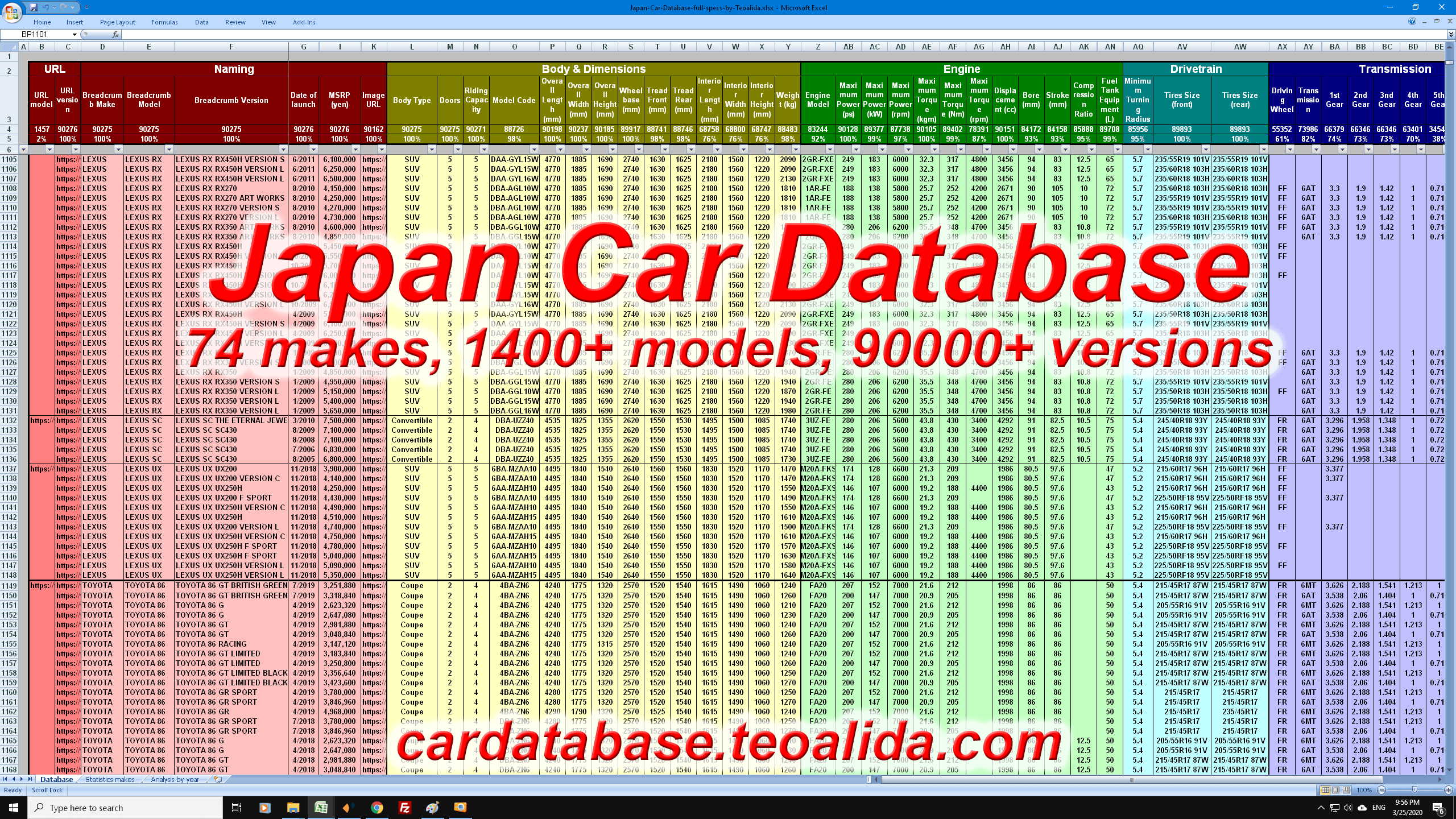 This page shows the list of 1574 car model names sold in Japan (extracted from Japanese car database as January 2023 update: 1986-present, 74 makes, 1747 models, 92844 versions) for SEO purposes and for customers in other countries to determine if Japan car database is usable for you.
Buy FULL Excel database from www.teoalida.com/cardatabase/japan/
Japan domestic cars
LEXUS: ct, es, gs, gs f, hs, is, is f, lc, lfa, ls, lx, nx, rc, rc f, rx, sc, ux.
TOYOTA: 86, allex, allion, alphard, alphard g, alphard hybrid, alphard v, altezza, altezza gita, aqua, aristo, auris, avalon, avensis sedan, avevsis wagon, belta, blade, brevis, bz4x, bb, caldina, cami, camry, camry gracia, camry gracia sedan, camry gracia stationwagon, carina, carina ed, carina surf, cavalier, celica, celsior, century, chaser, chr, copen, corolla, corollasport, corolla axio, corolla ceres, corolla cross, corolla fielder, corolla fx, corolla ii, corolla levin, corolla rumion, corolla runx, corolla spacio, corolla touring, corolla touring wagon, corolla wagon, corona, corona exiv, corona premio, corona sf, corsa, cresta, crown, crown crossover, crown estate, crown hybrid, crown majesta, crown stationwagon, curren, cynos, duet, esquire, estima, estima emina, estima hybrid, estima l, estima lucida, estima t, fj cruiser, funcargo, gaia, gr86, granace, grand hiace, granvia, grmn yaris, gr corolla, gr yaris, harrier, harrier hybrid, harrier phev, hiace regius, hiace wagon, hilux, hilux pick up, hilux sports pick up, hilux surf, ipsum, iq, isis, ist, kluger hybrid, kluger l, kluger v, land cruiser, land cruiser 100, land cruiser 60, land cruiser 70, land cruiser 80, land cruiser prado, liteace noah, liteace wagon, markii blit, markii qualis, markii wagon, mark ii, mark x, mark x zio, master ace surf, mega cruiser, mirai, mr2, mrs, nadia, noah, opa, origin, passo, passo sette, pixis epoch, pixis joy, pixis mega, pixis space, platz, porte, premio, prius, prius alpha, prius phv, probox wagon, progres, pronard, ractis, raize, raum, rav4, rav4j, rav4l, rav4 phv, regius, roomy, rush, sai, scepter coupe, scepter sedan, scepter stationwagon, sera, sienta, soarer, spade, sparky, sprinter, sprinter carib, sprinter cielo, sprinter marino, sprinter trueno, sprinter wagon, starlet, succeed wagon, supra, tank, tercel, touring hiace, townace noah, townace wagon, vanguard, vellfire, vellfire hybrid, verossa, vista, vista ardeo, vitz, voltz, voxy, will cypha, will vi, will vs, windom, wish, yaris, yaris cross.
NISSAN: 180sx, ad max wagon, ad wagon, ariya, aura, avenir, avenir salut, bassara, bluebird, bluebird aussie, bluebird sylphy, bluebird wagon, caravan coach, caravan elgrand, caravan wagon, cedric, cedric cima, cedric wagon, cefiro, cefiro wagon, cima, clipper rio, crew, cube, cube cubic, datsun pick up, dayz, dayz roox, dualis, elgrand, env200wagon, exa, fairlady z, figaro, fuga, fuga hybrid, gloria, gloria cima, gloria wagon, gtr, homy coach, homy elgrand, infiniti q45, juke, kicks, kix, lafesta, largo, latio, laurel, leaf, leopard, leopard jferrie, liberty, lucino, lucino hatch, lucino srv, march, march box, maxima, micra cc, mistral, moco, murano, note, nv100clipper rio, nv200vanette wagon, nv350caravan wagon, otti, pao, pino, prairie, prairie joy, presage, presea, president, president js, primera, primera camino, primera camino wagon, primera uk, primera wagon, pulsar, pulsar serie, pulsar serie srv, quest, rasheen, rnessa, roox, safari, sakura, serena, silvia, skyline, skyline crossover, stagea, sunny, sunny california, sunny nxcoupe, sylphy, teana, terrano, terrano regulus, tiida, tiida latio, tino, vanette largo coach, vanette serena, vw santana, wingroad, xtrail.
HONDA: accord, accord coupe, accord hybrid, accord inspire, accord plugin hybrid, accord tourer, accord wagon, airwave, ascot, ascot innova, avancier, beat, capa, city, civic, civic coupe, civic ferio, civic hybrid, civic shuttle, clarity fuel cell, clarity phev, concerto, cross road, crv, crv hybrid, crx, crx delsol, crz, domani, edix, element, elysion, elysion prestige, fit, fit aria, fit hybrid, fit shuttle, fit shuttle hybrid, freed, freed hybrid, freed plus, freed plus hybrid, freed spike, freed spike hybrid, grace, honda e, horizon, hrv, insight, insight exclusive, inspire, integra, integra sj, jade, jazz, lagreat, legend, legend coupe, life, life dunk, logo, mdx, mobilio, mobilio spike, nbox, nbox custom, nbox plus, nbox plus custom, nbox slash, none, nsx, nwgn, nwgn custom, odyssey, odyssey hybrid, odyssey prestige, orthia, orthia p, orthia v, prelude, prelude inx, rafaga, s2000, s660, saber, shuttle, smx, stepwagon, stepwagon spada, stream, street, thats, today, today associe, torneo, vamos, vamos hobio, vezel, vigor, z, zest, zest spark, zrv.
MAZDA: atenza sedan, atenza sport, atenza sport wagon, atenza wagon, autozam az1, autozam az3, autozam carol, autozam clef, autozam revue, axela, axela hybrid, axela sport, azoffroad, azwagon, azwagon custom style, biante, bongo brawny wagon, bongo friendee, bongo wagon, capella, capella c2, capella cargo, capella cg, capella wagon, carol, carol eco, cronos, cx3, cx30, cx5, cx60, cx7, cx8, demio, efini mpv, efini ms6, efini ms8, efini ms9, efini rx7, familia, familia astina, familia business wagon, familia neo, familia swagon, familia wagon, flair, flair crossover, flair custom style, flair wagon, flair wagon custom styel, flair wagon tough styel, lantis, laputa, luce, mazda2, mazda3 fastback, mazda3 sedan, mazda6 sedan, mazda6 wagon, mazda speed atenza, mazda speed axela, millenia, mpv, mx30, mx30 ev model, mx6, persona, premacy, proceed, proceed levante, proceed marvie, revue, roadster, roadster coupe, roadster rf, rx7, rx8, savanna rx7, scrum wagon, sentia, spiano, tribute, verisa.
EUNOS: eunos100, eunos300, eunos500, eunos800, eunos cargo wagon, eunos cosmo, eunos presso, eunos roadster.
FORD JAPAN: festiva, festiva miniwagon, freda, ixion, laser, laser coupe, laser lidea sedan, laser lidea wagon, laser sedan, spectron, telstar ii, telstar sedan, telstar tx5, telstar wagon.
MITSUBISHI: airtrek, aspire, carisma, challenger, chariot, chariot grandis, colt, colt plus, debonair, debonair v, delica d2, delica d3, delica d5, delica space gear, delica star wagon, diamante, diamante wagon, dignity, dingo, dion, eclipse, eclipse cross, eclipse cross phev, eclipse spider, ek active, ek classy, ek custom, ek space, ek space custom, ek sport, ek wagon, ek x, ek x ev, ek x space, emeraude, eterna, eterna sava, eterna sigma, fto, galant, galant fortis, galant fortis sport back, galant sigma, galant sports, grandis, gto, i, imiev, jeep, lancer, lancer cedia, lancer cedia wagon, lancer wagon, legnum, libero, minica, minicab bravo, minica toppo, mirage, mirage asti, mirage wagon, outlander, outlander phev, pajero, pajero io, pajero jr, pajero mini, pistachio, proudia, rvr, sigma, starion, strada, toppo, toppo bj, toppo bj wide, town box, town box wide, triton.
SUBARU: alcyone, alcyone svx, bighorn, brz, chiffon, crosstrek, dex, dias wagon, domingo, exiga, exiga crossover7, forester, impreza, impreza anesis, impreza g4, impreza retna, impreza sports, impreza sports hybrid, impreza sports wagon, impreza wrx, justy, legacy, legacy b4, legacy grand wagon, legacy lancaster, legacy outback, legacy touring wagon, leone, levorg, lucra, lucra custom, pleo, pleo custom, pleo nesta, pleo plus, r1, r2, rex, sambar dias, sambar try, solterra, stella, traviq, trezia, vivio, vivio bistro, wrx s4, wrx sti, xv, xv hybrid.
DAIHATSU: altis, applause, applause theta, atrai, atrai 7, atrai wagon, bego, boon, boon luminas, cast, charade, charade detomaso, charade social, coo, copen, delta wagon, delta wide wagon, esse, leeza, max, mebius, midgetii, mira, mira avy, mira cocoa, mira custom, mira es, mira gino, mira gino 1000, mira moderno, mira tocot, mira trxx, move, move canbus, move conte, move latte, naked, opti, pyzar, rocky, rugger, sonica, storia, taft, tanto, tanto exe, terios, terios kid, terios lucia, thor, wake, yrv.
SUZUKI: aerio, aerio sedan, alto, alto c, alto c2, alto eco, alto hustle, alto lapin, alto lapin chocolat, alto lapin lc, alto turbo rs, alto works, baleno, cappuccino, cara, cervo, cervo classic, cervo mode, cultus, cultus crescent, cultus crescent wagon, cultus esteem, cultus wagon, escudo, every, every landy, every plus, every wagon, grand escudo, hustler, ignis, jimny, jimny l, jimny sierra, jimny wide, kei, kei sport, kei works, kizashi, landy, mr wagon, mr wagon wit, palette, palette sw, solio, solio bandit, spacia, spacia custom, spacia custom z, spacia gear, splash, swift, swift sport, sx4, sx4 sedan, sx4 s cross, twin, wagon r, wagon r custom z, wagon r plus, wagon r rr, wagon r smile, wagon r solio, wagon r stingray, wagon r wide, x90, xbee.
ISUZU: aska, bighorn, como wagon, fargo filly, fargo wagon, filly, gemini, mu, mu wizard, piazza, piazza nero, vehicross, wizard, wizard alive.
MITSUOKA: buddy, galue, galue204, galue classic, galue convertible, galue i, galue ii, galue iii, galue limousine s50, himiko, le seyde, like, mc1, nouera, nouera 602 sedan, nouera 602 wagon, orochi, ray, rock star, ryoga, ryugi, ryugi wagon, viewt, yuga, zero1.
Imports from Germany
AUDI: 100, 100 avant, 200, 80, 80 avant, 90, a1, a1 sportback, a3, a3 sedan, a3 sportback etron, a4, a4 allroad quattro, a4 avant, a4 cabriolet, a5, a5 cabriolet, a5 sportback, a6, a6 allroad quattro, a6 avant, a6 hybrid, a7 sportback, a8, a8 hybrid, allroad quattro, cabriolet, coupe, etron, etron gt quattro, etron s, etron sportback, etron s sportback, q2, q3, q3 sportback, q4 etron, q4 sportback etron, q5, q5 hybrid, q5 sportback, q7, q8, r8, r8 spyder, rs3, rs3 sportback, rs4, rs4 avant, rs5, rs5 cabriolet, rs5 sportback, rs6, rs6 avant, rs6 avant performance, rs7 sportback, rs7 sportback performance, rs etron gt, rs q3, rs q3 performance, rs q3 sportback, rs q8, s1, s1 sportback, s3, s3 sedan, s4, s4 avant, s5, s5 cabriolet, s5 sportback, s6, s6avant, s7 sportback, s8, s8 plus, sq2, sq5, sq5 sportback, tts coupe, tt coupe, tt roadster, tt rs coupe, tt rs plus coupe, tt rs roadster, v8.
BMW: 1 series, 2 series, 3 series, 4 series, 5 series, 6 series, 7 series, 8 series, m2, m3, m4, m5, m6, m8, m coupe, m roadster, x1, x2, x3, x3 m, x4, x4 m, x5, x5 m, x6, x6 m, x7, z3 coupe, z3 roadster, z4, z8, i3, i4, i7, i8, ix, ix3.
BMW ALPINA: b10, b12, b3, b4, b5, b6, b7, b8, d3, d4, d5, roadster s, roadster v8, xb7, xd3, xd4.
MERCEDES BENZ: 190 class, aclass, aclass sedan, bclass, cclass, cclass all terrain, cclass stationwagon, cl, claclass, claclass shooting brake, clk, clsclass, clsclass shooting brake, c class sports coupe, eclass, eclass all teeeain, eclass stationwagon, eqa, eqb, eqc, eqe, eqs, gclass, gelandewagen, glaclass, glb, glcclass, glclass, gle, glkclass, gls, mclass, medium class, rclass, sclass, sl, slc, slk, slr mclaren, sls amg, transporter t1n, vaneo, vclass, viano, v strahl.
AMG: 190 series, cclass, clk, eclass, gclass, mclass, medium class, sclass, sl, slk.
MERCEDES AMG: aclass, aclass sedan, cclass, cclass stationwagon, claclass, claclass shooting brake, clsclass, clsclass shooting brake, eclass, eclass stationwagon, eqe, eqs, gclass, glaclass, glb, glc, glclass, gle, gls, gt, gt 4 door coupe, sclass, sl, slc.
VOLKSWAGEN: arteon, arteon shooting brake, bora, corrado, cross golf, egolf, eos, eup, golf, golf alltrack, golf cabrio, golf cabriolet, golf gte, golf gti, golf plus, golf r, golf r variant, golf touran, golf variant, golf wagon, id4, jetta, lupo, new beetle, new beetle cabriolet, passat, passat alltrack, passat cc, passat gte, passat gte variant, passat variant 1, passat variant 2, passat wagon, polo, polo gti, scirocco, sharan, tcross, the beetle, the beetle cabriolet, tiguan, touareg, troc, up, vanagon, vento, volkswagen cc.
OPEL: astra, calibra, meriva, omega, senator, signum, speed ster, tigra, vectra, vita, zafira.
PORSCHE: 718 boxster, 718 cayman, 718 spyder, 911, 928, 944, boxster, cayenne, cayenne coupe, cayman, macan, panamera, taycan.
MCC SMART: smart cabrio, smart coupe, smart crossblade, smart fortwo cabrio, smart fortwo coupe, smart fortwo electric drive, smart fortwo k, smart for four, smart k, smart roadster.
MAYBACH: may bach.
MERCEDES MAYBACH: gls, sclass.
EUROPE FORD: fiesta, focus, focus cmax, galaxy, ka, mondeo.
YES: yes.
Imports from England
JAGUAR: epace, fpace, ftype, ipace, sovereign, stype, xe, xf, xf sportbrake, xj, xjs, xk, xtype, xtype estate.
DAIMLER: daimler.
ROVER: 100, 200, 400, 600, 75, 800, cabriolet, coupe, gsi estate, mini, tourer.
MG: mgf, mg rv8, tf, zt, ztt.
ROLLSROYCE: corniche, corniche iv, dawn, ghost, ghost ii, park ward, phantom, phantom coupe, phantom drophead coupe, silver dawn, silver seraph, silver spirit ii, silver spur, silver spur ii, silver spur with division, touring limousine, wraith.
MINI: mini.
BENTLEY: arnage, azure, bentayga, brooklands, continental, flying spur, mulsanne, turbo.
ASTON MARTIN: db7, v12 vanquish, v8.
MORGAN: 44, 8, aero8, plus4.
TVR: cerbera, chimaera, griffith, t350, tamora, tuscan.
LOTUS: 340r, 3 eleven, elise, emira, esprit, europa s, evora, exige.
LAND ROVER: defender, discovery, discovery 3, discovery 4, discovery sport, freelander, freelander 2, land rover defender, land rover discovery, land rover range rover, range rover, range rover evoque, range rover evoque convertible, range rover evoque coupe, range rover sport, range rover velar, range rover vogue.
Imports from Italy
FERRARI: 355f1, 360, 430 scuderia, 456, 458 italia, 458 speciale, 458 spider, 488 gtb, 488 spider, 550, 575, 599, 612, 812 gts, california, california 30, california t, f12 berlinetta, f355, f430, f430 spider, f8 spider, f8 tributo, ff, gtc4 lusso, portofino, portofino m, roma, sf90 spider, sf90 stradale, superamerica.
MASERATI: 3200gt, coupe, ghibli, grancabrio, gran sport, gran turismo, grecale, levante, mc20, quattroporte, spyder.
ALFA ROMEO: 4c, 4c spider, alfa 145, alfa 147, alfa 155, alfa 156, alfa 156 sportwagon, alfa 159, alfa 159 sportwagon, alfa 164, alfa 166, alfa 75, alfa brera, alfa gt, alfa gtv, alfa spider, alfa sportwagon, giulietta, julia, mito, stelvio.
FIAT: 500, 500c, 500s, 500x, 500e, barchetta, bravissimo, coupe fiat, grande punto, multipla, new barchetta, new multipla, new panda, panda, punto, punto evo, tempra, tipo, uno.
LAMBORGHINI: aventador, diablo, gallardo, gallardo spyder, huracan, murcielago, murcielago roadster, urus.
LANCIA: dedra, delta, prisma, thema.
AUTOBIANCHI: y10
ABARTH: abarth 124 spider, abarth 500, abarth 500c, abarth 595, abarth 595c, abarth 695c rivale, abarth 695 70 anniversario, abarth 695 anno del toro, abarth 695 biposto, abarth 695 ediaione maserati, abarth 695 esseesse, abarth 695 rivale, abarth 695 tributo ferrari, abarth grande punto, abarth punto, abarth punto evo.
Imports from France
CITROEN: ax, berlingo, bx, c2, c3, c3 aircross, c3 pluriel, c4, c4 cactus, c4 picasso, c5, c5 aircross, c5 x, c6, chanson, ds3, ds3 cabrio, ds4, ds5, ec4, grand c4 picasso, grand c4 spacetourer, saxo, xantia, xm, xsara, xsara picasso, zx.
DS AUTOMOBILES: ds3, ds3 cabrio, ds3 crossback, ds4, ds5, ds7 crossback, ds9.
RENAULT: 19, 21, 5, alpine, alpine a110, arkana, avantime, captur, express, grand scenic, kadjar, kangoo, kangoo bebop, koleos, laguna, lutecia, megane, megane estate, safrane, scenic, twingo, wind.
PEUGEOT: 1007, 106, 2008, 205, 206, 207, 208, 3008, 306, 307, 308, 309, 405, 406, 407, 5008, 508, 605, 607, e2008, e208, rcz, rifter.
VENTURI: atlantic.
Imports from Sweden
VOLVO: 240, 240 wagon, 360, 480, 740, 740 estate, 760, 780, 850, 850 estate, 940, 940 estate, 960, 960 estate, c30, c40 recharge, c70, cross country, s40, s60, s70, s80, s90, v40, v50, v60, v70, v90, xc40, xc40 recharge, xc60, xc70, xc90.
SAAB: 9000 series, 900 series, 93 series, 95 series.
Imports from Netherlands
DONKERVOORT: d8 sports.
Imports from America
CADILLAC: cadillac allante, cadillac ats, cadillac atsv, cadillac ats coupe, cadillac concours, cadillac ct5, cadillac ct6, cadillac cts, cadillac ctsv, cadillac cts coupe, cadillac cts sport wagon, cadillac devile, cadillac dts, cadillac eldorado, cadillac escalade, cadillac fleetwood, cadillac limousine, cadillac sevile, cadillac srx, cadillac srx crossover, cadillac sts, cadillac xlr, cadillac xt4, cadillac xt5, cadillac xt5 crossover, cadillac xt6, cadillac xts.
PONTIAC: pontiac bonneville, pontiac firebird, pontiac grand am, pontiac grand prix.
CHEVROLET: chevrolet astro, chevrolet avalanche, chevrolet blazer, chevrolet blazer silverrado, chevrolet camaro, chevrolet captiva, chevrolet chevy, chevrolet corvette, chevrolet cruse, chevrolet hhr, chevrolet mw, chevrolet optra, chevrolet s10 blazer, chevrolet silverado, chevrolet sonic, chevrolet tahoe, chevrolet tahoe sports, chevrolet trailblazer, chevrolet traverse.
STARCRAFT: starcraft, starcraft gvan.
LINCOLN: lincoln continental, lincoln ls, lincoln mark viii, lincoln mkx, lincoln navigator, lincoln towncar.
MERCURY: mercury cougar, mercury grand marquis.
CHRYSLER JEEP: jeep cherokee, jeep commander, jeep compass, jeep gladiator, jeep grand cherokee, jeep grand cherokee 4xe, jeep grand cherokee l, jeep patriot, jeep renegade, jeep renegade 4xe, jeep wrangler, jeep wrangler unlimited, jeep wrangler unlimited 4xe.
FORD: ecosport, escape, expedition, explorer, explorer sport trac, f150, kuga, mustang, probe, taurus, thunderbird.
SATURN: saturn sc2 coupe, saturn sl2 sedan, saturn sw2 wagon.
CHRYSLER: chrysler 300, chrysler 300c, chrysler 300c touring, chrysler 300m, chrysler acclaim, chrysler crossfire, chrysler grand voyager, chrysler imperial, chrysler neon, chrysler pt cruiser, chrysler pt cruiser cabrio, chrysler stratus, chrysler viper, chrysler voyager, chrysler ypsilon.
TIARA: tiara royal star.
DODGE: dodge avenger, dodge caliber, dodge charger, dodge jc, dodge nitro.
BUICK: buick park avenue, buick regal.
HUMMER: hummer h2, hummer h3.
Imports from South Korea
KIA: vigato.
DAEWOO: matiz.
HYUNDAI: elantra, elantra euro, grandeur, hyundai coupe, i30, i30cw, ioniq 5, jm, nexo, santa fe, sonata, tb, trajet, xg.
GM MATIZ: matiz.
CT T: ezone sedan.
Imports from South Africa
BIRKIN: s3.