A friend of mine told me that was contacted by "a girl who wants to show herself at webcam", he is not speaking english so asked me to translate and tell him what to reply her. I wasted some time with him without being aware what is going on, until…
Days later, I was personally contacted by a such girl. I talked normally, like a human. But next time I went online, she contacted me again, using exactly same messages… only now I realize that I was talking with a ROBOT.
Each of the following weeks I got contacted by several such robots, most use this message when adding me: "Please add me to your Yahoo messenger contact list so we can chat. Thanks.", all pretends to be girls from Florida, saying that are ready to strip in front of webcam, telling me to join some adult erotic websites where credit card is required, supposedly only to verify age, but most likely they want to steal my bank details and MONEY.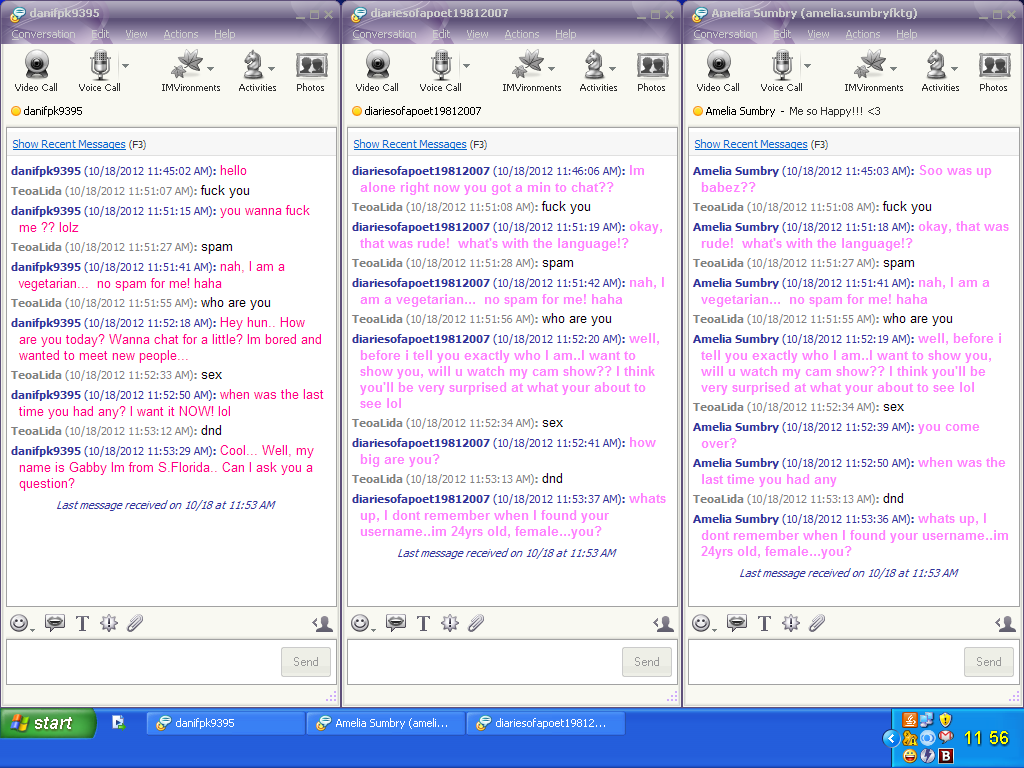 See the funny screenshots: robots are programmed to reply certain things at certain words, if I do not write any of that words, they send me a series of predefined messages. Also you can notice in the images that every reply is at similar delay of 17 or 22 seconds after my message.
Try typing these messages: sex, spam, scam, virus, who are you, fuck you, and see what they answer! I also noticed that by typing police, they shut up.
I don't live in an english country, local people suggests to not accept in our messenger lists people who speak (only) english.
But personally I have this english worldwide-targeted website. I am frequently contacted by foreigners, for business interests, so I accept any foreign immediately… unlike local friends in which case I talk with them before accepting, as some bad "neighborhood idiots" add me in the list just for swearing and mockery.