Download free SAMPLE: 2018 FIFA World Cup
Took me about 5 minutes to compile this table sourcing data from Wikipedia using "XPath Helper" extension for Chrome.
If you are interested in similar table for all FIFA World Cups 1930-2018, UEFA Euro Cups and other football tournaments, please contact me.
If you have any suggestion how to make this table better, please contact me.
Stadiums database
I made this database of football / soccer stadiums in 2018 when some strange person from Singapore asked me if I can do research and compile stadium data. I made a scraping script to extract data from www.stadiumdb.com, and later published database on website to allow other people to purchase it in case you are interested.
Download free SAMPLE (England only): Stadiums Database SAMPLE.xls
Buy FULL database (129 countries):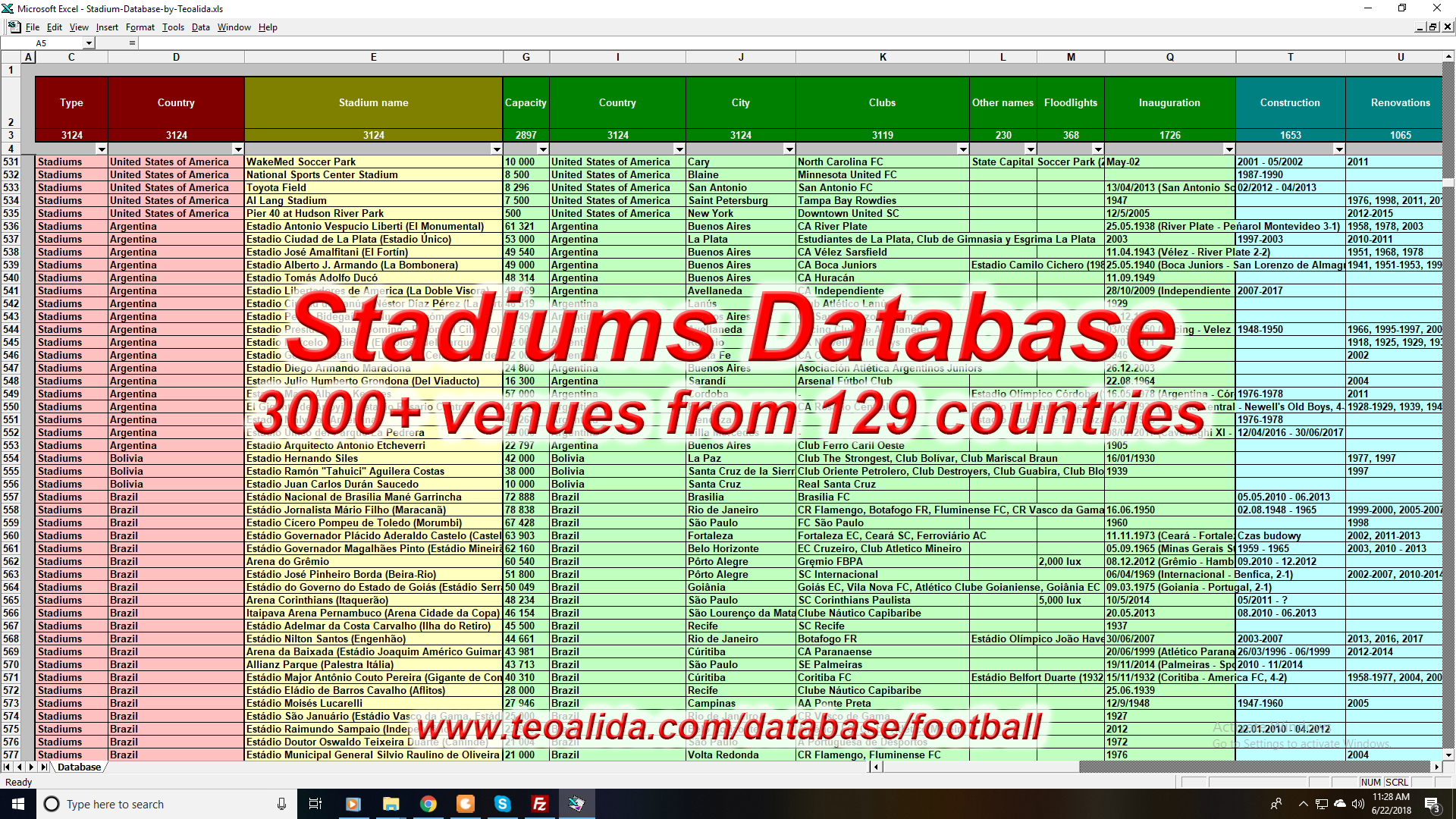 The database contains over 3000 major stadiums from 129 countries in the world, most stadiums contained are from Poland, 434 of them, because owner of website is polish.
The database contains existing stadiums as well as historical stadiums, under construction stadiums or designed stadiums (future projects), including details like country, city, address, stadium name, capacity, clubs, inauguration year, construction year, renovations year, construction cost, designer, etc.
About me
Football was one of my hobbies in early childhood. Since 1998 to 2002 I was watching many football matches with my dad, making in Word and Excel databases and analysis about matches. In 2002 my parents throw away my collection of football magazines, putting an END to this hobby. Even if this did not happened, I would have abandoned the hobby of analysis in 2005 when I connected to internet, due to much more detailed content existing on Wikipedia.
Today I may find more pleasure in making data analysis in Excel about matches than watching World Cup 2018 matches themselves. Just tell me what data do YOU require to be in database? I occasionally play football outside with my friends.
I offer 100+ databases in various fields, automobiles, geography, real estate, electronics, etc.