Provide your land dimensions and other details via LIVE CHAT or leave a comment and I can design a custom house floor plan according your requirements for 10 USD per room. Precise drawings and complete projects (fully-dimensioned floor plans, elevations, sections, 3D design, etc), can be done at low price! Note for India customers.
What would be better for YOU than a house designed specially for YOU?
I offer design services over internet for customers everywhere in the world!
Are you student looking to download free AutoCAD .DWG files? Go on BiblioCAD.com and download what other people have uploaded there. Do not ask me for .DWG files because I am not giving MY projects for free.
Architects and students in final year are invited for potential collaboration!
Should stop offering architectural design services?
After May 2016 I may not design new house sketches for free. Guess why? Read full story.
African modernity 5-bedroom 270 sqm
My client from Uganda wanted an extravagant house different than what is common in his country (houses with pitched roof). A modern house with large balconies and roof terrace, he insisted the house to be rectangular (I initially disagreed with this, modern houses should have complex shapes).
Lot size 20x30m, main road on west side and minor road on south side, the house had to be beautiful on west side but in the same time the afternoon sun had to be avoided, so I designed the small bedrooms to be facing north and south and added balcony on west side to cover the sun, master bedroom is again facing south but also have windows on east side to get morning sun. The actual project will have metal balcony rail instead of glass. Designed in April 2015.
Home for JUN (Philippines)
Do you dream a 4 bedroom house but you own just 70 sqm land? No problem at Teoalida Design! My client's property was 4.7 × 15.2 meters north-facing in a rural area and I designed a masterpiece in terms of space efficiency, 88 sqm floor area, plus car park and roof terrace. The client wanted a minimalist modern style without decorations, the 3D design is ugly in my opinion, but he was happy. Made in December 2013.
Nigeria narrow house 5-bedroom 300 sqm
My client had a narrow lot 8.6 m at front, 7.4 m at back, 36 meters depth, facing east, which posed a challenge in designing a nice house measuring 6 x 28 meters. Bedrooms have windows facing front and sides but not to rear to avoid afternoon son. There is a fashion in Nigeria to build houses made from a mix of cubes in vibrant colors, upper floor in overhang to create a more interesting shape. Contacted me in March 2016, final project designed in June 2016.
Terrace Modern 300+ sqm
Luxury house design in 6-meter frontage, 4-storey terraced house, which works also as semi-detached house. 5 bedrooms, 4 with en-suite bathroom and walk-in wardrobe, big family room on fourth floor and a smaller one on third floor, roof terrace, private lift and swimming pool. Do you want more luxury features? With 144 and 192 sqm land plots, max possible density is 52 houses / hectare.
Designed in February 2011 for artistic purpose (no customer). Inspired from Singapore! (here even rich families own just one car). Notice how I mixed each 3-color group (red-green-blue / yellow-cyan-magenta)?
Home for Shwan (Iraq)
Shwan from Iraq was one of my first paying customers. I provided a high-detailed, fully-dimensioned architecture drawings, elevation and cross section, and as he wanted, I "delivered" in PDF format 6 sheets for printing on A4 paper.
Credits to customer for the idea of Arab-style floor plan, very different compared with the styles that I was familiarized with (he provided me a scanned paper with a shitty sketch and I converted it into a beautiful by-law drawing). Designed in June 2013.
Photo of his home from May 2014. He slightly deviated from my project, to make the facade more massive.
House design for north-facing lot in Europe
In temperate countries from Northern Europe, people try to get as much sun heat is possible, thus south-facing lots are sold at a premium price. However my customer lot was facing north, but this did not turned into a problem in making a beautiful floor plan. Requirements: 3-bedroom + garage in about 180 sqm.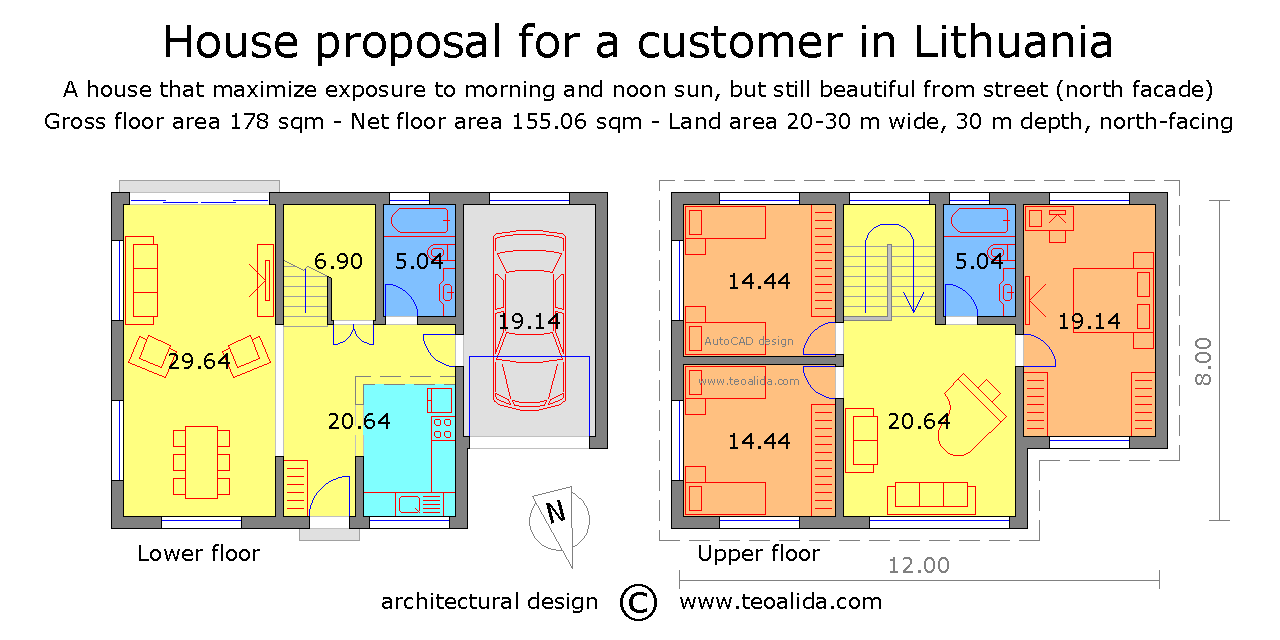 Terrace Classic 250+ sqm
Luxury multi family housing complex, 3-storey terraced houses with basement parking and neoclassic facade, which works also as semi-detached houses. 4 spacious bedrooms, all with attached bathroom and walk-in wardrobe, family room in basement and private lift.
This, together with Semi-Detached Mixed, were first houses from 2010 era, designed for artistic purpose.
One year later I decided to continue the project, by arranging the houses in a Condo-style with 80 houses and shared pool. Complex size: 100 x 135 metres, density 59.26 houses per hectare. House design inspired from Singapore!
Shotgun house, narrow semi-detached house
Shotgun house is originating from New Orleans and common in south states from 1830s to 1920s, single-story, 3-4 meters wide and 20+ meters long, having 3-5 rooms in row, entrances in the endmost rooms and no hallways. They can be found both detached and semi-detached (double barrel shotgun house).
In August 2014 I got a customer in Nigeria who wanted to build 2 units of semi-detached in a 60 x 120 feet land… I sent him sketch inspired from American shotgun homes, improved with hallways. Customer said that will come back in a week and pay for complete project… but this never happened.
I improved the sketch from personal interest to publish on website, making 4 bedrooms in a house measuring just 5 meters wide and 26 meters long. 2-bedroom version made in 2015 after someone else request. After this I further lengthened the house to 28 meters long and added 3D design too.
Split-level house 150 sqm
Example of split-level home with 3 bedroom, 2 bath, garage, and minimum of hallways, being 7 meters wide is probably a good home plan for narrow lots with 10 meters frontage.
I made this house for a friend in 2011, it was inspired by a real house that I visited several years ago, for my customer I improved it by adding en-suite bath and balcony.
Philippines Townhouse Series – 30-80 sqm
In Dec 2012 I made a sketch for a filipino customer with 24 x 14 meters plot intended to build 4 units of townhouses with 3 bedrooms. For publishing on website I redesigned smaller to show you how is possible to build 3-bedroom townhouse with carport in only 60 sqm land (5 x 12 m) for each unit!
NOT suitable as single family home on 5-meter wide plots, a column will be needed in other side of carport too, reducing carport width to 250 cm, cars are growing and even compact cars like Toyota Corolla are now 180 cm wide, so you could not open doors. Houses built in pairs will have 5.4 meter wide carport, leaving 120 cm between cars and 30 cm between each car and wall.
I also tried a single-storey version, inspired from this house, smallest and shittest house plan I ever saw!
In November 2013 I designed a 4-bedroom house for JUN supposedly having a 5x14m land. Then he realized that his land size is 4.7m wide and we had to try a different layout. I turned the original sketch into a 3D artistic project, beside that I designed 3 additional floor plans in various sizes… and compiled all 5 house plans in a single image!
A common problem in Philippines is that many cheap houses use back-to-back typology, suffer from poor ventilation and lacks a washing area. The townhouses designed by me (still back-to-back) feature lanai (courtyard?) at back so cross-ventilation is possible.
Terrace Airwells 250 sqm
Medium-luxury 3-storey terrace housing development with 4/5 bedrooms plus family room and an extra maid room / guest room at first floor, postmodernist facades, gabled roof with 1:2 pitch, gross floor area 230-250 sqm, balcony above car porch (I do not know why, but this good feature is a rarely seen) and swimming pool. Arranged in clusters of 32 houses, they form a perfect rectangle 120 by 60 metres between street axes.
Inspired from Singapore and Malaysia! Designed in November 2010 for artistic purpose.
House for my own family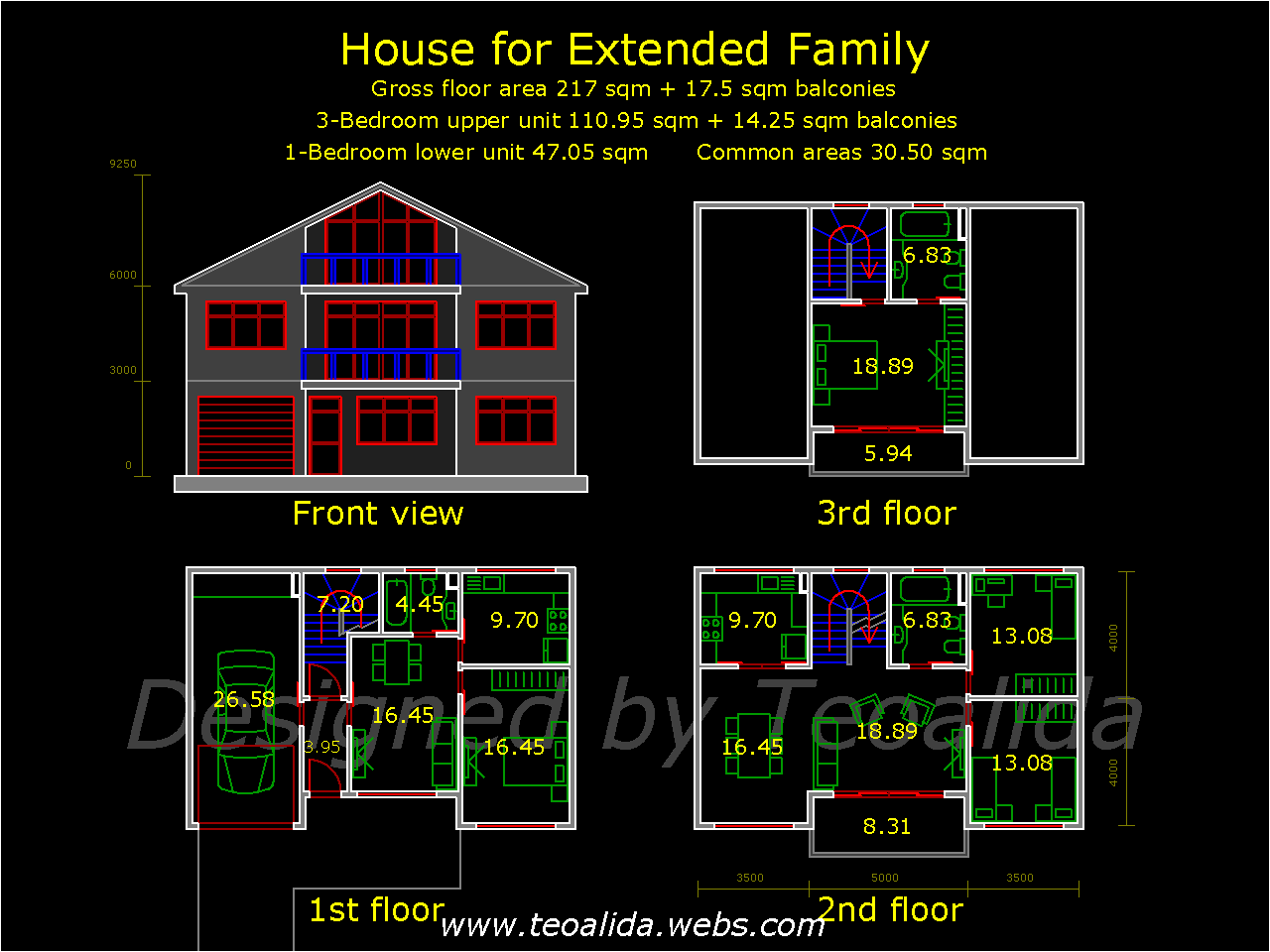 This is a modern remade of the house proposed by me when I was 12 years old, for my family of 5 (me, parents and grandparents), when decided to go living on land, this is why it feature a "granny flat" on the ground floor and 3-bedroom unit at upper floors (space for one more child), with separate entrances joined in an entry hall, plus garage.
Original design had the floor plan partially flipped to reduce costs, garage under bedrooms and bathroom near kitchens, so a single vertical pipe served all 5, and it did not included furniture planning. Notice that at that age I had a fashion to make symmetrical houses with central balconies and to place as many rooms as possible to street facade.
The dream never came true… high land prices forced us to continue living in our two apartments.
European Houses 90-200+ sqm
In March 2012 I redesigned 2 of my earliest house designs, Semi-Detached and Quadruplex-Terraced (can be seen in Housing Archive), done originally in 2010. At same time I designed European Apartments.
2/3-bedroom Terraced Mixed Housing, 2 floors, 21x10m buildings containing 4 dwelling units and one common parking per a row of 4 buildings to provide 1 parking lot per house. Having 40 meters between alleys and 120 meters between parking lanes, results a typical density of 66.67 houses per hectare.
3-bedroom Terraced Housing, 2 floors, 6x10m, 48 meters minimal distance between streets, to give a minimal 4 meters backyard (3D design shows 6 meters backyard, most houses of Europe have much longer, 10-20 meters backyards, I hate such waste of land!), max possible density 69.44 houses per hectare.
4-bedroom Semi-Detached Housing, 2 floors, 6×12 m (8m lot frontage), let's say 6 meters backyard, results a max density of 44.64 houses per hectare.
6-bedroom Semi-Detached Housing, 3 floors 6x14m…
At least the first two are common especially in United Kingdom and Ireland but also in Germany, Netherlands, Sweden, etc.
Further research revealed that most of terraced houses in Europe have living room at rear, kitchen at front and entrance in a hallway beside kitchen. Maybe some day I will redesign them.
Malaysia single-storey houses
Designed in early 2014, posted in May 2014. Such house layouts with central living room and no hallways are popular all around South Asia (India, Thailand, Malaysia, Indonesia, Philippines, etc). Floor plan inspired from Malaysia but not following the laws of this country (in Malaysia you need to keep 6 meter street setback from any street line).
Malaysia two-storey houses
In early 2012 I started being fascinated by Malaysian houses, and I designed for fun few houses, I published on website two best house plans in March 2012. I redesigned them in metric system in May 2014 and republished 4 terraced house styles.
Terraced houses with 4 bedrooms plus family room are most common house typology in Malaysia, houses with airwells are also common, typical frontages 6000 mm (almost 20 feet) and 6700 mm (22 feet).
Philippines single-storey houses 38-56 sqm
Designed in early 2014, at the minimum room size allowed by law: bedroom 2 m wide / 6 sqm area, bathroom 1.2 m wide (although the law allow 0.9 m wide but using toilet would be uncomfortable). If you're lucky and able to afford a bigger lot, I can enlarge these houses or design bigger houses for individual cases.
In this country, the term Bungalow define a single-storey house, NOT a detached house with any number of floors, like in the rest of Asia.
Philippines double-storey houses 55-80 sqm
Many lots in Philippines are 8 meter wide, and setbacks are 1.5 m in front and side and 2 m at rear. So if you want a single detached house, you can build 5 meters wide house, like these samples for 80 and 100 sqm plots. However for lots smaller than 120 sqm people choose to build attached houses (with firewall). Designed in early 2013, redesigned and colored in February 2015.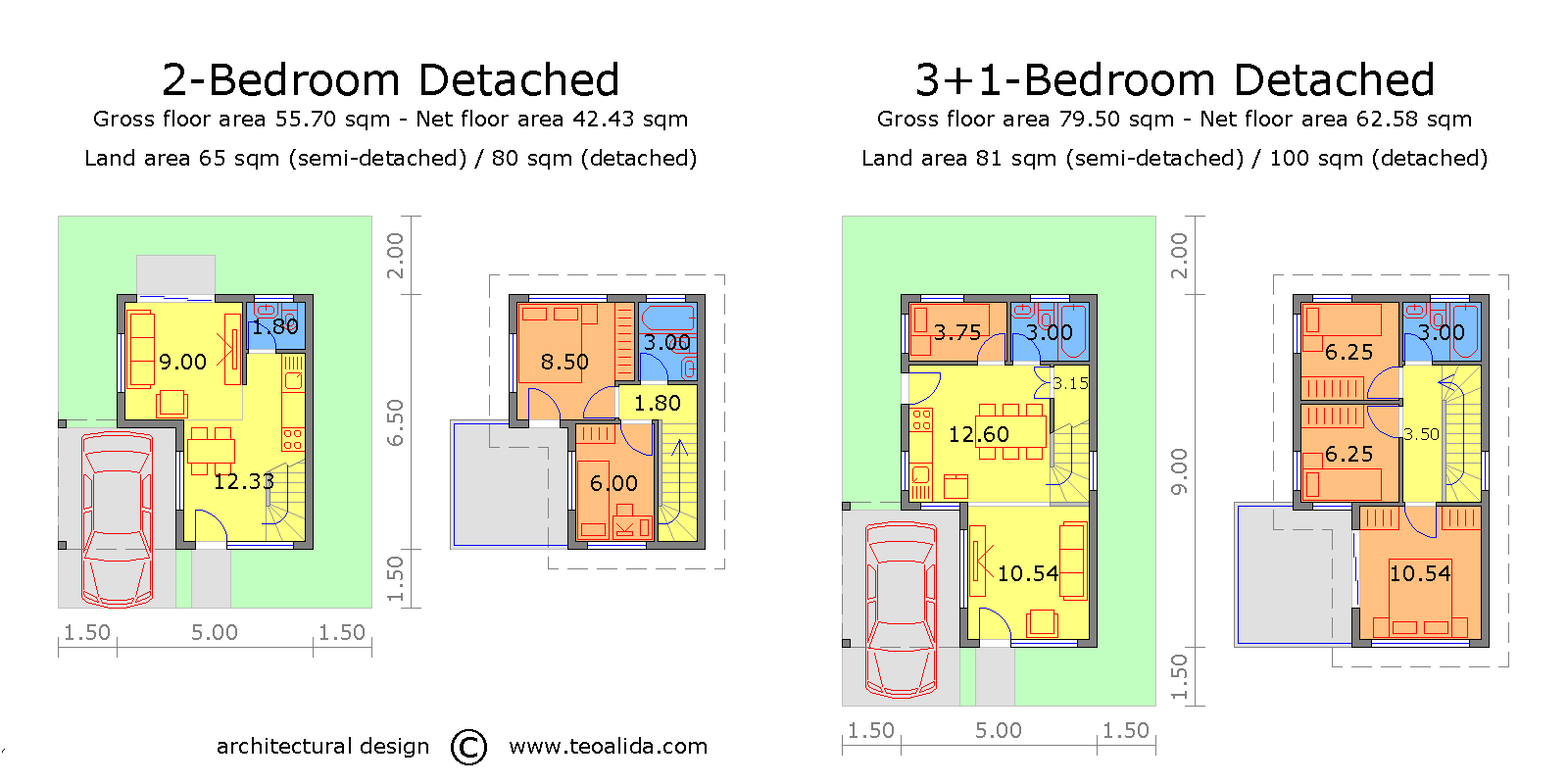 Philippines squarish houses 73-104 sqm
During 2013 I has been contacted by at least 5 people looking for ideas for their squarish land plots, sized like 10×10, 10×12, 12×12, 12×14 meters, etc. I designed 5 slightly similar sketches for various people and now I am presenting here the best two of them… plus an ultra compact home (73 sqm) done for fun (no specific customer) in March 2014.
Low-cost High-Density Housing 60-100 sqm
These house drawings are inspired from Latin America, more exactly from the Mexico social housing (casas de interes social), which are probably the densest legally-built (no slums) houses in the world, reaching up to 150 houses per hectare. Most of their houses are built with 2 bedrooms (or fewer) to be cheap, but many owners consider them too small and expanded them in front and upwards, sometimes reaching 4 floors. I designed in <strong>2010</strong> 4 styles of High-Density housing, however, my designs are bigger than original Mexico ones, in which the bedrooms are just 3 by 3 meters.
Terraced houses, 3 meters narrow frontage and 12 meters depth, 72 sqm floor area, very similar with Mexico ones which are 60 sqm. The U-shaped stair allows easy upwards extension.
Quarter-Detached houses, 5 meters width and 10 meters depth, 69.5 sqm floor area, very similar with Mexico ones which are 55 sqm. The U-shaped stair allows easy upwards extension.
Back-to-Back Terraced houses with courtyards, 6 meters frontage and 10 meters depth, 96 sqm floor area, this layout is an own version never seen in Mexico, it have better land coverage, also bathroom as well as stairwell have window! So it is the best version in my opinion. The U-shaped stair allows easy upwards extension.
Cluster Terraced housing, an upscale version, 4 meters width and 10 meters depth, 80 sqm, and 6 meters width 120 sqm on endings. Somewhat similar with Mexico ones which are usually 65 sqm and have parking either in front of house or at end of street. This one hardly allows upwards extension.
Detached housing, further research revealed that the attached houses that are common in Asia are disappreciated in Mexico. They want "totally individual houses" even if are less than 1 meter apart. Such houses have usually 1 bedroom in front and 2 on back. I made my own version, L-shaped house, 100 sqm 3 bedrooms of which 2 enjoy privacy by facing to front! SMART? Semi-detached possible!
Designed in late 2012, while the above ones are from December 2010.
Also see: High-Density Apartments, posted in the Apartment Design page.
American home 240 sqm / 360 sqm land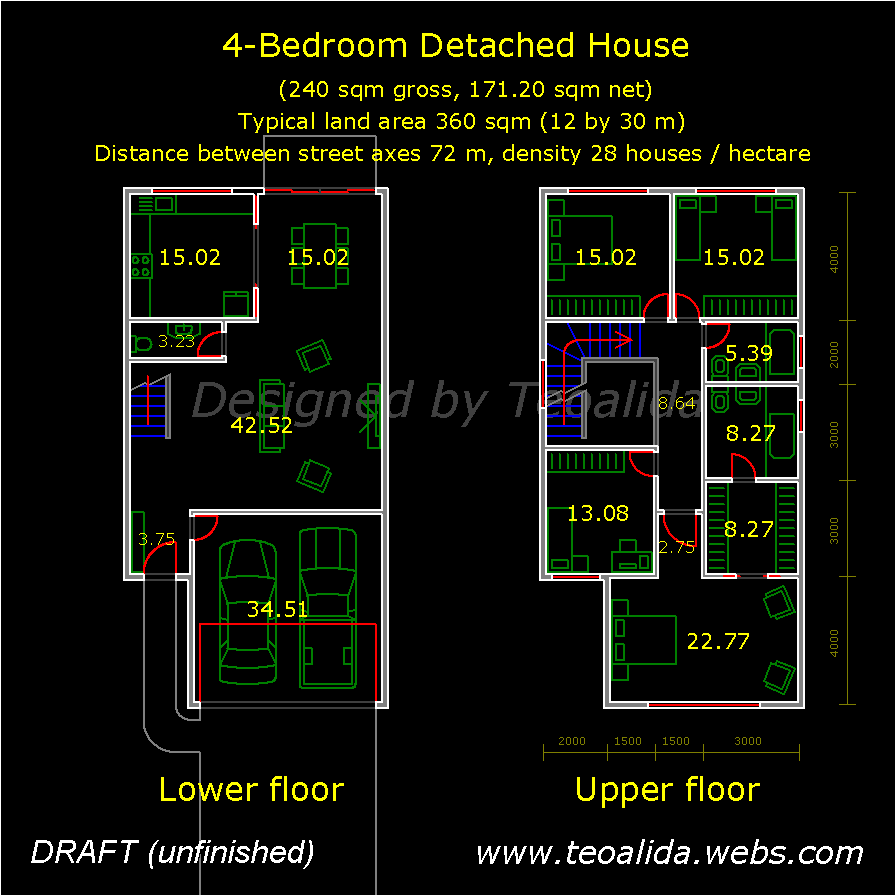 I do not enjoy United States architecture very much and or the american lifestyle, but I still wanted to complete my collection with an american style home. Typical homes are 3 to 5 bed, 2000 square feet in average, no idea if the numbers include garage, but is a fashion to have 2/3-car garage per house. The housing density is low as 10- max 15 homes per hectare, but because many homes are single-story, 12 m wide or even wider, numerous rooms are facing side walls, invading privacy of neighbors as the homes are only 3 meters each other. I improved the typical american home by making a home plan only 8 meters frontage and still… I succeeded to put 4 bedrooms facing either front of back of home, no more privacy problems, also all baths have windows!
3D design… maybe after an american will review my floorplan, I think that living-dining area should be reconfigured better.
Narrow Luxury Bungalow 256 sqm
Compact design bungalow… having 5 spacious bedrooms and 5 en-suite bathrooms, all in only 8 meters frontage! 16m depth (20m depth with proposed balconies) Designed in January 2012, was not made for a specific customer. House design inspired from the affluent neighborhoods of Brazil!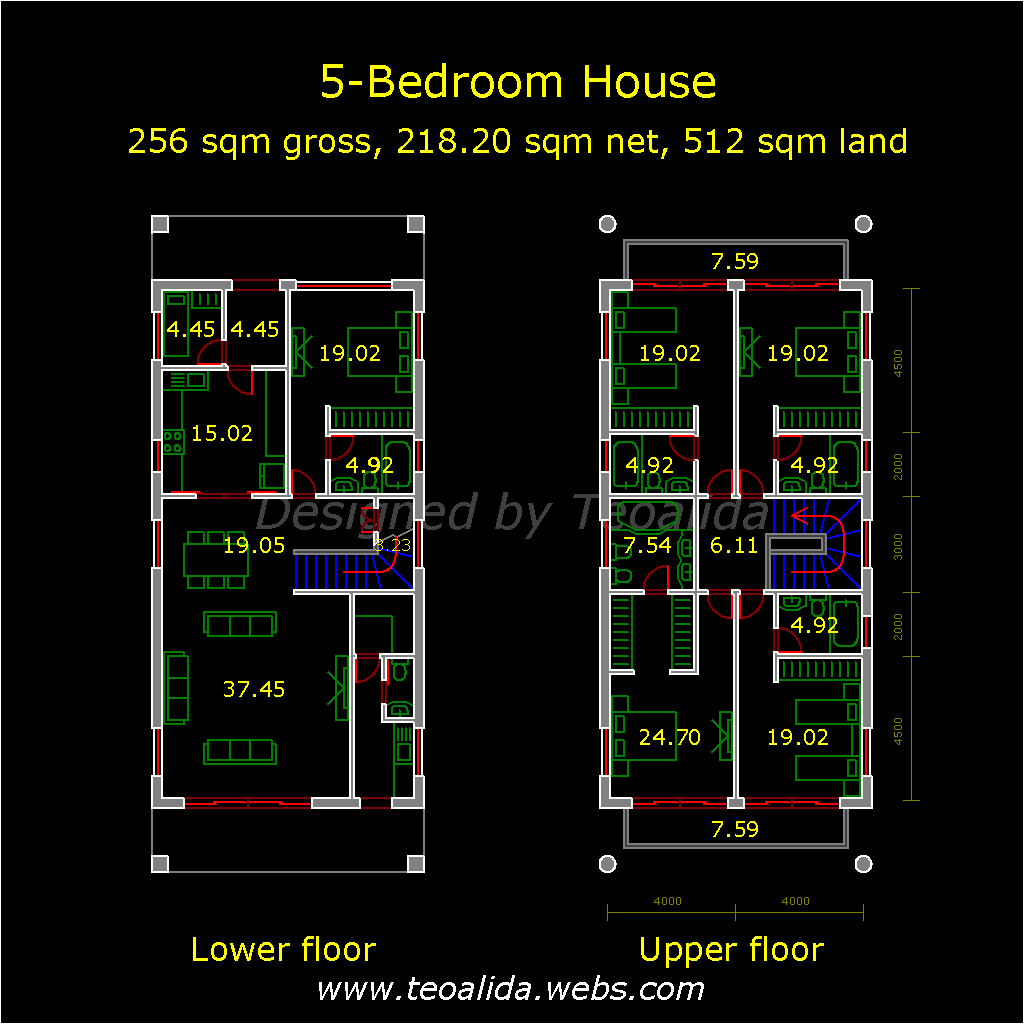 VERY Narrow Bungalow 180 sqm
My customer asked for a house design narrow as 5 meters and long as crazy is possible. Because his land in countryside measures 50+ meters long and 7-10 meters wide. I was impressed myself by the floor plan and asked permission to post on website. Project put on hold until husband return from overseas.
Note that in South Asia the meaning of term bungalow is a detached single-family house regardless of number of floors, and it is seen as status symbol, being the highest form of housing available. This is different compared with United States where bungalow means single-storey house and is often associated with poor people. I though that this definition apply for Philippines too. No, they use american definition.
Square house 180 sqm
This 10×10 meters house made in 2010 is one of the initial series of 6 houses made for hobby. Original idea was to use a symmetrical Neoclassic theme… but was ugly. I redesigned it in 2011, now in a more beautiful asymmetric theme.
Single-storey square houses
Simple home floor plans which look good also from mathematical point of view, with 10 cm thick internal and 15 cm thick external wall made all rooms to be a multiple of 50 cm.
Candidate for deletion. Too simple design.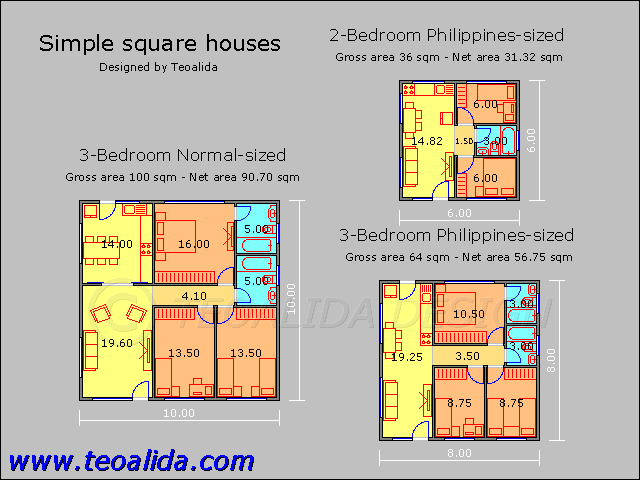 Arabian house
This is the finished and colored version of the sketches proposed to a customer from Iraq in April 2014.
Narrowest house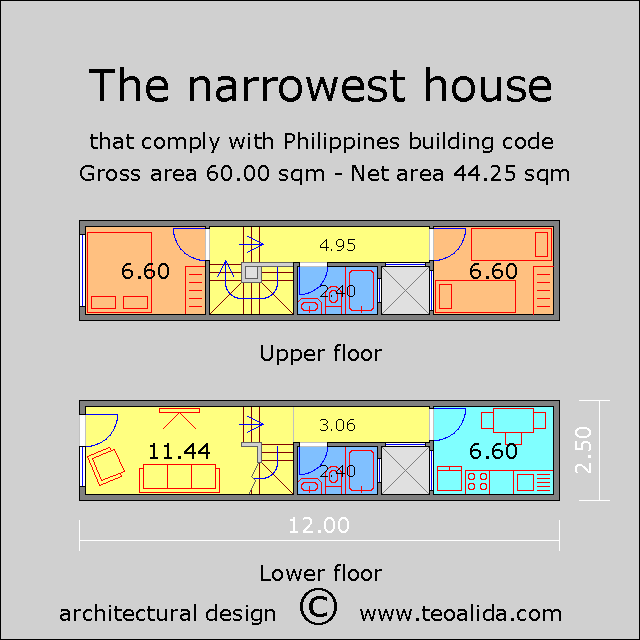 Tiny houses for 40 sqm lots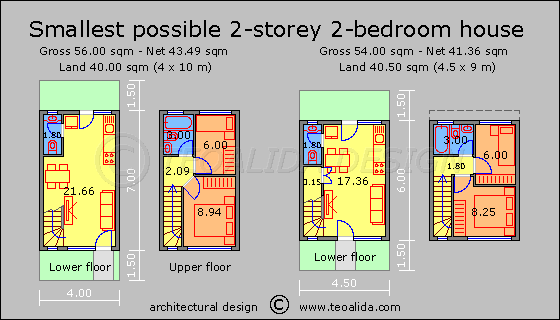 India & Pakistan terraced houses
Compared with the business success in Philippines and rest of world, for India I have designed dozens of "30-min sketches" customers who were thankful for sketch but did not wanted to proceed to detailed drawings (or wanted but refused to PAY for service), or never replied after emailing the sketch, not even a "thank you" for the FREE help offered.
Now I selected 3 of these sketches, with one, two and three floors, improved and colored them, and published there:
In late 2012 an owner of a 22 x 50 feet land, appreciated the layout of "A different terraced house", and asked me to resize and design with imperial system. I post here the 3BHK house shortened with 5 feet. All bathrooms have window. Notice the SMART position of lower floor toilet? 5-foot road reserve space, 4-foot corridors, 1-meter wide staircase, to comply with India building code.
In 2014 another customer with 13 feet wide land, this time from Pakistan, I turned the apparently impossible project into a spacious 3BHK house spreading on 3 floors. By removing carport and lowering drawing room, it can be a 4BHK house.
And a small single-storey 2BHK house.
Common in India are the houses for multi-generation families, terraced-styled houses having each floor belonging to another branch of family, or even worse, each family branch having just one room. Here is an example of two-family house floor plan designed in early 2015 for a customer, with 3D design made from personal interest in December 2015.
Some customers want to build ground floor as their home and first floor with multiple rental flats, designing different floor plan each floor is very difficult.
History
I design apartment buildings since 2008, landed houses I (re)started to design in 2010. Originally I published 3D models and floor plans of 5 impressive housing complexes and 1 single-family home (designed for myself, you can call this hobby, fun or art), then I was surprised that the single family home was the most clicked. In 2011 a friend requested me to do a project for him, and now I announce that… I offer architecture design services for anyone in the world!
The hobby became also a business, a flow of customers started in 2012. Until that, I was posting every house I designed. In one year I has been contacted by over 100 people, but 90% of them are not interested in detailed plans or 3D design, they just need consultation and are happy with a schematic floor plan.
Publishing on website all the hundreds schemes that I designed would overload the website with low-quality designs, am I right? A spontaneous-made drawing in 30 minutes is not always an efficient house layout. Sometimes I recycle the sketch done for a specific customer, I do some modifications, finish it and publish it on website as hobby/artistic project.
Statistics: most downloaded house plans.
House & apartment design statistics (Excel file with all my house and apartment designs, one per row, showing room size of each room for calculating gross floor area and compare different housing models).
Some people may suggest to organize the website in separate posts for every house plan, and tag them like India-style, 2-storey, 3-bedroom, 100-200 sqm, modern house, etc, so we can filter them, like in a Blog. However, I DISAGREE, this system can be used only if I have large number of projects finalized including 3D design, and will encourage people to serve themselves and steal my works, then where the "services and prices" should be shown? Showing on a single page few houses in different architectural styles plus prices may encourage people to contact me and eventually turn into customers. Probably there are already too many houses on website and would be better to delete few of them and keep only the BEST 10.
Floor plans style – black, white, multicolored background?
Poll closed in Dec 2014. I already decided in June 2014 to go with multicolor idea but color the rooms instead of furniture, and don't use the awful green. This will not look childish, hope you like it! Additionally I decided to add dimensions in meters instead of millimeters and few more changes. I kept the poll opened and as you can see people approved my choice.
Black floor plans were designed in 2008-2013, I will convert all them to colorful style when I have free time.
Request a house design & price quote
Tell me land dimensions and how many bedrooms do you need, depending by these requirements and by your country, additional questions may I need to ask you to design the BEST house. Make sure to provide length × width, NOT only square meters, 10×12 m and 6×20 m are both 120 sqm but require different planning.
You NEED to reply at email and confirm that you are interested, before making any drawing for you. So far 50% of people requesting house design never reply (up to 90% in case of Indians, which probably request house designs on multiple websites then they are no longer interested in my service).
Alternatively you can choose one of pre-made house models shown on website and tell me what to change for you.
Or, provide your own sketch (can be made in Paint or pencil drawing) and I will convert it into a professional drawing.
If you want a fast reply you are advised to contact me via LIVE CHAT in bottom-left of screen.
Consultation is FREE
Including one 20-min rough sketch with errors allowed, non-editable PNG screenshot, to propose you a floor plan idea, NO revisions (FREE except when I am busy with other projects)

Floorplan with main dimensions $10 / 15 / 20 x number of rooms
Error-free in PDF format (example).
Complete project: $50 / 75 / 100 × rooms
Fully-dimensioned floor plan, elevations, sections, 3D, done carefully and error-free in PDF format (example).
PDF drawings are usually provided without colored rooms, colors being added only for showing on website, unless you ask specifically for colors.
DWG can be also provided if you want to edit them yourself or give to someone else to add more details.
100$ × no of rooms for first world (Singapore, Europe, United States, Australia, etc)
75$ × no of rooms for second-world (Malaysia, Thailand, Latin America, Middle East to Maroc, South Africa, etc)
50$ × no of rooms for third-world (India, Pakistan, Burma, Indonesia, Philippines, rest of Africa, etc)
Rooms counted are bedrooms, living room, study room, but not kitchen and smaller rooms.
Example: for Bungalow-5x18m with 4 bedrooms + living room + family room, in Philippines, standard price will be $300.
However, we can negotiate, different customers request a different amount of drawings.
These prices are for single-family houses. For multi-family houses and apartment blocks you need to ask for quotation because I do not have a fixed formula. Editable DWG files can be also provided beside printer-friendly PDF files.
Procedure of the house design service
Takes 15-30 minutes to design "first sketch" at ANY dimension you need and send you a PNG preview (example), except when I am busy with other customers or family problems. Usually takes less because I have plenty of sketches done for previous customers and is easy to modify one and make it at your requested dimension.
This "30-min first sketch" is usually "not good", but is needed to understand your requirements and give you chance to suggest changes.
Due of numerous BAD customers who are not patient on chat, or never reply when I email the sketch, I am drawing first sketch as fast is possible, often not at scale and not error-free. So, if you are serious, please reply and provide few comments about the first sketch, then I will make a second sketch with greater care…
After first sketch, we need to agree about payment, if you want a complete project (fully-dimensioned floor plan, elevations, sections, 3D design, etc), or want only a floor plan, in PDF or DWG format.
You NEED to pay a part of agreed sum if you want to revise your sketch and go in further detailed drawings.
If you do not pay, have no money, not yet decided, I will not charge you money for "first sketch" BUT please do not waste additional time asking for another sketch or revisions, as did THIS indian.
If you pay, you may not like have your project delayed due of a non-paying customer asking re-re-revision of his sketch.
I provide first sketch for FREE, because I need to prove that I design buildings, as some people confuse my personal website with the websites who just collect house images from random websites. Also I love to practice, to be challenged to make the best layout for small plots of land. Remember that any service need to be PAID.
After payment, I will do additional sketches and let you to choose the best one, or a combination of them. Then, I give you some time to review the sketches with your family if needed and suggest additional changes, then you should get back to me when you are ready… I can think again your project, redraw floor plan according laws, add elevations, sections, also 3D design.  You can pay remaining money after finishing drawing, before sending final PDF, or also pay in stages, 30% for floorplan (after initial sketch) 30% for elevations, 40% for 3D design.
After paying all the agreed sum I can still revise the drawings free of charge until you are 100% satisfied.
Do not pay in advance! Start with a free consultation to get confirmation that I can do your project.
How long takes
I use AutoCAD for both floor plan drawing and 3D model. I know that 3D Studio Max can make better 3D renders but I love AutoCAD.
The floor plans and 3D models published on website are samples intending for viewing only, for educational purposes for students and also for families dreaming to build their own home, to show you for how big land you should look to purchase.
Designing a floor plan at correct scale, with furniture in correct position, dimensions, etc. takes 1-2 hours, but require few more hours of study and mental effort. They are optimized for on-screen viewing, at low resolution to discourage stealing (20 pixels per meter, 32 / 40 pixels per meter for pre-2013 designs), and colored to be understood by people with no skills. They are NOT intended to be used in construction or submitted to government for building permit. For this, detailed drawings will be provided, in PDF format optimized for printing at any resolution you want. Usually I provide drawings with NO colors on background, as seen in Shwan house.
Designing fully-dimensioned floor plan, elevations, section, etc takes 10-20 hours, this job involve a lot of communication with the customer to ask for additional details. Usually take few days, but one project took few weeks because of email-only communication and slow replies.
Designing a 3D model takes from 3-4 hours in case of JUN's house to 100 hours in case of Trianon Palace with its high-detail geometry.
Important!
I get contacted by multiple people per day, and some of them are not interested in my services, some are happy with just a sketch and are not interested in paying for complete service… people who are not ready to build the house or people who are undecided, so they do not need my full service, some people promise that when they are ready will get back to me and pay for the full project, but never get back. Such people can be forgotten.
If you are really interested in my services, and I accidentally forgotten you, just contact me again. I do not enjoy re-emailing people to ask if you are ready / still interested in my services.
If you like my floor plan but have architect/designer to do final project, you should contact me and I will sell you any of floor plans displayed on website, in editable .DWG file for $50-100. This may save some time of your designer. But don't forget that for the same price I can also offer a custom unique floor plan made specially for you!
If you are able to pay your designer but do not intend to pay me as well, DO NOT solicit my services, go from start to your designer.
Funny case: I do the FREE 30-min sketch, the customer likes it, then when we negotiate price for the construction drawings, he say that cannot pay because he have no money and is just helping his mom / brother / cousin / boss, to find a good floor plan. But hey, you do not need to pay for first sketch! Instead, you should tell about me to your family, so when they are ready to build their home, to come at me for the final construction drawings.
Note for INDIA customers
I have numerous BAD experiences with Indians and this makes me to regret architecture and if these problems continue I would need to quit this job… read few examples BAD indian customers.
If you are just browse for FREE ready-made plans and not interested in my services to design a custom house, feel free to browse my website and other websites without contacting me.
If you think that my prices are too expensive for your poor country, then go to a designer in your own country. Leave me to work for countries where people are more generous in payments.
Contact me ONLY if you can afford my prices!
Designing a house in India is more difficult than in other countries, due of Vastu shastra that regulate geographical position of rooms, east and west-facing lots cannot use mirrored floor plan, etc. 6 billion people outside India never heard of Vaastu and are happy, half of India population of 1 billion people is superstitious so need a house according Vaastu rules. Pretty stupid, isn't?
50% of India customers don't like my first sketches, compared with 90% satisfaction ratio for rest of world. Most people try to avoid paying while one annoyed me for 2 weeks asking countless revisions until got satisfied and paid me. Other bunch of India customers do not explain properly what they need the say that my sketch does not fit their needs (example). If this is the situation, would be better to STOP offering service for India?
You may think that asking a 30-minute sketch for FREE is no problem, but designing 100 sketches for various Indian customers without getting a single one paying, IS A PROBLEM, compared with other countries, where out of 10 sketches, 1 is paying for complete project.
Given by numerous BAD experiences with indians, what I should do?
Note for other countries
I served numerous people around Asia and Africa, as well as few in Europe and America. From my personal experience, Philippines customers are nicest of all 3rd world countries. Most filipinos DO NOT solicit me making a new design if they do not have money (I receive often messages like this "Hi I just want to ask if you already make layout for 32 SQM approx. 2 storey? I dont have money to ask for making a layout, so I just hope that you have already made layout. Thank you in advance.").
Philippines customers pose another problem: half of them contact me without knowing length and width of their property, but only square area, case in which I can't design any house. At least I am not wasting time as I do with indians!