Since 2008 to around ~2016 I designed few hundred houses and apartment blocks from personal interest (artistic hobby / training) as well as for various customers all over the world. Low number of paying customers and bad experiences (read more) made me to retire from architecture and focus on my other business. Here I show my best designs in low resolution, as educational material for future students. Editable DWG and PDF files can be purchased at half price they were made.
Several architects offered to work for my customers after I retired. If you want to be my partner, you're welcome.
We are busy with PAYING customers, DO NOT disturb us with emails or chat messages if you are looking for free floor plans or cannot afford our prices!
CentralLiving
An original concept "Made by Teoalida" with no inspiration from any existing building, named for centrally-placed living room (but also for central courtyards, circular corridor and perimeter apartments). 4-Room (126 sqm) and 5siingapore s-Room (156 sqm) apartment plans, arranged to form a beautiful continuous facade with paired bedroom windows, also featuring an entrance hallway not seen in my previous projects.
Idea came in November 2010 when I designed Rectangle floor plan, 3D design added in 2011, a Triangle floor plan was also designed but never published, then giving by the positive comments from friends, in 2015 I redesigned both Rectangle and Triangle versions, both floor plan and 3D, in a more beautiful mix of neoclassic and postmodernism.
Other floorplans are possible, such as U-shaped with 6 or 8 units per floor.
"Making of" video

About me
I started studying architecture in 2008 by designing in AutoCAD a virtual city with high-quality apartments, imagining being president of a country or manager of a housing corporation, to offer quality housing for at least half of population… like a public housing. Apartments are designed with mind to high-density, average 100 square meters apartment size and 30 sq m per person (virtual city – because I am not a developer, I do not have capital to build them).
Most projects shown on this page are designed in AutoCAD for 3D artistic hobby in 2008-2012. They intended to showcase my skills especially in designing efficient layouts. Simplified to be understood by people with zero architecture knowledge, they are NOT intended to be submitted to government for building permit or used in construction.
In 2012 I stopped the hobby, to concentrate on designing for customers, most of them were building houses and not apartments.
House & apartment design statistics (Excel file with all my house and apartment designs, one per row, showing room size of each room for calculating gross floor area and compare different apartment models).
2008-2013 projects use black floor plans and 3D design at 2048×1536.
2014-present projects use colorful floor plans at lower resolution, and 3D design at 1920×1080 or 1440×1080.
I started in 2015 to redesign older floor plans into colorful style, but in 2016 my other business forced me to leave architecture, leaving several projects unfinished.
For pre-2013 works, apartment size indicated in floor plan is net floor area (not including walls and balconies).
Due to low number of clicks/downloads on 3D model images compared with clicks on floor plan images, I decided to NOT make any more 3D models, unless I am paid for this job.
News: after 3 years since last building designed, 3 years in which several people contacted me to buy DWG files, which I emailed manually, I decided in November 2019 to put BUY buttons at my past projects. Pay with PayPal or Credit Card and receive editable DWG file automatically in your email, similar with like how I am selling databases for last 7 years.
In case of building designs, selling is experimental, because I do not know what expectations will have each customer, and if a floor plan not made for YOU (made for a previous customer or from personal interest) will suit YOUR needs. If you want to purchase multiple floor plans, contact me for a discount.
Small apartment block in Nigeria
4-unit apartment block designed in AutoCAD at full details, architectural design service for a customer rather than as hobby. On a plot size of 18 x 36 meters in Lagos, he originally built a single-storey semi-detached house at back and now is building a two-storey block with four 2-bedroom apartments measuring 16 x 10 meters. To save space I designed an one-flight staircase with different position of apartment doors on each floor.
Apartment blocks for small lots
I designed 3D models of BIG buildings but I missed the SMALL ones that most real estate investors may be looking for! The blocks with 2 apartments per floor, but unlike the segmented blocks composed by multiple staircases, they are designed to be individual buildings so windows can be placed on side walls.
The 14 x 10 m I designed in 2013 for a customer desperate to build a walk-up block with 10 apartments on a plot intended for one-family house. Same for 16 x 10 m one.
In same 2013 I designed from personal interest, a block 18 x 15 m with 4-room, a masterpiece in apartment planning efficiency, offering privacy for bedrooms despite of minimal hallways (you can invite guests in living room and they cannot see through bedroom doors). In June 2015 I improved floor plan and also designed a 3D model in Art Deco architectural style.
Buy DWG files
The narrowest apartment block
In 2014 a Indian left this comment looking to build an apartment block on 5 x 12 m lot, including lift. Impossible! In 2016 another Indian asked me to design an apartment for a 4.8 m wide lot, with kitchen in front for Vastu reasons, which turned impossible. This time I am also publish there a drawing to show you what is minimum land required to build a block having on each floor a 2-bedroom apartment: 5 x 15 meters.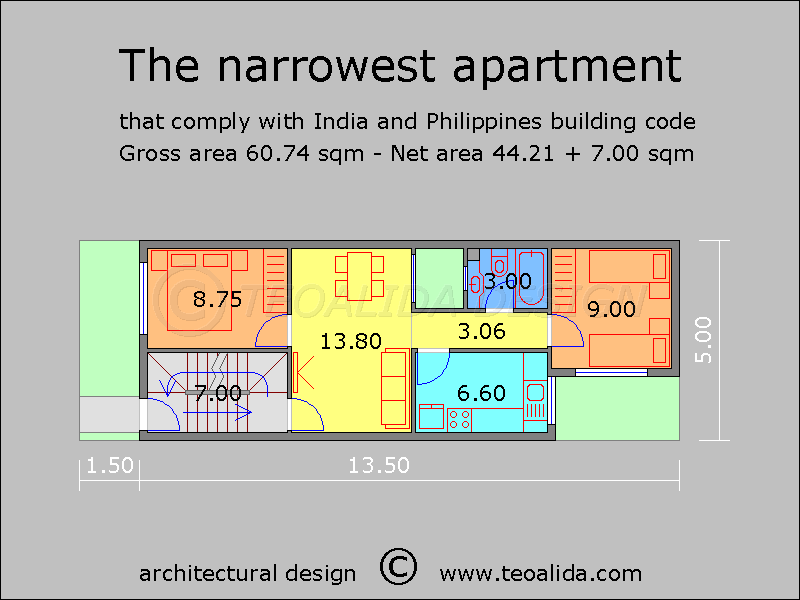 Comparison of different layouts from my apartment block models
2015 compilation (published January 2016)
All floor plans redesigned in metric system, with 10, 20, 30 cm thick walls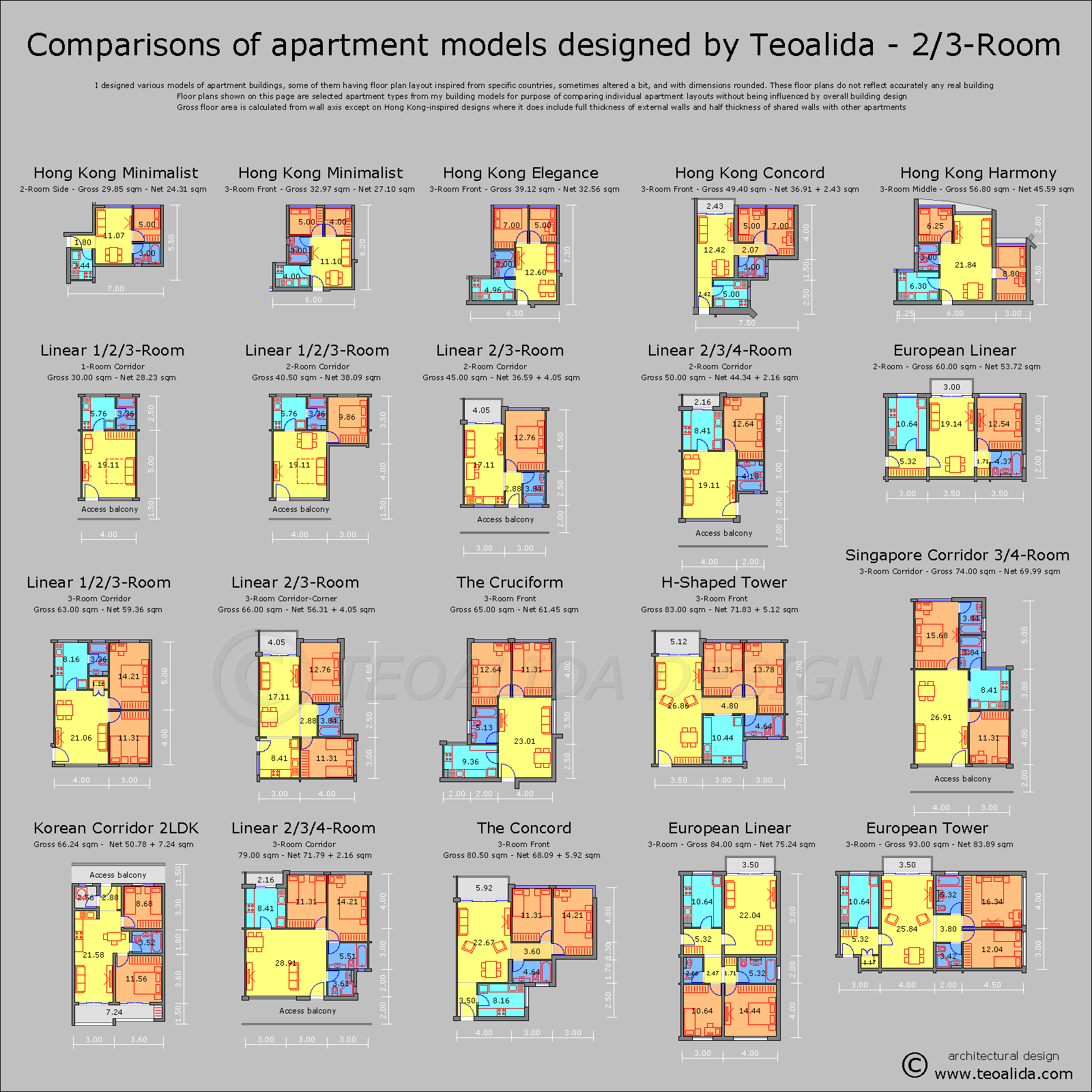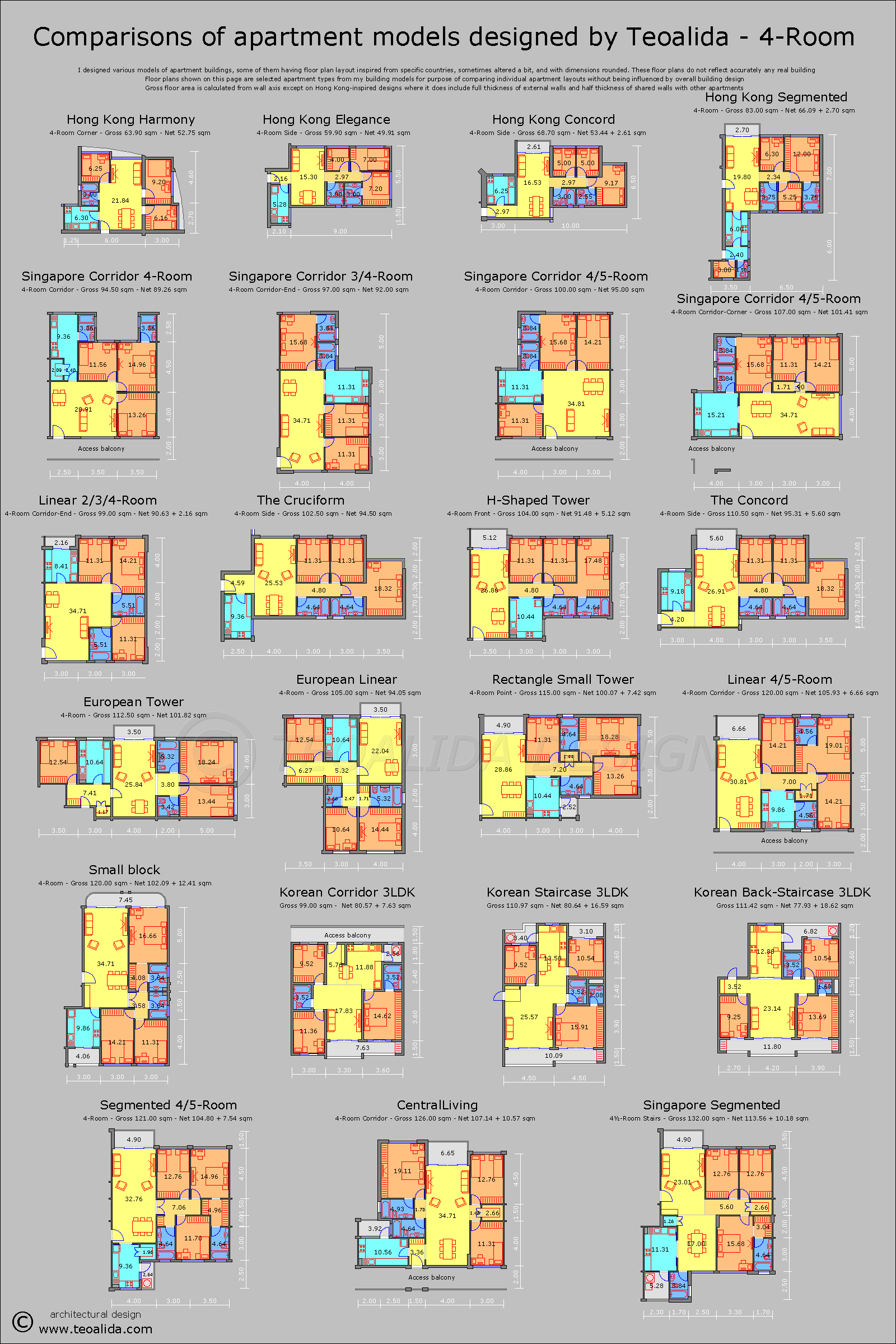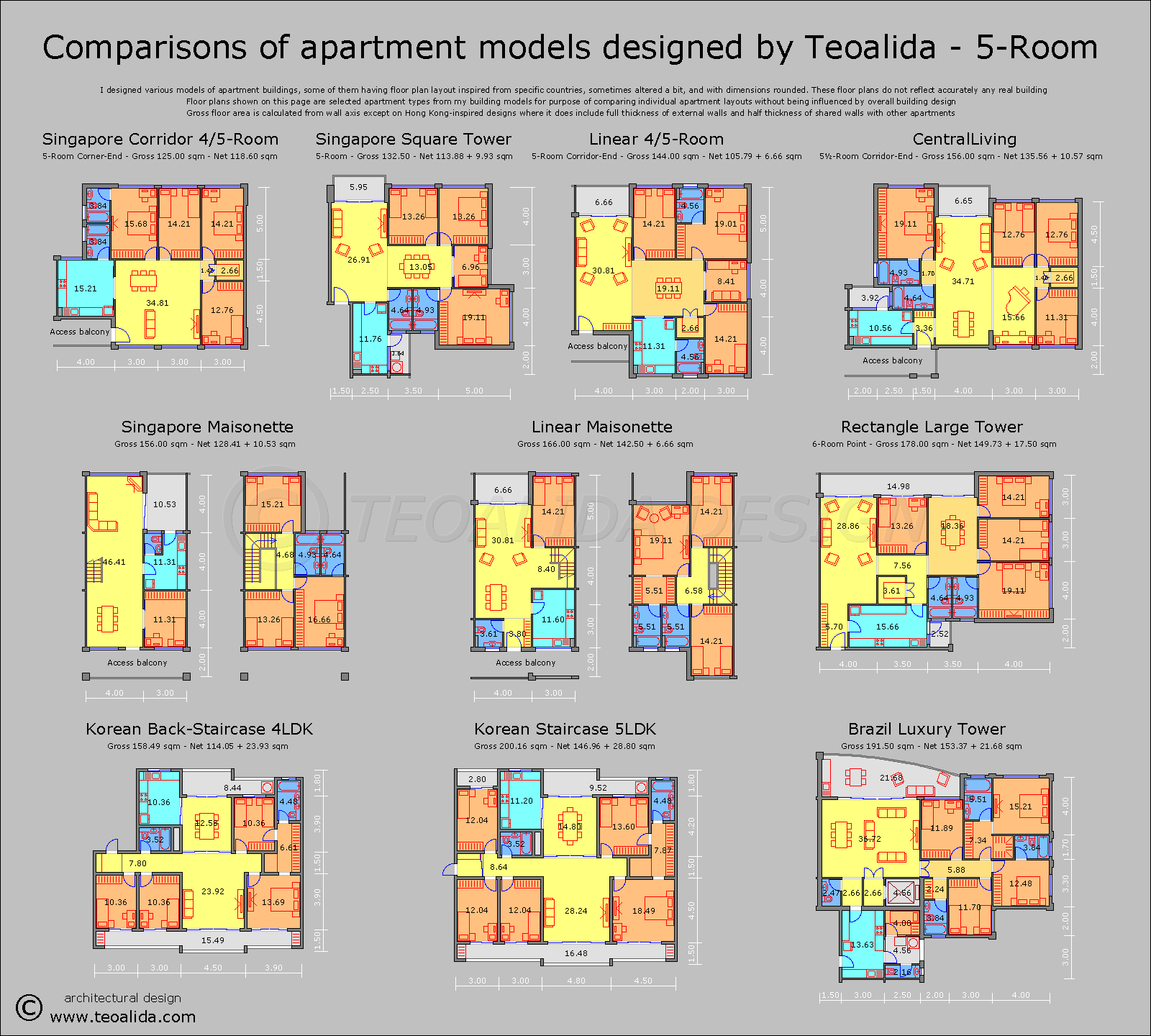 2011 compilation (published January 2012)
All floor plans designed in binary metric system, 12.5 cm internal walls and 31.25 cm thick external walls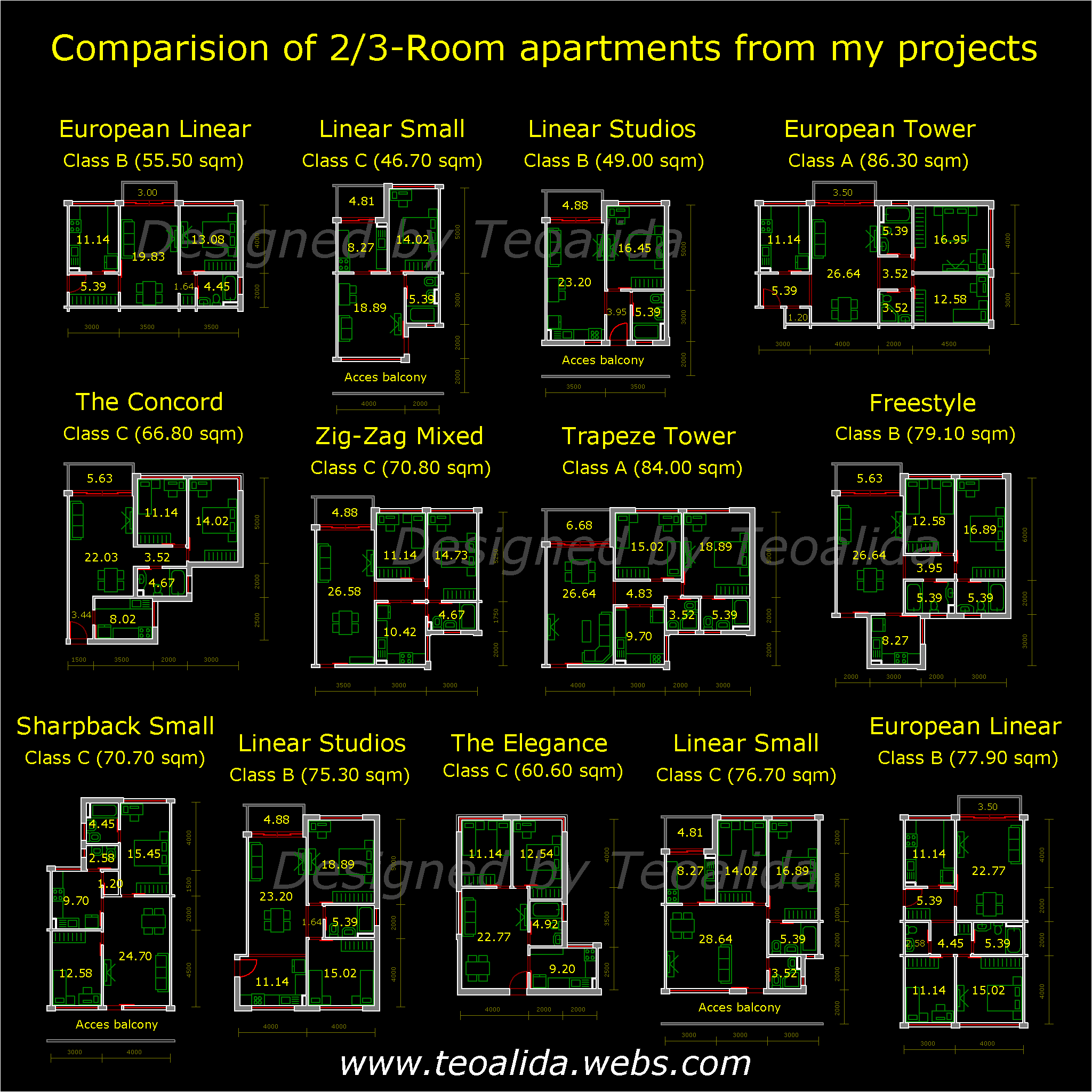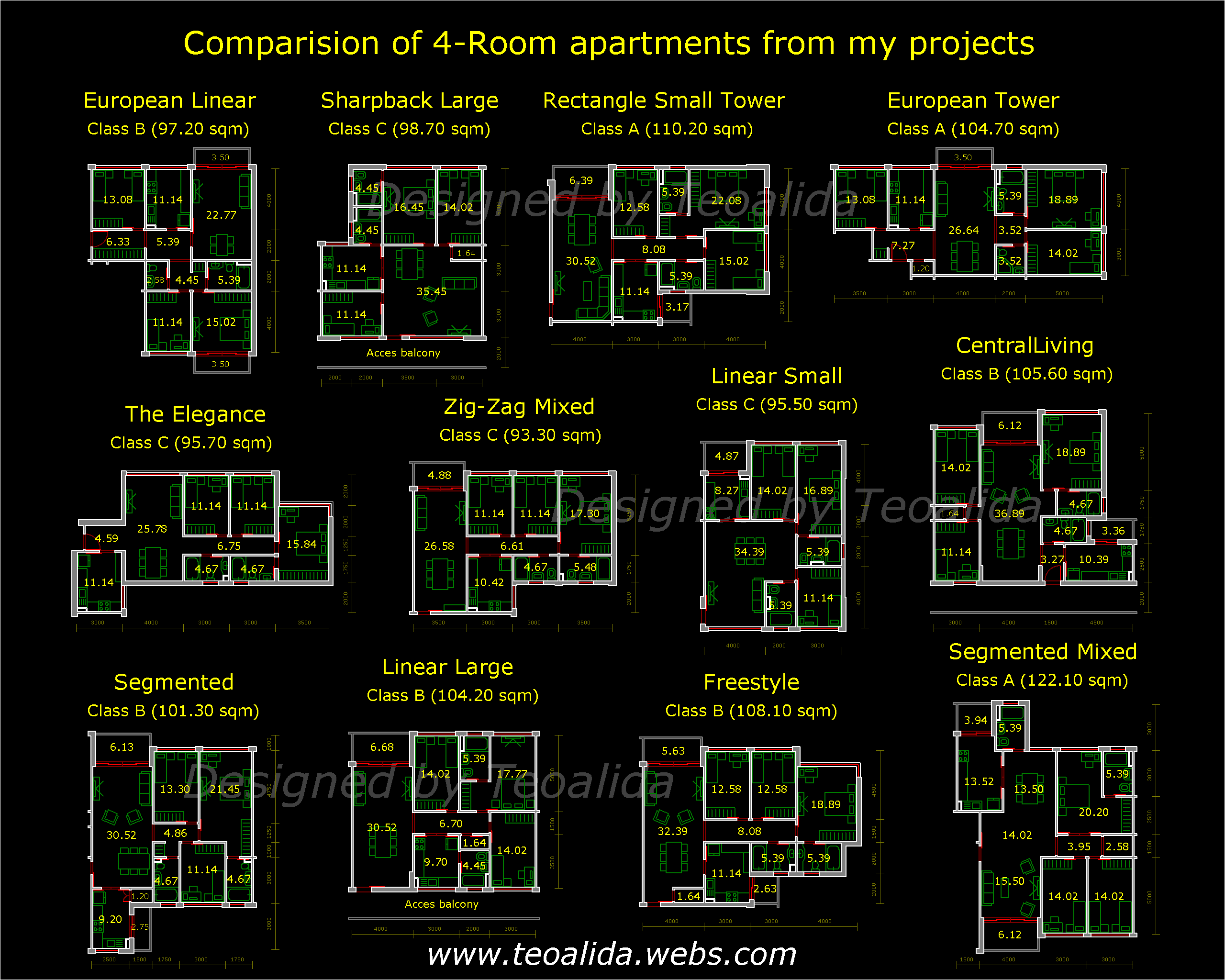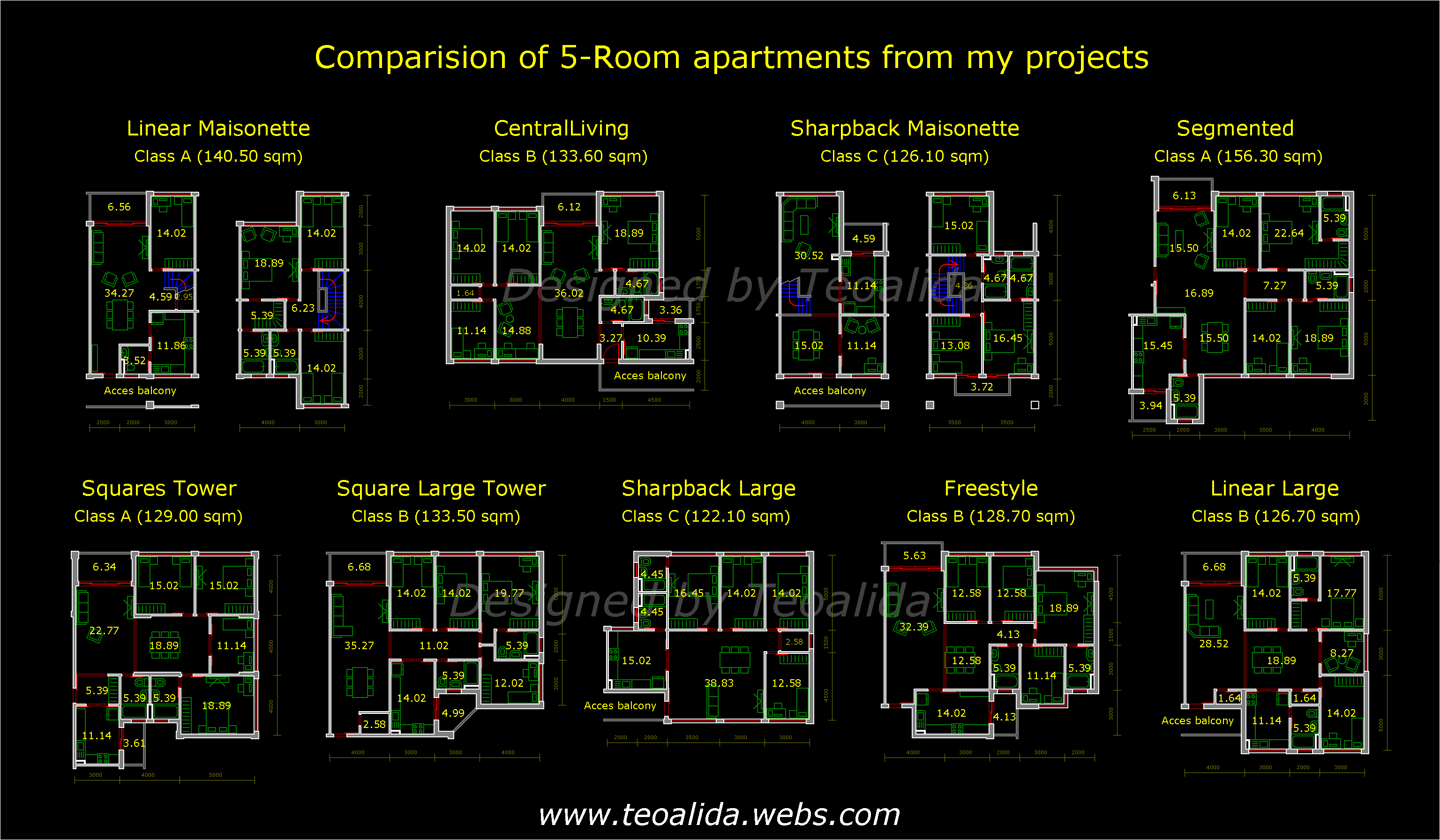 Extremely small apartments from / for Philippines
These floor plans are based on sketches done for real customers. They customers were not interested in a complete project so I finished floor plan as hobby and posted there.
Philippines have the smallest apartments in the world. Room sizes are comparable with Hong Kong, but instead of 2/3-bedroom apartments, in Philippines you can see huge condos dominated by studios and 1-room, for example http://www.smresidencescondo.com/myplace-plan.html with units ranging from 16 sqm studio to 40 sqm 2-bedroom.
European apartments I
Specific rules of apartments in Europe: unlike Asia and America, there are many hallways, typical you enter in a hallway rather than in living room. In some apartments, usually smaller ones, you pass through living room to get in bedrooms. Day and night areas are well separated. Window for bathroom is not mandatory. En-suite bathrooms are uncommon in Europe, usually 3-room apartments have one full bathroom and a WC, 4-room apartments have one bathroom and one WC with shower, but there is no exact rule. The bathroom is always placed in night area, while the WC is usually in day area. Most important rooms are facing south, stairwell can be on both south and north facades, due to this I have no idea how to make all apartments with entrance in day area… is impossible! If you are from Western Europe or have knowledge, please give me some info!
This AutoCAD project is inspired mostly from North Europe (Sweden, Norway, Finland), Germany boost a ratio of 42 sqm per person and only 2.2 persons per dwelling unit. However apartments are smaller, having 2 to 4 rooms, I have no info about average apartment size, many families own both houses and apartments. I heard that 5-room apartments exists, but I never saw them.
In 2009 I was criticized by a British architect, saying that my "ideal city" looks outdated like 1960s social housing. Well, now I really wanted to design something in style of 1960s-1980s European public housing, both capitalist and stalinist-communist. Concept started in 2010 with lack of knowledge. 3D design done, published in March 2012 together with European Landed Houses that have up to 6 bedrooms.
The apartment complex shown in 3D design contains low-rise blocks with 40 apartments and high-rise blocks again with 40 apartments, in 120×56 sqm of land there are 2 low-rise and 1 high-rise block, containing 24 2-room, 64 3-room, 32 4-room. Average apartment size 80 sqm. 179 apartments per hectare.
European apartments II
I have redesigned European series in 2016, making walls 20 cm and 10 cm thick instead of 12.5 cm, the linear walk-up blocks are almost unchanged, Short Tower was changed into walk-up block with balconies pushed inside and smaller rooms, Long Tower received larger balconies and smaller rooms, also I added few additional block types.
Linear Small
Linear Small (formerly called Old Generation) is the cheaper pair of Linear Large, livingroom is facing to common corridor, which made me to call it a Class C project. Designed in 2009.
Short version, 64 meters length, 8 units per floor of 2-, 3- and 4-room. Long version, 76 meters length, 8 units per floor of 3- and 4-room. And of course, other versions. The floor plan and 3D model made in AutoCAD shows half of short version and half of long version.
Buy DWG files
Linear Large
Linear Large (formerly called New Generation) is the pair and opposite of Linear Small (formerly called Old Generation), all livingrooms and (almost) all bedrooms are facing opposite common corridor. 8 standard types of apartments ranging from 84 to 133 sqm, plus other custom types for non 90° joints, placed along a common corridor, can form various shapes. The 104 sqm 4-Room Middle is "base", most common apartment, made me to classify as Class B block, even if the 3-Room Angled apartment is bigger, due to big livingroom caused by block regulated facade. Floor plans and 3D models designed in AutoCAD in 2009.
Shape examples: 61 by 48 meters L-shape with 8 units per floor, 4- and 5-Room; 88 by 48 meters S-shape with 16 units per floor, 4- and 5-Room; 64-meter diameter Octagon with 16 units per floor, only 3-Room, or other more complicated shapes.
Buy DWG files
Linear Maisonette
Linear Maisonette (Formerly named Maisonette Generation) is a Class B project, 14-meter width block with flat facades. Floor plan shows version with 8 units per floor, 60 meters length, the 3D model shows version with 12 units per floor, 88 meters length, at 28 meters apart. 140 sqm apartments of 7 meters width, 4 bedrooms, 3 baths, walk-in wardrobe for master bedroom. Maisonette (sometimes misspelled Mansionette) is almost a worldwide term which means two-storey apartments. Designed in 2009.
Buy DWG files
Singapore Corridor 3/4-Room
Formerly called Sharpback Small, Class C project inspired by the most common apartment blocks built in Singapore between 1975 and 1990: New Generation with 3-Room (67 / 82 sqm) and 4-Room on endings (92 sqm). Model A with 3-Room (75 sqm) and 4-Room on endings (105 sqm). These are gross areas (includes wall areas), not net areas (usable areas), for comparison, my gross areas are 76 / 90 / 104 sqm. I improved it by inverting kitchen with master bedroom and re-proportioned it in a non-equal livingroom and bedrooms widths, to form a livingroom – master bedroom ratio of 3:2 and a smaller kitchen, rather than Singapore equally-sized livingroom and kitchen.
The great 14-meter block width and narrow apartment plan means a high land usage efficiency, the block length is variable, and the proportions obtained from 7/8-metre apartments with 3/4-metre rooms creates a beautiful facade, BUT… what do you think about the floorplan?
Buy DWG files
2015 minor redesign


Singapore Corridor 4/5-Room
Formerly called Sharpback Large, Class C project inspired by the blocks built Singapore between 1985 and 2000, but due to combination of different floorplans, like this, this and this and many modifications, it is barely similar with any Singapore block. Can be built in many shapes, I, U, L, also the corners of Sharpback Large can be combined with the middle of Sharpback Small. BUT… what do you think about the floorplan?
Buy DWG files
2015 minor redesign, apartments shortened by 50 cm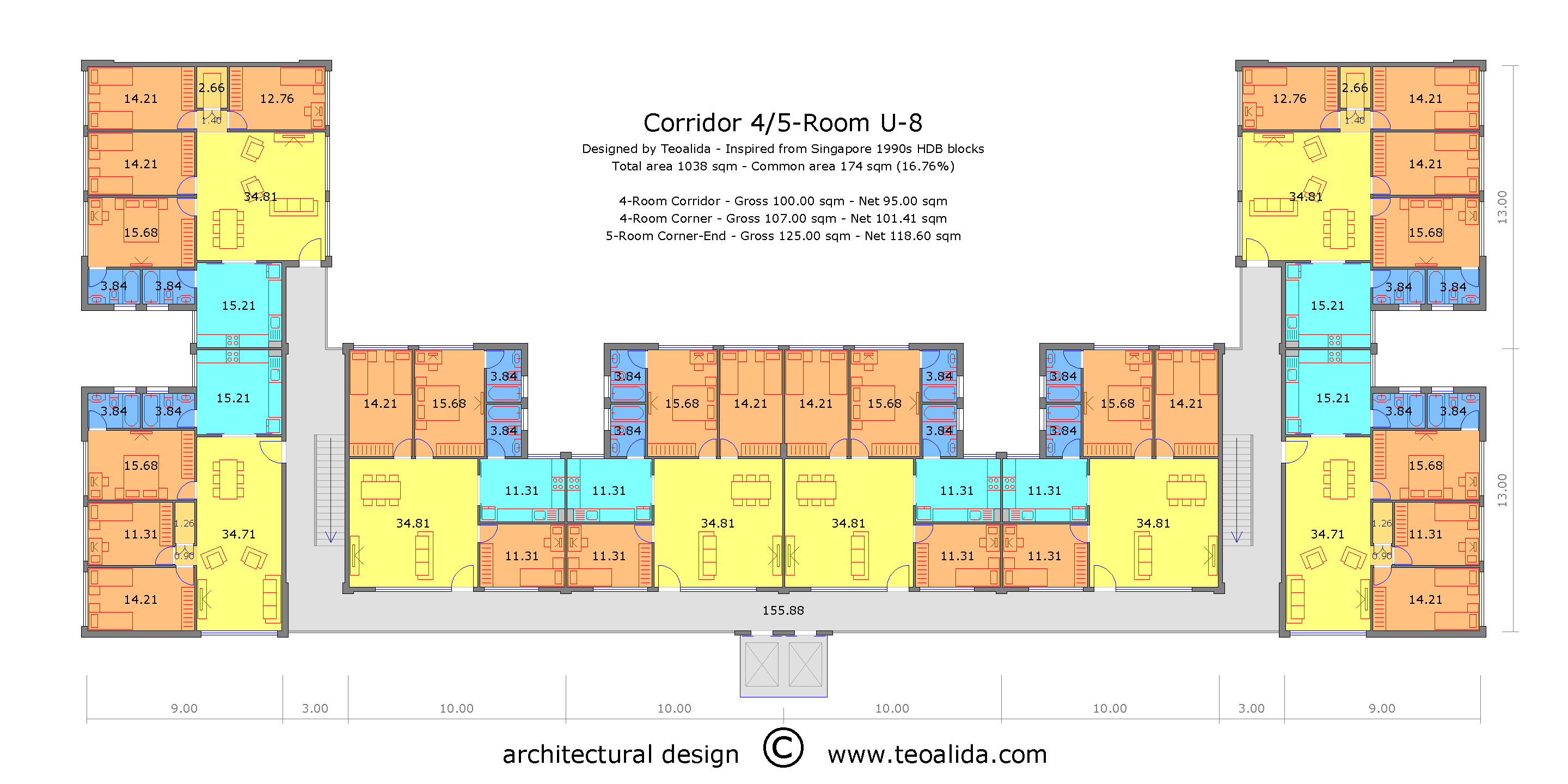 Singapore Segmented 3/4-Room
Combination between Sharpback Small and Sharpback Large apartments in Segmented style block. Sharpback is a nickname invented by me for the Singapore blocks having slits on the back facade for kitchens or bedrooms. Designed originally in 2011, redesigned in 2015 and colored.
Buy DWG files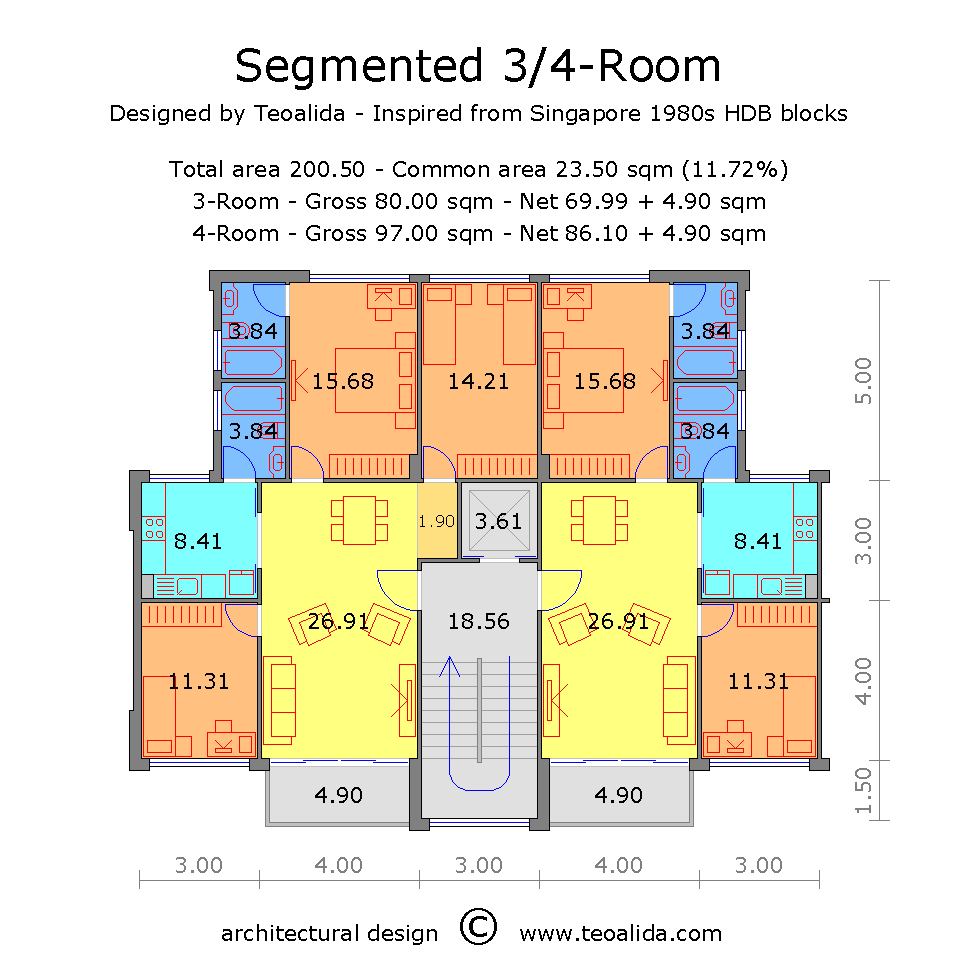 Zig-Zag / Linear-H
Simple and most common block plan found on all continents. Originally designed in 2008 as Class A project with 84 sqm 3-Room apartments same used in Trapeze Tower, was redesigned in 2011 as a Class C block with 70 sqm 3-Room and 93 sqm 4-Room apartments.
Buy DWG files
2015 minor redesign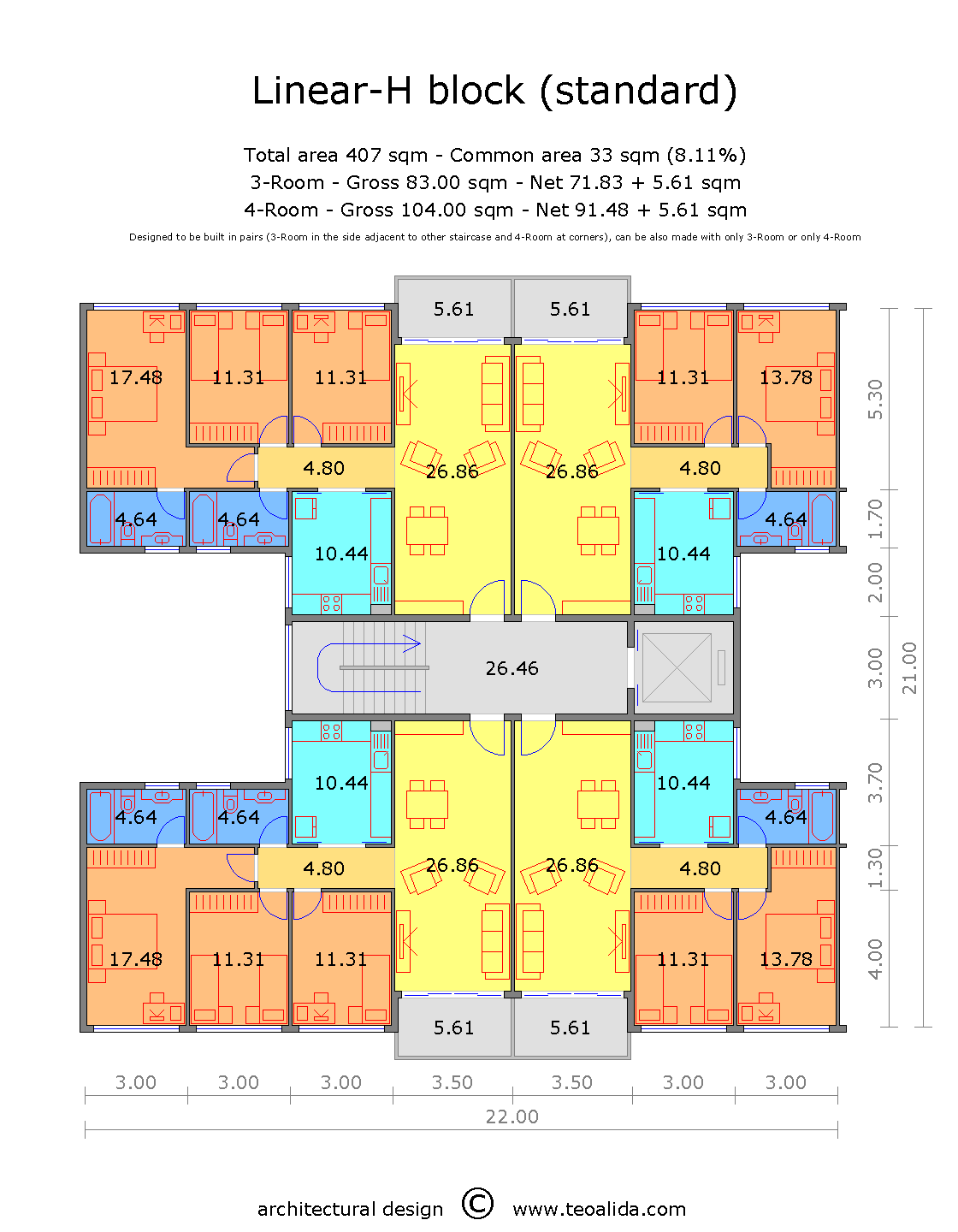 Segmented Mixed
Class A project with only 2 apartments per floor, it have one of the highest land usage efficiency due to great building width. Design inspired from the 5-Room Improved slab blocks built in Singapore between 1975 and 1985, having living + dining + 3 bedrooms, around 120 sqm. I improved the design by pushing master bath to inside, formed a bigger L-shaped master bedroom, added balconies to kitchens, and other small dimension changes which slightly enlarged the apartments. Then I derived the 5-Room End and 4-Room Angled. The 3D model shows the version with 6 of 4-Room and 2 of 5-Room at endings, 96 metres length.
Buy DWG files
2015 redesign, dimensions reduced a bit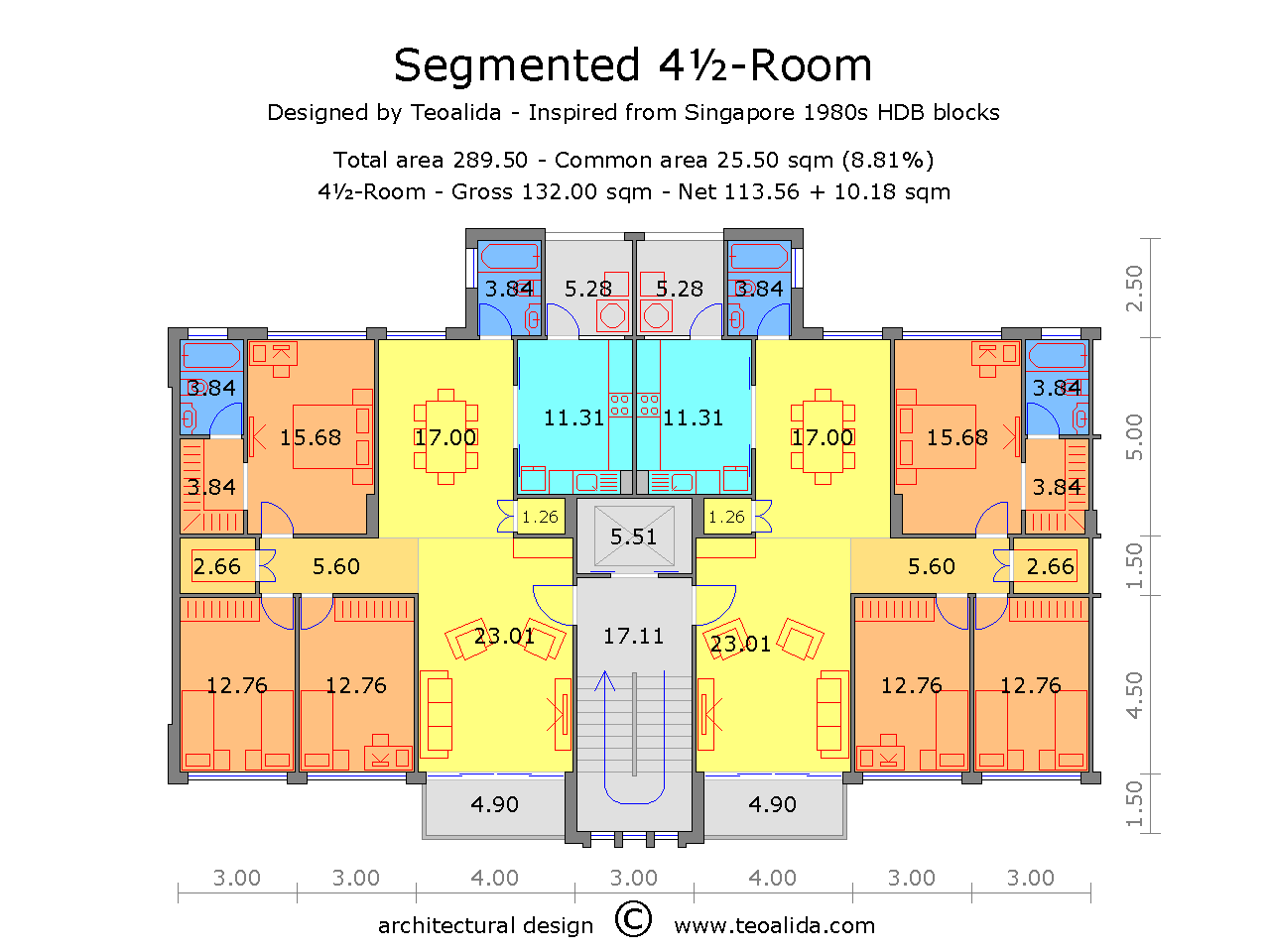 New Segmented
New layout inspired from… hmm, can't decide! Staircase-style block are very common in South Korea, but with a different layout, longer and thinner. Some day I will make 3D design too.
Buy DWG files
2011 design vs 2015 minor redesign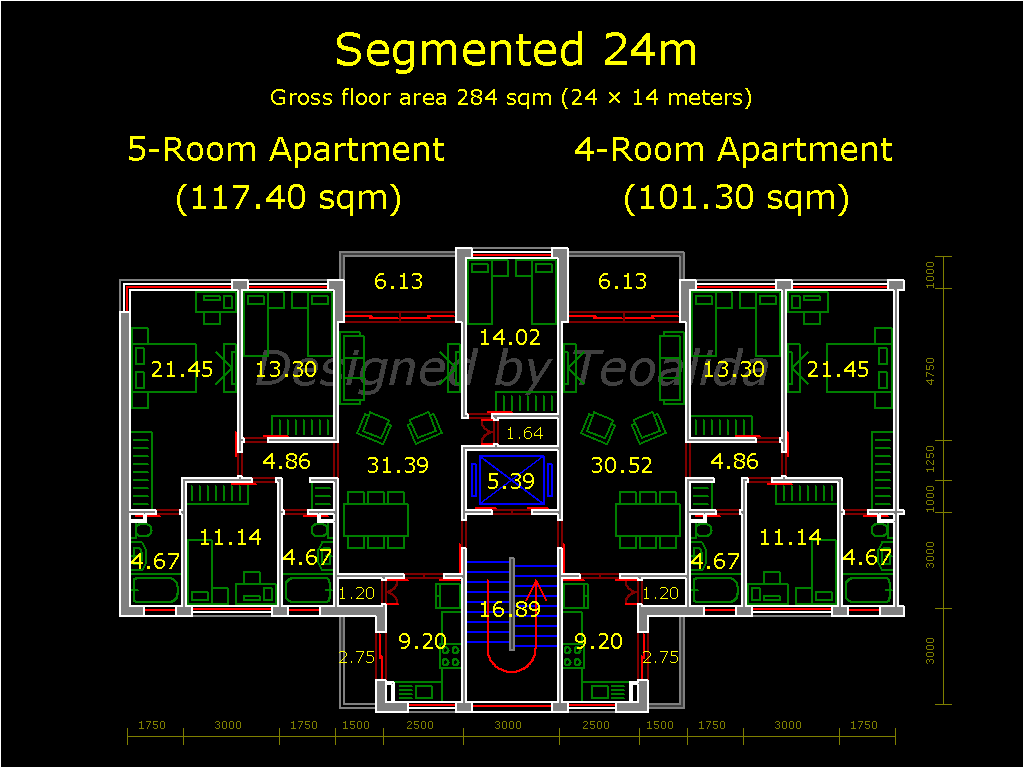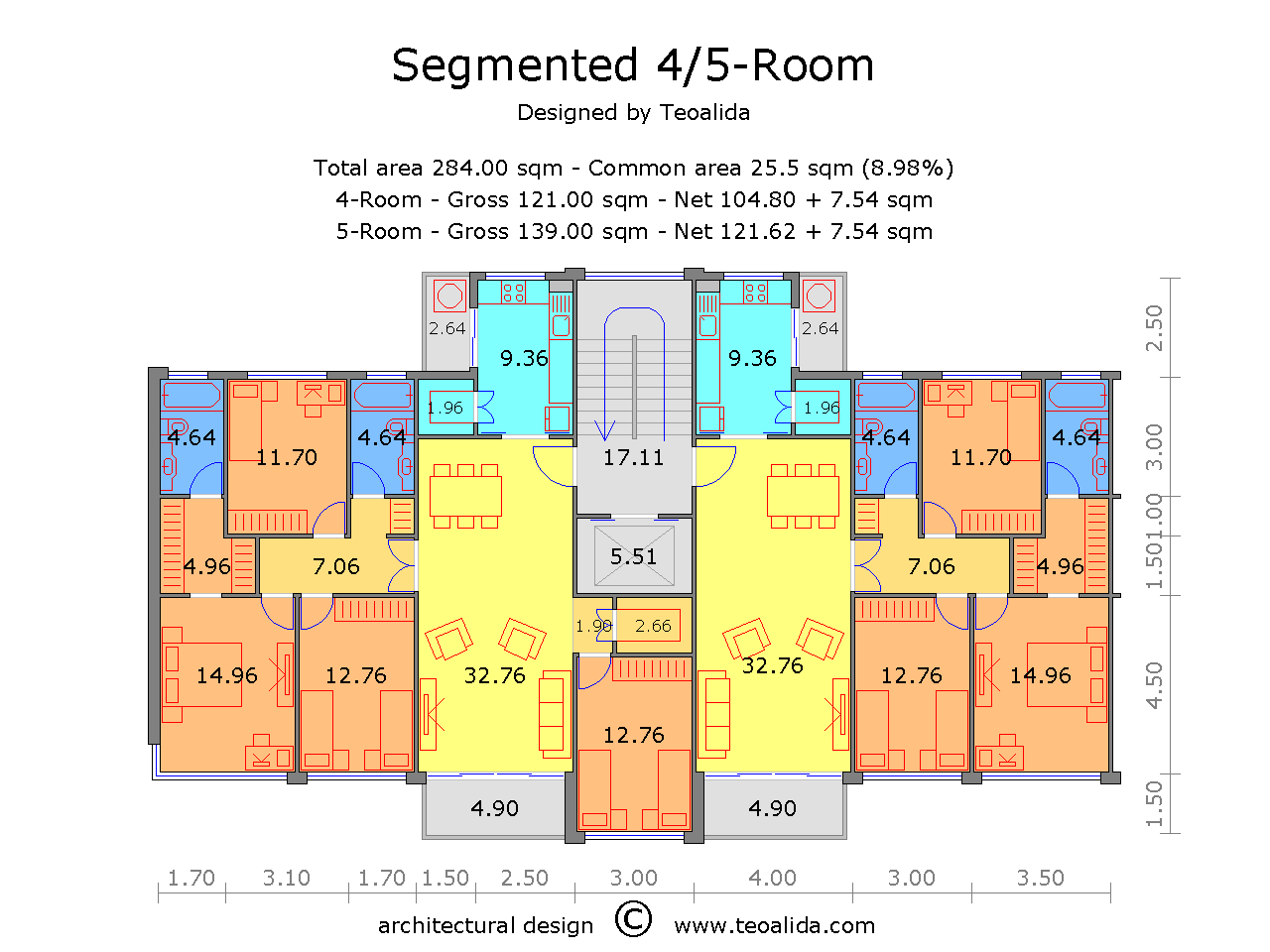 Triangular blocks
Two triangle shaped buildings based on a 4 meters grid, made in AutoCAD in early 2009, 10 meters width, all living rooms and bedrooms are facing to outer facade and all kitchens are facing to inner courtyard.
Small version with 9 units per floor, 44 meters facades @ 18 meters from centre, 3D design not adapted to the new rules yet.
Large version with 12 units per floor, 48 meters facades @ 22 meters from centre and 8 meters facades @ 30 meters from centre.
The small version have advantage of bigger apartments and disadvantage of centrally-placed livingroom, but this disadvantage made possible to design a regulated symmetrical block with odd number of apartments per floor!
Buy DWG files
Freestyle
This is my most complex apartment project so far made in AutoCAD (formerly called Freedom Generation), started in late 2009. Design inspired from 2000s housing projects built in various Asian cities, a variety of apartment plans of different classes, from 1-bedroom to 4-bedroom units, 50 sq m / 550 sq ft to 130 sq m / 1400 sq ft or over, are joined in pairs on wings, linked with a central core (staircase and lifts) by bridge-corridors. The freedom of shape variations is nearly unlimited. Some kitchens are facing inside.
U-shaped 472
After designing numerous individual blocks during my first year, I planned to design a condo-like project in November 2009. I choose a U-shape composed by 7 blocks each with 3 wings of 2 apartments, that apparently makes entire complex to look like a single building, and a multi-storey carpark in the middle.
I considered it ugly, having a single building and too monotonous facade on other side, so I never finished it, I never wasted time trying to connect carpark to blocks. I rather decided to abandon it and to start a better, second condo project: Freestyle Linear 1024!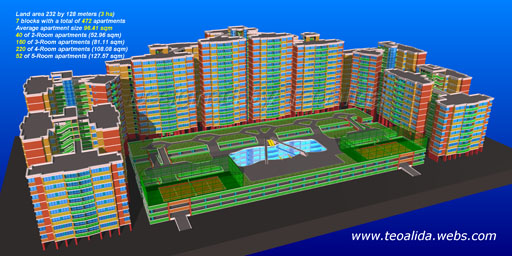 Linear 1024
This project is not only a masterpiece in Computer Aided Design, but also a fully functional condominium featuring one of the best layouts possible!
After designing the Freestyle U-Shaped 472 condo having apparently a single ugly block and varying roof line, I planned to design a modern condo with exactly 1024 apartments, and uniform design dominated by long linear blocks with facades with continuous horizontal lines. Full-height windows were a later idea. The development is composed by six 100-meter long blocks and four 60-meter long blocks provide a mix of 384/320/320 units of 3/4/5-room apartments, and proportional sizes (73 / 96 / 122 sqm net floor areas). The 5-rm units gets the best views, but some 3-rm and 4-rm also get direct pool view!
Distance between blocks: 30 meters between main facades, 20 meters between side facades, and 60 meters across pool. Land size: 6.45 hectares (288 by 224 meters). Density: 158.7 dwelling units per hectare.
All blocks are oriented in same direction (east-west), typical in equatorial countries like Singapore and Malaysia to minimize sun inside apartments, while the oversized olympic pool is oriented north-south to get sunshine all day long between blocks. There are 4 spaces between blocks, usable for more pools, tennis courts oriented north-south (as they should be), barbecue pit and other facilities. Clubhouse rooftop is used as basketball court. The single-storey basement carpark spreading over entire area of apartment complex provide space for parking about 1040 cars and a large amount of greenery. Drop-off porch and covered walkways are not necessary, you can drive through carpark and stop at just 16 meters from each lift.
For all curious guys who ask how much time took me to do this big project, I can say that designing spread over one year, starting in early 2011, I cannot estimate actual time of working, because I let it waiting until new ideas came in my mind.
Due to few customers and paid projects in 2012, I had to delay such hobby/artistic projects.
The drawing is still not finished, but decided to publish it in August 2012 because I no longer have TIME to continue such projects, and anyway it looks complete. I may post later more plans and 3D photos.
Next things to do may be recolouring each block in own colour, redesign the clubhouse, add children playgrounds (although they will overload drawing for no reason, AutoCAD is already crashing due to drawing size), feel free to give new ideas!
I already made in late 2011 plans and began a third condo, composed by 8 or 10 zig-zag shaped blocks arranged in 4 lines, varying height from 8 to 16 floors, probably 708 apartments… but, because since 2012 I concentrate time on PAID work, I am doubt if I will ever have time to finish it.
Rectangle Small Tower
Class A project mainly based on 4-meter grid. 4-Room apartments (livingroom, 2 bedrooms, and a smaller studyroom) and 5-Room duplex penthouses at the top. The floorplan is my idea, no inspiration from any real building. Can have 2 versions: 32 by 20 meters (shown in floorplan) and 28 by 24 meters, the single difference is position of core with staircase and lifts, the size of apartments or core is the same. The 3D models shows both versions.
Designed originally in December 2008, redesigned 2010.
Buy DWG files
Rectangle Large Tower
Image to be added
Buy DWG files
Square Towers
Class B projects, not inspired from any real building in the world. Designed in May 2009.
Small version, 26 by 24 meters, 100 sqm 4-room apartments, concurrent for Rectangle Small Tower.
Large version, 28 by 28 meters, 135 sqm 5-room apartments and potential for 200+ sqm 6/7-room penthouse, concurrent for Squares Tower (there is a name conflict here!).
Are they better than Rectangle Small and Squares Tower, or not?
Trapezoid Tower
Like all my 2008 projects, this is another Class A block based on 4-meter grid, designed in AutoCAD with no inspiration from any real building. Two 24 meters wide wings @ 14 meters from center (3-Room apartment) and one 28 meters wide wing @ 20 meters from center (4-Room apartment).
Buy DWG files
Squares Tower
Tower block design in AutoCAD inspired from the point blocks built in Singapore between 1970 and 1985, which are 26×26 metres and have 117-125 sqm 5-room flats (living room, dining-family room, plus three bedrooms). See floor plan + photo of actual building.
Designed in December 2008, enlarged to 28×28 metres and, like all my 2008 projects, was based on a 4-metre grid, and added study at end of dining room. This creates a more versatile layout as seen in floor plan, the study room can become walk-in-wardrobe for master bedroom, or can be enlarged to a full bedroom if the other bedroom is merged with the dining to create a big 8×6 metres piano concert room.
Buy DWG files
In 2011 I designed a second version closer to original HDB floor plan, redesigned in 2015 in colorful floor plan.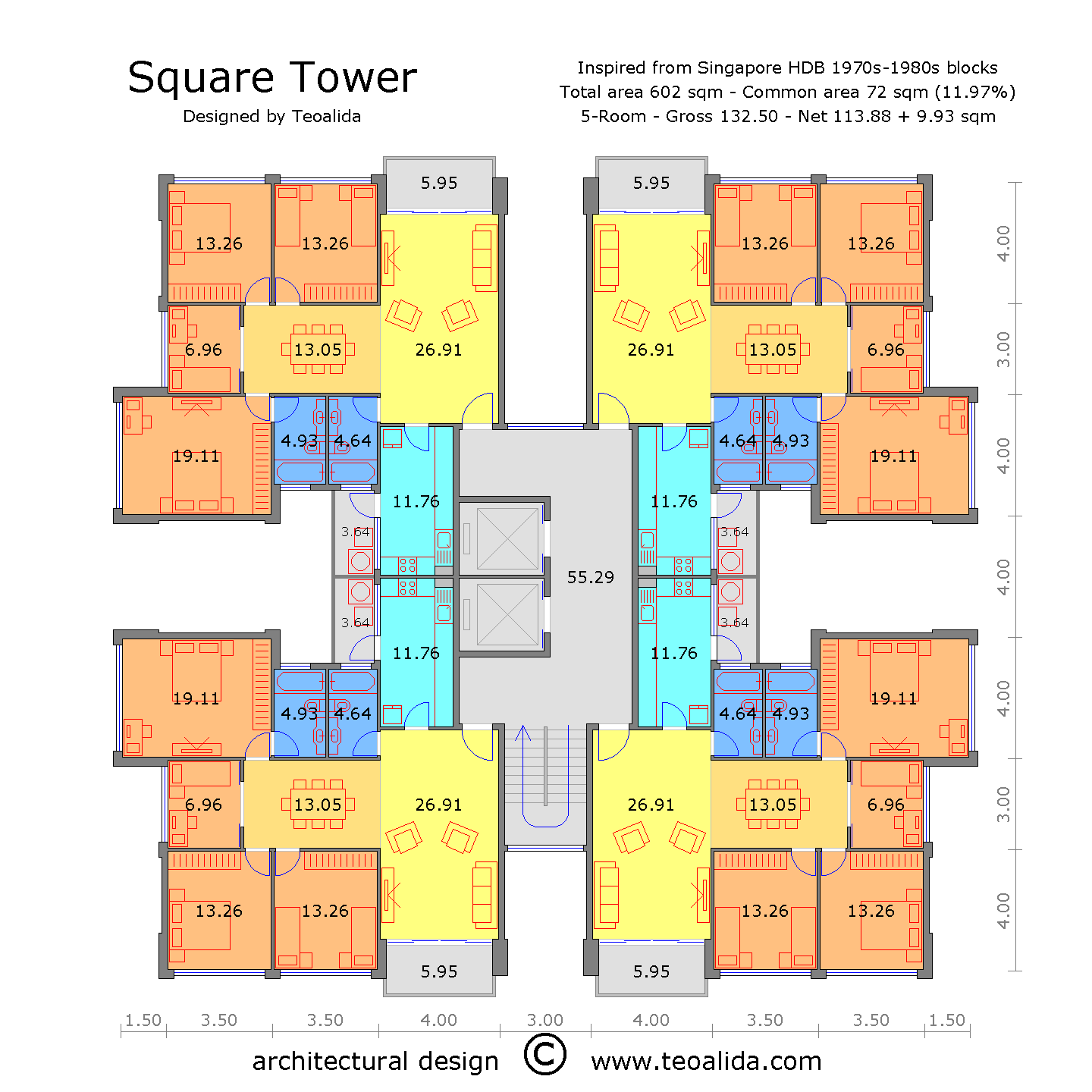 Triangle Tower
Probably one of my most beautiful early projects made in AutoCAD, with 4-Room apartments and 5-Room duplex penthouses, classified as Class B due to size of smaller bedrooms. The wide floorplan and enormous staircase core with space for 4 lifts allows it to be built up to 32 storey skyscraper. Designed in May 2009, redesigned 2010. It eliminate a previous project named Hexagon Tower. There are a lot of triangular towers around the world that are less or more similar with my design, including Bishan Loft.
Buy DWG files
Low-cost housing complex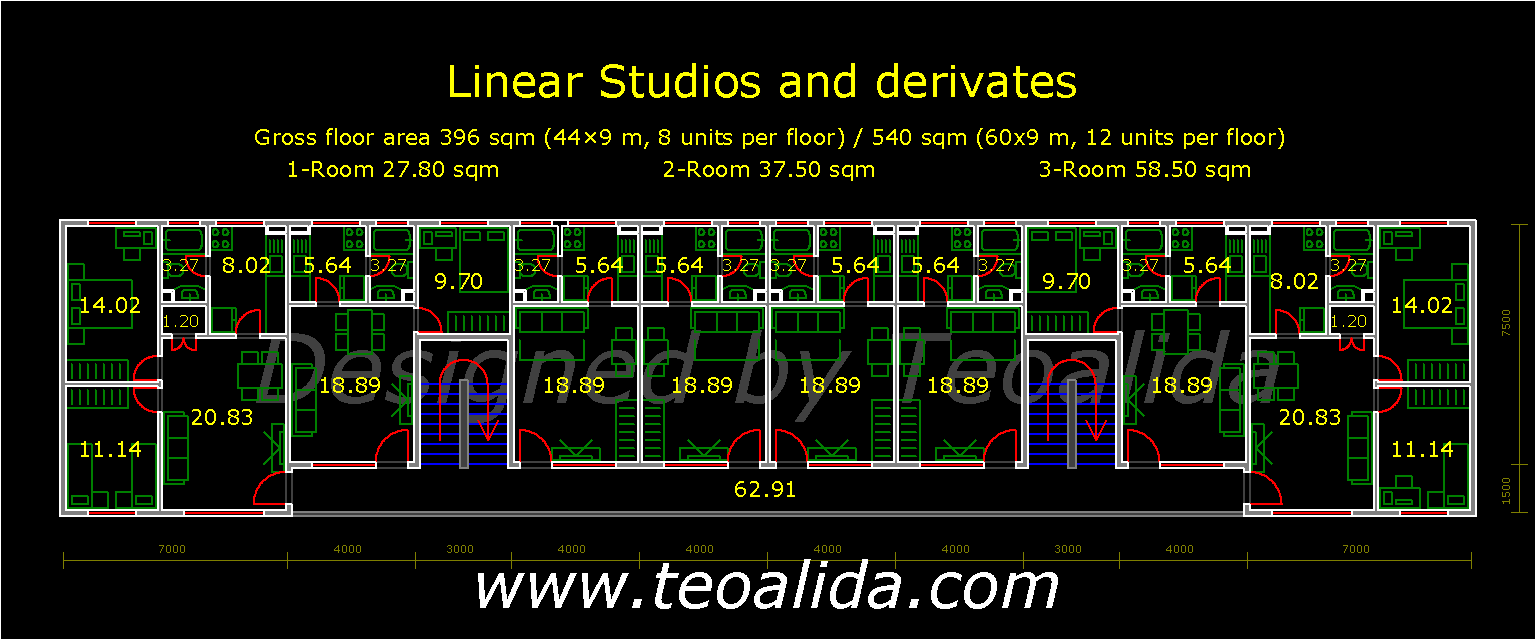 This is the FIRST apartment block designed at someone's request, in early 2012. An Indian developer asked me to design 20-30 sq m low-cost studio unite that will be provided for slums dwellers.
I designed 3 proposals and emailed him, asking to choose with which one to proceed further, he replied that will come with a detailed answer next week, but this never happened.
Because other people asked me for studio apartment, in 2013 I published one of 3 proposals designed for him, the corridor inspired from Singapore SIT and HDB rental blocks built in 1950-1960s but also since 2008 to present, with 1/2-room units, kitchen separated from living room, and toilet in kitchen is a tradition in Singapore.
In 2015 I made additional designs inspired from 1950s segmented blocks built by SIT in Singapore. I intended to design as a low-cost housing complex with 1-room to 4-room apartments, suitable for third-world countries of Asia and Africa, I was planning to make also a 3D design, but never found enough time for this.
Buy DWG files
Linear 2/3-Room
Formerly called Linear Studios, designed in 2011, this is a Class B project similar with Singapore all-Studio blocks built after 2000, which have 35/45 sqm 2-Room Studio flat, but for my project I added 3-Room flats for corners, then the floorplan have some inspiration from Japan, with open kitchen. Can be designed in many shapes, I chosen a U-shape with 12 units per floor.
Buy DWG files
2011 original design vs 2015 major redesign, apartments downsized.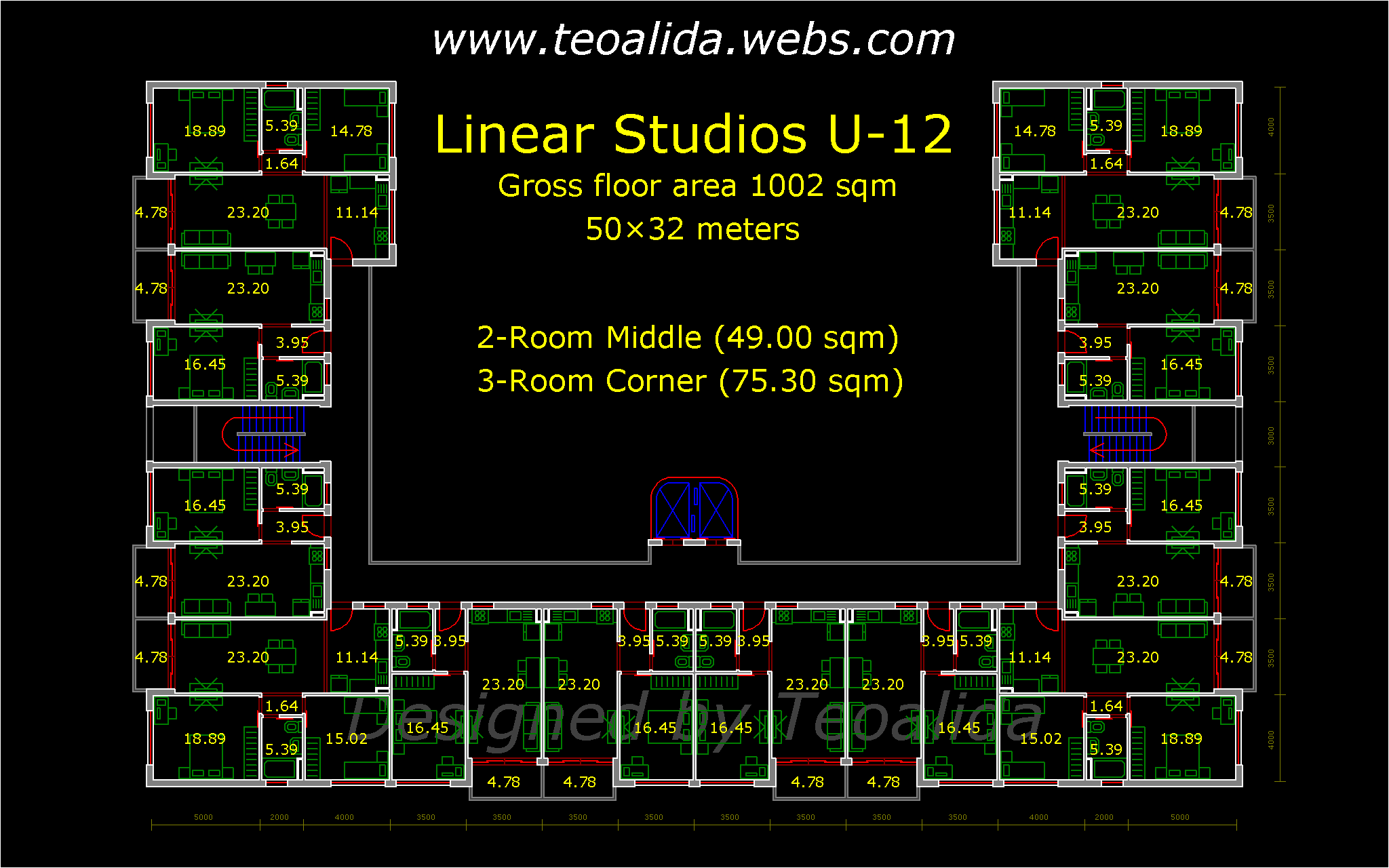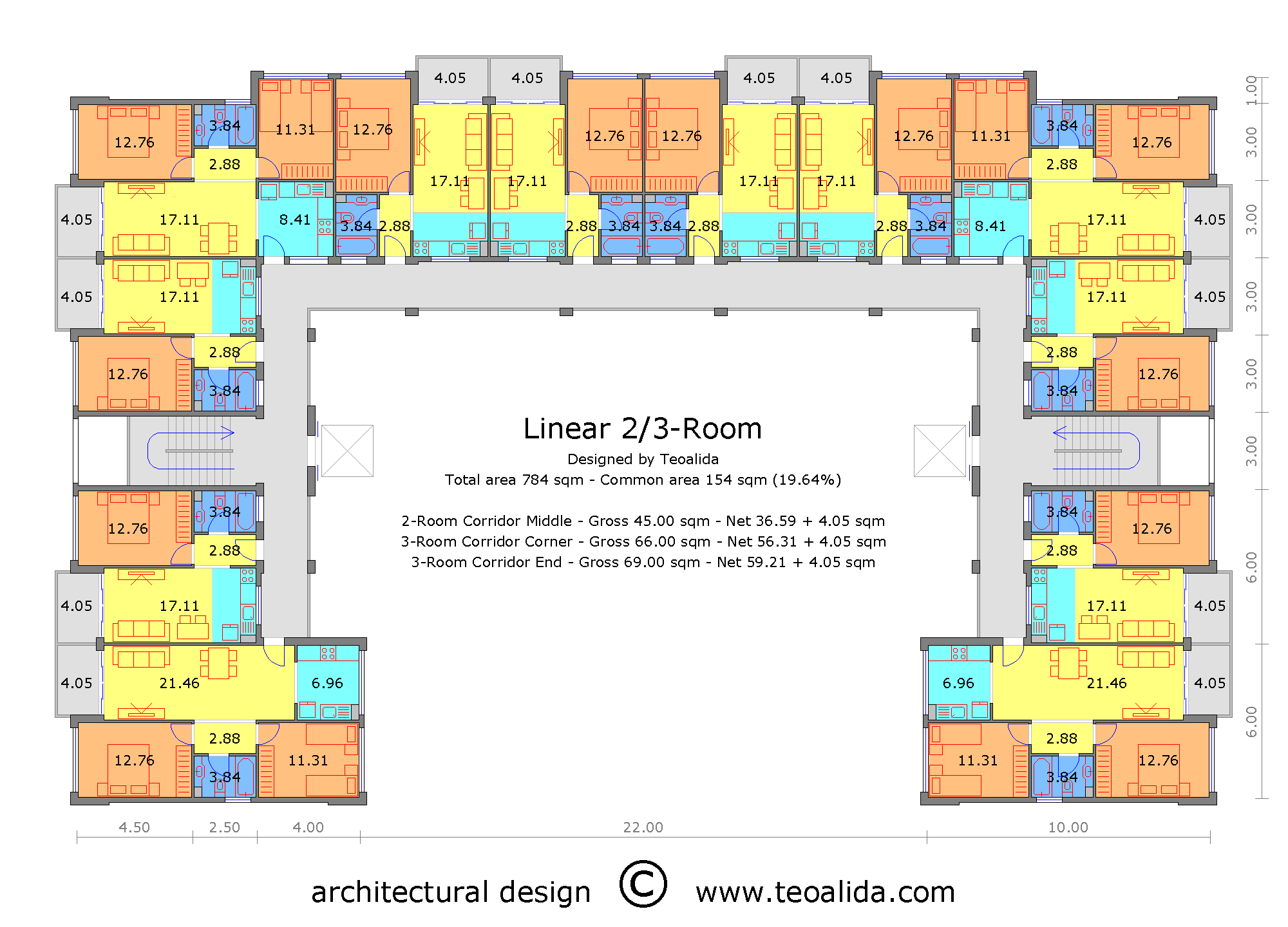 Hong Kong series I
Hong Kong architects are masters in space optimizing and crowding people in small apartments. So I spent 3 months studying it (January-March 2011), to create my own 6 projects inspired from it, but finally I realized 8 projects in AutoCAD.
Who the fuck needs a 100 square meters apartment? Now I prove that with a good design, a family of 4 can live comfortable in a 60 sqm apartment. With this occasion, I also fully designed the structural elements and I added dimensions on floor plans, as requested by my fans (website visitors).
The Harmony, inspired from the public housing blocks with same name, with 16 units per floor, mixed 2-room to 4-room, designed to be the cheapest of all projects, so is similar in size with the real block, But was improved with curved facades and a very nice color scheme.
The Concord, barely similar with the public housing blocks with same name, because I mixed it with ideas from Flexi blocks, thus I eliminated the windows facing each other in 90-degree angle (unless you arrange them in L-shape, like in 3D photo), more than that, I also added balconies and bay windows with dark glass to make it looking like private housing. Apartments are 10% larger than real block.
Another 2 projects inspired from public housing, with 8 and 10 apartments per floor, these have exaggerated apartment sizes 10-25% larger than original ones. I am not planning any 3D design for them… yet.
The next 4 projects are inspired from most common private housing design, with 8 units per floor. The Elegance is similar for example with Sunshine City and Yee Fung Garden. The Grandeur allows various combinations of its 5 apartment types. 40, 50, 60, 70 sqm… I am working at 3D designs.
Sick of the apartment sizes?
You did not saw yet The Miminalist… my attempt to create the smallest possible apartments, this one is the truly similar with Hong Kong birdcage apartments. OK… hope nobody will built such 30 sqm shoeboxes…
Thinking that you saw the smallest possible apartments?
You are wrong, check the dedicated page for Hong Kong real apartments, especially the Garden Rivera where 3-room apartments are only 242 sq ft / 23 sqm, including wall thickness (it inspired my The Minimalist). How people are living in such pigeon holes? Look on gohome.com.hk for floor plans and interior photos of Garden Rivera apartments, and imagine yourself.
Hong Kong series II
I halted designing of all Hong Kong-inspired projects until I will take a decision to design them more for fun/artistic or more authentic.
The Series I apartments were too big and not properly optimized. In January 2012 I redesigned 5 of them, now based on metric system, to match Hong Kong laws, gross floor area calculated from wall face rather than wall axis, unit gross areas include full thickness of external walls and half thickness of shared walls. Walls are 10 cm thick walls instead of than 12.5 cm, bedrooms are 2×2.5 m instead of 2.375×2.625 m.
In 2015 I slightly improved the floor plans and redesigned in colorful style.
Hong Kong Series with International-sized apartments
In October 2011 I redesigned 3 designs inspired from but using my own standards in terms of apartments sizes, similar with Singapore and rest of world (bedrooms 3×4 m, living room 4×6 – 4×7 m, etc).
Floor plans redesigned in January 2016 in colorful format and metric system with 10 cm thick walls instead of 12.5 cm. 3D models remains as designed in 2011.
Luxury apartment tower
This luxury apartment design showcase ability to offer multiple layout options within same apartment, 190 sqm standard apartments composed by 4 bedrooms of which 2 suites, 3 bedroom suites + study, 3 bedroom suites + enlarged living room, as well as 350 sqm duplex penthouses with rooftop jacuzzi. Completed with private lifts and maid rooms. Design inspired from high-end real estate developments of Brazil.
Designed originally in 2012 for hobby when I decided to post on website after making 3D model, but never found time for 3D. Colored in 2016 and published for first time.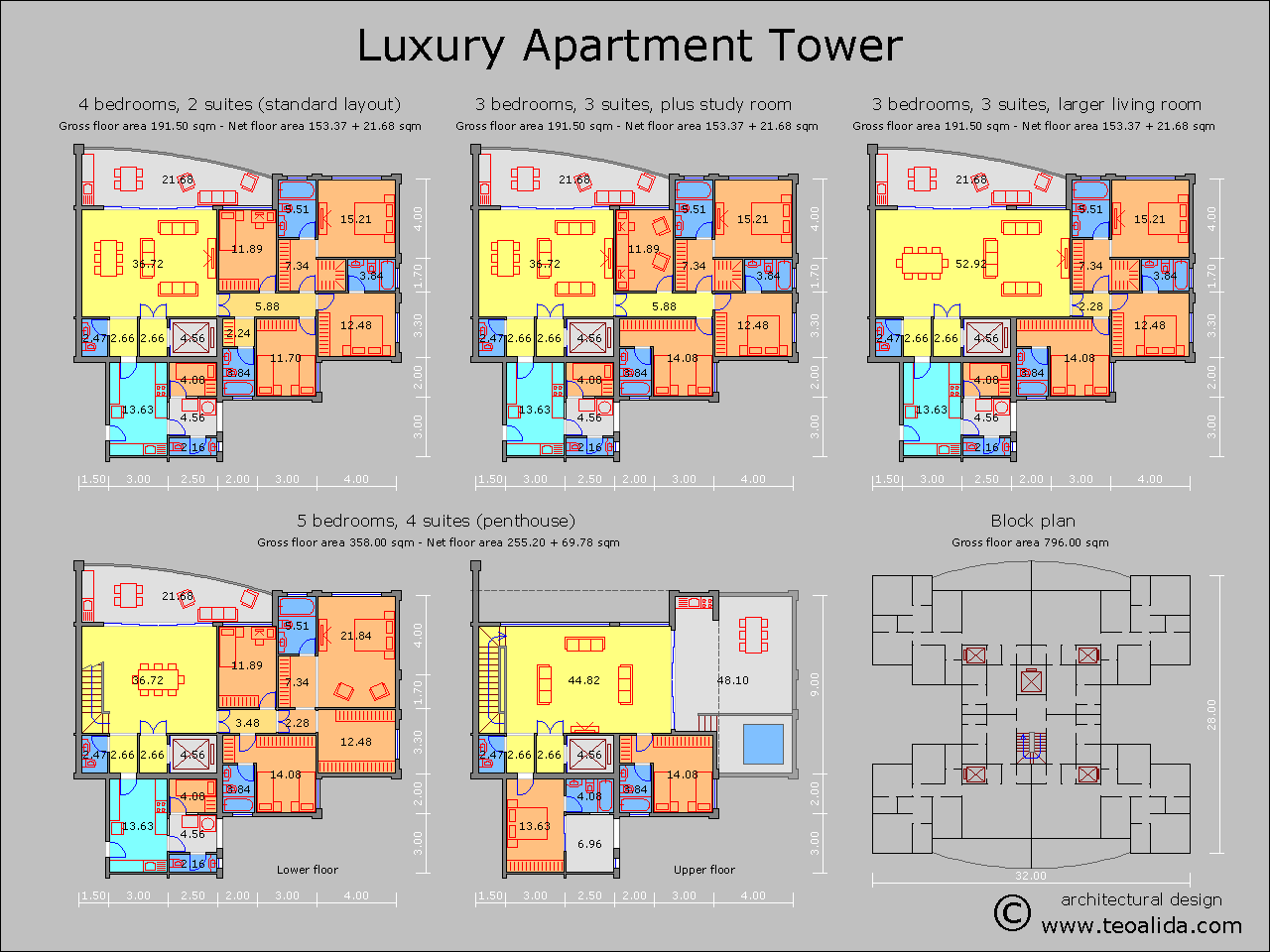 Low cost & High-density housing
This is the apartment version from the same family with the High-Density landed housing. Inspired from Mexico and designed based on 3-meter grid. I improved them by enlarging room sizes and placing a lot of green space. Block size: 42×18 meters. Site plan can be designed in 2 versions: 60×32 meters, with side parking and 14 m between block facades, and 48×40 meters with front parking, 22 meters between front facades. Both will have same density, 166.67 apartments / hectare. Designed in August 2011.
Split-level apartment block, one of most common block types in Brazil public housing. I slightly enlarged the apartments to 50 sqm and 64 sqm and placed the blocks in Zig-Zag pattern to provide privacy and comfort, avoiding bedrooms facing each other on airwells, yet maintaining high density. The 16-apartments blocks have 17 meters width and 40 meters between street axles, resulting a density up to 235.30 apartments per hectare. Designed in January 2012.
Other block types inspired from same Brazil, with 46, 60 and 80 sqm. Designed in January 2012.
Sick of apartment sizes?
Real Mexico apartments have only 3-rm apartments (50 sqm) and the bedrooms are small as 3×3 meters, while in Brazil there is some variations in apartment sizes but most bedrooms are 2.5×3.25 meters. In both countries space between buildings can be only 4 meters and green space does not exist in public housing estates.
Low cost & High-density housing II
New floor plans inspired from Latin America, designed using 3.5 x 2.5 m bedrooms, 2.5 x 1.5 m bathrooms, and 1 m wide hallways, all dimensions are divisible by 50 cm, making a nice layout from artistic point of view. They were designed in 2014 and colored later to publish on website.