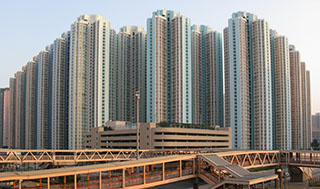 Hong Kong Housing Authority was formed in 1954, soon after a major file in Shek Kip Mei left 53000 people homeless on christmas day of 1953.
Shek Kip Mei Estate, the first public housing estate, was ready in 1954. The "flats" were just one room of 120 square feet, kitchen and bathrooms were communal, shared by all floor residents. Original plan was to allocate 24 square feet (2.2 square meters) per adult and half that for each child under 12. But due to the extreme shortage in available housing, a flat was shared by more than one family, 10-15 people per room were common in its first years, and during summer months, people were sleeping also on corridors.
Lower Ngau Tau Kok Estate, built in early 1960s, was in the first group of estates built with lifts. All blocks were 16-floor high, elevators were stopping at ground, 8th and 13th floors.