I have a portfolio of 50+ house plans and 50+ apartment plans, designed from personal interest (artistic hobby / training) as well as for various customers, from 2008 to around 2016 when I retired from architecture for more profitable IT industry. Thank you to these customers, they convinced me that architecture is the WORST profession for me.
After a year of hiatus, since 2017 I made a team of architects who can design new projects in my place.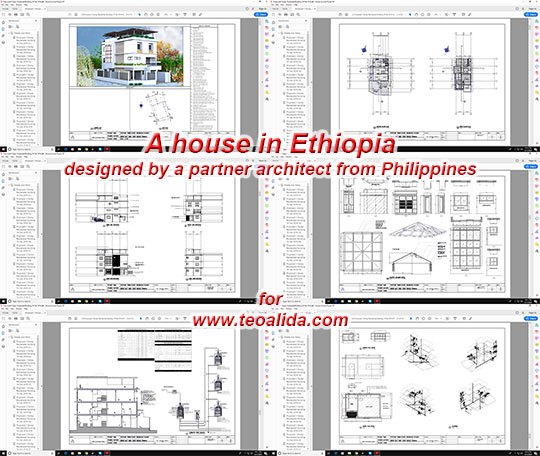 a
Simply answering chats and emails, discuss project requirements to quote a price, is a waste of time if 90% never pay, only 10% have paid me and only after seeing (part of) work done. After payment, some customers were not satisfied or changed mind so I had to do changes (wasting my time from doing other jobs) then I cannot sell same design to multiple people (like how I sell databases) because in architecture each customer have different requirements, making whole profession of architect a waste of time.
Website traffic rose from 100 visitors per day in 2012 to 1000 visitors per day in 2015, thus is more profitable to sell completed projects instead of making projects on request basis. Very few people buy floor plan drawings compared with IT companies buying databases, so I no longer like architecture, and the customers needing new projects I pass to other architects who do not have other jobs and can work whole month on a single house project.
As 2020, ~20 people contact me every day, mostly IT companies enquiring about purchase databases, thus I avoid wasting too much time chatting with people enquiring about architecture, to identify if you are serious or not, since most of them never pay as explained above. 90% people contact me for free consultation, free plans, being in early planning stage and not ready to pay an architect, some people were willing to pay but much lower than standard fees in architecture, etc, these people don't deserve my attention.
Price of service offered by me (2012-2016)
My fees were based on number of rooms (bedrooms, living room, family room, study room, but not kitchen and smaller rooms).
Third-world countries (India, Pakistan, Burma, Indonesia, Philippines, rest of Africa, etc) pay prices listed below.
Middle-income countries (Malaysia, Thailand, Latin America, Middle East to Maroc, South Africa, etc) pay 1.5x more.
High-income countries (Europe, United States, Canada, Australia, Singapore, etc) pay 2x more.
Single-family houses:
Simple floor plan (example PNG / example PDF) = $20 × number of rooms.
This job takes 1-2 hours when designing according my own rules, but when designing for customers, it can take few hours or days depending by how many revisions do you ask.
Detailed floor plan, elevations, sections (example PNG) + 3D design = $100 × number of rooms.
This job take 10-20 hours if your requirements are clear, including talking about every detail, it can stretch on days / weeks if you ask many revisions and slow email communication instead of chat. Simple 3D design of JUN's house took 3-4 hours, high-detail 3D geometry like Trianon Palace took about 100 hours.
Multi-family houses: for 2 or more identical houses, price will rise with 25% of the price of initial house.
Apartment blocks: gross floor area up to 400 sqm = $400, up to 800 sqm = $600, up to 1600 sqm = $800, up to 3200 sqm = $1000, and so on.
I do not have a revision limit, because I can show you drawing progress and you can suggest changes before finishing it. But some customers asked changes back and forth, disturbing my schedule, delaying me from doing my "other business". While may be logical to charge extra fees from customers asking excessive revisions, the inability to know in advance how much time will take each project determined me to NOT engage in new projects after 2016.
Getting a team of architects
In 2016 an architect from Philippines offered to work from me if I am too busy. Currently I no longer engage personally in architectural designs, instead I pass such jobs to a team of architects, located in India, Kenya, Philippines, Romania and United States.
I do not post their contact info here to prevent people looking for free services to spam each architect. I lost 2 architects (no longer want projects for me) after I sent him few "non-serious customers who don't pay for services".
I am sorry for the FEW serious customers who wanted to pay me and have project done by me, but I CANNOT continue offering a service when most people want house plans for FREE. I never been to university (I self-taught), while my partners have diploma from architecture university, they offered to work for me if I am too busy but seeing their high experience and cheap prices I decided to pass them ALL architectural projects, to free my time so I can focus on IT / data providing industry. It is for benefits or both ME and YOU, to have your project done by my partner architects.
I am hiring architects
If you are architect or studying architecture, have some free time and want a part-time job, you are welcome to be my partner. Show your portfolio!
If your experience is limited to Paper to CAD conversion or 3D modeling based on floorplans provided by me, I do not need you. I need real architects that can communicate with my customers, understand project details, negotiate price, make a floorplan without any reference and be prepared to revise it until customer is happy. You can take payments from customers and pay me a referral fee, or instruct customers to pay me and I pay you, keeping my fee.
Having a portfolio website like mine will help customers I am sending you to trust you. I cannot guarantee a constant flow of customers so you need to have other jobs too. Also I cannot guarantee that every lead I am sending you will pay. Any suggestions how to reduce number of time-wasters is welcome!
Price of services offered by partner architects (2017-present)
Send me site plan and the following project requirements:
For single family houses: how many floors and rooms do you require?
For apartment blocks: how many floors, apartments per floor and rooms per apartment?
Other requirements: Garage or open carport? Open kitchen or separate room? En-suite toilet in every bedroom or common bathroom? Lift is required, swimming pool or clubhouse?
Alternatively you can choose from sample designs posted on website and suggest changes, photos of local houses taken yourself, or draw yourself a sketch (even a MS Paint or pencil drawing). Confirm that you can PAY for our service, then I will put you in contact with the most suitable architect to discuss rest of project details and negotiate price.
Site plan must indicate location of your property, land dimensions and orientation, category / width of road, some countries require larger setbacks at main roads thus buildable area is reduced. If your land have 90-degrees corners, providing only length and width may allow us making concept designs, but without site plan we cannot guarantee that our design will be best fit for your surroundings.
Indicative price ranges for single family houses or small apartment blocks (<10 units) made by Indian and Philippines architects (American one charge higher):
Concept / preliminary design – $300-600
We study of building codes of your country / city
We design floor plan and elevation (provide you in PDF and AutoCAD file)
We design 3D model and 2 computer generated images taken from the model (provide you PNG and 3D Studio Max file)
Submission drawings – $1000-2000
Floor plan, elevation, detail plans and 3D (done by architect)
Structural analysis report (done by a structural engineer)
Structural plans and details (based on the structural analysis, integrated into plans by architect)
Electrical plans and details (advised and drafted by an electrical engineer but drawn by architect for integration into the plan)
Sanitary plans and details (advised and prepared by a sanitary engineer and done by architect for compilation)
Bill of quantities done by architect
We charge 10-20% higher if the lot is odd-shaped lots or sloped terrain.
Payment
You can send money via PayPal, credit card, bank transfer, Western Union, either to me or to architect I assign for your project. We split the money between architect and engineers, while keeping 10% for me.
My past designs, 50+ house plans and 50+ apartment plans, can be viewed for FREE, with option to buy AutoCAD DWG file if you want to make changes yourself. If you want us to make changes or new designs, you must pay in advance 50% of agreed price. For large projects can pay 30-30-40%.
We no longer make NEW designs without advance payment because we had too many customers promising payments "once satisfied about design" and gone away, effectively wasting time that we could spend working for other (paying) customer.
Revisions: while we don't have a specific limit in number of revisions, if you change mind and want major revisions like changing number of rooms than what we discussed initially, we charge extra $. Even after final payment, we can still revise drawings until you are 100% satisfied.
Strategy
Some of concept designs shown in House plans and Apartment plans pages are made in first years of studying architecture, from my personal interest, without being paid by anyone. Before 2015 I was making 20-minute free sketches, to impress customers hoping they will pay for detailed floor plan, elevations and 3D design afterwards, and to help me training and get new ideas to post on website.
About 10% of sketches designed at requests from customers, I liked the concept and even if customer did not paid, I redesigned them with greater care, sometimes at different dimensions, to publish on website as sample for future customers. Example: Pakistan 20x60ft 20-minute sketch vs final floor plan.
Now, I have a team of professional architects who require advance payment before making any changes in past designs or making new designs.
I noticed that professional architecture firms do not display many floor plans on their website, I also came across few customers ready to pay an architect after they visited other pages of my website, for example Building codes or Housing in Philippines WITHOUT seeing actual portfolio (the House plans and Apartment plans pages). I think whenever was not necessary to display 50+ floor plans on website to get paying customers, and displaying them just made me spammed by people requesting floor plans for FREE.
Some people suggested making separate pages for each house plan, and make option to filter by tags, example: India-style, 2-storey, 3-bedroom, 100-200 sqm, modern house, etc (similar with houseplans.com). This system is NOT viable for me having ~100 ready floor plans, unless I have few thousands houses, each with 3D design and floor plans available for immediate purchase.
My initial strategy was NOT to sell my past designs, but rather to impress visitors with my past designs so they can pay for a custom design. However in 2019 I added option to purchase past designs as AutoCAD DWG files (floor plans only) and depending by customer feedback I will add later option to purchase elevations and 3D design too.
Statistics: most downloaded house plans (as 2014).
House & apartment design statistics (Excel file with all my house and apartment designs, one per row, showing room size of each room for calculating gross floor area and compare different housing models).
Fun facts
90% people contact me for free consultation, free plans, being in early planning stage and not ready to pay an architect, these people don't deserve my attention. Please infor me if you ready to PAY an architect, so I can pay more attention to you.
If you want a fast reply, contact me via LiveChat in bottom-right corner of screen. Out of people contacting me via email, which I replied, half did not replied me back (up to 90% in case of Indians, which probably request house designs on multiple websites and by the time I reply them. they are no longer interested in my service).
If you don't receive reply from me, please contact me using LiveChat in lower-right corner of my website. I do not have time to send follow-ups to every person contacting me to ask if you are still interested / ready to pay an architect.
Tell actual owner to contact me: after doing a free sketch, I tried to negotiate price for detailed drawings, customer said that cannot pay because he have no money and is just helping his mom / brother / cousin / boss, to find a good concept plan. But hey, you do not need to pay for first sketch! Instead, you should tell about me to your family, so when they are ready to get started, to come and pay me for detailed drawings.
Don't take cheapest offer: customer sent me a terrible design made by a previous architect, saying that don't like it and asked us to make better design. We quoted $1200 but customer rejected motivating that previous architect charged only $400. Probably they were going to find another cheap and unskilled architect, to make another shitty design, ending in paying more than if you hired skilled architects like us from 1st time.
Personally I use only AutoCAD, my partners use also ArchiCAD, Blender, Revit, 3D Studio Max.