From 2006 got idea to practice my architecture and urban planning talent in The Sims 2, to build a big town from scratch, with high-density apartment-like buildings. The Sims 2 Apartment Life was not launched that times.
I planned several building prototypes, the first ideas was to built functional and nice shaped apartment buildings, only one row at street, and only 1-2 buildings in a lot. But later I choose smaller and more non-functional blocks, simple and cubist blocks without balconies or other decorations, and copy same lots again and again, for time economy.
I created 4 block models:

Linear apartment building, 12×6 units, 6 windows, for 3 × n lots.
Corner apartment building, 10×10 units, 7 windows, for 3 × n lots.
Corner Long apartment building, 14×10 units, 9 windows, for 3 × 2 or 5 × n lots.
Linear Long apartment building, 20 × 6 units, 10 windows, for special cases.
Frontal facades are placed at 4 squares from the lot margins, side facades are placed at 2 squares from lot margins, so in a 3×3 lot can be placed up to 4 blocks, in a 5×5 lot up to 9 blocks. Distance between frontal facades is 18 squares, between back facades is minimum 10 squares.
A thing that really SUCKS: the sun direction is decided at lot creation and saved with it! If you rotate the lot, the sun rotates too, the neighborhood view will become ugly because some buildings will be lightened from wrong directions. Also the shadows of buildings ends wrong at lot limits. The entire wall under a balcony appears wrong in shadow. For a nice neighborhood view, you must turn off shadows, avoid building balconies and avoid rotating lots.
Unlike The Sims 1, you cannot place any walls less than 2 squares from lot limits, so you cannot create buildings that apparently continue from one lot to another.
The Sims 2 Urban Cities built by Teoalida
Now with everything standardized, I started building my first city IslaSegundo in November 2006 and never finished.
If finished, it would had about 260 lots with about 700 apartment blocks.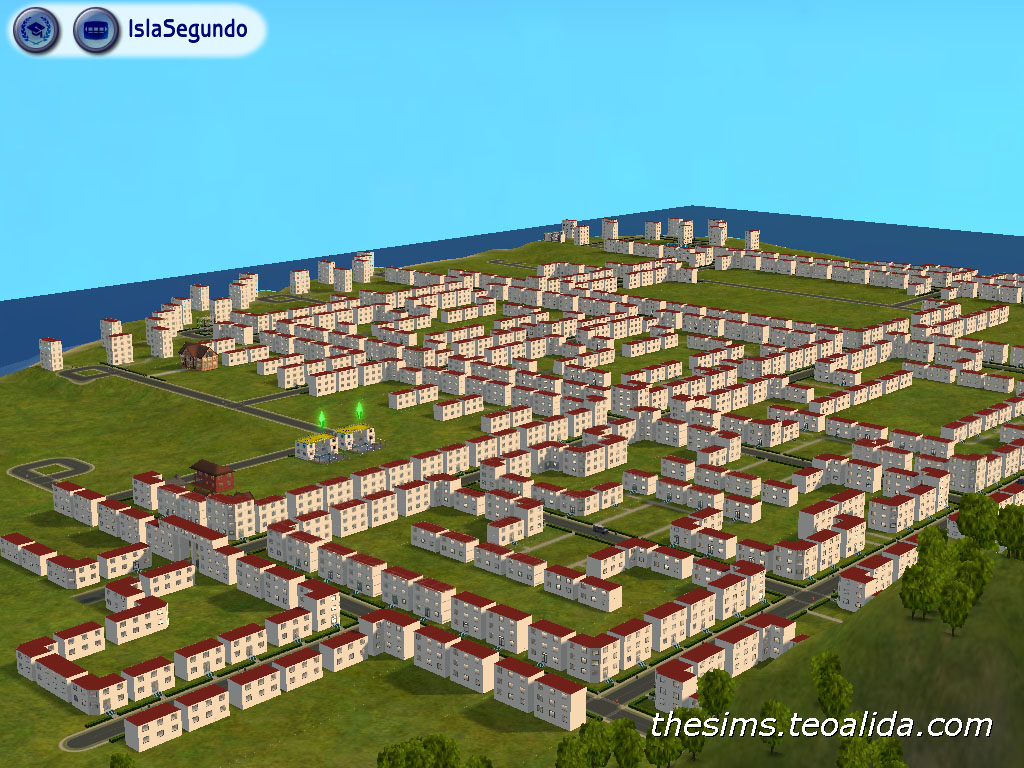 Second city PleasantView in April 2007, second phase done in February 2008.
Total: 81 lots, 17 high-rise blocks, 209 low-rise blocks, 35 landed houses.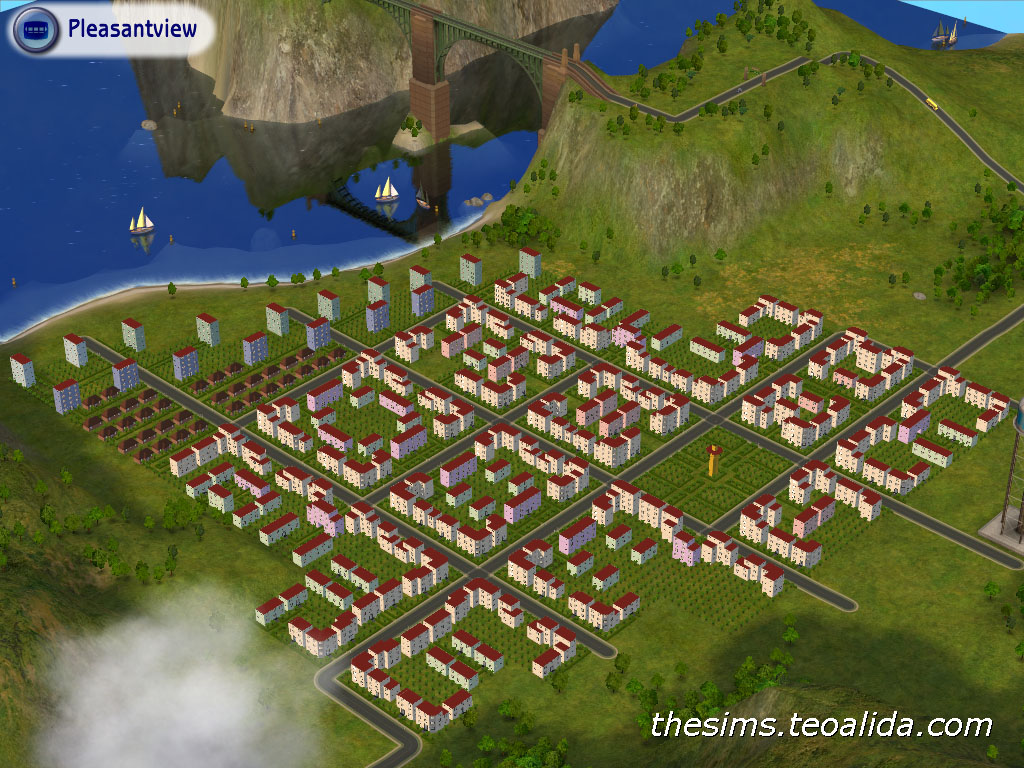 Third city StarlingSprings in February 2008, abandoned in 2010, resumed working in 2016, finalized in 2017.
Total: 231 lots, 55 high-rise blocks, 599 low-rise blocks and 164 landed houses.