In February 2008 I started to built a third The Sims 2 urban town, this time by using University Expansion Pack. I downloaded few user-made maps and choose to use StarlingSprings map because is a medium-sized, flat neighborhood, with dense and regulated street network, plus a river that split the map in two asymmetric zones (the map can be downloaded from modthesims.info or gethanesims.prismbaby.com).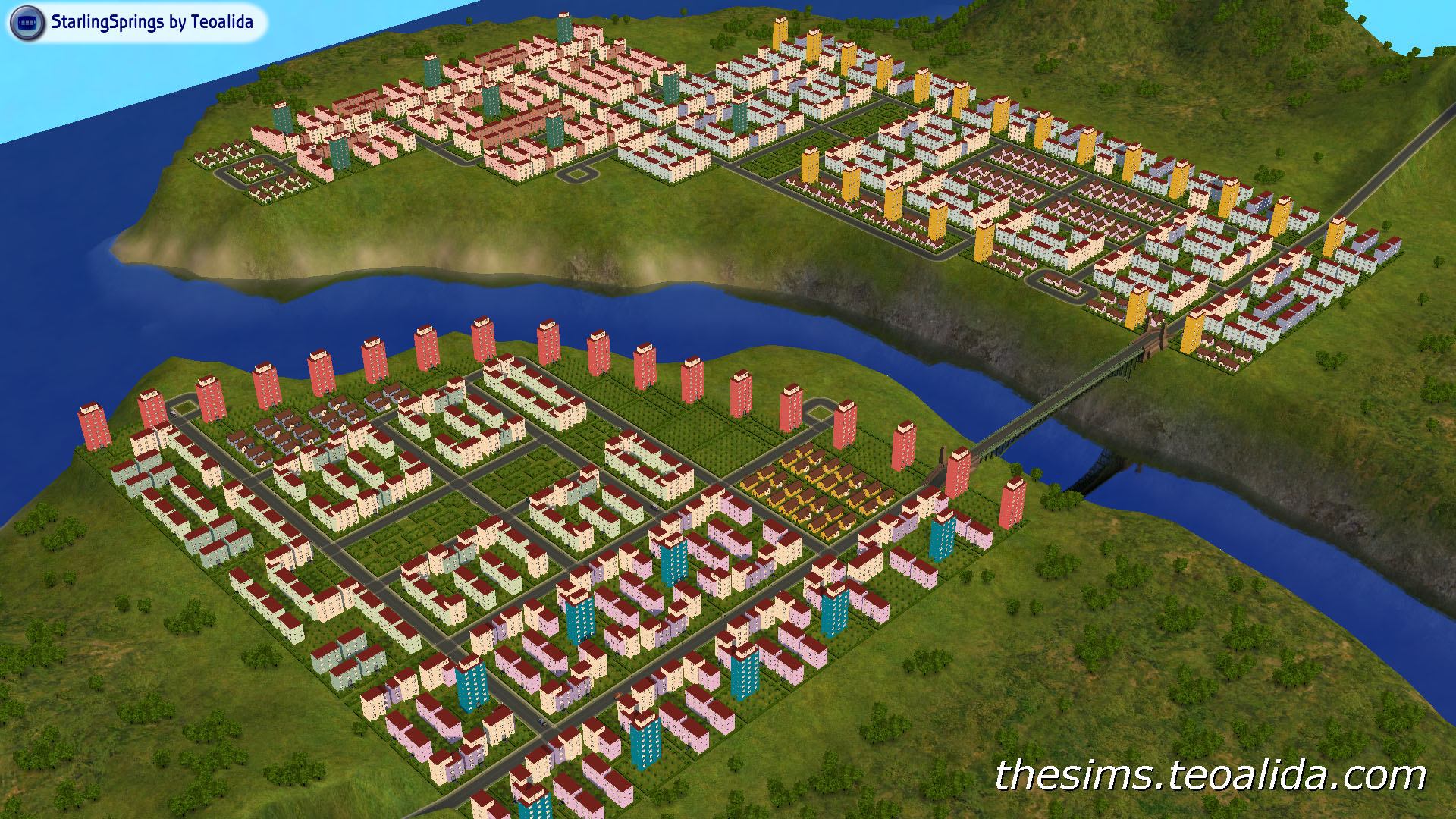 Initial development – 2008-2010
I standardized tower blocks of 9 storeys (originally 8) and walk-up blocks of 3-4-5 storeys arranged in an even more dense and efficient layout than in previous urban city Pleasantview. Here are some 2 screenshots from 2008.
I turned into an adult and a busy businessman, so was unlikely to ever finish this city. The city remained built less than a half. The construction advanced, thanks to some working in 2009 and 2010, but meantime I changed my plan and now I like to have 4 different housing estates each with own design style, a less repetitive design, more layouts, lines of tower blocks on each coast and sides, so I need to rebuilt, and this takes very very very much work time! I was thinking to "hire" a child with free time to build the city according my plan, but did not found anyone willing to help me.
These are most recent screenshots taken in 2010.
This architectural masterpiece, according 2010 plan, had to have around 180 housing lots with around 600-650 apartment blocks, plus 4 or 5 narrow parks and community spaces, and several landed housing areas.
Resumed construction – 2016
Between 2010 and 2015 been busy to build my business so i can live independently from parents. In 2016 I started having again free time for gaming, and resumed construction of this city. I designed a master plan in AutoCAD, with existing blocks and re-planned many blocks according ideas which came during 2010 as well as completely new ideas. After making plan in AutoCAD and went in game to start building, saving time, instead of planning directly in game by building foundations only. I took another break in August 2016 and Resumed in March 2017.
According 2016 plan, the city has to have 226 lots with 54 tower blocks, 623 low-rise blocks and 139 houses. I modified the plan several times and in 2017 the count was 231 lots, 55 tower blocks, 599 walk-up blocks and 164 houses.
City master plan made with AutoCAD including lot numbering – click image to open PDF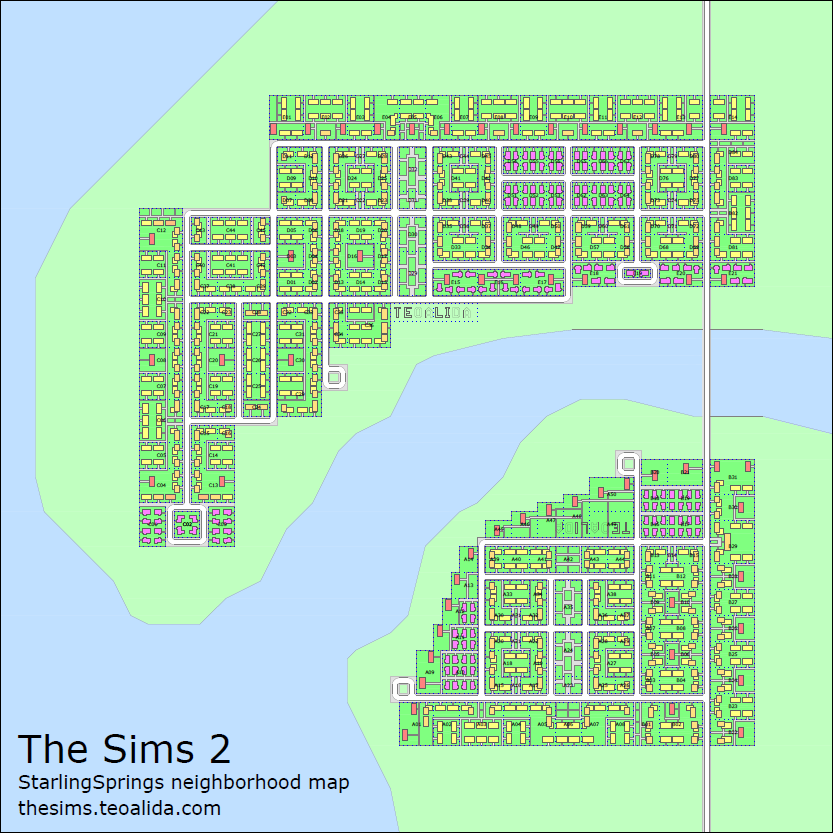 StarlingSprings map have two 3-squares zones aligned north-south approximately at middle of each side of river, since 2008 I decided to develop them as park. Another 2-3 parks were planned in 2009-2010, but in 2016 I turned into built-up areas, leaving just 2 parks.
In 2008 the block pattern was a mess, in 2009-2010 I choose to make most walk-up blocks aligned east-west, while tower blocks are all aligned north-south. In 2008 I made blocks facing park 5-storey, blocks facing streets 4-storey, rear blocks 3-storey (one extra storey compared with PleasantView), and tower blocks 7+1-storey (increased to 8+1 storey in 2009). But this caused certain blocks to be covered by the taller blocks near parks. In 2016 I changed mind to make east-west blocks 3-storey and north-south blocks 4-storey (with some exceptions). By this way I also removed the 45-degree corners, to make corner blocks from 2 interlocked cubes of different heights and colors.
I created an uniform city design but vibrant in terms of colors and patterns. Due to non-regulated street layout, was a challenge to make symmetric patterns, that mix up with other asymmetric patterns.
At some moment I was thinking to build few unique buildings in some strategic places in the city, but I abandoned idea because will break the uniformity.
Finalized city – 2017
North Zone
South zone
West zone
Comparison with a real city
StarlingSprings urban neighborhood was inspired by public housing built in communist Romania, nice blocks at street and uglier blocks behind usually painted blue, in 2008 I made all blocks white then colored in blue and green the rear blocks. Then I realized that in The Sims there is no distinction between street blocks and rear blocks. In 2010 I came with idea to make 4 zones each with a distinctive color. In 2016 I further improved the idea and made 4-storey blocks white and 3-storey blocks in the distinctive color of each zone.
See the following screenshots taken in Google Earth from Bucharest. In Virtutii neighborhood you can see corner blocks and Z-shaped blocks having one side with 1 extra floor. Same in my The Sims city.
Download SAMPLE lot

Purchase whole city