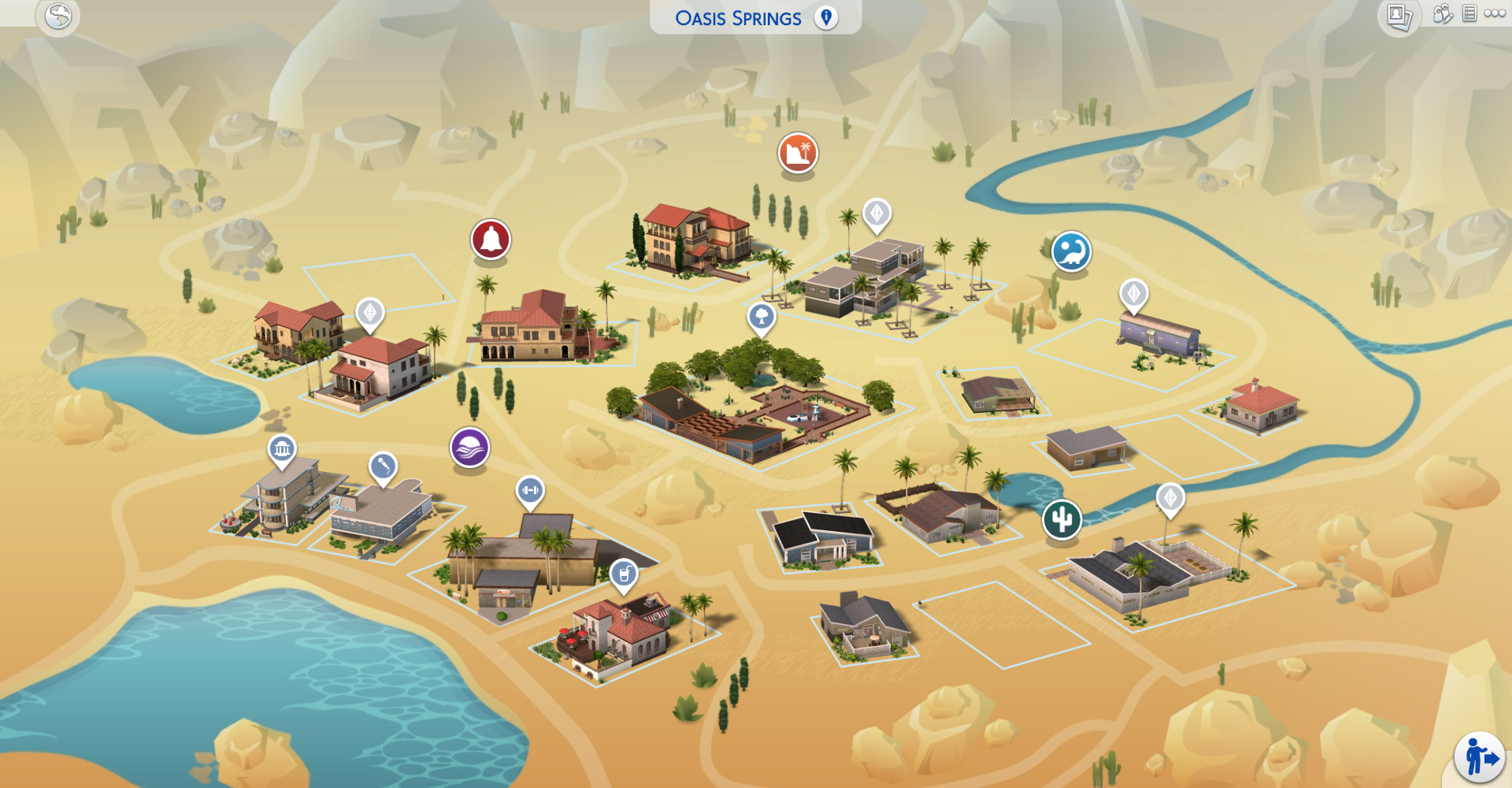 Oasis Springs is a world that was shipped in The Sims 4 base game alongside Willow Creek.
Story: An oasis nestled in the austere beauty of the western desert, this haven of eclectic culture is fringed by countless soaring palms, and lent vibrant color through impossibly lush landscaping. Oasis Springs offers relaxing retreats from the sun to any traveler who discovers it.
Design
Oasis Springs is set in the middle of a desert and its appearance is reminiscent of many desert locations in the Southwestern United States. It is considered, by many simmers, to be located in the states of Nevada and Arizona.
Neighborhoods and lots
Oasis Springs consists of six neighborhoods with one secret lot, separated from other neighborhoods. Four neighborhoods have up to five residential lots each, with the fifth consisting of four community lots, while the sixth neighborhood is a large community park.
There are a total of 16 residential lots and 5 community lots in Oasis Springs.
| Neighborhood | Lot | Lot type | Lot size | Value | Occupants |
| --- | --- | --- | --- | --- | --- |
| Bedrock Strait | Sandtrap Flat | Residential | 30×20 | §16,982 | uninhabited |
| Bedrock Strait | Nookstone | Residential | 20×15 | §13,019 | uninhabited |
| Bedrock Strait | Pebble Burrow | Residential | 30×20 | §1,500 | empty |
| Bedrock Strait | Slipshod Mesquite | Residential | 40×30 | §25,519 | Zest family |
| Bedrock Strait | Agave Abode | Residential | 20×15 | §18,239 | uninhabited |
| Parched Prospect | Vista Quarry | Residential | 30×20 | §48,023 | uninhabited |
| Parched Prospect | Raffia Quinta | Residential | 20×15 | §39,072 | uninhabited |
| Parched Prospect | Dusty Turf | Residential | 30×20 | §3,500 | empty |
| Parched Prospect | Springscape | Residential | 30×20 | §64,678 | uninhabited |
| Parched Prospect | Cacti Casa | Residential | 40×30 | §74,701 | Roomies household |
| Skyward Palms | Granada Place | Residential | 30×20 | §116,860 | uninhabited |
| Skyward Palms | Arid Ridge | Residential | 40×30 | §5,500 | empty |
| Skyward Palms | Sultry Springside | Residential | 30×20 | §146,560 | Caliente household |
| Skyward Palms | Rio Verde | Residential | 40×30 | §175,822 | uninhabited |
| Acquisition Butte | Affluista Mansion | Residential | 50×50 | §227,609 | Landgraab family |
| Acquisition Butte | Yuma Heights | Residential | 40×30 | §311,508 | uninhabited |
| Mirage Canyon | The Futures Past | Museum | 30×20 | §91,791 | |
| Mirage Canyon | The Solar Flare | Lounge | 30×20 | §61,980 | |
| Mirage Canyon | Burners & Builders | Gym | 40×30 | §95,043 | |
| Mirage Canyon | Rattlesnake Juice | Bar | 30×20 | §84,683 | |
| Desert Bloom Park | Desert Bloom | Park | 50×50 | §110,866 | |
| – | Forgotten Grotto | Secret lot | – | – | |
Families
| Family | Funds | Members |
| --- | --- | --- |
| Zest family | §3,950 | Johnny Zest |
| Roomies household | §14,000 | J Huntington III, Mitchell Kalani, Gavin Richards, Zoe Patel |
| Caliente family | §28,500 | Katrina Caliente, Don Lothario, Nina Caliente, Dina Caliente |
| Landgraab family | §85,000 | Geoffrey Landgraab, Nancy Landgraab, Malcolm Landgraab |