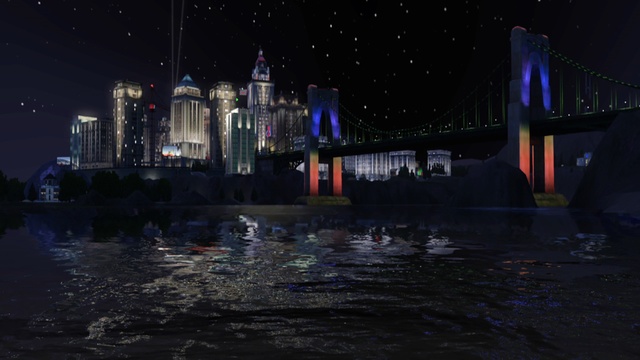 Bridgeport is a world that ships with The Sims 3: Late Night. It is the first urban city of its kind to be featured in The Sims series games as most past neighborhoods and worlds were either towns or suburbs.
Bridgeport was founded by Ebenezer Alto, as stated in the town's description. In the past, Bridgeport was once a shipping town that was full of sailors and smugglers, where the only beach in Bridgeport is named the Smuggler's Cove, situated on a small coastline facing the bridge and the bay. Some time later, Bridgeport has turned into a nightlife city when the film industry came to the city, changing the small town into a bustling downtown with high-rise buildings.
Bridgeport is designed to focus on late night activities, and is similar in many respects to the Downtown sub-neighborhoods in The Sims: Hot Date and The Sims 2: Nightlife. Bridgeport consists of two sections connected with a large bridge. The urban city center is where all the bars, clubs, lounges, and penthouses are located. The other section is an exclusive neighborhood for the wealthy, where most high-star celebrities live in their mansions. There are other celebrities who live in the urban area as well, and the city center has a film studio for Sims who are employed as actors and actresses. The urban city center faces the ocean, while the wealthy neighborhood is located further to the east.
Bridgeport is a special late night town, which differs from the other worlds in The Sims 3. In Bridgeport, fake taxi cabs will appear across the town to simulate a bustling downtown feeling. Some wildlife animals, i.e. wild horses, deer, and raccoons, will also not appear in Bridgeport. Bridgeport also has different work hours than the other worlds, which mostly occur around the afternoon and evening. Bridgeport is a suitable place for single young adults and older to have fun and party. Most residents are also on average richer than other families in different worlds.
Total number of lots: 82
Lots 20×20: 3
Lots 20×30: 3
Lots 30×30: 2
Lots 30×40: 7
Lots 40×40: 8
Lots 40×50: 1
Lots 50×50: 0
Lots 50×60: 1
Lots 60×60: 3
Lots 64×64: 6
Odd-sized lots: 48
List of lots and houses in Bridgeport world
Took me about 1 hour to compile the below table.
Please do not copy it on other websites without crediting www.teoalida.com/thesims
| Lot address | Lot size | Building name | Family name |
| --- | --- | --- | --- |
| Downtown | | | |
| 24 2nd Avenue | 34×40 | Civil Suites – 1br, 1ba | |
| 246 3rd Avenue | 20×30 | Barney's Salon and Tattoo (Salon) | |
| 303 4th Avenue | 25×54 | Bridgeport Public Library (Library) | |
| 317 4th Avenue | 42×40 | Beachwood Springs – Studio, 1ba | Round |
| 357 4th Avenue | 30×40 | Community Fire Department (Fire Station) | |
| 8607 17th Avenue | 52×29 | Bridgeport Sports Zone (Sports Bar) | |
| 19791 17th Avenue | 40×34 | Maloney Tower – Studio, 1ba | Maloney |
| 20563 17th Avenue | 38×32 | Ocean View Apartments – 1br, 1ba | Situp |
| 5601 19th Avenue | 56×28 | Powell House – Studio, 2ba | |
| 3058 Atkins Highway | 64×64 | LlamaCo Stadium (No Visitors Allowed) | |
| 71 Bayshore Highway | 36×29 | Landgraab Brownstone | Pala |
| 156 Bayshore Highway | 30×32 | Steve's Business Complex and Restaurant | |
| 1101 Bayshore Highway | 34×29 | Breach House – 2br, 1ba | Atkins |
| 1486 Bayshore Highway | 39×30 | Bachelor Tower – 1br, 1ba | Rake |
| 1500 Bayshore Highway | 46×42 | Aquarius (Poolside Club) | |
| 1549 Bayshore Highway | 42×57 | The Prosper Room (Exclusive Longue) | |
| 1550 Bayshore Highway | 39×30 | Crescent Bay Plaza | |
| 1787 Bayshore Highway | 40×38 | The Tidewater – 2br, 2ba | Hemlock |
| 3202 Bennett Highway | 36×35 | Two Leo Center – 1br, 1ba | Trill |
| 3202 Bennett Highway | 34×44 | One Leo Center – 2br, 2ba | Jones |
| 22 Canal Avenue | 30×64 | Founders Keep – 1br, 1ba | Schlick |
| 32 Canal Avenue | 40×30 | Founders Peace – Studio, 1ba | Shutter |
| 57 Dockside Road | 40×64 | Trawel Lodge | Drama on TV |
| 61 Dockside Road | 40×44 | The Gentry – 1br, 1ba | Ashton |
| 56 Gusto Point Road | 64×64 | Butterfly Esplanade (Big Park) | |
| 6979 Landgraab Loop | 25×54 | The Simerset – 1br, 1ba | Bumble |
| 7001 Landgraab Loop | 64×54 | Public Services Office (No Visitors Allowed) | |
| 2702 Mall Street | 36×33 | Hieroglyph Condos – 1br, 1.5ba | Talon and Striker |
| 2717 Mall Street | 40×55 | Plasma 501 (Vampire Longue) | |
| 1557 Memorial Parkway | 42×42 | Crescent Bay Pied a Terre – Studio, 1ba | |
| 1580 Memorial Parkway | 36×64 | Marina Field (Big Park) | |
| 1603 Memorial Parkway | 32×27 | Civic Plaza (Visitors Allowed) | |
| 1684 Memorial Parkway | 60×30 | Banzai Longue (Fusion Longue) | |
| 1757 Memorial Parkway | 52×43 | Bridgeport Arms – 1br, 1ba | Clavier |
| 2 Peak Parkway | 30×49 | Off Ramp – 4br, 1ba | Mixture of Good and Bad |
| 1 Shearin Wharf Drive | 17×23 | Hogan's Deep-Fried Diner | |
| 5154 Silverscreen Drive | 20×30 | Landgraab Sell n' Swap (Consignmnt Store) | |
| 5202 Silverscreen Drive | 43×40 | Glenview Manor – 2br, 1ba | King |
| 9656 Slimway Avenue | 42×34 | Bridgeport Armory – 3br, 1ba | Tenderlove |
| 7694 Sterling Parkway | 62×29 | The True Modern Art Gallery (Art Gallery) | |
| 8504 Sterling Parkway | 40×29 | AJV Wellness Center (Gym) | |
| 8517 Sterling Parkway | 35×27 | The Glass Pillar – 1br, 1ba | Custard |
| 9184 Sterling Parkway | 40×40 | Beckett Theatre (Visitors Allowed) | |
| 9199 Sterling Parkway | 36×36 | Wilki's Fabulous Books and Bath | |
| 9308 Sterling Parkway | 40×44 | Eugi's (Local Watering Hole) | |
| 9378 Sterling Parkway | 40×40 | Sanguine Arms – 1br, 1ba | Slayer |
| 9526 Sterling Parkway | 40×32 | The Brightmore (Disco Club) | |
| South of downtown | | | |
| 34 1st Avenue | 30×30 | Grady's Junkstop (Junkyard) | |
| 56 1st Avenue | 64×64 | Plumbob Pictures Backlot | |
| 911 Atkins Highway | 60×60 | Sacret Spleen Memorial Hospital | |
| 63 Backlot Parkway | 64×64 | 67 Public School 67 (No Visitors Allowed) | |
| 333 Dead End Loop | 64×64 | Bridgeport Eternal Rest Cemetery (Graveyard) | |
| 2097 Edgewood Road | 21×20 | I can't believe it's not Buttercup – 1br, 1ba | |
| 2110 Edgewood Road | 30×30 | Off White House – 3br, 3ba | Cook |
| 2207 Edgewood Road | 20×20 | Back to the Fuscia – 1br, 1ba | |
| 2256 Edgewood Road | 20×20 | Rhapsody in Blue – 1br, 1ba | |
| 2303 Edgewood Road | 20×20 | Mint Julia – 1br, 1ba | |
| 8558 Edgewood Road | 50×25 | Smuggler's Cove (Beach) | |
| 73 Embarcadero Drive | 40×50 | Floodgate Apartments | |
| 99 Embarcadero Drive | 40×40 | Veranda Villas – Loft, 1ba | |
| 2301 Hamming Pier Road | 64×39 | Landgraab Marine Science Facility (No Visitors Allowed) | |
| 4400 Hamming Pier Road | 40×40 | Terpsichore Studios – 3br, 1ba | |
| 2883 Industrial Drive | 30×40 | The Grind (Dance Club) | |
| 30 Packard Lane | 46×32 | Waylon's Haunt (Dive Bar) | |
| 33 Packard Lane | 46×40 | East Tradewinds Shipping Co. (No Visitors Allowed) | |
| 1 Parkview Parkway | 64×64 | Bridgeport Acres (Big Park) | |
| 6 Parkview Parkway | 24×34 | Mike's Cornerstone | |
| Hilly area | | | |
| 64 Applewood Lane | 44×34 | | |
| 12 Bogaard Lane | 30×40 | Celluloid Heights – 2 br, 2.5 ba | Old and New Glam |
| 56 Brommer Drive | 40×30 | The Eaves – 2br, 2ba | |
| 7224 Cherrywood Drive | 60×60 | Buena Vista Resort (Small Park) | |
| 16 Dean Road | 20×30 | Cabin Point – 1br, 1ba | |
| 56 Lookout Peak Road | 48×64 | Bogaard Overlook (Small Park) | |
| 64 Queensbury Road | 40×40 | Still Water – 3br, 4ba | Belle |
| 302 Silvertone Way | 60×60 | Crib – 4br, 4ba | Big Bling |
| 332 Silvertone Way | 60×50 | The Eaves – 2br, 2ba | Striker |
| 13 Windsor Drive | 14×12 | Overlook Point Subway (No Visitors Allowed) | |
| 152 Windsor Drive | 40×40 | Air Spray – 2br, 2ba | Angelista |
| 186 Windsor Drive | 40×40 | Raised Eyebrows – 4br, 5 ba | |
| 200 Windsor Drive | 30×40 | Cliff Cottage – 1br, 2 ba | Hamming |
| 223 Windsor Drive | 40×40 | Sugar Cube – Loft, 2ba | |
| 272 Windsor Drive | 30×40 | | |