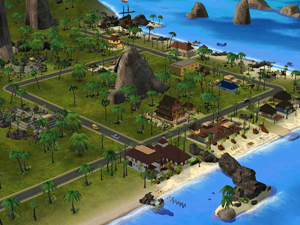 Twikkii Island is a Tropical-themed sub-neighborhood that appears in The Sims 2: Bon Voyage as a vacation destination.
It contains 13 lots, of which 7 community lots, 4 lodging lots, 2 vacation homes, and 0 families living in.
Secret Vacation Lot: The Mysterious Hut, occupied by the Witch doctor.
Story: If you've never been to a beach then you definitely don't want to miss spending your next vacation on Twikkii Island. You'll be dazzled by the rolling waves, exciting culture, and the world famous Pirate Wreck. So come visit and take a break in a beach hammock, shop for some stylish local goods or get a soothing massage.
Lot
Address
Lot
Size
Lot
Zoning
Lot
Value
Default
Value
Family
Name
Family
Funds
Ancient Ruins of Numchuck
4×3
Community Lot
$148,100
Blossom Wood Hotel
3×3
Lodging
$95,236
Brickstone Chateau
3×5
Vacation Home
$56,978
$59,978
Brickstone Retreat
2×2
Vacation Home
$19,167
$19,167
Double Palm Resort
4×3
Lodging
$127,141
Fruitville Village
3×3
Community Lot
$59,300
Majestic Ruins of Jumbok IV
4×4
Community Lot
$70,000
Potterhouse Bungalows
5×5
Lodging
$113,612
Seawater Beach Paradise
3×5
Community Lot
$37,588
South End Beach
4×5
Community Lot
$105,383
Twikkii Beach Boardwalk
5×5
Community Lot
$92,004
Twikkii Beach Hotel
4×5
Lodging
$174,104
Whitesand Hot Springs
3×3
Community Lot
$65,773
Lot value: the value shown when you enter lot and click "Lot Information" in top-left corner, this is how I was able to get value for community lots and apartment lots.
Default value: the price shown in neighborhood view when you point mouse cursor on a lot. Available only for residential non-occupied houses. After you enter lot and return to neighborhood view, even without saving lot, the value changes the value shown in "Lot Information".