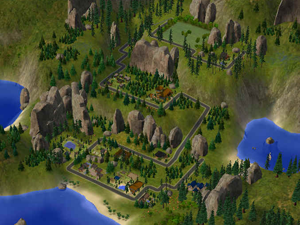 Three Lakes is a mountain-themed sub-neighborhood that appears in Bon Voyage as a vacation destination.
It contains 12 lots, of which 6 community lots, 4 lodging lots, 2 vacation homes, and 0 families living in.
Secret Vacation Lot: Hidden Burrow, occupied by Bigfoot.
Story: Planning on roasting a marshmallow under the stars? Or are you looking to try your skills at log rolling or axe throwing? Three Lakes provides the perfect vacation destination for those who seek and enjoy the great outdoors. With fresh air and nature all around you it's nearly impossible not to savor every second.
Lot
Address
Lot
Size
Lot
Zoning
Lot
Value
Default
Value
Family
Name
Family
Funds
Axe Wood Campgrounds
5×5
Community Lot
$62,778
Blau Hills Resort
4×5
Lodging
$156,431
Copper Ranch Retreat
3×2
Vacation Home
$30,443
$30,467
Hunter's Bedrock Inn
3×3
Lodging
$87,089
Lumber Mill Range
4×5
Community Lot
$61,226
Sky Vista Hotel
5×4
Lodging
$217,826
Smooth Rock Spa
3×3
Community Lot
$68,227
Three Lakes Cabins
4×4
Lodging
$89,550
Three Lakes Market
5×3
Community Lot
$112,640
Three Lakes Plaza
2×4
Community Lot
$81,062
Villa di Simoleon
4×3
Vacation Home
$43,063
$43,063
Wallowa Park
3×3
Community Lot
$62,467
Lot value: the value shown when you enter lot and click "Lot Information" in top-left corner, this is how I was able to get value for community lots and apartment lots.
Default value: the price shown in neighborhood view when you point mouse cursor on a lot. Available only for residential non-occupied houses. After you enter lot and return to neighborhood view, even without saving lot, the value changes the value shown in "Lot Information".