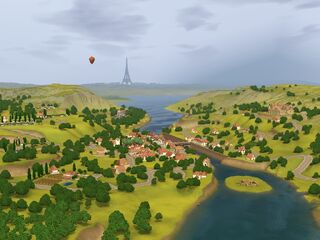 Champs Les Sims is a pre-made destination sub-world, added to The Sims 3 in The Sims 3: World Adventures.
Champs Les Sims was settled towards the end of the Medieval period and has a rich history and culture. The town is modeled on rustic small towns in France and features activities and items that reflect French traditions. It has brick buildings and yellowish pastures. It is an excellent grape-growing country, and has a strong sense of history about it. Sims can learn how to produce (non-alcoholic) nectar here. "Champs Les Sims" is French for "The Sims Fields," and is a reference to the Champs-Élysées, a famous vibrant avenue in Paris. Some people might also relate Champs Les Sims to the French city of Nîmes, famous for a Roman aqueduct. In Champs Les Sims, there is a viaduct with a train track running on it. Occasionally a train passes by from one tunnel to another. The train might be a reference to the Orient Express, and its model is reused from Sims 2 Free Time Desiderata Valley neighbourhood. Sims can explore landmark tombs and hidden tombs throughout this world, thereby undertaking adventures. There are numerous pre-made families in Champs Les Sims, although they all unfortunately lack description texts.
A trip to Champs Les Sims for one Sim costs 1900 simoleons (for three days). It is the most expensive vacation destination. While visiting Champs Les Sims, Sims stay at a base camp, unless they have a level three visa and have purchased a vacation home.
All France
If a male Sim tries for a baby with a female Sim from another country while at home, the female Sim will immediately return home and the child will be in the child stage already.
Total number of lots: 58
Lots 20×20: 5
Lots 20×30: 8
Lots 30×30: 7
Lots 30×40: 11
Lots 40×40: 4
Lots 40×50: 0
Lots 50×50: 0
Lots 50×60: 0
Lots 60×60: 0
Lots 64×64: 8
Odd-sized lots: 15
List of lots and houses in Champs Les Sims world
Took me about 1 hour to compile the below table.
Please do not copy it on other websites without crediting www.teoalida.com/thesims
| Lot address | Lot size | Building name | Family name |
| --- | --- | --- | --- |
| Southbank central | | | |
| 100 East Southbank Boulevard | 40×20 | The Garland House | Petit Godard |
| 109 East Southbank Boulevard | 30×20 | The Rose House | |
| 110 East Southbank Boulevard | 40×20 | The Sunflower House | Delven Montaque |
| 117 East Southbank Boulevard | 30×30 | The Wildflower House | Lambert |
| 135 East Southbank Boulevard | 30×30 | The Ginkgo House | Morel |
| 200 East Southbank Boulevard | 30×20 | The Dogwood House | |
| 220 Island Watch Place | 40×30 | The Lily House | |
| 14 Lilac Row | 20×40 | The Daffoidil House | |
| 15 Lilac Row | 30×30 | The Tulip House | |
| 3 Orchid Road | 30×40 | The Orchid House | Beaumont |
| 15 Orchid Road | 30×40 | | |
| 10 Orchid Road | 30×40 | The Clover House | |
| 12 Orchid Road | 30×30 | | |
| 14 Orchid Road | 40×40 | The Jonquil House | |
| 3 Town Center Drive | 25×25 | Alexis's Relics (Small Market) | |
| 10 Town Center Drive | 20×20 | De Goncalves General Store (Small Market) | |
| 50 Town Center Drive | 40×30 | Circle of Knowledge Bookstore (Small Market) | |
| 70 Town Center Drive | 30×27 | The Catania Café (Small Market) | |
| 90 Town Center Drive | 20×20 | The Little Roses Townhouse | |
| Town Square | 25×26 | (Small Park) | |
| 100 West Southbank Boulevard | 40×20 | The Thyme House | Fouchier |
| 105 West Southbank Boulevard | 15×30 | The Daisy House | |
| 110 West Southbank Boulevard | 40×20 | The Fern House | |
| 111 West Southbank Boulevard | 40×40 | Champs Les Sims Base Camp | |
| Southbank hills | | | |
| 25 Cedar Point | 64×64 | The Lavender House | |
| 250 East Old Forest | 20×20 | The Rose Campground (No Visitors Allowed) | |
| 1 Flower Road | 64×64 | Champs Les Sims Nectary (Nectary) | |
| 55 Flower Drive | 20×20 | The Rose Campground (No Visitors Allowed) | |
| 100 Flower Drive | 64×64 | Chateau du Landgraab (Landmark Tomb) | |
| 1 Lily Lane | 64×64 | La Gallerie d'Art (Art Gallery) | |
| 12 Lily Court | 30×30 | The Primrose House | |
| 100 Old Forest Road | 64×64 | Eastern Hills Cemetery (Graveyard) | |
| 10 Primrose Road | 30×30 | The Lilac House | |
| 15 Primrose Road | 40×30 | | |
| 20 Primrose Road | 40×30 | The Rosemary House | |
| 10 South Eastern Hills | 40×30 | The Garden House | |
| 100 South Eastern Hills | 64×64 | Lake in the Hills (Fishing Spot) | |
| 1 Western Hills | 40×40 | Forgoten Burial Mound (Landmark Tomb) | |
| 100 West Southbank | 64×64 | The Abandoned Nectary | |
| Northbank hills | | | |
| 100 East Northbank Boulevard | 40×20 | The Iris House | Levebvre |
| 105 East Northbank Boulevard | 30×20 | The Spruce House | |
| 110 East Northbank Boulevard | 40×25 | The Larch Tree House | Dubois |
| 120 East Northbank Boulevard | 25×40 | The Ivy Housee | |
| 125 East Northbank Boulevard | 20×30 | | |
| 200 East Northbank Boulevard | 20×20 | The Maple House | |
| 200 East Northbank Boulevard | 30×30 | | |
| 16 Lilac Avenue | 30×40 | The Pine House | |
| 152 Lilac Avenue | 30×50 | The Gentain House | |
| 500 Lilac Court | 64×64 | Champs Les Sims Castle | |
| 100 Riverwatch Road | 40×40 | Le Tour Tower | |
| 155 Sunflower Road | 30×20 | The Crocus House | |
| 159 Sunflower Road | 30×20 | The Poinsettia House | |
| 165 Sunflower Road | 30×40 | The Cowslip House | |
| 100 West Northbank Boulevard | 40×20 | The Gatehouse | Fournier Bernard |
| 105 West Northbank Boulevard | 30×40 | The Oak House | |
| 110 West Northbank Boulevard | 40×20 | | |
| 125 West Northbank Boulevard | 30×20 | The Fir House | |
| 130 West Northbank Boulevard | 30×20 | The Tristle House | |