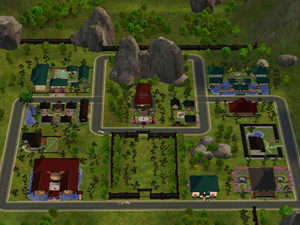 Takemizu Village is a Far East-themed sub-neighborhood that appears in The Sims 2: Bon Voyage as a vacation destination.
It contains 11 lots, of which 6 community lots, 3 lodging lots, 2 vacation homes, and 0 families living in.
Secret Vacation Lot: Pagoda in the Shadows, occupied by Wise Old Man.
Story: Combined with beautiful scenery, serene locales, and delicious foods, the Takemizu Village offers a peaceful and relaxing vacation for your family and friends. Learn about local customs and history while enjoying the beautiful sights. Come stay at this tranquil vacation spot that promises not to disappoint.
Lot
Address
Lot
Size
Lot
Zoning
Lot
Value
Default
Value
Family
Name
Family
Funds
Flaming Dragon Hotel
4×4
Lodging
$192,385
Green Thicket Manor
4×3
Vacation Home
$33,140
$33,140
Immortal Zen Garden
3×2
Community Lot
$42,268
Jade's Exclusive Villas
5×3
Community Lot
$106,563
Lucky Shrine Park
3×5
Community Lot
$89,347
Pearl Mist Estate
2×3
Vacation Home
$26,252
$26,252
Steaming Dragon Hotel
2×2
Lodging
$120,634
Takemizu Pagoda and Market
2×4
Community Lot
$125,547
Takemizu Village Hot Springs
4×3
Community Lot
$105,461
Takemizu Village Resort
5×4
Lodging
$168,990
Three Corners Food Mart
3×2
Community Lot
$60,952
Lot value: the value shown when you enter lot and click "Lot Information" in top-left corner, this is how I was able to get value for community lots and apartment lots.
Default value: the price shown in neighborhood view when you point mouse cursor on a lot. Available only for residential non-occupied houses. After you enter lot and return to neighborhood view, even without saving lot, the value changes the value shown in "Lot Information".