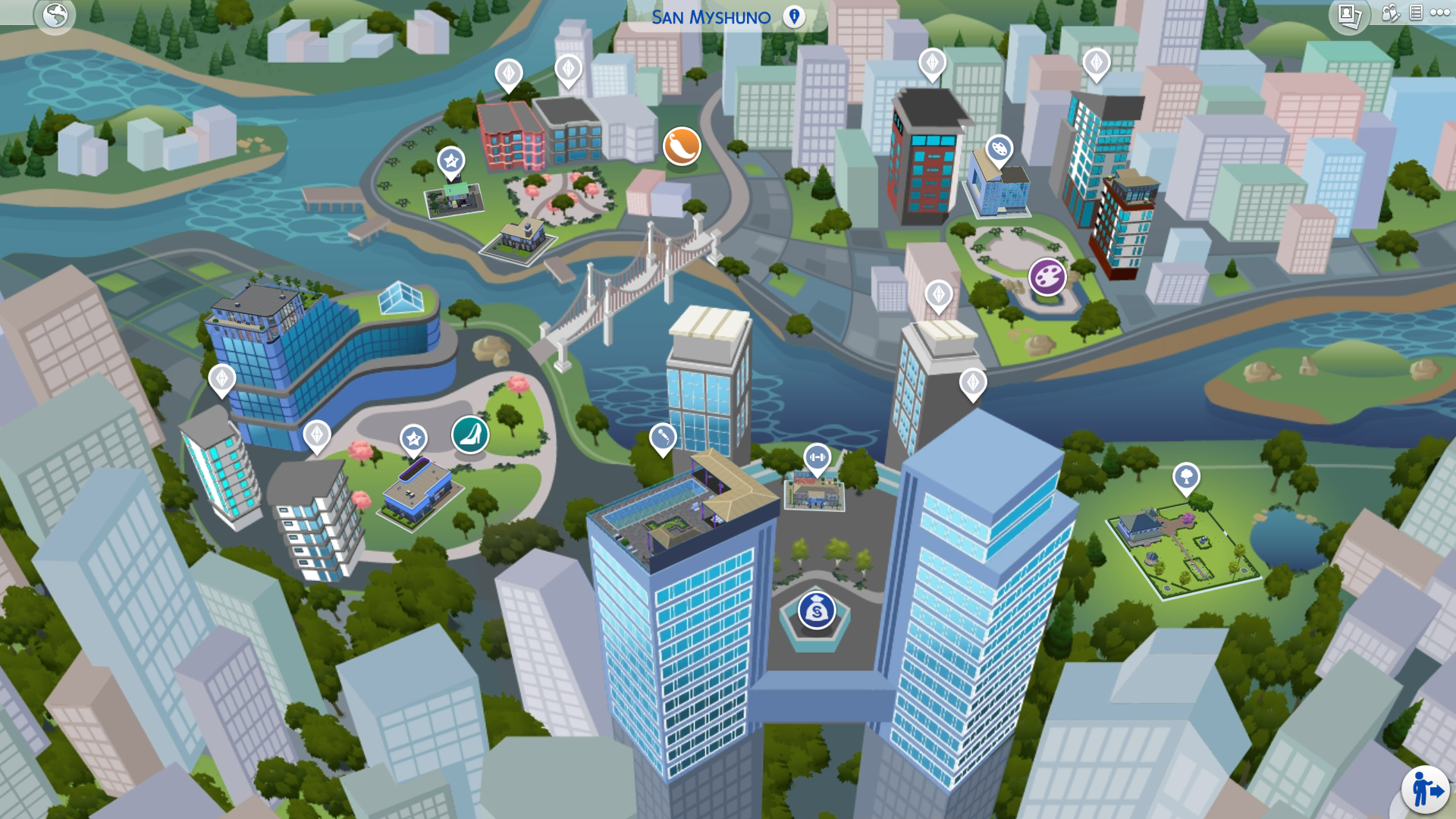 San Myshuno is a world introduced in The Sims 4: City Living. It is packed with many diverse Sims of different cultures and sprawling with activities and festivals. It also features elements of Indian, Chinese, Japanese and Moroccan cultures.
Design: San Myshuno is a coastal city surrounded by mountains, with a river running through the middle. This world is based on a variety of modern cities from around the world including Shanghai, Tokyo, Vancouver, San Francisco, Hong Kong, New York, and Sydney. Most simmers tend to believe it is a specific mix between New York, San Francisco and Tokyo. The city features many modern high-rise buildings inspired by Tokyo as well as smaller, older, townhouse apartments inspired by New York.
The existence of multiple neighborhoods catering to specific cultures (Spice District, Art District, etc.) might be reminiscent of the small neighborhoods of "Little Italy", "Little Tokyo" and the like, existent in many big cities in the United States.
Story: Welcome to San Myshuno! Every day is an adventure on the streets of San Myshuno. From the wild personalities you might run into on the streets to the element of surprise of stumbling across a festival in action, there's something new to discover!
Neighborhoods & lots
San Myshuno consists of 4 neighborhoods and one special lot.
There are 18 lots in San Myshuno, including 9 apartment buildings (with 21 apartment units between them), 2 residential penthouses, 1 residential lot, and 6 community lots (including 1 penthouse community lot). However if counting each apartment unit as a lot, San Myshuno has 30 lots in total.
| Neighborhood | Lot | Lot type | Lot size | Value | Price range | Occupants |
| --- | --- | --- | --- | --- | --- | --- |
| Spice Market | Culpepper House | Apartment | | | §400 to §1,200 | Rasoya family |
| Spice Market | 17 Culpepper House | | | | | |
| Spice Market | 18 Culpepper House | | | | | |
| Spice Market | 19 Culpepper House | | | | | |
| Spice Market | 20 Culpepper House | | | | | |
| Spice Market | Jasmine Suites Apartments | Apartment | | | §400 to §500 | Bheeda famil |
| Spice Market | 2A Jasmine Suites | | | §27,970 | | |
| Spice Market | 2B Jasmine Suites | | | §10,509 | | |
| Spice Market | The Old Salt House | Residential | 30×30 | §113,443 | | |
| Spice Market | Waterside Warble | Karaoke Bar | 30×30 | §91,516 | | |
| Arts Quarter | Medina Studios Apartments | Apartment | | | §400 to §1,200 | |
| Arts Quarter | 910 Medina Studios | | | | | Benali family |
| Arts Quarter | 920 Medina Studios | | | | | |
| Arts Quarter | 930 Medina Studios | | | | | |
| Arts Quarter | Hakim House Apartments | Apartment | | | §1,200 to §1,400 | |
| Arts Quarter | 121 Hakim House | | | | | Jang family |
| Arts Quarter | 122 Hakim House | | | | | |
| Arts Quarter | FountainView Penthouse | Penthouse | 30×20 | §83,188 | | |
| Arts Quarter | Casbah Gallery | Arts Center | 40×30 | §201,329 | | |
| Fashion District | ZenView Apartments | Apartment | | | §700 to §1,200 | |
| Fashion District | 701 ZenView | | | | | Karaoke Legends household |
| Fashion District | 702 ZenView | | | | | |
| Fashion District | 21 Chic Street Apartments | Apartment | | | §300 to §500 | |
| Fashion District | 1310 21 Chic Street | | | | | |
| Fashion District | 1312 21 Chic Street | | | | | Pizzazz family |
| Fashion District | 1313 21 Chic Street | | | | | |
| Fashion District | Torendi Tower Penthouse | Penthouse | 40×30 | §244,264 | | |
| Fashion District | Planet Honey Pop! | Karaoke Bar | 30×20 | §91,944 | | |
| Uptown | Alto Apartments | Apartment | | | §2,500 to §3,500 | |
| Uptown | 1010 Alto Apartments | | | | | |
| Uptown | 1020 Alto Apartments | | | | | Lobo family |
| Uptown | Landgraab Apartments | Apartment | | | §3,750 to §5,000 | |
| Uptown | VIII Landgraab | | | | | |
| Uptown | IX Landgraab | | | | | Feng family |
| Uptown | Spire Apartments | Apartment | | | §7,500 | |
| Uptown | 888 Spire Apartments | | | | | |
| Uptown | Stargazer Lounge | Lounge | 40×30 | §124,821 | | |
| Uptown | Skye Fitness | Gym | 30×20 | §123,989 | | |
| Myshuno Meadows | Myshuno Meadows | Central Park | 64×64 | §224,568 | | |
Families
| Family | Funds | Members |
| --- | --- | --- |
| Benali family | §9,600 | Salim Benali |
| Bheeda family | §3,200 | Jesminder Bheeda, Arun Bheeda, unborn baby Bheeda |
| Feng family | §60,000 | Victor Feng, Lily Feng |
| Jang family | §5,600 | Baako Jang, Anaya Jang, Billie Jang |
| Karaoke Legends household | §9,600 | Miko Ojo, Akira Kibo, Darling Walsh |
| Lobo family | §12,500 | Diego Lobo |
| Pizzazz family | §4,000 | Penny Pizzazz |
| Rasoya family | §9,600 | Geeta Rasoya, Raj Rasoya |