The Sims is a game meant to build houses, but I can also build a skyscraper… or two, the twin towers of World Trade Center, completed by Marriott Hotel and the 3 additional low-rise buildings. The development is unfinished, because is not really an useful building design in The Sims game, just for neighborhood decoration.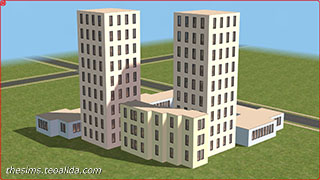 Lot size: 5×5
Lot facing: East.
House price: $141.813.
Expansions required: University only.