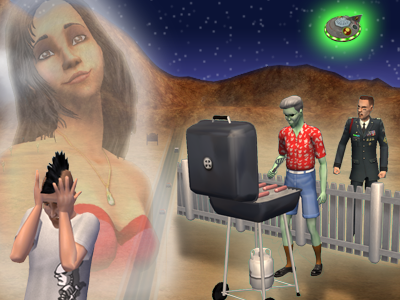 Strangetown is one of the three pre-made neighborhoods shipped with The Sims 2.
It contains 11 lots, of which 2 community lots, 9 residential lots, and 5 families living in.
Story: Truth-seekers move to Strangetown hoping to discover the secrets the town holds. Do aliens live among us? Do missing Sims mysteriously appear here? In this town nothing is what it seems.
Lot
Address
Lot
Size
Lot
Zoning
Lot
Value
Default
Value
Family
Name
Family
Funds
2 Cover Up Road
3×3
Occupied
$98,268
Curious
$102,921
15 Dead End Lane
3×3
Occupied
$82,317
Specter
$123,937
51 Road to Nowhere
3×5
Occupied
$51,525
Grunt
$59,069
57 Road to Nowhere
3×4
For Sale
$39,484
$39,998
73 Road to Nowhere
3×2
For Sale
$15,638
$16,188
88 Road to Nowhere
5×3
Community Lot
$183,372
91 Road to Nowhere
3×2
For Sale
$13,223
$13,373
94 Road to Nowhere
4×4
Community Lot
$146,768
101 Road to Nowhere
3×4
Occupied
$81,883
Smith
$88,182
188 Road to Nowhere
3×3
Empty
$4,800
$4,800
1 Tesla Court
4×4
Occupied
$138,525
Beaker
$163,716
Lot value: the value shown when you enter lot and click "Lot Information" in top-left corner, this is how I was able to get value for community lots and apartment lots.
Default value: the price shown in neighborhood view when you point mouse cursor on a lot. Available only for residential non-occupied houses. After you enter lot and return to neighborhood view, even without saving lot, the value changes the value shown in "Lot Information".