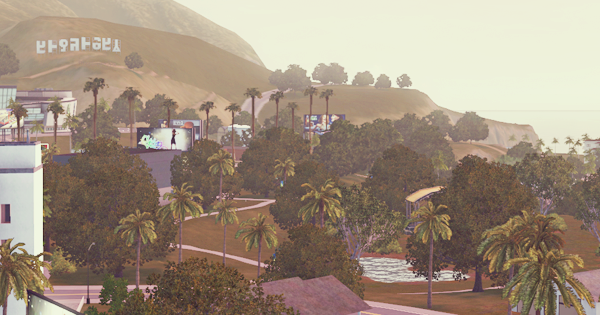 Starlight Shores is a world that was shipped with The Sims 3: Showtime. It is loosely based on a Californian-type urban area, specifically Hollywood. It has a park, coffeehouses, Show venues, etc., and some of the rabbit holes were combined with venues or a new shell to the outside was added.
There is also a beach with houses along the coastline. The houses seem to be between modern and old styled. Most of the very expensive houses have families living in them. There is one unique house that consists of two lots. The first lot being big, with the main house and a pool, and the second lot being small, has a poolhouse and garage. The lots are neatly placed that it appears to be one long lot. These lots house the Buckshot families.
Simfests are held in Starlight Shores, Magicians and Acrobats and Singers alike will find many opportunities to express their talent (or their non-talent) with lots of community lots with stages and performing areas.
List of lots and houses in Starlight Shores world
Total number of lots: 73
Lots 20×20: 1
Lots 20×30: 1
Lots 30×30: 5
Lots 30×40: 8
Lots 40×40: 4
Lots 60×60: 3
Lots 40×50: 1
Lots 50×50: 1
Lots 50×60: 1
Lots 64×64: 7
Odd-sized lots: 41
Took me about 1 hour to compile the below table.
Please do not copy it on other websites without crediting www.teoalida.com/thesims
| Lot address | Lot size | Building name | Family name |
| --- | --- | --- | --- |
| 339 Hill Street | 60×60 | JRA International Equestrian Center (Equestrian Center) | |
| 357 Hill Street | 20×25 | Just-a-Home – 2br, 1ba | |
| 358 Hill Street | 40×30 | Was Modern – 1br, 1.5ba | |
| 11 Los Sueños Strip | 20×20 | Tot Spot Playground (Small Park) | |
| 23 Los Sueños Strip | 55×40 | Gooder Public School (Visitors Allowed) | |
| 32 Los Sueños Strip | 64×64 | Hol Polloi Event Center (Big Show Venue) | |
| 33 Los Sueños Strip | 45×45 | Urbane Center for the Arts (Art Gallery) | |
| 34 Los Sueños Strip | 40×40 | Broad Steret Business Tower & Grill (Visitors Allowed) | |
| 35 Los Sueños Strip | 25×25 | Starlight Plaza (Small Park) | |
| 37 Los Sueños Strip | 40×55 | Los Sueños Private Club (Private Venue) | |
| 38 Los Sueños Strip | 42×35 | Serenity Bookstore & Spa (Visitors Allowed) | |
| 39 Los Sueños Strip | 20×34 | Flying V.s Coffeehouse (Coffeehouse) | |
| 40 Los Sueños Strip | 60×60 | Brotherhood of Fine Fellows Hall (Private Venue) | |
| 41 Los Sueños Strip | 32×29 | Mick's Master Karaoke (Live Show Venue) | |
| 44 Los Sueños Strip | 32×25 | Rodeo-Go-Go (Live Show Venue) | |
| 45 Los Sueños Strip | 55×30 | Port-A-Party Warehouse (Private Venue) | |
| 46 Los Sueños Strip | 30×30 | Weight & Sea Rec Center | |
| 47 Los Sueños Strip | 30×20 | (No Visitors Allowed) | |
| 50 Los Sueños Strip | 35×35 | MN8 (Live Show Venue) | |
| 52 Los Sueños Strip | 21×30 | Barney's Salon and Tattoo (Salon) | |
| 54 Los Sueños Strip | 36×30 | Landgraab Sell n' Swap (Consignment Store) | |
| 73 Los Sueños Strip | 15×20 | Practical Prefab – 1br, 1ba | |
| 74 Los Sueños Strip | 50×50 | C-Ment Shoe Facory (Visitors Allowed) | |
| 75 Los Sueños Strip | 60×60 | (No Visitors Allowed) | |
| 76 Los Sueños Strip | 15×20 | Les Thrifty Prefab – 1br, 1ba | |
| 56 Oceanview Drive | 45×64 | The Spanish Armada – 4br, 4ba | Gooder |
| 64 Oceanview Drive | 64×62 | The Modern Marvel – 7br, 5.5ba | Best |
| 72 Oceanview Drive | 30×40 | LeGreat Estate – 2br, 2.5ba | |
| 73 Oceanview Drive | 25×25 | Elfin – 1br, 2ba | The Elson Family |
| 77 Oceanview Drive | 30×30 | Gran Place – 2br, 2ba | Avilla |
| 79 Oceanview Drive | 30×30 | Cruiser Villa – 2br, 1ba | Best Friends Forever |
| 82 Oceanview Drive | 25×20 | Casa De Simple – 1br, 1ba | |
| 104 Old Town Road | 64×35 | Holy Cow Memorial Hospital (Visitors Allowed) | |
| 100 Old Town Road | 64×50 | City Covernment Complex (Visitors Allowed) | |
| 102 Old Town Road | 55×35 | Community Library (Library) | |
| 18 Palm Park Ave | 30×30 | Mono Mogul – 1br, 1ba | Meir |
| 19 Palm Park Ave | 35×20 | Apex – 1br, 1ba | Lott |
| 22 Palm Park Ave | 30×40 | Eternal Estate – 3br, 2ba | Crash Pad |
| 27 Palm Park Ave | 64×64 | Verde Park (Big Park) | |
| 447 Shoreline Point | 40×30 | Sanctuary – 3br, 2ba | Whitfield |
| 456 Shoreline Point | 55×40 | Prospecte – 2br, 2ba | Lemmon |
| 460 Shoreline Point | 42×46 | Vila De Grande – 3br, 3ba | A Couple Couples |
| 464 Shoreline Point | 40×38 | Aleister's Elixirs and Sundries (Elixir Consignment Store) | |
| 465 Shoreline Point | 38×34 | Neonuevo – 2br, 2ba | Khan |
| 422 Shoreline Trail | 44×64 | Delmar Beach (Beach) | |
| 235 Starry Way | 30×40 | Community Fire Department (Fire Station) | |
| 240 Starry Way | 40×25 | The Market Basket | |
| 255 Starry Way | 25×25 | | |
| 257 Starry Way | 25×30 | Little House that Could – 1br, 1ba | |
| 21 Via Del Sol | 64×64 | The Binder Clips Center (Big Show Venue) | |
| Highlands | | | |
| 12 Buckshot Lane | 60×50 | Rio de Nero – 3br, 3.5ba | Buckshot |
| 12.5 Buckshot Lane | 30×50 | The Cabana – 1br, 1.5ba | Buckshot |
| 223 Cliffline Trail | 64×64 | Buckshot Lake (Fishing Spot) | |
| 107 Foothill Drive | 25×20 | The Adorable Abode – 2br, 1ba | Platt |
| 108 Foothill Drive | 32×30 | Bungling Bungalow – 2br, 2ba | Woods |
| 112 Foothill Drive | 20×25 | Compact Cottage – 2br, 1ba | |
| 114 Foothill Drive | 30×30 | The Dwellers Dwelling – 1br, 1ba | Anderson |
| 118 Foothill Drive | 25×30 | HandySim's Dream – 1br, 1ba | Law |
| 120 Foothill Drive | 30×35 | Grady's Junkstop (Junkyard) | |
| 160 Foothill Drive | 64×64 | Lidview Cemetery (Graveyard) | |
| 177 Foothill Drive | 46×64 | Magic Mansion – 3br, 4ba | Cuup |
| 200 Foothill Drive | 46×38 | House to the Future – 3br, 3.5ba | |
| 230 Foothill Drive | 30×40 | The Opulent Luminousness – 2br, 2.5ba | Sagar |
| 241 Foothill Drive | 30×35 | The Spanish Retreat – 2br, 2ba | Martin |
| 254 Foothill Drive | 40×40 | | |
| 258 Foothill Drive | 30×40 | Classic Getaway – 3br, 2.5ba | The Luck Brothers |
| 357 Hill Trail | 40×40 | La Laguna Park (Fishing Spot) | |
| 604 Vista Blvd | 64×64 | The Castle – 2br, 2.5ba | |
| 627 Vista Blvd | 25×30 | Refined Residence – 1br, 1ba | Batez |
| 638 Vista Blvd | 50×40 | Quaint Cottage – 2br, 2ba | Worthington |
| 643 Vista Blvd | 40×40 | Varg's Tavern (Supernatural Hangout) | |
| 656 Vista Blvd | 30×40 | Stately Hacienda – 3br, 1.5ba | The Dueling Singers |
| 684 Vista Blvd | 64×64 | | |