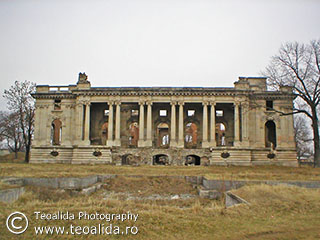 A realistic replica of a REAL building, the Trianon Palace from Floresti, Romania, built in 1910 and abandoned, more details here, made originally in 2006 with base game only and remade in 2009 using Nightlife.
I tried to preserve many aspects of the real palace, such as external shape, symmetrical internal floor plan, position of external doors and windows (a little exception: I deleted 4 windows per floor, to maintain equidistant windows at this building size), big living / ballroom (used as disco room), with stairs on both sides, chimneys. I also preserved the fountain shape (used as swimming pool), and sun direction. Then I fitted it with much top-quality classic furniture, paintings and statues.
Due to the large size of this luxury house and its amount of furniture, it is a very inefficient home, but at least… is the most beautiful house made by me?
Excuse the bad interior. It is designed for 8 Sims who sleep 4 in each bedroom, because in 2009 I took no importance indoor realism, also the room shapes are ugly. If you do not like the Palace, try Palace II.
Lot size: 5×5.
Lot facing: North.
House price: $368.871 (most expensive house in The Sims 2 made by me, to date).
House size: 26 by 21 squares (the real palace is 43 by 33 meters).
Floor area: 586 squares + 116 squares of terraces + 118 squares of void.
Pool area: 206 squares (24 by 13).
Expansion packs required: University and Nightlife.