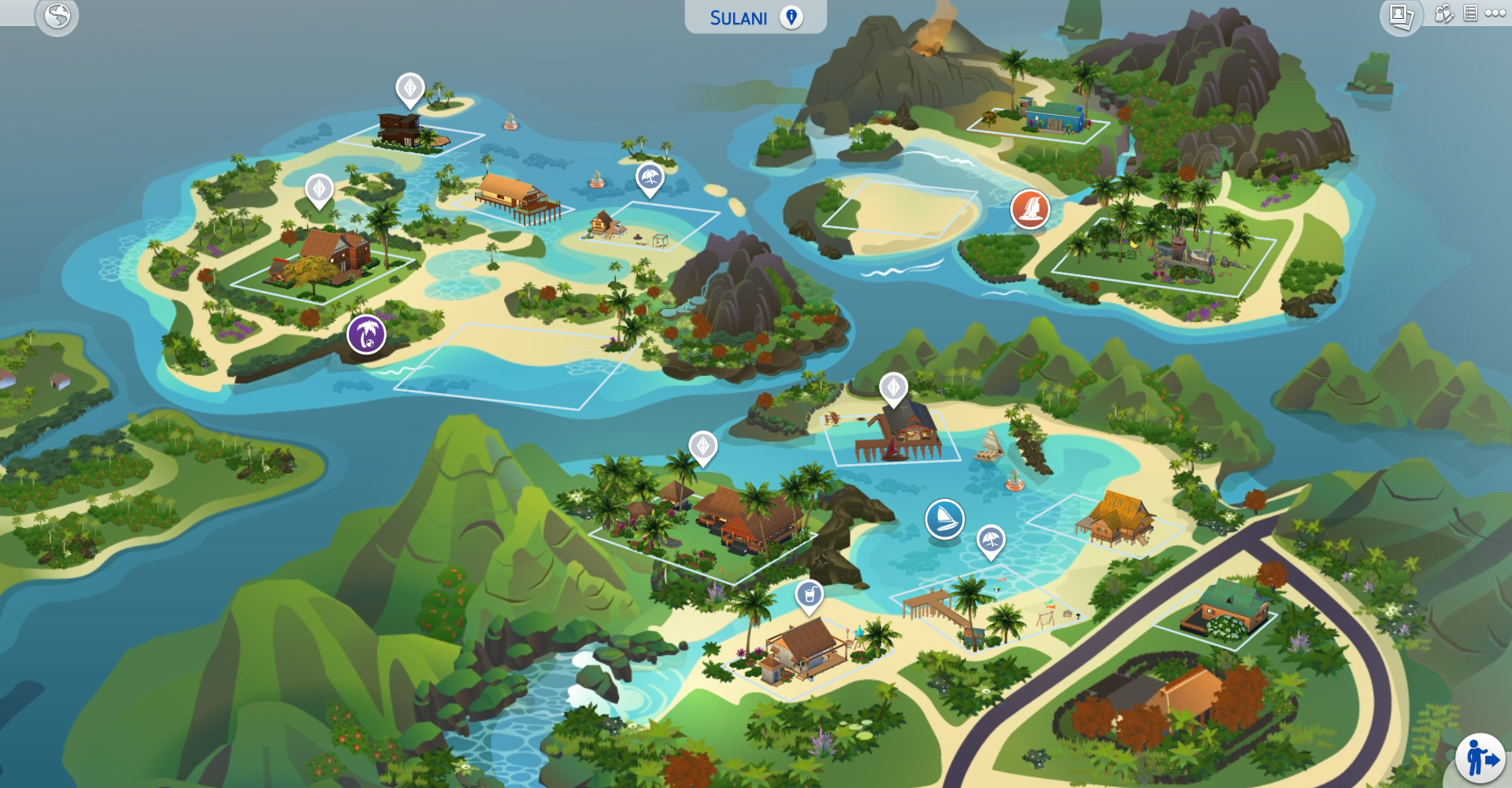 Sulani is a world introduced in The Sims 4: Island Living.
Design
Sulani is based on Polynesian islands, with the Hawaiian Islands being the main influence on the world's look and feel.
Neighborhoods
Sulani consists of three neighborhoods which are individual islands.
There are a total of eleven residential lots and three community lots in Sulani.
The lots in Sulani are one 20×20 lot, four 30×20 lots, two 30×30 lots, five 40×30 lots, and two 50×50 lots. Out of these, eight of them are on water.
| Neighborhood | Lot | Lot type | Lot size | Value | Occupants |
| --- | --- | --- | --- | --- | --- |
| Mua Pel'am | Admiral's Wreckage | Residential | 50×50 | §51,811 | |
| Mua Pel'am | Caldera Camp | Residential | 30×20 | §20,098 | |
| Mua Pel'am | Key Point | Residential | 40×30 | §7,000 | |
| Ohan'ali Town | Kin-Ship | Residential | 30×30 | §41,538 | Kealoha household |
| Ohan'ali Town | Chieftain's Villa | Residential | 40×30 | §75,122 | Hoapili family |
| Ohan'ali Town | Lagoon Look | Residential | 30×20 | §17,206 | |
| Ohan'ali Town | Tangled Flat | Residential | 20×20 | §16,530 | |
| Ohan'ali Town | The Sand Bar | Community – Bar | 30×20 | §30,353 | |
| Ohan'ali Town | Ohan'ali Beach | Community – Beach | 30×30 | §15,988 | |
| Lani St. Taz | Reef Finery | Residential | 40×30 | §55,823 | |
| Lani St. Taz | Journey's End | Residential | 40×30 | §78,410 | |
| Lani St. Taz | Pier Perfection | Residential | 30×20 | §19,037 | |
| Lani St. Taz | Sand Simoleon Beach | Community – Beach | 40×30 | §17,823 | |
| Lani St. Taz | Sapphire Shores | Empty | 50×50 | §11,200 | |
Families
| Family | Funds | Members |
| --- | --- | --- |
| Kahananui family | §30,000 | Mele Kahananui, Alika Kahananui |
| Ngata family | §20,000 | Oliana Ngata, Tane Ngata, Leila Illes |
| Hoapili family | §22,000 | Keala Hoapili, Lia Hauata |
| Kealoha household | §24,000 | Makoa Kealoha, Lilliana Kealoha, Nani Kealoha, Duane Talla |