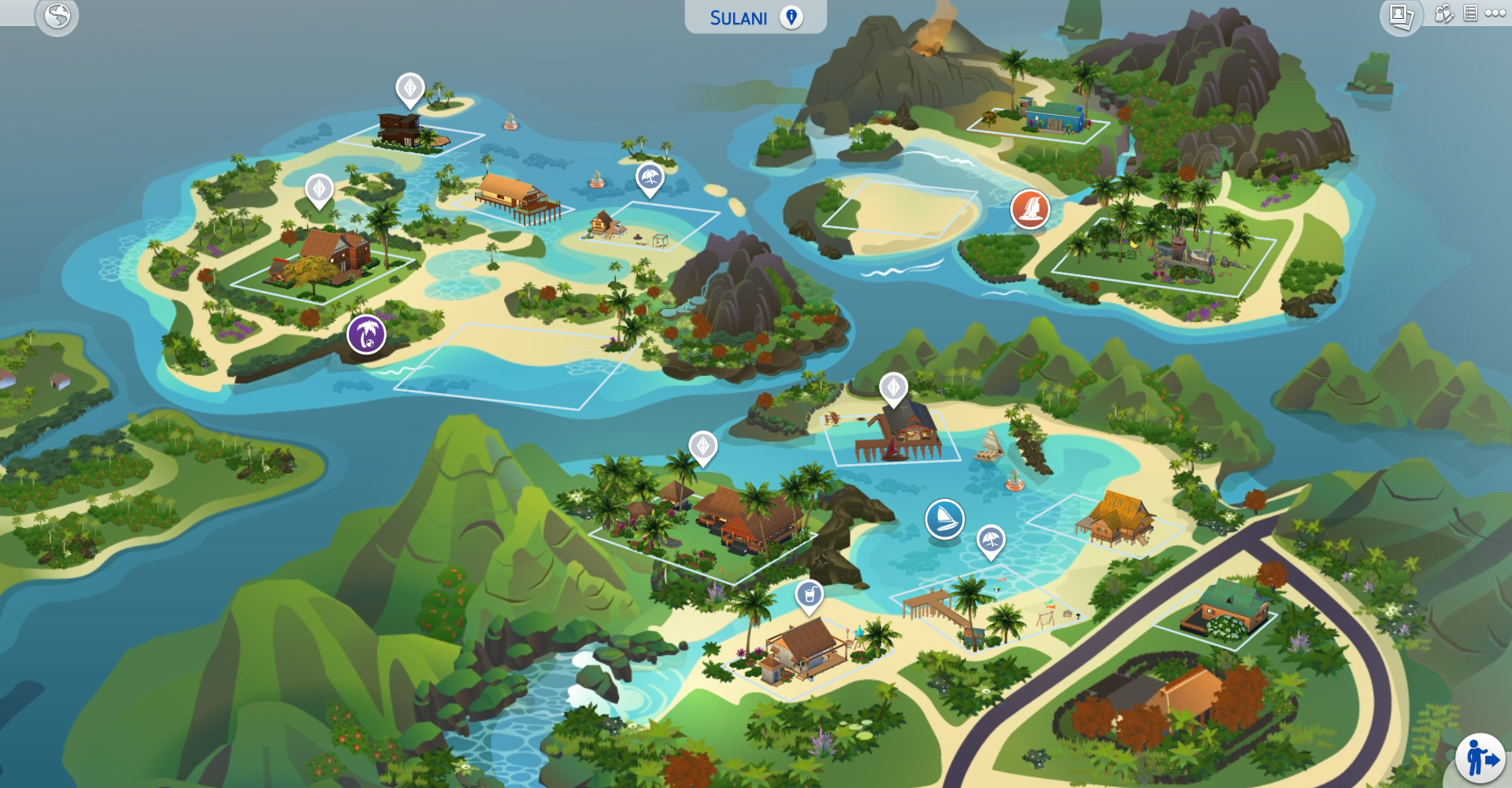 Sulani is a world introduced in The Sims 4: Island Living. It is based on Polynesian islands and culture.
Neighborhoods
Sulani consists of three neighborhoods.
Mua Pel'am
Ohan'ali Town
Lani St. Taz
Lots
There are a total of 11 residential lots and 3 community lots in Sulani.
Families
Kahananui family Journey's End
§30,000
Mele Kahananui, Alika Kahananui
As the self-appointed "Sulani ambassadors" this enterprising couple, Mele and Alika, have decided to live out their golden years in a dream retreat away from the bustle of Ohan'ali Town.
Ngata family Reef Finery
§20,000
Oliana Ngata, Tane Ngata, Leila Illes
Coming to Sulani for inspiration Leila didn't expect to fall in love so deeply with the islands. And it wasn't just the scenery that she fell for, but also for Oliana and her son Tane that welcomed her so easily into their family. The three are now an insparable [sic] ​ ​trio that call Sulani their home enjoying the sand and ocean at their own pace.
Hoapili family Chieftain's Villa
§22,000
Keala Hoapili, Lia Hauata
Sitting high above the center of Ohan'ali Town, Keala watches over the townsfolk who look to her for guidance. This spirited, young-at-heart grandmother has taken young Lia under her wing to pass on the knowledge and cultural history of Sulani through the generations.
Kealoha household Kin-Ship
§24,000
Makoa Kealoha, Lilliana Kealoha, Nani Kealoha, Duane Talla
The Kealohas are the epitome of Sulani: an industrious, welcoming, and tight-knit young family firmly rooted in island tradition to honor the past while supporting the bright future of their extended-family community.