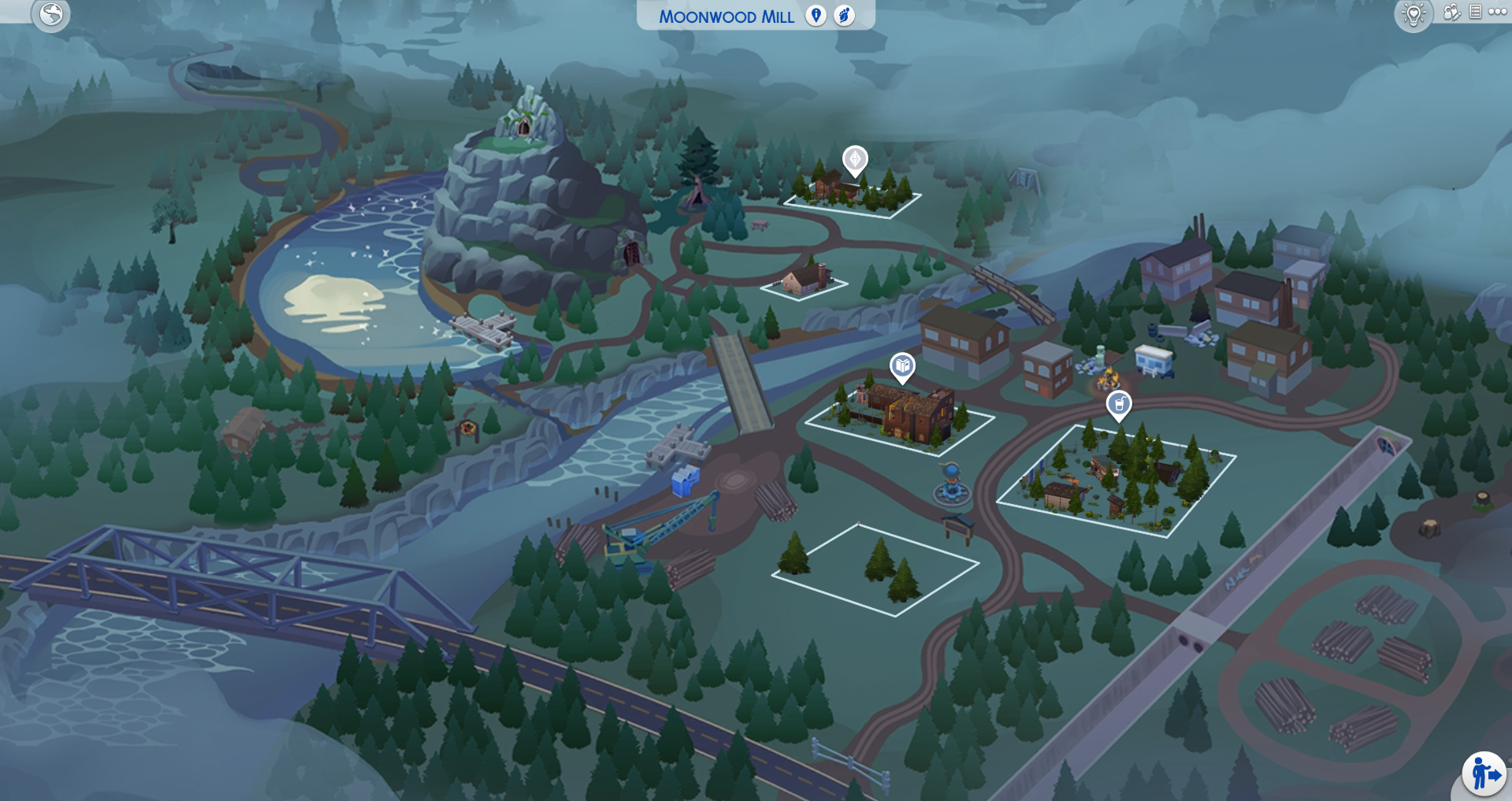 Moonwood Mill is a world added in The Sims 4: Werewolves. It is comprised of five lots: two residential, one library, one bar, and an empty lot.
Moonwood Mill is a quiet forest town with a forest-industrial aesthetic, centered around the core theme of a disbanded lumber industry being overtaken by werewolves. The world is overrun with trees, foliage, and run-down mill buildings. The world contains only a single neighborhood with five lots nestled in the forest with a single river running through it, and around the center of the town remains a sizable mountain that has only one access area to the peak.
Lots
There are five lots in Moonwood Mill.
Residential lots
Inhabited
The Collective Cabin, owned by Volkov (40×30)
Uninhabited
New Moon Shack (20×15)
Empty lots
Prowler's Patch (30×30)
Community lots
The Grimtooth Bar & Bunker – Bar (50×40)
The Moonwood Mill Library – Library (40×30)
Families
Volkov household
§20,000
Kristopher Volkov, Jacob Volkov, Lily Zhu
Kristopher Volkov has been around longer than most can remember. He founded and leads the Moonwood Collective, and is eager to take in any werewolf feeling displaced or lost.
Lily joined the household long ago, a lonely wanderer who had lost her closest friends to the vampires. After her came Rory, then Jacob. Though Rory's relationship with her adoptive father has soured, Jacob and Kristopher's connection has flourished. Both bear the same calm yet intense soul, and everyone in Moonwood Mill knows Kristopher intends for Jacob to be the heir to his pack.