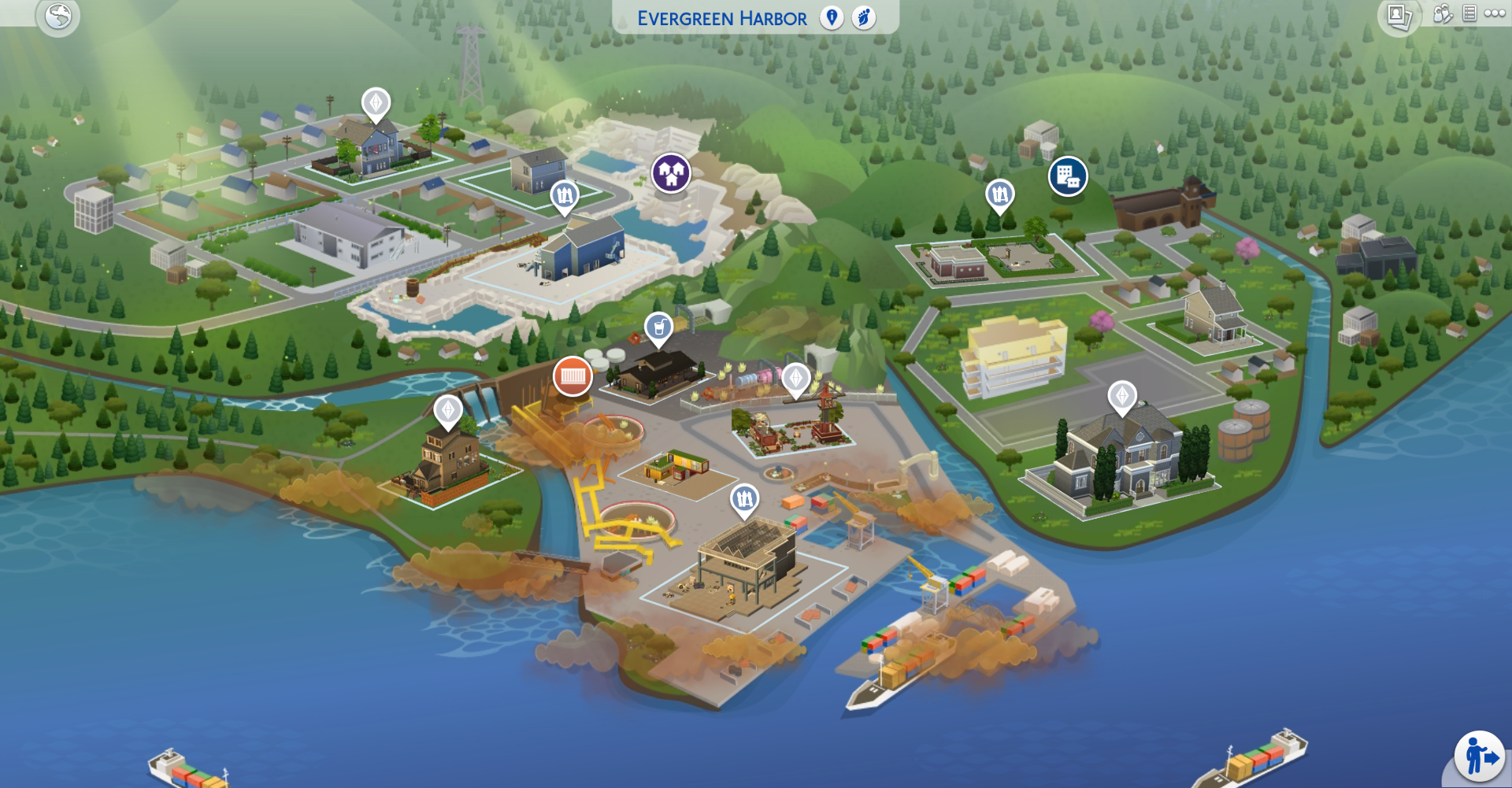 Evergreen Harbor is a world that is introduced in The Sims 4: Eco Lifestyle. It is a modern/industrial coastal town based off middle class neighbourhoods from all across the world Each neighborhood is within a different state of pollution on the eco footprint.
Neighborhoods
Evergreen Harbor consists of three neighborhoods, each in a different state of pollution on their eco footprint.
Grims Quarry – Eco footprint: Green
Conifer Station – Eco footprint: Neutral
Port Promise – Eco footprint: Industrial
Lots
There are 13 lots in Evergreen Harbor, including 2 apartment lots, 7 residential lots and 4 community lots. There are four apartment units in the world – if counting each apartment unit as a lot, Evergreen Harbor has 15 lots.
Residential
Inhabited
Miner's Mansion, owned by Harris family
The Old Mill, owned by Sterling Rico family
The Portsmouth Promenade, owned by Greenburg family
Pigulock Manor, owned by Tinker family
Uninhabited
Rockridge Springs
Stonestreet Apartments #3
Stonestreet Apartments #4
The Shipping Views
Canal Corner
Pinecrest Apartments #402
Pinecrest Apartments #404
Community lots
The Quarry Building
The Waterfront
Sprucewood Square
The Caboose
Families
Returning families
Tinker family – Pigulock Manor – §30,000
Yasemin Tinker, Tina Tinker, Olive Tinker
The talented, but perpetually stressed Tina Tinker is a very successful Freelance Crafter. Her equally successful spouse Yasemin managed to convince her to move to Conifer station with their daughter Olive. Tina takes on too much work, and Yasemin just wants her to relax and spend more time with family. Meanwhile curious little Olive loves nothing more than to admire her two mothers' works and dream of following in their footsteps.
New families
Greenburg family – The Portsmouth Promenade – §15,000
Knox Greenburg, Mary Greenburg, Blossom Greenburg
Mary and Blossom are a couple of old timers in this town. They're trying to spruce up the space, with Mary focused on her garden and Blossom painting up unused places. Age isn't on their side anymore, however, it's a good thing their adopted son Knox is fighting for the family name to help make the world a little more green. Unfortunately, sometimes he takes "fighting" a little too literally.
Harris family – Miner Mansion – §20,000
Cletus Harris, Faye Harris, Jeb Harris, Gideon Harris, Francine Spencer
Cletus and Faye found this heritage home in Grims Quarry for dirt cheap. Nothing seems wrong with it and the Harris' weren't about to question a good deal. Cletus' free-spirited mother soon joined them, completing the big happy family. Mysteriously, their eldest son always wear a shameful bag on his head. Also, it doesn't seem like any of them other than Faye has a job, but the house is well-furnished. What is going on here?
Sterling Rico family – The Old Mill – §25,000
Bess Sterling, Jules Rico
Bess and Jules are a power couple with big dreams. Big dreams about sweet sweet money. A civil designer by trade, Bess place herself in the perfect position to convince city officials and residents alike to enact programs that would benefit her bottom line. Her partner-in-crime, Jules, is a Style Influencer that loves fashion as much as he loves convincing people to his rejected styles. Cheerful and charismatic, together they hustle around Evergreen Harbor like an entrepreneurial whirlwind.