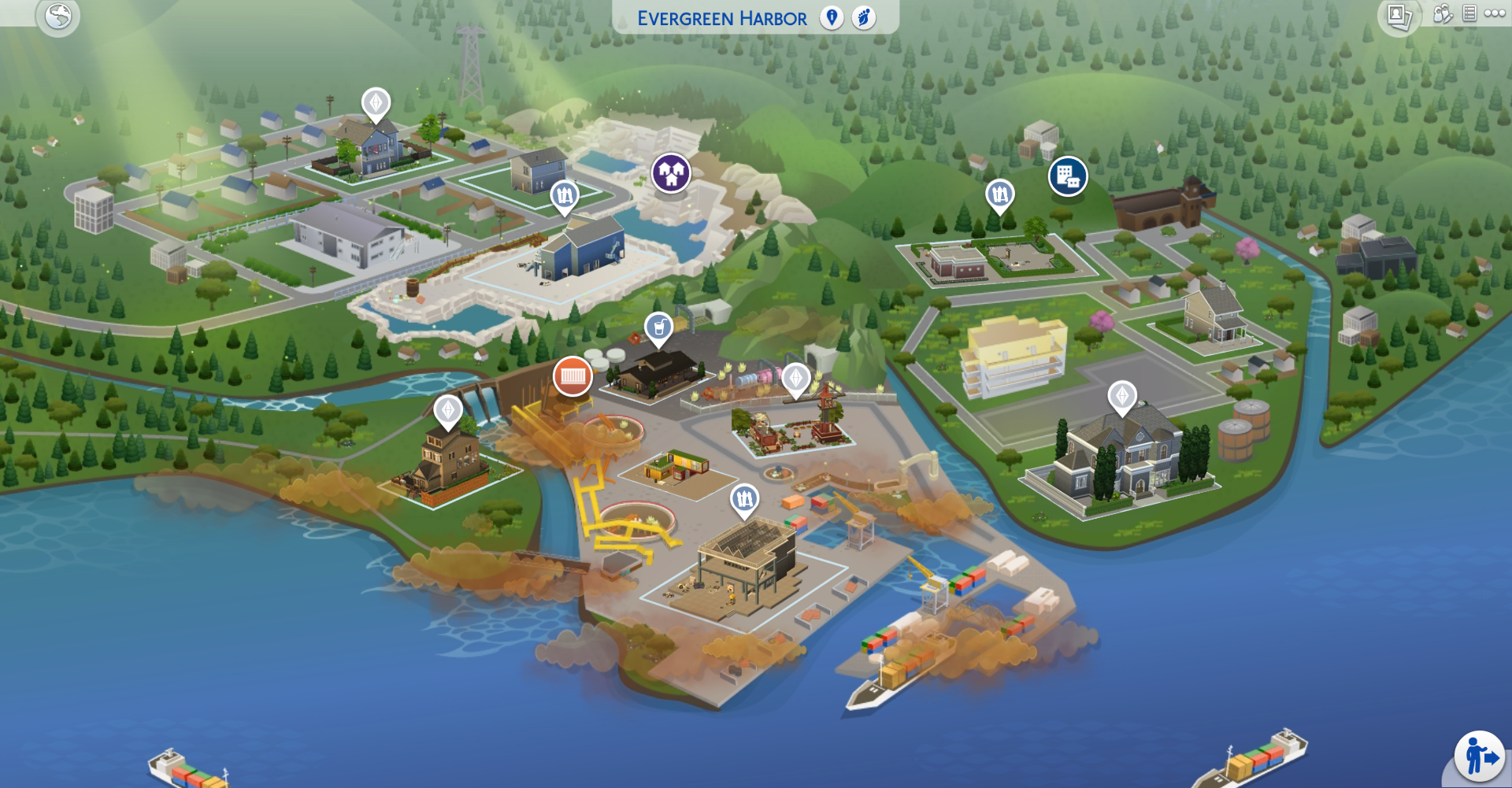 Evergreen Harbor is a world that is introduced in The Sims 4: Eco Lifestyle. Each neighborhood is within a different state of pollution on the eco footprint.
Design
Evergreen Harbor is an industrial harbor town based off the Northwestern United States, namely the Pacific Northwest. It features a mix of an industrial architectural style and a suburban small town feel.
Neighborhoods & Lots
Evergreen Harbor consists of three neighborhoods, each in a different state of pollution on their eco footprint.
Grims Quarry – Eco footprint: Green
Conifer Station – Eco footprint: Neutral
Port Promise – Eco footprint: Industrial
There are 13 lots in Evergreen Harbor, including 2 apartment lots, 7 residential lots and 4 community lots. There are four apartment units in the world – if counting each apartment unit as a lot, Evergreen Harbor has 15 lots.
| Neighborhood | Lot | Lot type | Lot size | Value | Price range | Furnished lot value | Occupants |
| --- | --- | --- | --- | --- | --- | --- | --- |
| Grims Quarry | Miner Mansion | Residential | 30×20 | §72,966 | | | |
| Grims Quarry | Rockridge Springs | Residential | 30×20 | §17,433 | | | |
| Grims Quarry | Stonestreet Apartments #3 | Apartment | | | §500 | §7,245 | |
| Grims Quarry | Stonestreet Apartments #4 | Apartment | | | §500 | §8,060 | |
| Grims Quarry | The Quarry Building | Community Space | 40×30 | §24,665 | | | |
| Conifer Station | Pigulock Manor | Residential | 30×20 | §105,545 | | | Tinker family |
| Conifer Station | Canal Corner | Residential | 20×15 | §18,358 | | | |
| Conifer Station | Sprucewood Square | Community Space | 40×30 | §38,837 | | | |
| Conifer Station | Pinecrest Apartments #402 | Apartment | | | §600 | §12,500 | |
| Conifer Station | Pinecrest Apartments #404 | Apartment | | | | §14,065 | |
| Port Promise | The Old Mill | Residential | 30×20 | §76,211 | | | Sterling Rico family |
| Port Promise | The Caboose | Bar | 20×30 | §57,504 | | | |
| Port Promise | The Shipping Views | Residential | 30×20 | §17,332 | | | |
| Port Promise | The Waterfront | Community Space | 40×30 | §27,673 | | | |
| Port Promise | The Portsmouth Promenade | Residential | 30×20 | §42,444 | | | Greenburg family |
Families
| Family | Funds | Members |
| --- | --- | --- |
| Greenburg family | §15,000 | Knox Greenburg, Mary Greenburg, Blossom Greenburg |
| Harris family | §20,000 | Cletus Harris, Faye Harris, Jeb Harris, Gideon Harris, Francine Spencer |
| Sterling Rico family | §25,000 | Bess Sterling, Jules Rico |
| Tinker family | §30,000 | Yasemin Tinker, Tina Tinker, Olive Tinker |