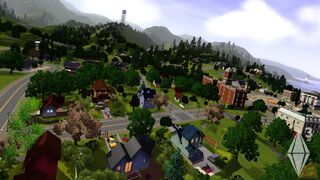 Sunset Valley is the world that shipped with The Sims 3 base game.
Sunset Valley is very large compared to the neighborhoods in previous The Sims games, having a total of 92 lots with various playable characters and about 86 in total pre-made. The main part of the town is the park, where Sims can have a picnic, go fishing, or take a stroll and maybe meet someone new; there are also cinemas, gyms, restaurants, shops, pools, and other recreational facilities. Sims can now visit all their friends' and neighbors' homes and call up their friends with the new cell phone, for a night on the town.
Sunset Valley mixes modern and futuristic building ideas with nostalgic architecture and design rooted in American suburbs of the 1950s. The town is very unique on all accounts and hosts a whopping 25 playable families. Sunset Valley is full of places to explore and has a very diverse cityscape, leaving players hours of fun while exploring alone.
The houses in Sunset Valley are diversely priced, but every little group of houses are generally similarly priced. For example, the homes by the public beach are generally cheap, making them homes for lower-middle class type Sims, although (if viewing the water as south), the further west you go the nicer they become, until they're more like upper-middle class type homes. Summer Hill Court contains the largest, most expensive lots. The area directly behind city hall has some of the poorest houses, and behind that zone is a middle class area. Along the east side of Sunset Valley are some very nice homes, probably for upper-middle class Sims.
Total number of lots: 92
Lots 20×20: 0
Lots 20×30: 16
Lots 30×30: 16
Lots 30×40: 27
Lots 40×40: 5
Lots 40×50: 0
Lots 50×50: 0
Lots 50×60: 0
Lots 60×60: 5
Lots 64×64: 6
Odd-sized lots: 17
List of lots and houses in Sunset Valley world
Took me about 1 hour to compile the below table.
Please do not copy it on other websites without crediting www.teoalida.com/thesims
| Lot address | Lot size | Building name | Family name |
| --- | --- | --- | --- |
| 55 Landgraab Ave | 64×64 | Llama Memorial Stadium | |
| 74 Landgraab Ave | 30×40 | | |
| 88 Landgraab Ave | 40×40 | Low Fat Ranch – 2br, 1a | Keaton |
| 91 Landgraab Ave | 30×20 | House Plan B – 2br, 1ba | |
| 98 Landgraab Ave | 30×40 | Pondcentric – 2br, 1a | |
| 99 Landgraab Ave | 30×30 | | |
| 210 Main Street | 64×64 | Central Park (Big Park) | |
| 175 Main Street | 32×36 | Doo Peas Corporate Towers (No Visitors Allowed) | |
| 199 Main Street | 32×40 | 28 Hour Wellness Gym (Gym) | |
| 333 Main Street | 48×64 | City Hall | |
| 16 Maywood Ave | 40×30 | Peep's Peak – 4br, 4ba | Bunch |
| 18 Maywood Ave | 20×30 | | |
| 60 Maywood Ave | 40×30 | "El" Urban Sprawl – 2br, 1ba | |
| 15 Maywood Lane | 30×40 | Capitola A – 2br, 1.5ba | |
| 17 Maywood Lane | 30×40 | The Ludwig | Bakshi |
| 48 Maywood Lane | 30×30 | Maywood Glen | |
| 53 Maywood Lane | 30×20 | Minihaus – 2br, 1ba | Wainwright |
| 65 Maywood Lane | 40×30 | Modernehaus – 3br, 2ba | |
| 380 Mirabello Road | 16×18 | Little Corsican Bistro | |
| 520 Mirabello Road | 30×28 | Le Petit Shark Pool Center (Pol) | |
| 540 Mirabello Road | 31×50 | Sunset Institute of Modern Art (Art Gallery) | |
| Mirabello & Main | 30×40 | Sacred Spleen Memorial Hospital | |
| Mirabello & Main | 30×40 | Hogan's deep-Fried Diner | |
| Mirabello Plaza | 64×32 | Mirabello Plaza: bookstore, theatre, and grocery store | |
| 325 Oak Grove Road | 30×40 | Ye Olde Tudor – 3br, 2.5ba | Steed |
| 330 Oak Grove Road | 30×30 | Asilomar – 3br, 2ba | Single Moms |
| 350 Oak Grove Road | 30×30 | | |
| 365 Oak Grove Road | 30×30 | | |
| 2200 Pinochle Point | 30×30 | | |
| 2250 Pinochle Point | 30×30 | | |
| 2300 Pinochle Point | 30×30 | | |
| 2350 Pinochle Point | 30×30 | | |
| 2400 Pinochle Point | 40×30 | | |
| 2450 Pinochle Point | 30×20 | | |
| 2500 Pinochle Point | 40×40 | | |
| Pinochle Pinnacle | 64×64 | Pinochle Pond (Fishing Spot) | |
| 2 Pi R Cillum Lane | 64×64 | Landgraab Industries Science Facility (Fishing Spot) | |
| Recurve Strand | 40×30 | Recurve Strand | |
| 108 Redwood Pkwy | 25×30 | empty | |
| 130 Redwood Pkwy | 40×30 | | |
| 180 Redwood Pkwy | 40×30 | | |
| 230 Redwood Pkwy | 40×30 | | Cumplebottom |
| 250 Redwood Pkwy | 40×30 | Wagner's Repose – 3br, 3ba | |
| Redwood Code | 64×64 | Crystal Springs (Fishing Spot) | |
| 79 Sierra Tango Blvd | 64×64 | Fort Gnome Military Base (No Visitors Allowed) | |
| 14 Sierra Tango Street | 30×40 | Tilelicious – 4b4, 3ba | Langerak |
| 12 Sim Lane | 40×30 | Greener & Greener – 3br, 3ba | Bachelor |
| 24 Sim Lane | 30×30 | Plus Plus – 3br, 2ba | Sekemoto |
| 28 Sim Lane | 40×30 | Cozy Craftsman – 2br, 1.5ba | |
| 36 Sim Lane | 30×40 | Mosquito Cove – 1br, 1ba | |
| 13 Skyborough Blvd | 60×60 | Goth Manor – 3br, 3ba | Goth |
| 107 Skyborough Blvd | 32×63 | Pleasant Rest Graveyard (Graveyard) | |
| 299 Skyborough Blvd | 40×40 | | |
| 303 Skyborough Blvd | 30×40 | Primrose – 2br, 2ba | Hart |
| 306 Skyborough Blvd | 30×20 | Victor's Abode – 2b4, 2.5ba | Clavell |
| 373 Skyborough Blvd | 30×40 | Garden Cottage – 2br, 1ba | Steel |
| 378 Skyborough Blvd | 20×30 | Stalwart Mission – 1br, 1.5ba | Andrews |
| 415 Skyborough Blvd | 40×40 | | |
| 442 Skyborough Blvd | 30×30 | Americana – 2br, 2ba | |
| 525 Skyborough Blvd | 30×30 | Police Department (No Visitors Allowed) | |
| 527 Skyborough Blvd | 32×32 | Papyrus Memorial Library (Library) | |
| 10 Summer Hill Court | 60×60 | Landgraab Estate – 3br, 4ba | Landgraab |
| 15 Summer Hill Court | 60×60 | | |
| 20 Summer Hill Court | 60×60 | Villa Alto – 2br, 2.5ba | Alto |
| 25 Summer Hill Court | 60×60 | Smmer Hill Springs (Fishing Spot) | |
| 66 Sunnyside Blvd | 40×36 | Outstanding Citien Warehouse Corp. (No Visitors Allowed) | |
| 240 Sunnyside Blvd | 21×22 | Sharma Day Spa | |
| 260 Sunnyside Blvd | 30×40 | Cosmopolitan Lofts – 5br, 3ba | |
| 270 Sunnyside Blvd | 30×20 | Metropolitan Lofts – 3br, 2ba | |
| 274 Sunnyside Blvd | 30×20 | Lofty Cerulean Blue Pool (Pool) | |
| 280 Sunnyside Blvd | 40×30 | Condor Mseum Lofts – 4br, 1ba | |
| 433 Sunnyside Blvd | 30×30 | Sur La Plage – 1br, 1.5ba | Koffi |
| 455 Sunnyside Blvd | 30×30 | | |
| 477 Sunnyside Blvd | 30×30 | Unabridged – 2br, 2ba | |
| 500 Sunnyside Blvd | 40×40 | Lone Wolff Manor – 1br, 4ba | Wolff |
| Sunnyside Strand | 64×22 | | |
| 1 Sung Song Ave | 20×30 | Raggio del Sole – 2br, 1.5ba | Wan-Goddard |
| 2 Sung Song Ave | 60×37 | Old Pier Beach (Beach) | |
| 3 Sung Song Ave | 30×20 | Myrtle Bungalow – 1br, 1ba | |
| 5 Sung Song Ave | 20×30 | Pescadero – 2br, 1.5ba | Ursine |
| 7 Sung Song Ave | 20×30 | Ocean Vista Cottage – 2br, 2ba | Frio |
| 9 Sung Song Ave | 20×30 | | |
| 53 Waterfall Way | 36×47 | | |
| 57 Waterfall Way | 64×54 | Stoney Falls (Fishing Spot) | |
| 43 Water Lily Lane | 20×30 | Flava-ful – 2br, 1ba | Alvi |
| 55 Water Lily Lane | 20×30 | Pre-fabulous – 1br, 1ba | |
| 58 Water Lily Lane | 30×40 | Shotgun Style – 2br, 1ba | |
| 67 Water Lily Lane | 30×30 | Cottage Cheese – 1br, 1ba | Kennedy |
| 72 Water Lily Lane | 20×30 | The Monotone – 1br, 1ba | |
| 101 Water Lili Lane | 64×32 | Community School for the Gifted (No Visitors Allowed) | |
| 120 Wright Way | 40×30 | Shearwater – 1br, 1.5ba | |
| 180 Wright Way | 40×30 | Cormorant – 3br, 1.5ba | |