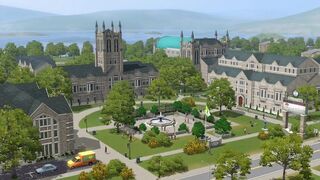 Sims University is a university sub-world in The Sims 3: University Life. It acts as a vacation world from World Adventures. Only Sims who are aged from Young Adult to Elder can travel to the university. A large number of dormitories, frat and sorority homes are available for Sims to rent out.
There is a gym, a pool, a diner called Sim Burger, a coffee shop where the rebels hang out, a bar with a bowling alley where the jocks hang out, and the hobby shop where the nerds hang out.
There are also classrooms which are interactive.
Total number of lots: 56
Lots 20×20: 1
Lots 20×30: 1
Lots 30×30: 9
Lots 30×40: 1
Lots 40×40: 19
Lots 40×50: 2
Lots 50×50: 17
Lots 50×60: 0
Lots 60×60: 0
Lots 64×64: 1
Odd-sized lots: 5
List of lots and houses in Sims University world
Took me about 1 hour to compile the below table.
Please do not copy it on other websites without crediting www.teoalida.com/thesims
| Lot address | Lot size | Building name | Family name |
| --- | --- | --- | --- |
| University side | | | |
| 504 S Bend Ave | 50×50 | Dive n' Splash Pool | |
| 505 S Bend Ave | 50×50 | Henry Hall (Dormitory) | |
| 508 S Bend Ave | 50×50 | Pump You Up Gym (Gym) | |
| 516 S Bend Ave | 50×40 | Keith's Komics (Nerd Shop) | |
| 520 S Bend Ave | 30×30 | SimBurger (Visitors Allowed) | |
| 101 Llama Lane | 50×50 | Llama Beach (Beach) | |
| 255 Llama Lane | 64×64 | Schmidt Memorial Stadium & Annex (Visitors Allowed) | |
| 704 Presidents Drive | 50×50 | De Anda Hall | Dormitory |
| 715 Presidents Drive | 60×40 | University Bookstore | |
| 725 Presidents Drive | 30×30 | Night Owl Foods (Visitors Allowed | |
| 100 Sims University | 30×50 | St. John Administration Center (Visitors Allowed) | |
| 102 Sims University | 40×40 | University Quad (University Hangout) | |
| 105 Sims University | 50×50 | Nichols School of Business | |
| 110 Sims University | 50×30 | Conners Student Union Building (Student Union) | |
| 202 Sims University | 50×30 | Howard Memorial Library (Library) | |
| 210 Sims University | 50×50 | Championship Lake (Big Park) | |
| 220 Sims University | 50×50 | Thomas School of Art (Visitors Allowed) | |
| 235 Sims University | 60×40 | Busche School of Science (Visitors Allowed) | |
| 237 Sims University | 20×20 | School of Science Proving Ground (Group Science Park) | |
| 331 Sims University | 50×50 | Malan Hall | |
| Woodland Trail | 50×50 | Woodland Park (Small Park) | |
| Other side | | | |
| 531 S Bend Ave | 40×40 | | |
| 539 S Bend Ave | 40×40 | Regal Ranch – 2 br, 2 ba | |
| 571 S Bend Ave | 30×30 | Albert's Aerie – 4 br, 3.5 ba | Married Couple and Friends |
| 585 S Bend Ave | 40×40 | The Point (Small Park) | |
| 854 N Bend Avenue | 40×40 | Revere Redoubt – 2 br, 2 ba | The Lone Professor |
| 1521 Collegeview St | 30×30 | Saltbox Sally – 3 br, 1.5 ba | |
| 1533 Collegeview St | 40×40 | Peabody Palace – 2 br, 1 ba | The Roomies |
| 1539 Collegeview St | 40×40 | Wharton Whaling House – 4 br, 4 ba | The Townies |
| 1600 Collegview St | 50×50 | Melville Manor – 3 br, 2 ba | The Richards Family |
| 1301 Grant Ave | 40×40 | Lowell Lawns – 2 br, 2 ba | |
| 1312 Grant Ave | 30×30 | Family Fortress – 4 br, 2 ba | Granndma and Granddaughters |
| 1321 Grant Ave | 40×40 | Commuter Comforts – 4 br, 3 ba | The Professors |
| 1325 Grant Ave | 40×40 | | |
| 1333 Grant Ave | 30×30 | Just-a-Park (Small Park) | |
| 1341 Grant Ave | 20×30 | Russet Ranch – 1 br, 1 ba | |
| 1344 Grant Ave | 30×30 | Groton Grotto – 2 br, 1.5 ba | |
| 1345 Grant Ave | 50×50 | | |
| Lakeview Trail | 40×40 | Senior Lake Park (Small Park) | |
| 461 Llama Lane | 40×40 | Lincoln Lodge – 4 br, 3 ba | The Back to School Buddies |
| 468 Llama Lane | 50×50 | | |
| 202 Melville Road | 30×30 | Dedham Domicile – 3 br, 3.5 ba | |
| 203 Melville Road | 40×40 | | |
| 209 Melville Road | 40×40 | Middlebrow Minuteman – 4 br, 2.5 ba | Female Roomies |
| 736 Presidents Drive | 50×50 | Urele-Oresha-Cham Fraternity | |
| 737 Presidents Drive | 40×40 | Cascading Chateau – 5 br, 4.5 ba | Male Roomies |
| 748 Presidents Drive | 40×40 | Boxy Bastion – 4 br, 3.5 ba | Lifelong Friends |
| 749 Presidents Drive | 50×50 | Tri-Fruhm Sorority | Sorority House |
| 761 Presidents Drive | 50×50 | | |
| 1021 University Drive | 50×50 | 25 Frames Cinema (Visitors Allowed) | |
| 1025 University Drive | 40×40 | B's Bowlarama (Arcade) | |
| 1029 University Drive | 40×50 | Thee Grotto (Rebel Hangout) | |
| 1041 University Drive | 40×30 | Roasted Toasted Beans Coffee Shop (Java Hut) | |
| 1051 University Drive | 40×40 | Modest Manse – 4 br, 2 ba | Two Couples |
| 1057 University Drive | 30×30 | Frome's Ca bin – 1 br, 1 ba | |
| 1061 University Drive | 40×40 | Middle Manor – 4 br, 3 ba | Serious Students |